Contestants Cash In on a Case for Cannabis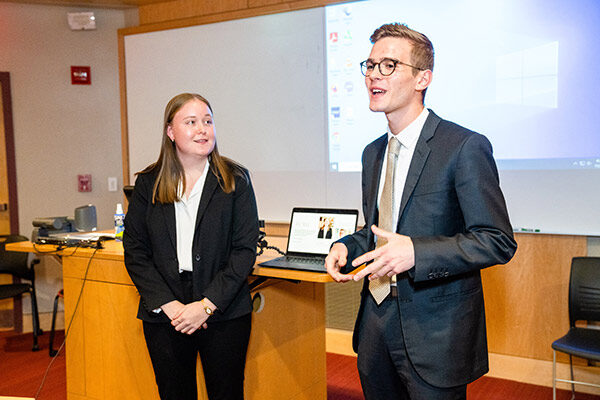 A cannabis lounge catering to an upscale clientele earned first prize and $3,000 in the annual Hospitality Pitch Deck Competition for emerging entrepreneurs.
"We're offering a solution for people who want a safe space to enjoy cannabis on their visits to premier ski locations such as Aspen and other destinations where cannabis consumption is legal," Team Après member and Nolan School student Dani Kaiser, MMH '23, told judges, noting that analysts report that cannabis tourism is a $17 billion business. The lounges would also serve food and nonalcoholic drinks in a relaxed atmosphere conducive to socializing.
Hosted by the Leland C. and Mary M. Pillsbury Institute for Hospitality Entrepreneurship at Cornell's Peter and Stephanie Nolan School of Hotel Administration, the competition challenges student entrepreneurs who are contemplating, starting or operating an early-stage venture and want to hone their pitching skills with an eye on attracting seed funding for their businesses.
In their pitch, which bested three other finalists, Kaiser and Matthieu Laurens, MMH '23, also a Nolan School student, said Après targets affluent millennials and Gen Z tourists and would partner with local hotels and vacation rental properties to promote the business. A critical component of the venture is giving back to communities by hiring individuals adversely affected by mandatory minimum sentencing for low-level, nonviolent drug offenses.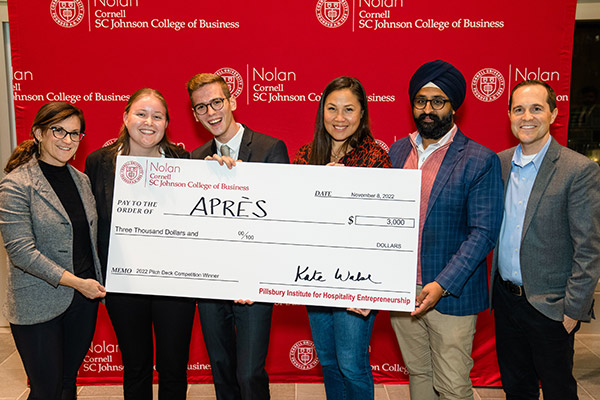 Polished performance, expert feedback
Judging the event were Harman Singh Narula '09, cofounder of Canary Technologies; Meli James '00, cofounder of Mana Up and president of Hawaii Venture Capital Association; and Yael Nagler '00, CEO of Yass Partners.
"This is a valuable experience for the participants, who must communicate their business ideas in a concise, persuasive manner in front of experienced entrepreneurs and investors," said Andrew Quagliata, a senior lecturer in the Nolan Hotel School who created the competition in 2016 and is the principal organizer. "It requires clear writing and strong visuals in delivering the message."
Nineteen one- or two-person teams participated in this year's Hospitality Hackathon, including 33 students representing six Cornell schools: the Nolan School,  Charles H. Dyson School of Applied Economics and Management, Samuel Curtis Johnson Graduate School of Management, College of Agriculture and Life Sciences, College of Arts and Sciences and the College of Engineering. Each team submitted 10-page slide decks for the first round of the competition, Quagliata said. The top four teams then competed as finalists, each receiving valuable feedback from industry executives.
Better butter; threads on arrival
Second place and $1,500 went to Spekld, a proposal by Nolan School junior Jonah Gershon '24 to package and sell brown butter — a popular but hard-to-make alternative to regular butter — to cooks of all stripes. The idea is to sell brown butter in retail outlets in easy-to-measure sticks, then educate consumers about what makes it different — and delicious, Gershon said.
Parachute, an add-on service for hotels that lets people "travel light and dress right" by providing guests a pre-ordered, curated selection of clothing upon arrival, won third place and $500 for Nolan School students Milad Rohani and Obinna Onyened, both MMH '23. The company would work with local sustainability-minded clothing manufacturers, generating revenue for local economies. Travelers would make their selections when booking a reservation and receive a package with their clothing choices when checking in.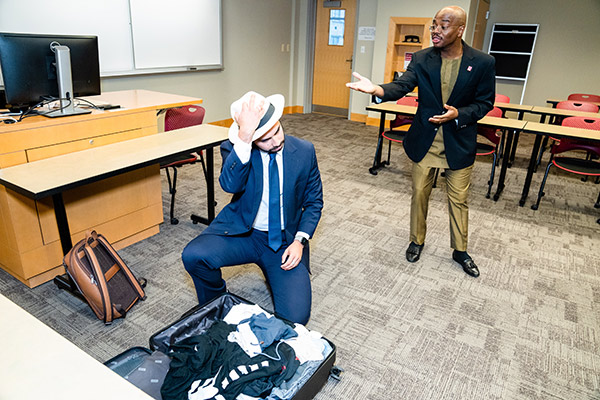 Crowd, a mobile hospitality app enabling users to view all of their loyalty accounts and status updates in one interface, took fourth place. Nolan School students Jennifer Kim '25 and Monica Lee '25 told the judges their offering provides a useful solution to an industry that is behind the curve in adopting new technologies.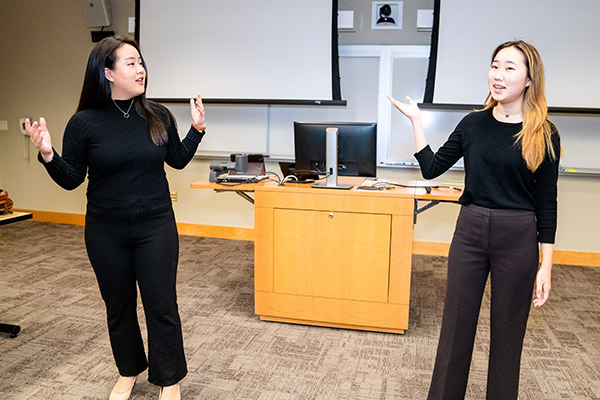 Building business, building community
Judges praised Après for addressing an emerging demand among high-end travelers and incorporating a social equity component.
"The judges asked, 'If we could make sure that only one thing would go right, what it would be?' And I really don't believe a cannabis hospitality company should be profitable if we aren't giving back to the communities most impacted by the war on drugs and over-policing," Kaiser said. "Furthermore, I think that our focus on bridging the hospitality and cannabis industries to focus on high-end ski travelers really sets us apart from the consumption lounges that already exist."
Kaiser said she and her partner entered the competition to challenge themselves outside of their courses.
"The Pillsbury Institute hosts so many amazing events and competitions, and the Pitch Deck Competition allowed us to work on a lot of skills as well as meet alumni who have started their own successful businesses," Kaiser said.