Investment Banker Mariam Kalandarishvili Helps Aspiring Women Leaders Succeed
Celebrating 10 Under 10 honoree Mariam Kalandarishvili, MBA '15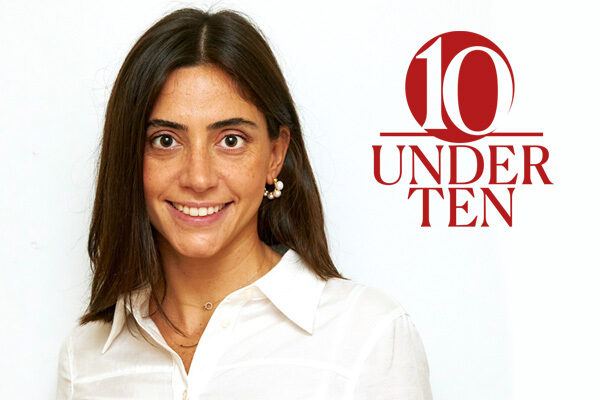 An investment banker who is intrigued by the complexities of financial products and who helps the next generation of women pursue their passions and capitalize on their strengths, Mariam Kalandarishvili, MBA '15 (Two-Year MBA), is one of the 2022 10 Under 10 Notable Alumni honored by the Johnson Recent Alumni Council (JRAC).
Kalandarishvili is a director of investment banking at Citigroup Global Markets. She did her summer internship as an MBA student at Citi, joined the firm's investment banking arm full time after graduation, and has been promoted several times to positions of increasing responsibility. Before joining Johnson, Kalandarishvili worked in Tbilisi, Georgia, in investor relations at the Bank of Georgia and as a credit analyst at JSC Bank Republic, a member of Société Générale.
Kalandarishvili hails from Tbilisi, Georgia, and now calls New York City home. Her favorite quote comes from Margaret Thatcher: "Disciplining yourself to do what you know is right and important, although difficult, is the road to pride, self-esteem, and personal satisfaction."
Learn more about Kalandarishvili in this Q&A.
A flair for finance
What drives your commitment and focus in your professional career?
Kalandarishvili: I have spent my entire career in the world of finance. I started in the small financial industry of Georgia, but within a couple of years I realized there was more to the finance world than what was accessible in a small country like Georgia.
A flair for what I am doing, seeing results, and having a direct impact on my clients led me to seek new challenges in the United States. I knew that if I found a job in finance in New York, I would be exposed to more complex financial products and transactions, and that would let me indulge my curiosity.
Wall Street was what I was hoped for and more. Working directly with the world's largest private equities and corporations in the United States enabled me to broaden my horizons, gain greater industry knowledge, and expand my professional and personal network—all while enjoying my accomplishments and success.
A mentor to the next generation of women in finance
Kalandarishvili mentors incoming analysts and associates every year, guiding them through their first couple of years of banking and focusing on their retention and career development.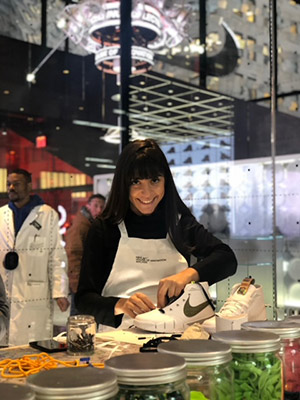 Kalandarishvili is an active participant in Citi's "Women's Wisdom Circles," a series of interactive sessions where senior female bankers share experiences focused on a specific topic—usually related to women—with Citi analysts and associates. She leads speaker sessions for these events, and says: "I always try to be genuine, share experiences and lessons learned, provide advice and guide them in identifying resources, contacts, and alternative solutions. Knowing that you are not alone and that people who have succeeded in their careers dealt with the same issues is always encouraging and gives you the power to push forward."
Kalandarishvili is also open to informal mentorships. For example, a couple of years ago a young woman reached out to her about transitioning into investment banking. "From the very first conversation, I could tell she was smart, motivated, and hardworking," says Kalandarishvili, "but she just didn't get a chance to start her career in finance right after college. After multiple conversations and coaching sessions, I connected her to one of the analyst managers at Citi, whom I knew was looking to hire. Fortunately, it worked out great; she got a job and is very successful. We still stay in touch and now learn from each other."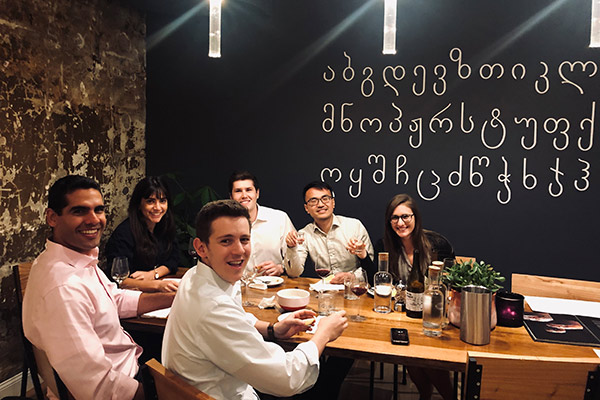 What inspires you to dedicate your time and energy to this community service? What impact do you want to have in the world?
Kalandarishvili: I want everyone to have a fair chance of pursuing their passion and of capitalizing on their strengths. I want young women leaders to know that they can do anything they aspire to do. I want them to stop doubting themselves and thinking that certain fields are not for them because of the lack of female representation.
A huge believer in giving back
As an MBA student and a Forté Fellow at Johnson, Kalandarishvili joined several organizations and engaged in multiple teaching activities. In addition to serving as a TA for Finance, she was a Johnson Leadership Fellow, a Career Work Group leader, and vice president of the Old Ezra Finance Club.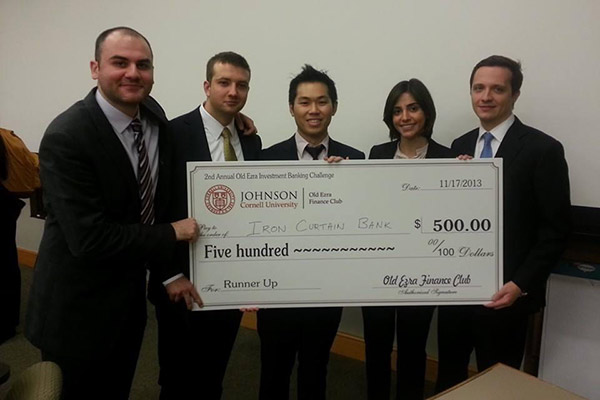 Now, Kalandarishvili is a member of Citi's Cornell graduate and undergraduate recruiting team . "We come up to campus a couple of times a year to present to the students, explain to them what investment banking is, and prepare them for the interviews. Each year, we recruit five to six students from Johnson for Citi's investment banking division."
What drives your continued engagement with and contribution to the Cornell community?
Kalandarishvili: I am a huge believer in giving back. As a second-year MBA, I got involved in every club and group that was oriented to helping first-year students navigate through a hectic class and recruiting schedule.
Cornell's alumni network and its reputation opened multiple doors for me when I needed it the most. I am trying to do the same for fellow Cornell students and do whatever is in my power to help them realize their career goals and aspirations.
What does being selected for the Johnson 10 Under 10 Notable Alumni list mean to you?
Kalandarishvili: It is an honor, a responsibility, and encouragement to keep pursuing my passions.
What are the most valuable things you learned at Johnson that have helped you in your career?
Kalandarishvili: I learned the importance of teamwork, how to step back and listen to others, and how to take the lead when you see a team needs a leader.
Did any particular faculty member(s) influence you on your chosen career path?
Kalandarishvili: Every single faculty member influenced me on my career path. I learned not only finance, accounting, and economics from them; I also learned life skills and shared experiences that are still helping me along the way.
If I had to single out just one, I would say it was Drew Pascarella [associate dean for MBA programs, the Rempe Wilson Distinguished Lecturer, and senior lecturer of finance]. His knowledge, friendly approach, and kind advice were definitely crucial for my success.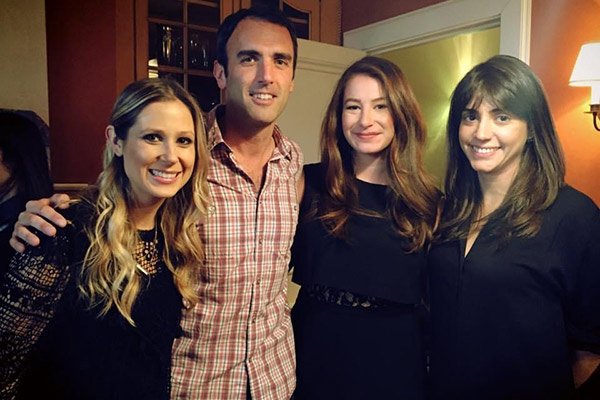 Taking a risk and achieving my goal
Describe a challenge you encountered as you built your career and how you overcame it.
Kalandarishvili: In 2016, due to unforeseen circumstances, I had to leave not only my job but also the country I lived in and relocate. After a year of starting a job at Citi, I thought I was finally getting to know people and starting to see the results and impact of my work. Realizing that I had to leave all I had built and start looking for a new job was very frustrating and discouraging. However, I knew I liked what I was doing and I was good at it, so I approached my company's branch in London and asked them to interview me for the same job in the London office.
I knew that capitalizing on my strengths inside the organization would enable me to keep doing investment banking and possibly increase my chances of coming back to the U.S. Obviously, I had doubts before I approached the team—I didn't know much about them and I was scared of moving to a new place where I had no friends or community to rely on. But overcoming those doubts and fears enabled me to keep my career uninterrupted and come back to the U.S.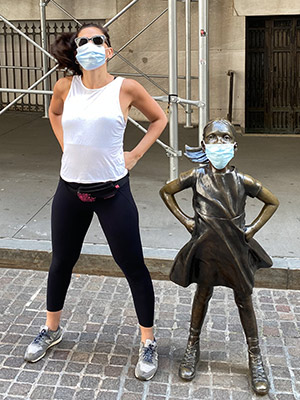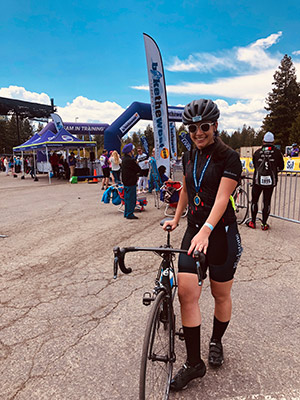 What is the proudest moment of your career or of your personal life?
Kalandarishvili: Being accepted in Johnson was my proudest moment. I applied very late; I was not sure if I even stood a chance. When I got a call and I turned around to tell my mom, I saw her face, and I remember how proud I was to make her proud.
What do you do to recharge?
Kalandarishvili: I like boxing, cycling, dancing, and spending time with my friends.
What do you wish you'd known as a Johnson student and what advice would you give to Johnson students today?
Kalandarishvili: Spend lots of time with each other, learn about different cultures represented in the Johnson community, and don't be afraid to feel uncomfortable and vulnerable.