Venture Capitalist Patrick George is Passionate About Helping Entrepreneurs Succeed
Celebrating 10 Under 10 honoree Patrick George, MBA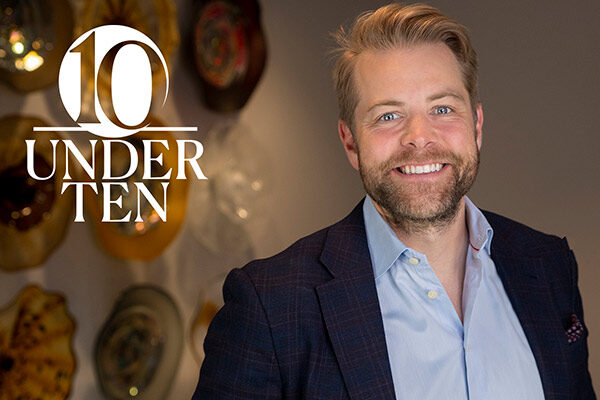 A venture capitalist who relishes helping entrepreneurs and invests in late seed stage companies, a U.S. Marine Corps reservist and Iraq war veteran who commanded a Marine Recon company, and a strong believer in paying it forward for Cornell and Johnson, Patrick George, MBA '13 (Two-Year MBA), is one of the 2022 10 Under 10 Notable Alumni honored by the Johnson Recent Alumni Council (JRAC).
George is the managing partner of Beachwood Ventures, a venture capital and advisory firm he founded in 2018 that has expertise and experience in fintech, consumer technologies, and energy. A U.S. Marine Corps major who saw combat in Iraq from 2006 to 2010, George has served in the Marine Corps Reserves continuously since then. He serves on the board of Hover Energy, a wind technology company, and he advises MineralAnswers.com, a technology platform that brings transparency to mineral ownership. George is also a mentor with Capital Factory, helping startup founders tackle their biggest problems. And he is a member of the national council of the American Enterprise Institute, a think tank based in Washington, D.C.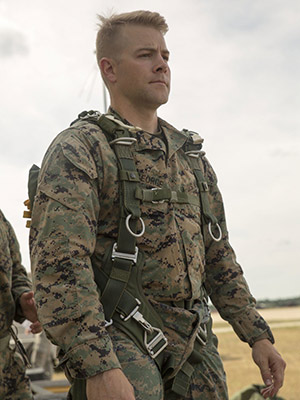 George was formerly president of Accelerate Resources, a technology- and data-driven energy company he cofounded in 2015 that specializes in the acquisition and management of upstream oil and gas assets. He was recognized in the Dallas Business Journal's Top 40 Under 40 and in Oil and Gas Investor's Top 40 under 40.
As a student at Johnson, George was a Roy H. Park Leadership Fellow and a Nolan Scholar. He is a founding member of the Johnson Recent Alumni Council and served as the council's first chair.
George hails from Dallas, Texas and now calls Puerto Rico home. His favorite quote is from "Ride for the Brand," a poem by Red Steagall: "Son, a man's brand is his own special mark that says this is mine, leave it alone. You hire out to a man, ride for his brand and protect it like it was your own."
Learn more about George in this Q&A.
A new mission: Mentoring startups
What drives your commitment and focus in your professional career?
George: Passion—I love what I do. I have always had a relentless dedication to improvement, which continues to help me throughout both my military and civilian careers. After building my own company, I found myself advising, and investing in, others. And now, I enjoy using a unique background of both entrepreneurship and venture investing to work with startups. It's exciting and rewarding to help these founders navigate the difficulties of starting a business.
Inspired to serve the country and others
In addition to his membership in the national council of the American Enterprise Institute think tank, his service as a U.S. Marine Corps officer in Iraq and in the Reserves, and his role on the Johnson Recent Alumni Council, George serves as a member of the national council of AIPAC, a pro-Israel lobby and as a member of Det Bozeman a professional society of elite veterans.
George is a cofounder of the War Veterans Fund along with two fellow veterans. "We looked around Congress and saw we were at an all-time low of military veterans as representatives," George said. "We put together a PAC to help combat veterans get elected to the House of Representatives."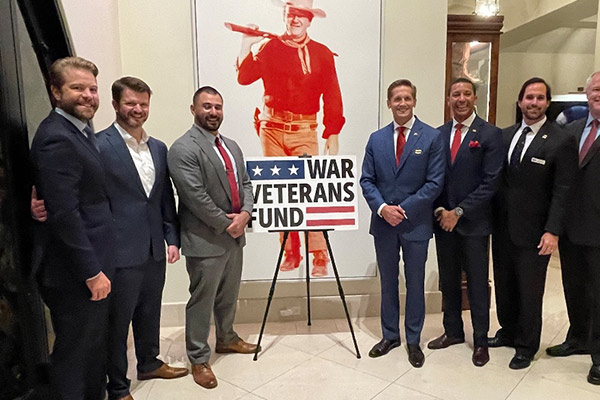 George also supports Carry the Load, a nonprofit founded by a fellow veteran and close friend that is committed to provide ways for Americans to actively honor and remember the sacrifices made daily by our military, veterans, first responders, and their families.
What inspires you to dedicate your time and energy to your community service? What impact do you want to have in the world?
George: I grew up in a family active in military and government service. I believe we are incredibly lucky to be in this country and I want to protect that for the generations to come. Through the military, political organizations, and think tanks I serve, my hope is to educate and encourage others to get involved with guiding this country to continued prosperity.
"Always pay it forward"
What drives your continued engagement with and contribution to the Cornell community?
George: I have been very blessed throughout my life to be surrounded by amazing people willing to help me on my journey, including during my time at Johnson. I want to do the same and pay it forward. We have an unprecedented number of young alumni at Johnson, so we created the Johnson Recent Alumni Council to be an advisory resource to the dean. All of what we do is designed to help Johnson learn, adapt, and improve, creating the best experience possible. We owe it to the next generations of Johnson alumni.
What does being selected for the Johnson 10 Under 10 Notable Alumni list mean to you?
George: I didn't believe I deserved to be at Johnson in the first place, so being selected is surreal.
What are the most valuable things you learned at Johnson that have helped you in your career?
George: I think most people recognize that relationships drive the world we live in. A close classmate told me to graduate with ten amazing friends that I would go into business with—great advice.
Did any particular faculty member(s) influence you on your chosen career path?
George: My favorite class was intermediate accounting taught by Dean [and professor of accounting] Mark Nelson (shameless, I know). I learned more financial acumen in that class than any other, and it helped me feel prepared to enter the world of Wall Street.
Describe a challenge you encountered as you built your career and how you overcame it.
George: At one point while I was running my first company—which felt like a rocket ship—of 35+ employees with $400 million in capital, and I was commanding an elite group of Marines, I went through a divorce. It was incredibly painful and having two high-stress careers on my hands did not make it easier. I was blessed with a business partner who led me on a deeper path of Christian faith, which has guided my life ever since. Kobe Bryant described His greatness best when he said: "Until you got to pick up that cross that you can't carry, and He picks it up for you and carries you and the cross, then you know."
A father honoring his son
George has served as a commander for a U.S. Marine Corps Reconnaissance company, a special operations capable force familiarly known as Marine Recon that provides covert ground and amphibious reconnaissance and reports on enemy activity and other information of military significance.
What is the proudest moment of your career or of your personal life?
George: My proudest moment was commanding an elite group of Marines known as Marine Recon. At the time, only four Marine officers could hold the position in the reserves and my battalion commander gave me that opportunity. As a prerequisite for command, I was sent to Airborne school (which I did while starting my first company). At graduation my father, a veteran of the 82nd Airborne, surprised me by attending the ceremony and pinning me with his wings from Vietnam. They are framed on the wall to this day.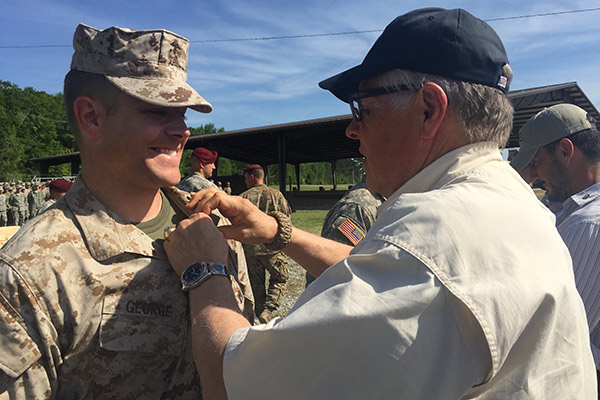 The day of my Airborne Wing pinning was also the day my first startup opened its doors, so I quickly flew back to Dallas from Fort Benning, Georgia, and was in the office the next morning.
What do you do to recharge?
George: I escape to nature with my dogs. I love the mountains and the beach, and few things are more enjoyable than watching my two giant schnauzers wrestle in the ocean or the river—preferably not while I'm fly fishing.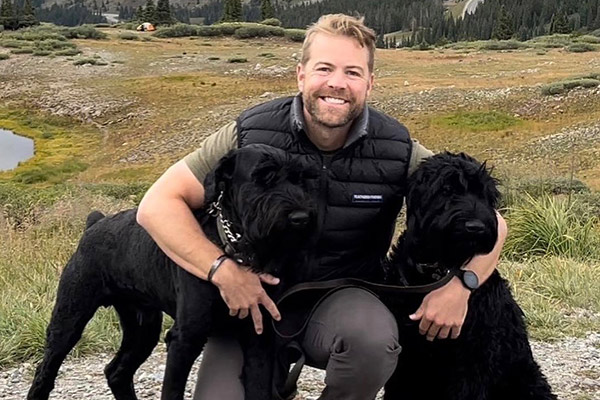 Discover your passion, then build your career
What do you wish you'd known as a Johnson student and what advice would you give to Johnson students today?
George: Try to figure out what you're passionate about as quickly as possible, then focus your career around building the foundational skills you need to spend much of your adult life living that passion. It took me the better part of a decade to figure this out. But I had built a solid foundation of knowledge and experience to be a successful investor, and now I get to spend the next 40+ years finding hidden value and helping entrepreneurs from a laptop anywhere in the world.