Dyson Professor Ralph Christy Recognized for Achievements in Teaching and Outreach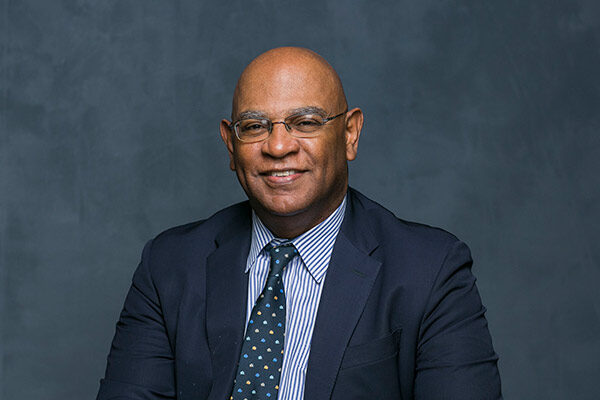 Ralph Dean Christy, professor of emerging markets at the Charles H. Dyson School of Applied Economics and Management, was honored with the 2022 George Washington Carver Public Service Hall of Fame Award by the Professional Agricultural Workers Conference (PAWC) at Tuskegee University in Alabama.
The award recognizes individuals whose work mirrors the philosophy of George Washington Carver as reflected when he said, in 1890, "…it has always been the one great ideal … to be the greatest good to the greatest number of people." Award recipients are honored for their "significant accomplishments in the areas of teaching and outreach designed to improve the quality of life for the rural clientele served by the 1890 Land-Grant Universities and Tuskegee Institute."
Christy began his work improving the quality of life for rural people in 1981 as a faculty member at Louisiana State University, where he created an educational program emphasizing agricultural marketing and rural cooperatives. In 1991 he joined the faculty at Cornell University, where he introduced the study of emerging markets economics and strategy and created, via the Dyson Emerging Markets Program, highly relevant research and outreach initiatives integrating theory with practice.
As director of the Cornell International Institute for Food, Agriculture and Development (CIIFAD) in Cornell's College of Agriculture and Life Sciences, 2009-2017, Christy championed campus-wide collaborations in food security, South-South dialogues, global scientific exchanges, and capacity-strengthening programs globally. His creation in 2001 of the Student Multidisciplinary Applied Research Teams (SMART) Program, a leading-edge global service-learning curriculum that is now an endowed program within the Cornell SC Johnson College of Business, has been hailed as visionary.
Distinguished educator, advisor, and global thought-leader
"Dr. Christy's mentoring of generations of applied economists and his many contributions to economic development of rural communities worldwide distinguish him as one of the most impactful scholars of our time," said associate professor C.-Y. Cynthia Lin Lawell, Robert Dyson Sesquicentennial Chair in Environmental, Energy and Resource Economics at Dyson and chair of the Dyson Awards Committee that nominated Christy for this honor. "A distinguished educator, advisor, and global thought-leader on economic development, he has consistently pioneered educational and international development initiatives that are implemented by universities, philanthropic organizations, and professional associations."
Christy's commitment to the mission of the Professional Agricultural Workers Conference goes back to 1990, when he joined the organization's advisory committee. This deep relationship is now enshrined in the organization's Hall of Fame.
"I recall the first time that Ralph took me along with a group of students from Cornell to attend the Professional Agriculture Workers Conference at Tuskegee University in November 1996," recalled Ed Mabaya '98, PhD '03, research professor in the Department of Global Development at CALS and director of the Hubert H. Humphrey Fellowship Program. Mabaya was then a senior research associate at Dyson and assistant director of CIIFAD.
"We took a picture under that famous statue of Booker T. Washington lifting the veil of ignorance. Through his decades of capacity development work in the USA, Asia, Africa, and the Caribbean, Ralph Christy has lifted this veil thousands of times," said Mabaya.