Israel Trek 2023: Startup Nation
By Jonathan Li, MBA '23

This past winter break, I joined a few Cornell Tech Emerging Markets Fellows along with the broader MBA and Cornell Tech cohort on a trip to Israel to learn about the country's culture, food, and history. Over the course of a week, we went from working with Technion students on our ideation competition in high-tech Haifa to visiting the Western Wall and Church of the Holy Sepulchre. I walked away with a better understanding of Israel's geopolitical position, history, and culture.
Israel has a thriving startup ecosystem
We headed to Haifa for the first few days of the trip, where we heard from leading accelerators, incubators, and venture capitalists. Haifa has over 185,000 tech graduates, 241 startups, and 600 factories and industrial facilities. Israel is known as the "startup nation" because of its reputation as a country with the most tech startups per capita. We learned how the country has a long history of innovation, dating back to the early days when it had to develop novel desalination, renewable energy, and cybersecurity technologies to transform the country into a livable one.
One of the highlights for me was visiting the Peres Center for Peace and Innovation, where we learned about the startups that grew at an international scale. On the tour, we learned about  biodegradable plastic and UV wastewater treatment and used VR headsets to experience futuristic technologies, including printing 3D knee joints and space travel.
Israel's government invests greatly in its startup ecosystem, and a few startups highlighted on the tour included:
Waze, a navigation app that was acquired by Google in 2013 for over $1 billion
Mobileye, a maker of advanced driver assistance systems that was acquired by Intel in 2017 for $15.3 billion
Check Point Software Technologies, a cybersecurity company that is one of the largest in the world, which was inspired by the founder when he served in the Israel Defense Forces
Learning about urban technology beyond Israel
During our tour of the Technion Institute of Technology campus, we were treated to a demo of the university's cutting-edge technology. As someone who is interested in pursuing a career in urban technology in the future, I was inspired by a talk given by Professor Dafna Fisher-Gewirtzman, chair of the architecture program. She showed us the VisLab, a virtual reality lab where participants can visualize futuristic models of cities and apartments. One of the projects she is working on is creating sustainable apartment units in dense cities by measuring human perception of density. To do this, she generates multiple models of apartment units and, using VR, allows participants to rate the unit across dimensions like space, utility, and comfort.
It was inspiring to learn about improving quality of life in urban living through methods that have the potential to impact emerging markets as well. In my spring Studio project this semester, I plan on using similar novel experimentation techniques.
Working with students at Technion Institute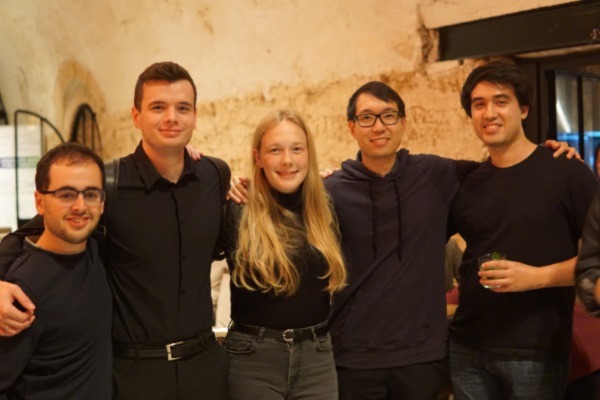 One of the highlights of the trip was working on our Mindstate Ideation Pitch Competition. Beginning in the fall semester, we worked on combined teams with students from Cornell Tech and the Technion Institute of Technology. My team consisted of students from biology, data science, and biomedical engineering all working together to create a business idea on an economical solution to improve indoor air quality. We were proud of our end solution: a smart-home IoT device for letting in fresh air that uses AI to determine the best schedule.
I also enjoyed learning about different cultures and traditions from my teammates, with many of the Technion students coming from Israel, Russia, and Germany. Every day, it was so much fun to socialize as well as eat delicious Israeli food like falafel, hummus, shawarma, and baba ganoush. No meal was complete without babka — a chocolate braided bread.
A blend of the old and the new
One of the things that surprised me the most was just how diverse the country is. During our tour, we floated in the Dead Sea, hiked up the ruins of King Herod's Palace to catch the sunrise, walked on the cobbled streets of Jerusalem's Old City, and visited Yad Vashem, the World Holocaust Remembrance Center. I learned just how significant many parts of the region are to Jews, Muslims, and Christians. Even as Israel has modernized and built up its cities, they have tried to preserve the centuries-old traditions as testament to the work of their predecessors.
A big takeaway for us throughout the trip was how innovation in the form of new ideas, goals, and technologies can coexist with the preservation of values, traditions, and customs. These are lessons that I will take with me wherever I go next in my career.
About Jonathan Li, MBA '23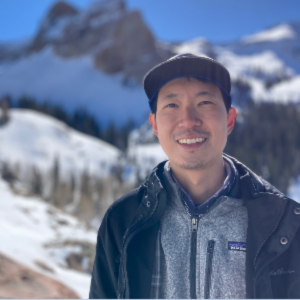 Jonathan Li is a class of 2023 student in the Johnson Cornell Tech MBA program and an Emerging Markets Institute Fellow. He has worked in payments and e-commerce in the Southeast Asia market and helped companies scale their businesses globally. As an Emerging Markets Fellow, he is passionate about using technology to grow emerging market businesses cross-border and improve the quality of life in cities across the world. He earned his BS in industrial engineering and management sciences from Northwestern University.