Entrepreneur Steven Izen '13 Creates Products that Help People Find Balance
Dyson Dean's Distinguished Lecturer Steven Izen shared his startup journey and advice he learned with students during Dyson's Better Business Week.

Steven Izen '13 thought of the idea for his first company when his grandfather was diagnosed with Alzheimer's. Learning about his grandfather's illness made Izen, who had just finished his freshman year, realize that life is a series of highs and lows that everyone seeks to balance.
He set out to create a product that captured that mantra: a silicon bracelet containing a bead infused with water from Mt. Everest, the highest point on Earth, and a bead filled with a droplet of mud from the Dead Sea, the lowest point on the planet.
He Googled factories in China, and by the time he graduated from Cornell's Charles H. Dyson School of Applied Economics and Management, he had launched his company, Lokai (derived from the Hawaiian word Lōkahi, which means the "blending of opposites").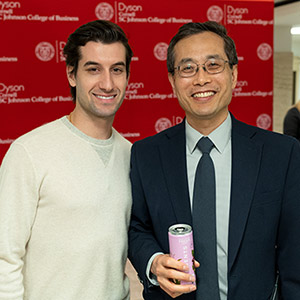 "Everyone has the same 24 hours in the day," Izen told about 200 students when he spoke as a Dyson Dean's Distinguished Lecturer during Better Business Week, hosted by the Dyson Undergraduate Council. "It's about how you use it and whether you're thoughtful and whether you organize your time."
Lokai is now sold in 170 countries and Izen has donated 10 percent of the profits to charity, which now totals nearly $9.5 million. And in 2019, he founded his second company, Elements Drinks, which produces functional wellness beverages made with clinically effective levels of adaptogens, a group of plants and herbs that reduce stress.
While his companies' products are completely different, Izen said both help people find balance and both rely on the same principles of building and managing a successful business. "Once you learn that basic knowledge and how to use it, you can start a company in almost any industry and fill the gaps you have by hiring people," he said.
Leveraging his time at Cornell
When he arrived in Ithaca from Chestnut Hill, Massachusetts, Izen was set to take advantage of everything Cornell had to offer. He became a sprinter on the track team and joined the Psi Upsilon fraternity.
"I think I always found myself just exploring and trying to do a bunch of different things and I really learned time management very early on," said Izen.
He recalls sitting at a lecture at Cornell listening to an entrepreneur describe his business journey, thinking that one day he would be the one speaking at the podium. His father was an entrepreneur, and Izen thought that being an entrepreneur was "a very normal thing."
Yet what also drove his success was his self-confidence and belief in himself. "That's a very important thing for an entrepreneur," he said. "If you don't believe in yourself, no one else will."
He viewed his four years at Cornell as an opportunity to take as many classes and meet as many people as he could. "You don't know later how those classes that you take and the people that you meet will enter your life," he said.
Learning how to start a business
After creating a business plan and taking the Cornell bus to meet with web designers and team members in Manhattan, Izen had to figure out how to produce Lokai's multi-colored bracelet. He submitted a request on a website that helps companies locate factories in China and received 2,000 responses; he narrowed them down to four and then flew to China to meet the owner and see the operation of one of them.
"They ended up being four guys in a garage and the owner happened to be an engineer," he said. "Now they're about a 400-person factory that just makes Lokais. I think the lesson is you need to go over and do it yourself. You can't trust what people say."
The next obstacle was getting the product to market. Izen trudged through Manhattan with a display, pitching Lokais to any business that would let him in the door. Most of them rejected his offer, but he soon became numb to hearing the negative responses.
He also began tailoring the product to different groups of customers—creating a pink bracelet for breast cancer survivors, for example—and marketing it on Instagram. Celebrities soon began flocking to the brand, including singer Justin Bieber and reality TV star Kendall Jenner, which made Lokai into a viral sensation.
Named to the Forbes 30 Under 30 List for Retail and E-commerce in 2017 Izen is also the youngest board member of the Make-a-Wish Foundation, which fulfills life-changing wishes for children with critical illnesses.
In his talk at Warren Hall, Izen told the students that they should follow their passions, surround themselves with smart and ambitious people, and abandon the idea that money buys happiness. "Money gives you freedom—it gives you the freedom to travel when you want and it gives you the freedom not to be on a schedule," he said. "So it really unlocks your ability to do what you want when you want it." However, money "does not give you any emotional happiness," he added. "If you're lost, money won't fix that."