Savor the Centennial Edition of Hotelie Magazine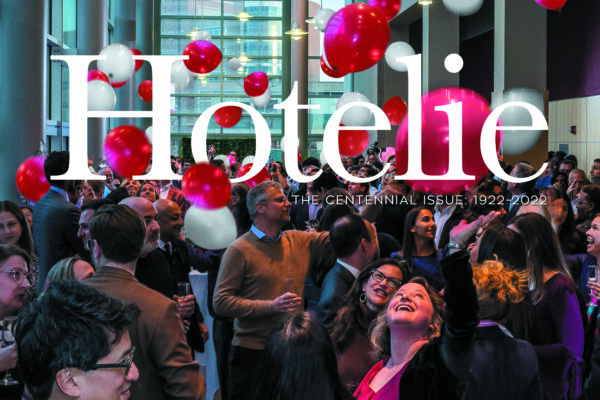 The Cornell SC Johnson College of Business is pleased to announce the publication of Hotelie, a one-time commemorative edition marking the 100th anniversary of hotel management education at Cornell University. We hope you'll take a look.
This edition honors the Cornell Peter and Stephanie Nolan School of Hotel Administration's history, features faculty achievements, and highlights alumni who are shaping the industry.
A century ago, the school faced major challenges. The founding director operated out of a converted cleaning closet, accounting classes were held in an abandoned barn, and there was no budget to hire faculty. But necessity breeds innovation, and the founding director recruited prominent hoteliers as guest lecturers—which set the stage for industry partnerships that continue to define the school's educational philosophy today. The school's early benefactors, Mr. and Mrs. Statler, who were initially skeptical of college training for hotel workers, eventually donated more than $10 million.
With the persistence and ingenuity of faculty, students, alumni, and industry leaders, the school soon became a world-class institution. Today, students are taught and mentored by faculty at the forefront of their fields and benefit from experiential learning, tackling real world problems in hackathons, pitching their business ideas to industry leaders, and practicing hands-on restaurant management. And now, thanks to the extraordinary gift of $50 million from Peter and Stephanie Nolan, this education will be accessible to students of all socioeconomic levels.
The impact the Nolan School has on the industry is indisputable. Alumni have become thought leaders in environmental, social, and governance issues, driving their organizations' initiatives to reduce greenhouse gas emissions, eliminate food waste, achieve ambitious DEI goals, and raise awareness about human trafficking and its prevention. Alumni forge new paths in hospitality and take concrete action, like building a Black executive pipeline, connecting travel with technology, developing lifestyle and luxury brands, breaking ground in real estate investment, and so much more.
We invite you to savor this celebratory edition of Hotelie and join Martha Pollack, president of Cornell University, Kate Walsh, dean of the Cornell Peter and Stephanie Nolan School of Hotel Administration, and Andrew Karolyi, dean of the SC Johnson College of Business in saying, "Cheers to the next 100 years!"