Danielle Boris Promotes a More Inclusive, Motivated, and Connected Workforce
Celebrating 10 Under 10 honoree Danielle Boris '16, MBA '21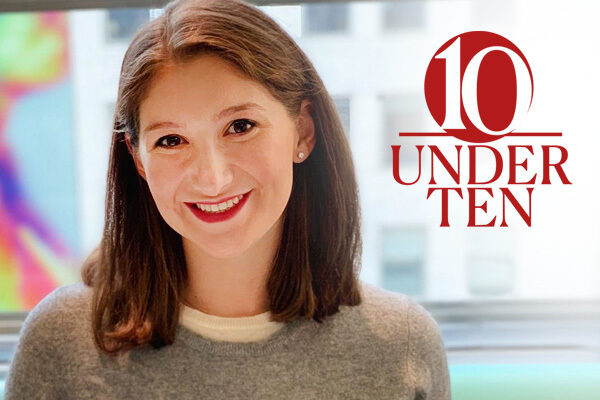 A founder, author, and podcast host who celebrates what makes each of us unique to promote a more inclusive, motivated, and connected workforce, Danielle Boris '16, MBA '21 (Johnson Cornell Tech MBA)  is one of the 2022 10 Under 10 Notable Alumni honored by the Johnson Recent Alumni Council (JRAC).
Boris is the founder and CEO of Sandbox, which she describes as "a SaaS platform that acts as your personalized guide to consistently high performing teams." She is the author of The Energy of Weirdos: Unlocking the Science Behind People-First Leadership and she hosts Unboxing Humans, a podcast focused on the value of people-first, purpose-driven work.
Boris hails from New York City and she continues to call it home. When she's not making power moves, she says she enjoys "spending time with her family and friends while wearing brightly colored clothes with motivational sayings."
Boris is a graduate of both the Charles H. Dyson School of Applied Economics and Management and the Samuel Curtis Johnson Graduate School of Management at Cornell University.
Learn more about Boris in this Q&A.
Driven to improve people's work experiences
What drives your commitment and focus in your professional career?
Boris: When we feel a personal connection to our work and colleagues, we thrive. This positive energy radiates into all aspects of our lives, creating a world that is happier, healthier, and more supportive. Having that direct impact on people's lives keeps me going every day.
I began working on Sandbox during my Johnson MBA. From the beginning, I had a sense that the idea could significantly improve people's experiences at work, their performance, and their organizations' success. I thought about it every day and started using it as the basis for my classwork. People consistently tell me, "If my company had Sandbox, I wouldn't have quit." Knowing I can be the difference between someone flourishing or floundering drives my commitment.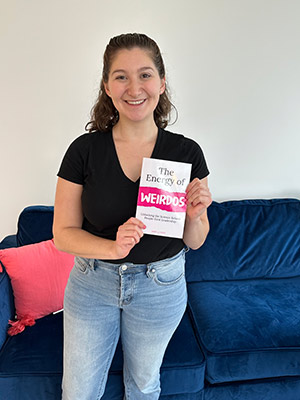 My work on Sandbox led to my book. As I spoke with leaders and team members, I found that many companies were trying to implement people-first leadership and its principles but did not fully understand the extensive research that demonstrates its power. This limited how effective their workforce motivation efforts were. It became clear that everything I had studied about the topic could be turned into a book to help others create a more inclusive and motivated future of work. Writing my book, The Energy of Weirdos, was one of the greatest joys of my career.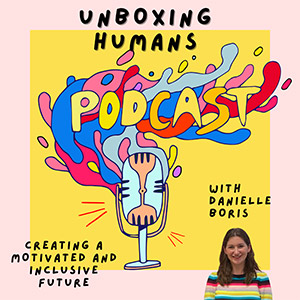 For the book, I interviewed several leaders, experts, and independent contributors about their careers. I found myself incredibly moved by their stories. Everyone had a unique path and harnessed seemingly unrelated skillsets and ideas to forge their desired careers. I found myself saying, "I wish everyone could hear your story!"
With that, my podcast, Unboxing Humans, was born. I cherish every conversation and am in awe of people's creativity, resilience, and spirit. Their stories encourage me to be a better leader and team member, and hearing positive feedback from our listeners makes it even more special.
 A commitment to fostering ambition
Boris sits on the board of a young professionals networking group as the professional events chair, mentors at-risk students during paint days with Publicolor, speaks with student groups, and attends United Jewish Appeal (UJA) events.
What inspires you to dedicate your time and energy to this community service? What impact do you want to have in the world?
Boris: I realized that whenever I enjoy myself, I connect with someone, usually about what inspires them in their life. Pulling on this thread led me to a variety of community engagement initiatives and is what keeps me excited to volunteer with them as much as I can.
As the professional events chair for a young professionals networking group, I aim to feature conversations from more female founders. The group is vastly made up of young women, yet women are consistently underrepresented in C-suite and founder positions. I make it a point to find and speak with female leaders about their successes.
Publicolor empowers [high-school] students with multi-year, project-based curriculums. Their impact speaks for itself: One hundred percent of its students transitioned from eight to ninth and from ninth to tenth grades. No students dropped out, versus 4.8 percent of their school peers. All students graduated on time in 2022, as opposed to 86 percent overall in New York City public schools. Additionally, all of them went on to college or post-secondary accreditation programs as opposed to 60 percent of their school peers.
Part of Publicolor's program involves visually transforming schools through painting. Volunteers join the students as we paint the inside and outside of New York City public schools in bright, welcoming colors. Every new student I meet during paint days blows me away with their questions, interests, intelligence, and dedication. Meeting these students is incredible.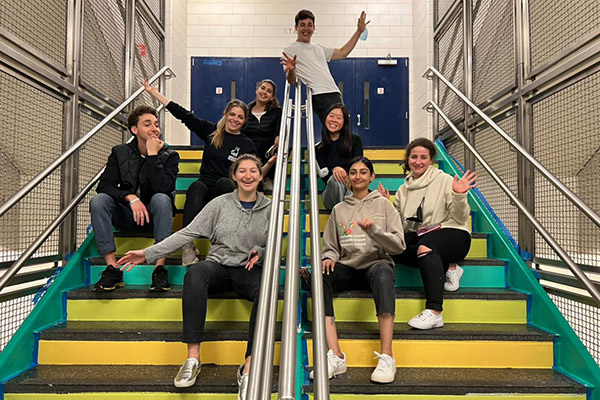 By working to support each other, we become stronger
Boris is dedicated to boosting the Cornell community by taking calls with prospective students, current students, and alumni. She attends events to meet other alumni and is quick to connect people who could help each other.
What drives your continued engagement with and contribution to the Cornell community?
Boris: The Cornell community is only as strong as we each work to make it. So many Cornellians were generous with their time and advice throughout my experiences as a student and as an alumna. I believe in paying that forward. When we all work to support each other, our community becomes exponentially stronger.
I was honored to speak with Johnson Cornell Tech MBA students in the fall of 2022 about launching my startup and making the most of my Johnson and Cornell Tech education. I remember how valuable alumni talks were when I was a student. I feel very fortunate to be able to give back to the community in the same way.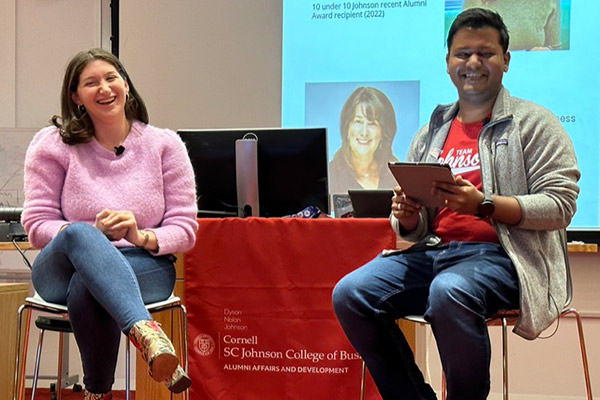 What does being selected for the Johnson 10 Under 10 Notable Alumni list mean to you?
Boris: Cornell Johnson students and alums are some of the most brilliant, accomplished, and kind people I've ever met. I am incredibly honored to be featured alongside these fantastic professionals.
Finding the solution to becoming motivated and engaged
What are the most valuable things you learned at Johnson that have helped you in your career?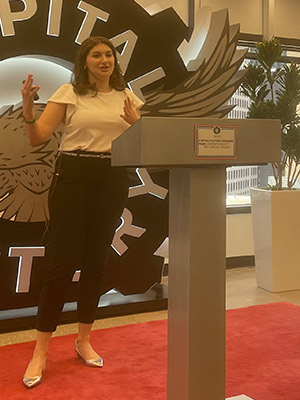 Boris: The "aha moment" for Sandbox came from the reading for my first day of class. The reading and lectures for leadership set me down the path of improving work for the employee, manager, and organization. Without Cornell, who's to say if my aha moment would have happened.
Did any particular faculty member(s) influence you on your chosen career path?
Boris: Dr. Mukti Khaire [the Girish and Jaidev Reddy Professor of Practice at Cornell Tech and in the Johnson School] continues to play an instrumental role in my life. While in the Johnson Cornell Tech MBA program, Mukti mentored me through two independent study projects, taught me in two classes, and offered guidance while I decided what path to pursue post-graduation. Today, Mukti continues to be generous with her time and advice. I'm honored to have her as a mentor and friend.
Describe a challenge you encountered as you built your career and how you overcame it.
Boris: One of the biggest challenges in my career was accessing available opportunities to learn and discovering new projects and initiatives I could participate in at the organizations I worked for. I wanted to be motivated and engaged, but it was incredibly complex to create that reality, even within the fantastic companies I worked for. I realized that this challenge wasn't unique to my career, and the solution to overcoming it turned out to be creating Sandbox, which solves this motivation problem for everyone.
What is the proudest moment of your career or of your personal life?
Boris: The proudest moment of my career was when my company, Sandbox, went live. I was working out of a co-working space that day, and tears filled my eyes. I had never cried from happiness before. It was a gratifying moment.
What do you do to recharge?
Boris: I've found that the best ways for me to recharge are to see friends, attend a lecture or panel event, do pottery, or move with the be.come project. These activities help me connect with others, myself, and the physical world.
What do you wish you'd known as a Johnson student and what advice would you give to Johnson students today?
Boris: Just because you build it does not mean they will come. Learning to market yourself and your product is much more involved than having a nice position statement. Throughout my time at Johnson, I wish I had posted more about my product development journey and built an audience who deeply cared about Sandbox's mission. Writing and posting about your journey, whatever that journey is, enables you to reach and connect with others authentically, leading to product improvements and more successful launches.