Announcing the Johnson School's 2023 Alumni Award Winners

The Samuel Curtis Johnson Graduate School of Management is proud to announce the recipients of this year's Alumni Recognition Awards. These outstanding alumni will be honored at the 2023 Big Red Bash in New York City on April 27.
Angela Hwang, MBA '94, will receive the the Johnson School's highest honor, the L. Joseph Thomas Leadership Award, for her exceptional demonstration of vision and leadership, sound business sense, and commitment to community. Gail and Roberto Cañizares, '71, MBA '74, will be honored with the Samuel C. Johnson Distinguished Service Award, a lifetime achievement award that recognizes extraordinary alumni for their sustained and exemplary commitment to the school and its alumni. Cara Petonic, MBA '13, and David Pisacich, MBA '10, will each receive the Robert J. Swieringa Recent Alumni Service Award for their outstanding commitment to and continued engagement with the Johnson School as volunteer leaders.
2023 L. Joseph Thomas Leadership Award
Angela Hwang, MBA '94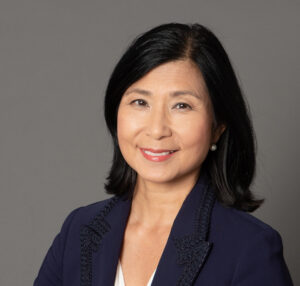 Angela Hwang is a member of Pfizer's executive team and the chief commercial officer and president of Pfizer's global biopharmaceuticals business. She has been at Pfizer for 26 years. Her organization of 26,000 colleagues across 125 countries is responsible for bringing more than 600 medicines and products to patients. In 2022, more than 1.3 billion people benefited from this work addressing cancer, COVID, infectious diseases, inflammation, and more. Altogether, Pfizer biopharma generated almost $100 billion in revenue that year.
Hwang is motivated to bring breakthroughs to patients across the world. Her childhood as an Asian girl growing up in apartheid South Africa defined her worldview and underscored the importance of equity in her work. In this spirit, Hwang is a member of the board of directors of the Pfizer Foundation and hosts the Diverse Perspectives podcast series.
Among her many accolades, Hwang was recognized in Fortune's Top 50 Most Powerful Women list for the past three years, Forbes' inaugural CEO Next list, and Modern Healthcare's Top 25 Women Leaders. In 2022, she was named the 39th Cornell University Robert S. Hatfield Economic Fellow. She received her MBA from the Johnson School, where she is a member of the Johnson Advisory Council. She is a wife and proud mom to a teenage son and daughter.
2023 Samuel C. Johnson Distinguished Service Award
Gail and Roberto Cañizares '71, MBA '74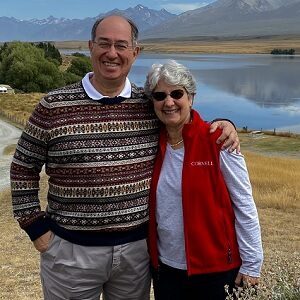 Gail and Roberto Cañizares have been strong supporters of the Johnson School and Cornell University for many years. Rob earned his undergraduate degree in applied and engineering physics at Cornell, where he met Gail. After earning his MBA the Johnson School, Rob embarked on a career building and transforming businesses around the world. In senior executive roles at MSA International, Trane, and other organizations, he acquired or started dozens of companies, focusing on the formulation and implementation of strategy. Now, as a senior advisor at Jubilant, he mentors entrepreneurs and lectures on management, organizational transformation, and coaching. He also serves on the board of the SC Johnson College's Emerging Markets Institute and the Johnson Advisory Council.
An enthusiastic advocate for education and foreign language, Gail earned her degrees from Vanderbilt University and University of Wisconsin and, throughout her career, taught every level from preschool through university. After adopting three preteen brothers when Gail and Rob's first two children were in high school, and after moving to Hong Kong, Gail focused on alternative school programs for behavioral and emotional challenges and organized parent advisory groups. Drawing on her extensive experience, she currently serves as president of the Anderson Foundation. Together with Rob, she cofounded the Cane-Bridge Foundation, which aims to combat poverty with entrepreneurship and educational programs for high potential underprivileged individuals. They have also provided substantial support to the Emerging Markets Institute, including establishing the Gail and Roberto Cañizares Director fund.
2023 Robert J. Swieringa Recent Alumni Service Award
Cara Petonic, MBA '13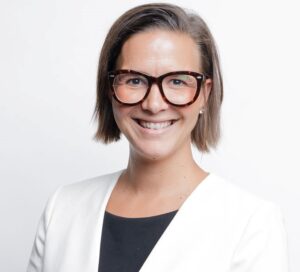 Cara Petonic is vice president of strategy and operations at Comcast. She brings her experiences in strategy, consulting, operations, marketing, and finance to her current role where she leads a data driven team, focused on current business operations and mid- to long range planning. Petonic leads teams across strategy, data and insights, operations, and finance to enhance the customer and employee experience at Comcast.
Previously, Petonic served as a digital experience and transformation strategist at Comcast, where she created and implemented the enterprise-wide workforce planning process, affecting more than 120,000 employees. She also worked directly with Comcast's CFO to construct a consolidated view of the long-range strategic plan, in addition to analyzing IP franchise origination and customer experience trends, developing consumer product advocacy programs, and identifying international business development opportunities. Petonic also worked as a strategy consultant with Accenture and in investment banking and equity research at Janney Montgomery Scott, LLC, where she executed transactions totaling more than $1.5 billion.
In addition to her MBA from the Johnson School, Petonic holds a BA in mathematics from Bryn Mawr College. She currently is president of the Cornell MBA Club of Philadelphia and serves on the President's Advisory Council for Bryn Mawr College. She enjoys running half marathons (completed 20), playing tennis, and supporting her alma maters and causes that affect women & children.
Robert J. Swieringa Recent Alumni Service Award
David Pisacich, MBA '10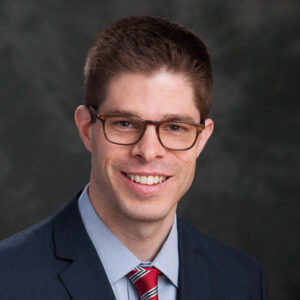 David Pisacich is an investment product professional with more than 15 years of progressive experience in the financial services industry. He joined Fidelity Investments in 2010, and in his current role there as director of managed solutions, he is responsible for product strategy, development, and positioning of Fidelity's multi-asset managed account offering. Previously, Pisacich served as a finance director and an investment product director responsible for product management of Fidelity's target date strategies. Prior to joining Fidelity, he worked at The Liberty Mutual Group in corporate finance.
Pisacich earned his BS degree in finance from Bentley University and his MBA degree from the Johnson School. He is also a CFA charterholder. He resides in Brookline with his wife and three young children. In his free time, Pisacich stays active by exploring the outdoors with his family, playing tennis, bicycling, and practicing yoga.
Register to attend the Big Red Bash.