Mia Kyricos, MMH '03, named 2023 Cornell Hospitality Innovator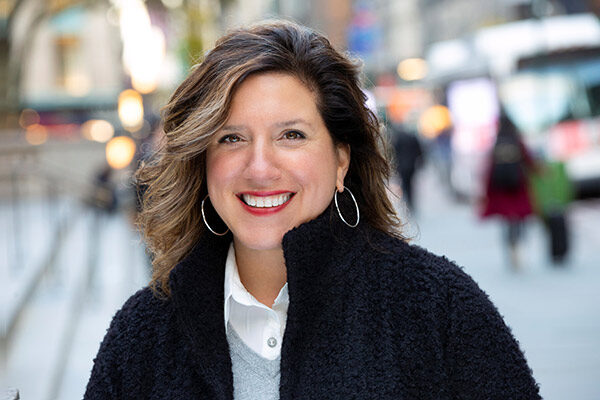 The Leland C. and Mary M. Pillsbury Institute for Hospitality Entrepreneurship (PIHE) and the Cornell Peter and Stephanie Nolan School of Hotel Administration have selected Mia Kyricos, MMH '03, president and chief love officer (CEO) of Kyricos & Associates, LLC, a strategic advisory firm dedicated to the business of wellness and wellbeing, to receive the 2023 Cornell Hospitality Innovator of the Industry Award. The award will be presented at the Cornell Hospitality Icon and Innovator Awards ceremony, to be held June 6, 2023, in New York City.
Kyricos is widely respected for her role in helping to define the global wellness economy and transform what it means to be well at work and in life. She has held multiple wellness-driven brand, leadership, and advisory roles in the hospitality industry spanning more than 100 countries and she brings the insights and experience gained to Kyricos & Associates, a firm she founded in 2012 to help organizations of all kinds leverage wellness as a strategic differentiator, whether commercially, internally, or a combination of both. As for her unique job title, "chief love officer"—Kyricos adopted it after she had studied and published findings on the power of love as a business strategy in 2020, and in 2021, she trademarked her company's proprietary approach to identifying and activating "Ecosystems of Wellbeing" designed to make people, community, and planet inherently well. She sums up both efforts by saying "the business of wellness is the 'what', love is the 'how' and both are proven to impact the bottom line."
When Kyricos was senior vice president and global head of wellbeing at Hyatt Hotels, she created and led Hyatt's global commercial and colleague wellbeing strategies spanning nearly 1,000 properties, 20 brands, and more than 130,000 employees. As chief brand officer of Spafinder Wellness, she led the company's brand evolution and co-founded the Global Wellness Travel Awards, positioning Spafinder as the global authority on wellness providers, destinations and resources. As director of global spa brands at Starwood Hotels & Resorts, she led the creation of six international spa brands, helped to reposition Westin into one of the hotel industry's first wellness-focused brands, and managed the Starwood Spa Collection, a consortium of 60 wellness travel destinations across 26 countries.
"Mia is a pioneer in the wellness and spa industries whose trailblazing work is now defining new health and wellbeing standards across the hospitality industry and beyond," said Kate Walsh, the E. M. Statler Professor and dean of the Nolan Hotel School. "We are delighted and proud to recognize Mia and her achievements with this award."
In 2019, the Nolan Hotel School honored Kyricos as the Cornell MMH Outstanding Alumna of the Year. That same year, Kyricos received the Leading Woman in Wellness award at the Global Wellness Summit in Singapore. She is a celebrated speaker whose work and expertise has been featured in high-profile newspapers and magazines as well as in hospitality industry and business publications.
In addition to serving as a member of the Nolan School's Dean's Advisory Board, Kyricos sits on the advisory boards of Wellness for Cancer and the Global Wellness Institute, a nonprofit organization she helped found that is dedicated to empowering wellness worldwide through education. She has returned to Cornell several times to speak in MMH classes on spa management, marketing, food and beverage management, and organizational behavior.
The Cornell Hospitality Icon and Innovator Awards is the largest annual event for the Nolan Hotel School, bringing together hundreds of influential leaders in the global hospitality and travel industries each year. The event is a key fundraiser for the school's annual fund, which provides critical need-based scholarships for students.
For details about the 2023 Cornell Hospitality Icon and Innovator Awards, please visit the event web page.