Innovating for Climate: Insider Insights from ClimateCAP
By Alejandra Plaza Limon, MBA '23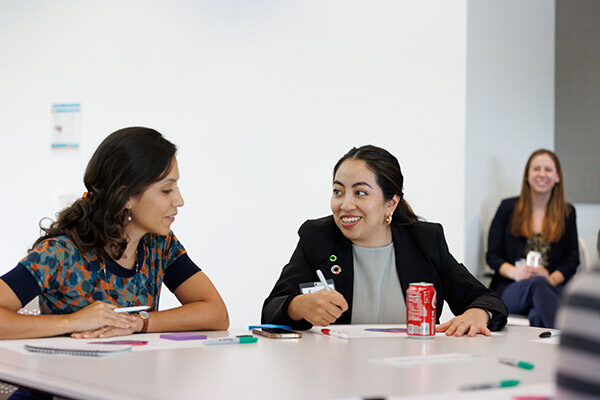 I recently had the opportunity to attend the ClimateCAP conference, a global MBA summit on climate, capital, and business that took place on February 24 and 25 in Austin, Texas. As a member of the Sustainable Global Enterprise Club at the Samuel Curtis Johnson Graduate School of Management, I was eager to participate in this year's sold out event with 300 MBA students from around the country, including four students and two staff members from Johnson. The event focused on the theme of Innovation for Climate and we learned from industry leaders and innovators about how they are tackling climate change through their work.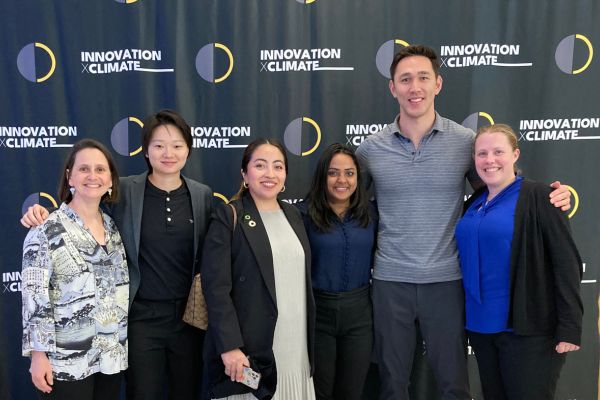 Exploring the intersection of climate and capital
On day one of the conference, we had a chance to hear from Lillian Mills, dean of the McCombs School of Business at the University of Texas, Austin, who had a fascinating conversation with Paul Polman, former CEO of Unilever and climate activist. The CEOs of Closed Loop Partners and NextEra Energy also shared their ambitious climate goals. As an MBA student, it was inspiring to see such enthusiastic speakers share their stories of how they became inspired to pursue a career in climate. The excitement among my fellow MBA students was palpable, and we were all willing to connect, share our struggles, and discuss our hopes for the future.
Day two was dynamic and collaborative. Morning highlights included a conversation about hard-to-decarbonize industries. This was an insightful panel of the conference that featured speakers from a range of industries and investors funding lower-carbon infrastructure and supply chains. The panelists discussed the challenges and opportunities for industries that are hard to decarbonize, such as airlines and chemicals. Lauren Riley, chief sustainability officer at United Airlines, shared how they are working towards sustainable aviation fuels and carbon-capture technologies. Haley Lowry, global director of sustainability at Dow, discussed how they are reducing emissions from their chemical manufacturing processes. Emmanuel Lagarrigue, partner and cohead for climate at KKR, discussed the role of private equity in financing the transition to a low-carbon economy. The panel provided valuable insights into the complexities of decarbonizing these industries and the need for collaboration between businesses, investors, and policymakers to achieve climate goals.
During the breakout sessions at the event, I had the opportunity to engage with speakers and other MBA students on two important topics: powering business and transportation and financing a sustainable future. The first session focused on how we can transition to cleaner energy sources and electrify transportation on a large scale. The panel featured several prominent speakers from the industry who discussed the critical role that renewable energy development, transmission, and electric vehicles play in the clean energy transition. The speakers provided valuable insights into how we can decarbonize our grid and achieve a more sustainable future.
Storytelling as a signature
One of the most impactful sessions at ClimateCAP was the session we had with Ray Cameron, head of corporate client strategy for the Americas and managing director at BlackRock. As a first-generation graduate, Cameron shared valuable insights on how positive thinking can help overcome obstacles. During the discussion, he shared three key pieces of advice: Own your narrative, take more risks, and embrace failure as a learning opportunity. His words of wisdom left a lasting impact on many attendees, including myself.
Another highlight of the conference was the Climate Tech Founder Lightning Talks, when we heard inspiring stories from several CEOs and founders of innovative solutions to climate challenges. It was a reminder that passion and perseverance can lead to impactful and meaningful work.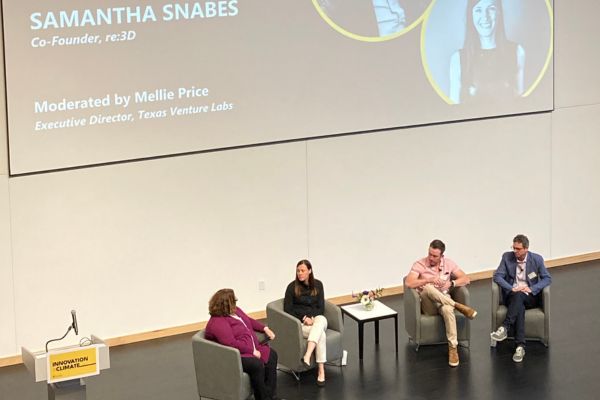 Reflection
Attending ClimateCAP reaffirmed my love for sustainability and climate mitigation. It was motivating to meet other like-minded MBA students who share the same passion for sustainability and want to influence the world. It made me think that the future looks bright if we all work together and mobilize capital to support innovative solutions for climate change. The conference was an amazing experience that allowed me to learn from industry leaders and innovators, connect with fellow MBA students, and engage in interactive sessions that reinforced my passion for sustainability.
About Alejandra Plaza Limon, MBA '23 (Two-Year MBA)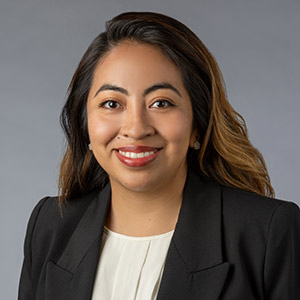 Alejandra Plaza Limon, MBA '23, is a dual-degree student at Cornell University pursuing her MBA at the Johnson School and MPA at the Cornell Jeb E. Brooks School of Public Policy. In 2022, she completed the Sustainable Global Enterprise Immersion, which gave her firsthand experience with the intersection between sustainability and businesses. Prior to attending Cornell, Plaza Limon worked at The Nature Conservancy managing grants and at Siemens on energy transmission projects. She also served as a climate consultant for Columbia County in New York State. Alongside her academic and professional endeavors, Plaza Limon is a climate activist and global volunteer.