Empowering Women in Healthcare: Five Trailblazing Leaders Share Their Insights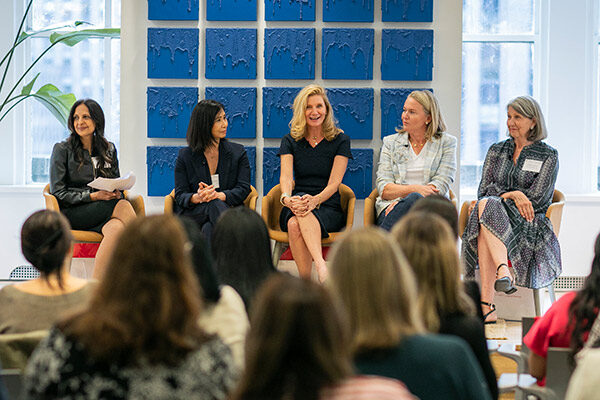 Risk-taking was the theme of the evening at the May 10 Women in Business Forum featuring a panel of alumnae leaders in various sectors of the healthcare industry. The room buzzed with energy as attendees listened to distinguished professionals speak about the intricacies of navigating a career in healthcare.
Hosted by the Cornell SC Johnson College of Business, the panel was moderated by Rainu Kaushal, MD, MPH, Nanette Laitman Distinguished Professor of Population Health Sciences at Weill Cornell Medicine. Panelists included Angela Hwang, MBA '94, chief commercial officer and president of global biopharmaceuticals business at Pfizer; Meredith Ryan-Reid, MBA '07, CEO of Versant Health; and Eileen Walker '76, MBA '78, chair of the TEDMED Foundation, all graduates of the Samuel Curtis Johnson Graduate School of Management, and Holly Sheffield '92, president of CooperSurgical, a graduate of the Charles H. Dyson School of Applied Economics and Management. The roughly 75 alumni, students, prospective students, faculty, and staff who filled the room had a chance to mingle with one another and with the panelists.
After a brief welcome from Andrew Karolyi, Charles Field Knight Dean of the SC Johnson College, the discussion kicked off with each leader sharing her insights on industry trends, leadership styles, and the impact her Cornell education has had on her professional journey. A common experience among many of the participants? A non-linear career path.
Choosing healthcare: A convergence of passion, purpose, and pivoting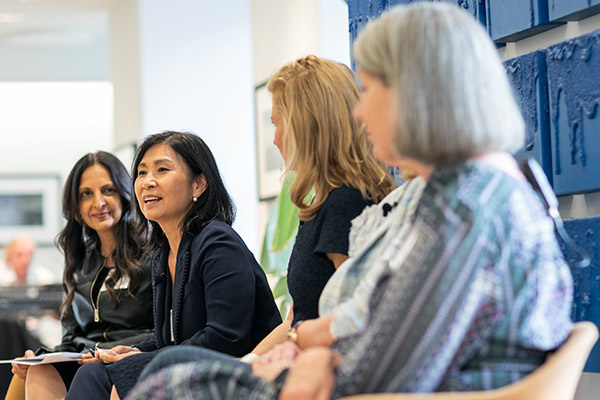 Hwang, who was initially a microbiologist and chemist, discovered her interest in healthcare as a student at Cornell. Although she enjoyed research, she found herself in a constant battle with the slow pace of research. An industrial policy course on healthcare reform piqued her curiosity, leading her to apply for a role at a healthcare consulting firm. After completing a successful project for Pfizer as a consultant, she ultimately transitioned to the pharmaceutical company full time. "I found healthcare to be the perfect combination of my love for science and invention, coupled with my need for instant gratification in running a business," she said.
Walker shifted her focus during her career, too, albeit later in her journey than Hwang. After spending many years on the HR team at IBM and her children had reached a critical age, she realized it was time for a better work-life balance. "When my kids were 7 and 9, I saw that I needed something different," she said. "They were starting to ask tough questions, and I wanted to be the one answering them." Walker became involved with TEDMED, a nonprofit organization, where she found her passion for elevating and amplifying voices in health science and medicine. That's where she discovered her space in helping nonprofits with their organizational and business skills, ultimately making a significant impact in that realm.
Similarly, Sheffield left her successful investment banking career when a new opportunity arose at CooperSurgical. "Investment banking is highly regimented," she explained. "You know exactly what to expect, and what you need to do to get promoted. But at some point, I reached the top and had clients asking me to come work for them. It wasn't an easy choice." Sheffield had a long list of criteria that went into her decision to make the shift: In any opportunity she accepted, she wanted to feel confident that she would add value, work with a great team, and continue learning. "Cooper checked all those boxes," she said.
Defining leadership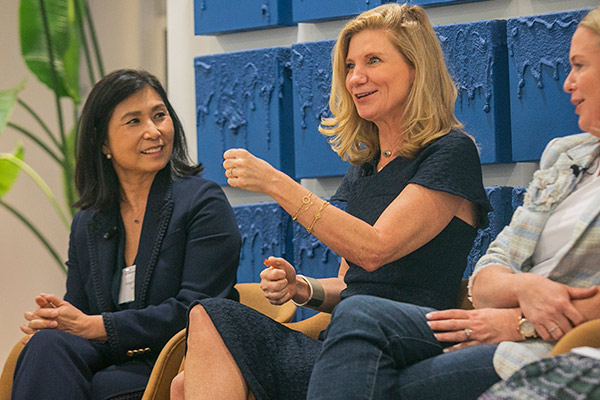 Asked to identify some essential qualities for leaders, panelists pinpointed integrity, competence, confidence, and the ability to bring diverse groups together. They emphasized the importance of finding mentors to tap into these qualities and encouraged woman leaders to be genuine, embrace their uniqueness, and take risks. "And if you fail after taking a risk, then put on your best heels the next day and hit the reset button," Sheffield urged the audience, earning a laugh from the crowd.
Walker noted that in many ways, great leaders are like orchestra conductors: challenged to take different instruments and tunes together and unify them to create beautiful music.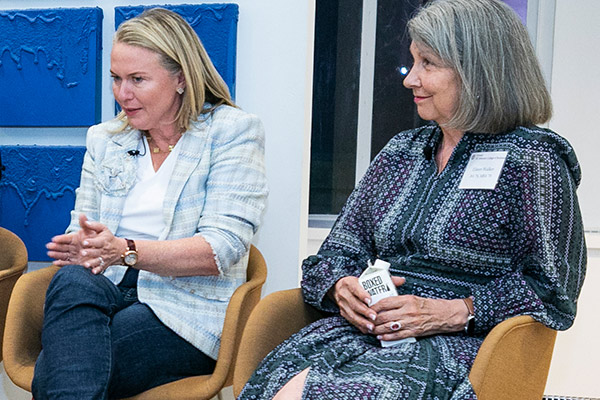 Reflecting on imposter syndrome, Ryan-Reid noted that women often experience feeling out of place in a room of male colleagues, but the reality is "you wouldn't be in that room if you didn't deserve to be," she said. Hwang similarly cautioned women against feeling like they have to "stay in their lane," saying: "If you have something to contribute, don't be afraid to come out and say it."
In addition to the individual characteristics and strategies essential for leadership, panelists also agreed that company culture plays a key role in fostering effective leaders—of any gender. Hwang reflected on the culture at Pfizer, and how it enabled the company to innovate so quickly during the height of the COVID-19 crisis. Back in 2020, the company was working on an mRNA program with BioNTech, focused on developing a new flu vaccine. Though the leadership team knew COVID-19 was a unique disease, they made a decision to shift gears and experiment to determine if the vaccine could be adapted to protect against COVID-19.
"Many companies tried to make the vaccine, but if you look at what we were able to accomplish, it was the culture that made the difference. The ability to do amazing things at a company of this size boils down to its people," Hwang said. She praised the entire leadership team for inspiring and motivating people to thrive. "That's when people will blow through a wall and do extraordinary things," she said.
Supporting Gender Inclusion: Initiatives and Progress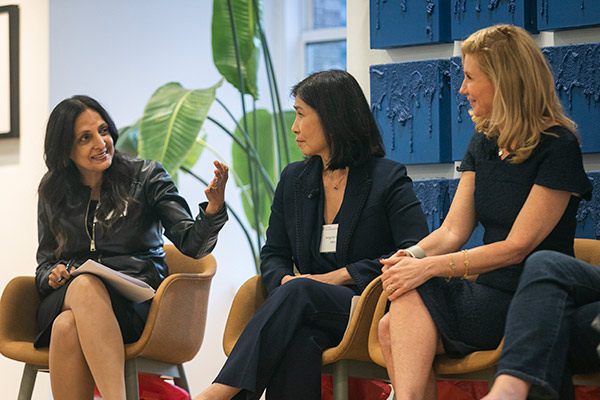 As the discussion came to a close, Kaushal posed a final question around how organizations can become more inclusive to women. Hwang shared Pfizer's commitment to creating equitable and diverse environments, setting goals, implementing development programs, and promoting mentoring opportunities. The panelists also stressed the significance of diversity in clinical trials and building trust with underrepresented communities.
Ryan-Reed explained that inclusion efforts have to extend beyond factors like race and gender. For example, she shared that veterans, former athletes, and immigrants are groups that are sometimes overlooked for career opportunities, yet they share a common trait that makes them incredibly appealing candidates: resilience.
Finally, Kaushal reminded the audience that diversity and inclusion at the highest level of an organization can have a domino effect. "When you have diverse leaders, you'll start to see that trickle down across the board," she said.
Photos credit: Jesse Winter