Food Executives Tap Into Industry Trends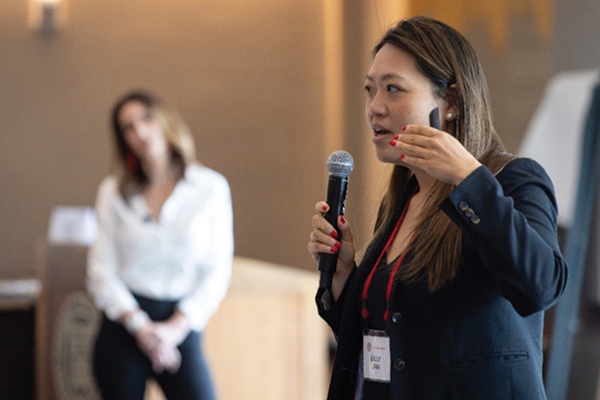 On July 12, Lilly Jan faced a 90-person audience in the Statler Hotel Ballroom and said, "You have to recognize that you are not normal. Most people do not look at food the way you do."
Laughing and nodding, the attendees—executives and managers from major food corporations and boutique retailers across the country—understood what she meant. They had gathered for a week of networking and learning at Cornell's Food Executive Program. Jan, faculty member in the Cornell Peter and Stephanie Nolan School of Hotel Administration at the Cornell SC Johnson College of Business, presented on the future of cuisine.
Jan challenged the group to consider how millennials and Gen Zers think about food.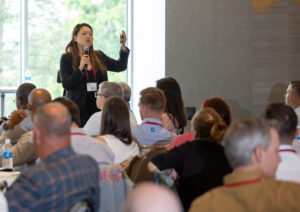 "We just experienced a pandemic, a global trauma," said Jan, who co-teaches the student-operated Establishment restaurant class and studies food trends, culture, and cuisine. "The way people approach health and wellness has changed. After trauma, people turn to comfort and sharing."
In food, that might mean new takes on sharing boards like charcuterie and butter boards—or nostalgic foods with a twist.
"Think bananas foster with tahini—I just made that one up," said Jan, who bases such a seemingly off-the-cuff remark on 20 years of experience in the restaurant industry and academia.
Millennials and Gen Zers want to associate with brands that help them live a life they believe in—though their actions don't always align with their values, according to Jan.
"This is the dichotomy of the American consumer," Jan said. For example, they say they want to eat healthy, but macaroni and cheese remains a top menu item. They buy hard kombucha so they can have alcohol with an air of healthfulness.
"It's great to see the new trends," said Tracy Aquila, vice president of merchandising for frozen and dairy at Southeastern Grocers in Jacksonville, Florida, who attended the program on a Nestle scholarship. "I'm thinking about frozen dinners and what's the next thing. We have to make space for new items and not just be stuck with what we've always done."
Jan's presentation, which covered dozens of trends, was just one session during a week packed with learning. Another highlight was a weeklong computer supermarket simulation. Teams of five competed to run a chain of stores, making decisions about promotions, pricing, labor, and more.
"There's a competitive side to the week with the simulation, so that's enjoyable," said Andrew Newman, director of sales at Kind Snacks, whose team rose from second place midweek to finish first in its trade division by balancing cost control with revenue generation. "It kept things lively throughout the week."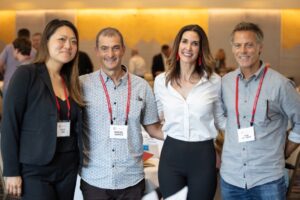 Vishal Gaur, Anne and Elmer Lindseth Dean of the Samuel Curtis Johnson Graduate School of Management; Miguel Gómez, Robert G. Tobin Professor of Food Marketing in the Charles H. Dyson School of Applied Economics and Management; Ed McLaughlin, Robert G. Tobin Emeritus Professor of Marketing in the Dyson School, and Ken Blanchard '61, president of Ken Blanchard Companies, were among the experts who taught sessions ranging from negotiation and financial disruption in the industry to changing business models and partnering with influencers.
Daniel Hooker, faculty member in the Dyson School with 27 years of experience in global retail, consumer packaged goods, and ecommerce, has led the Food Executive Program since 2019. The program is now in its 58th year and receives rave reviews.
"This program stands out thanks to our excellent SC Johnson College faculty and our partnership with Nestle, which brings high-level executives to the program," he said.