Meet Our New Faculty: Arielle Anderer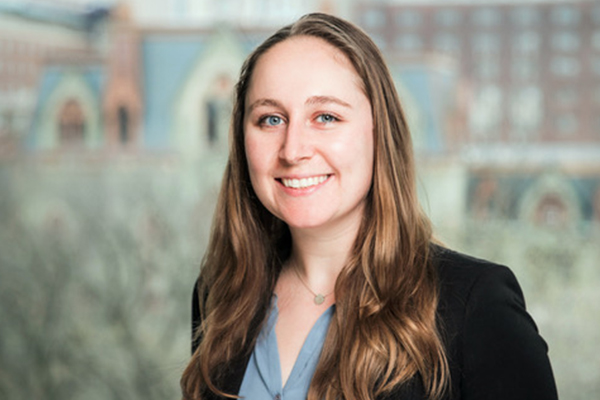 Meet Arielle Anderer, a new faculty member from across the Cornell SC Johnson College of Business. Anderer earned her PhD in operations, information, and decisions at the University of Pennsylvania's Wharton School. She joins the Samuel Curtis Johnson Graduate School of Management as assistant professor, operations, technology, and information management.
Learn more about Anderer's areas of expertise, research focus, courses she will be teaching, and other interests in this Q&A.
Arielle Anderer | Assistant Professor of Operations, Technology, and Information Management | Johnson School
What are your research and teaching areas of focus?
My research is primarily focused on improving healthcare operations, though it does have applications to other fields such as marketing. I look at designing novel adaptive algorithms so that medical professionals can better leverage data to determine efficacy or necessity of treatment. For example, some of my work looks at ways to improve the design of oncology clinical trials. For teaching, I am focused on teaching students techniques required for understanding data and using it to make better business decisions under uncertainty.
What class(es) will you be teaching this year?
I'll be teaching the core MBA data analytics and modeling course this spring.
What attracted you to the Cornell SC Johnson College of Business specifically?
I was most attracted to the breadth of research being done in the SC Johnson College of Business. I think that talking to my colleagues in the College of Business (as well as across the rest of the University) will provide a lot of interesting opportunities to think outside of the box, and to find new applications where the techniques I study could be potentially useful, or to explore new techniques that could be helpful for the types of problems I generally look at.
What first sparked your interest in your research/area of study?
It was actually a women in engineering weekend for high school seniors, put on by Cornell's Society of Women Engineers, that first introduced me to the field of operations management/operations research. The second I learned you could use math to improve the efficiency of such a large variety of systems, from factories to hospitals, I was sold.
How did you know you wanted to teach? What do you like best about teaching?
I taught a bunch when I was an undergrad at Cornell, both as a TA in the College of Engineering and for Cornell Outdoor Education, and most of the time I was having so much fun sharing knowledge with students that it didn't even feel like a job. I think the thing I like the most about teaching is that moment when you can see something click for a student. Whether it's understanding a challenging concept or encountering a different and interesting way of thinking about problems, whether it's seeing their code work for the first time or finally mastering tying a tricky knot, I think seeing students get excited about a topic or acquire a new skill is the most rewarding part of being a teacher.
What are you most looking forward to during your first year at Cornell?
Am I allowed to say all of the different soups at Temple of Zeus? I'm also really looking forward to getting to know the other faculty members in the Johnson School, both professionally and personally — I know that some of us are planning on participating in the Aids Ride for Life (102 miles around Cayuga Lake) which should be really fun!
What's the best book you've read this year?
Babel, by RF Kuang. The full title is actually "Babel: Or, the necessity of violence: an arcane history of the Oxford translators rebellion." I've been recommending it to everyone I know. It's beautifully written (I never thought the use of footnotes could be so well executed) and deals with themes that are extremely relevant, especially to academics.
What do you do to recharge?
I love to be out in nature, whether it's canoeing, cycling, or just going for a wander. I also like to spend time at the climbing gym or curled up somewhere with a novel!