Kyungbae Suh, MBA '87, Endows Professorship of Global Marketing
Professor Helen Chun is appointed inaugural Kyungbae Suh Professor of Global Marketing, a professorship established by Amorepacific CEO Kyungbae Suh, MBA '87, and his wife, Yoonkyung Shin.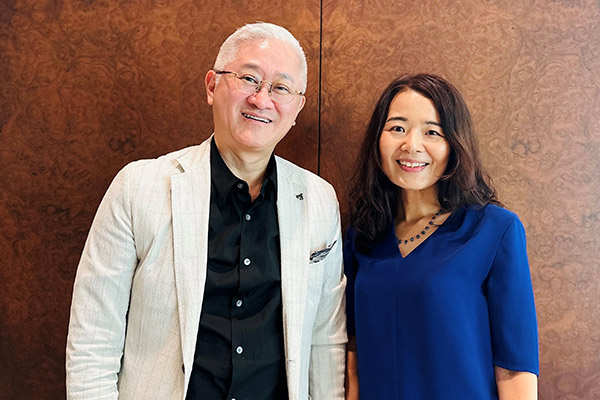 At first glance, the new professorship recently established by Kyungbae Suh, MBA '87, CEO of Amorepacific, and his wife, Yoonkyung Shin, may seem to be a simple example of a successful alumnus giving back to his alma mater. But all the pieces of this story—the endowment, its donors, the position, and its recipient—are harmonious parts of a unified whole.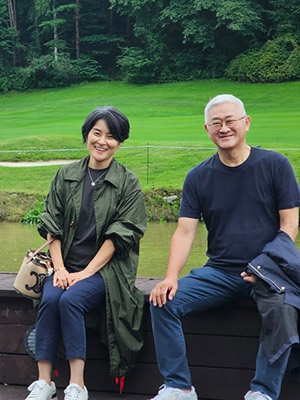 The creation of the Kyungbae Suh Professorship of Global Marketing aligns perfectly with Suh's company's mission and seems a natural outgrowth of what he cares about. And Professor HaeEun (Helen) Chun, a faculty member in the Cornell Peter and Stephanie Nolan School of Hotel Administration and the inaugural holder of this position, shares research and teaching interests that fit well with Suh's corporate and personal brand. It's an exciting alignment that promises to make a significant impact in the field of global marketing.
Suh rose to prominence after graduating from the Samuel Curtis Johnson Graduate School of Management. In 1997, he became CEO of the company his father, Sungwhan Suh, incorporated in 1945 from a cosmetics business the elder Suh's mother started 13 years earlier. Recognizing that the company's diverse business line was working against it, the younger Suh divested peripheral businesses to focus on health and beauty.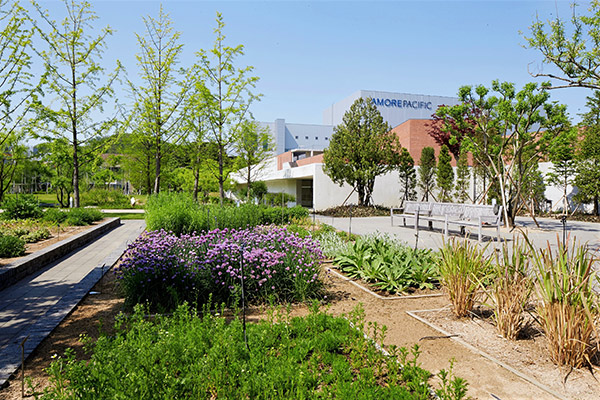 That decision helped propel Amorepacific to dominance in the cosmetics industry, first in South Korea and then worldwide. Suh's insistence on branding that combined beauty, individuality, harmony, and nature was prescient and strategic. His focus on nature, sustainability, and botanicals to create prestige products both rode the incipient wave of consumer interest and helped shape it.
In retrospect, it makes perfect sense that this South Korean native, whose favorite words are "nature" and "beauty," would come to study at Cornell.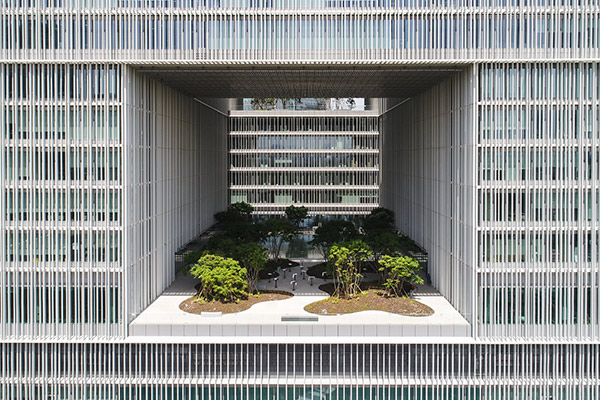 "I often remember the natural environment of Ithaca," Suh says. "In particular, the forest and botanical garden behind the school and the view of Cayuga Lake from the long windows of the Johnson Museum are truly beautiful in every sense of the word." He recalls moments of quiet contemplation on Newman Overlook.
"Even now, I continue to appreciate nature, creating gardens at the Amorepacific headquarters building in Seoul and in research labs, and a botanical garden in our factory as we embark on our mission to realize our dream of conveying to the world a 'new beauty' rooted in a deep understanding of nature and people."
A dedicated Cornellian and champion for business research and education
Suh has supported Johnson steadfastly since graduating, serving as president of the Johnson School Alumni Club of Korea from 2004 to 2012 and receiving the first Proud Cornell Alumnus Prize in 2007. In 2015, he received the L. Joseph Thomas Leadership Award and served as president of the Cornell Club of Korea until 2016. He endowed the Sungwhan Suh Professorship of Management in 2010, currently held by Young-Hoon Park.
"I continue to be delighted by the generosity of Kyungbae Suh and Yoonkyung Shin," says Andrew Karolyi, Charles Field Knight Dean of the Cornell SC Johnson College of Business. "Their establishment of this professorship will be a cornerstone of the SC Johnson College of Business's prominence in global marketing education and research."
Suh sees the new professorship as a way to nurture essential research.
"Digital innovation has fostered global connectivity through digital platforms, leading to increased movement of goods and people across these interconnected networks," Suh explains. "This interconnectedness presents a wide range of opportunities and challenges that businesses face and navigate. Considering this ever-changing landscape, I firmly believe that Cornell will greatly benefit from professors who engage in in-depth research on emerging global marketing issues, digital transformation and technology, and global customer experience while effectively imparting their valuable insights to students who are poised to become future leaders as well as to the broader academic community."
An outstanding scholar and teacher who explores the customer experience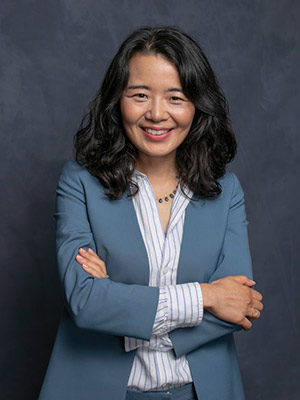 When looking to appoint the inaugural Kyungbae Suh Professor of Global Marketing, the SC Johnson College of Business had a standout choice. Chun, who began her appointment on July 1, 2023, has been at Cornell since 2009. She combines services marketing with consumer psychology, all through a global lens. Focusing on emotions, branding, and digital technology, she explores behavioral drivers of customer experience. Many of her projects tackle issues such as:
Building a healthier and more sustainable local and global service ecosystem; for example, using blockchain technology to connect consumers to distant providers.
Designing experience and incentive structures for global sharing platforms, including crowdfunding services and Alibaba's Ant Forest, which allows users to earn "green points" for planting trees.
Studying social responsibility and its impact on the consumer-brand relationship.
Exploring how global travelers' experiences and online reviews are influenced by cultural and geographic distances and evolving global travel motivations.
Chun's publishing presence is influential and global, including editing a special issue for the Journal of Service Management; working as an associate editor of Service Science; and serving on the editorial boards of the Journal of Service Research and the Korean Management Review.
Chun has participated in a high-level sustainability debate at the UN General Assembly and educated global industry leaders on marketing and the customer journey. "These interactions provide me with valuable insights as I continuously learn about the real-world challenges faced by professionals in the business sphere," she adds. "These experiences really enrich my teaching and research, allowing me to integrate practical knowledge and different perspectives into my work. It adds so much depth and relevance to what I do."
Chun received the Ted Teng '79 Dean's Teaching Excellence Award; was a Merrill Presidential Scholars Outstanding Educator honoree; and was chosen the Nolan School's Teacher of the Year seven times.
Suh, a consummate strategist, understands the importance of supporting outstanding academics. "I believe it is vital to provide financial support for professors with exceptional insights and research capabilities, enabling them to stay at Cornell and engage in research and education for the next generation in the digital world," he says.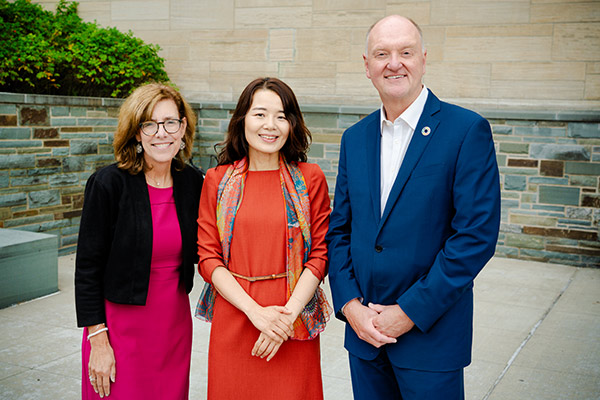 Nolan Hotel School Dean Kate Walsh says she values the deep connections between the SC Johnson College of Business and its alumni.
"I am gratified that Mr. Suh and Ms. Shin have enabled us to recognize Dr. Chun, whose outstanding teaching and research have helped the school hone and maintain its reputation as hospitality's leading educator and research center," Walsh says.
Suh remembers his time at Cornell fondly.
"The excellent education and experience I gained at Cornell have been a source of inspiration and motivation in my life," Suh says. "Ezra Cornell's generous, inclusive vision resonated deeply with me, and I have always considered it my mission and calling to support Cornell financially in its ability to provide outstanding education to its students."