Maxine Bédat Lays Bare the Fashion Industry's Impacts and How We Can Change It

The average American woman today owns seven pairs of jeans and consumers worldwide buy 1.25 billion pairs of them annually. But what impact does the demand for these ubiquitous garments have on the environment and on the lives of the workers who make them?
Maxine Bédat, cofounder of the fashion company Zady, set out to answer those questions by tracing the history of a single pair of jeans from a cotton farm in Texas to a landfill in Ghana. She described the journey in her book, Unraveled: The Life and Death of a Garment (Penguin, 2021), selected as the summer read for the Charles H. Dyson School of Applied Economics and Management.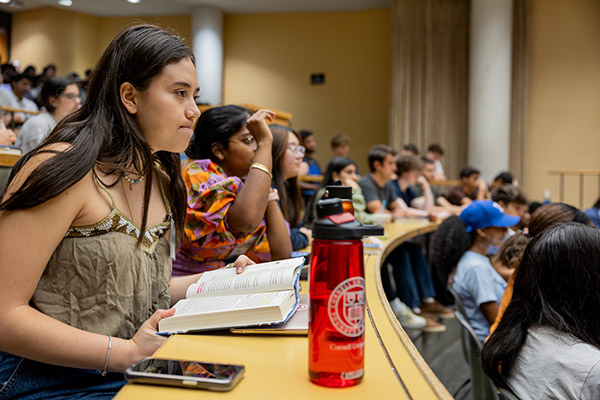 Bédat, founder of the New Standard Institute, a think tank focused on the fashion industry, visited with faculty and students at the Dyson School on October 2 and shared what she discovered from her nearly two-year-long investigation of the life of a pair of jeans.
"I wanted to use the story of a pair of jeans to tell a much broader story of consumer consumption, its effects, and what we can do to change that impact," Bédat told about 200 students and faculty gathered at the Statler Auditorium when she spoke as the Dyson Dean's Distinguished Lecturer. "The story of our jeans is really the story of our world more broadly."
Fashion's impact on climate and working conditions
While Bédat said many outside the industry may consider fashion to be "fun and frivolous," she noted it is a $2.5 trillion business, producing more than 100 billion garments annually. Fashion accounts for 8.1 percent of the world's greenhouse gas emissions—more than France, Germany and the United Kingdom combined.
One factor driving the industry's greenhouse gas emissions is the growth of what is known as fast fashion: low-priced clothing that quickly moves from design to stores to meet consumer demand for the latest trends. "Young women find their clothing to be old after being worn once or twice," Bédat said.
Since more than 98 percent of clothes Americans wear are produced overseas, Bédat visited several textile factories in China. Outside one plant in Guangdong, she saw chemical effluent flowing out of a pipe into a river, turning it black.
She then traveled to a garment factory in Bangladesh, where she met a 36-year-old woman who earns less than $100 a month working about 60 hours a week on the assembly line. Bédat, a former lawyer, spoke to the woman at her home — a tiny one-room shack she shares with her husband and two children.
"That was one of the most important conversations that I had, with this person who was being treated like a machine," she said.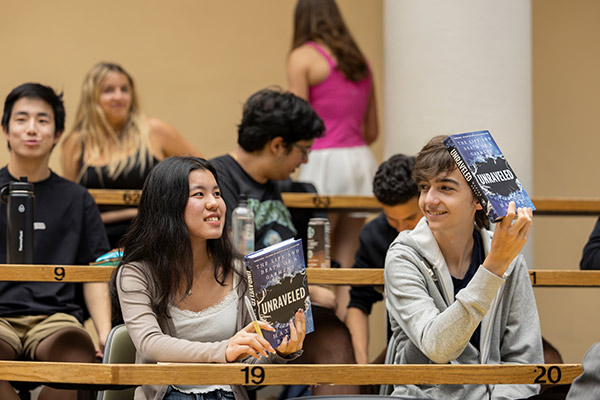 Bédat believes what will turn around the environmental impacts and the working conditions in garment factories is legislation, and she supports the Fashion Act, a law proposed in New York State. Introduced in the Assembly by Representative Anna Kelles, who represents Tompkins County, the law would require apparel or footwear companies that have annual revenues of $100 million and do business in New York State to disclose their supply chains, reduce their negative impacts on the climate, and improve the lives of garment workers.
Students support bringing change to the industry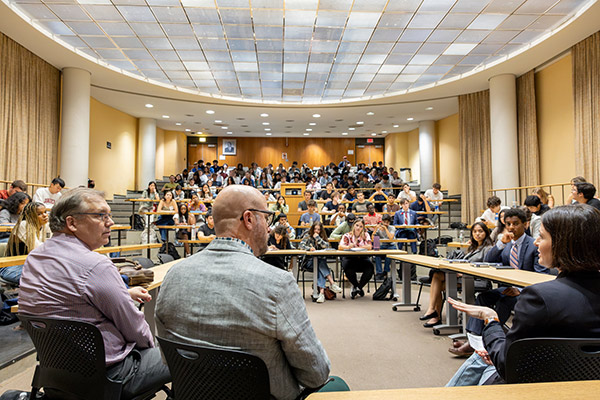 Earlier in the day, during Bédat's visit to the class Design Your Dyson, Erica Zhang, a sophomore, said she identified with the issues the author raised in the book because her mother worked in the garment industry in New York City for most of her life.
"I felt supported that someone was able to bring this topic to light and kind of stigmatize it," Zhang said. "Not a lot of people that I meet have parents who worked in this industry."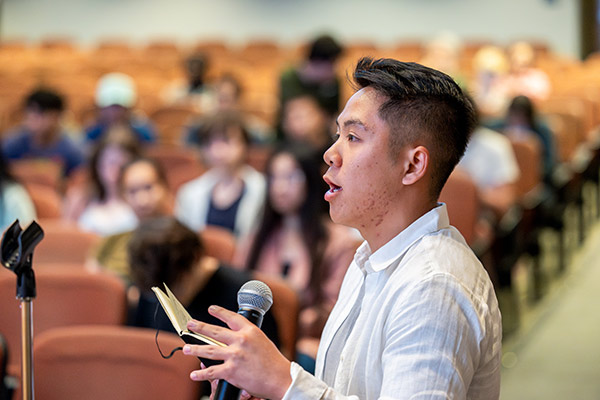 Gary Phan, a Dyson School senior who attended Bédat's talk at the Statler, said her insights were valuable to him because he is launching an ecommerce startup focused on sustainable fashion. "To see a speaker come and speak about this topic — it felt like a home run," he said.
Unraveled was chosen as the Dyson summer book read not only because faculty members thought it would teach students about global issues but also because it ties in with their students' interest in the fashion industry, said David Lennox, a senior lecturer in management communication who coteaches the two classes Bédat visited.
"It's a bit of a Dyson secret that we have staff and students who care about textiles and fashion," Lennox said. "Some are designers, some thrifters, some make their own outfits. So this book made it onto our short list. As the list got shorter and more of us dipped into it, it rose to the top."
Lennox said Bédat also showed students a career path that is not typical for most business majors. "Maxine found a way to combine a law degree, entrepreneurship, her love of fashion, and her advocacy work," he said. "It's not a bad model for students to consider as they develop their futures."