Cornell Dedicates Breazzano Family Center for Business Education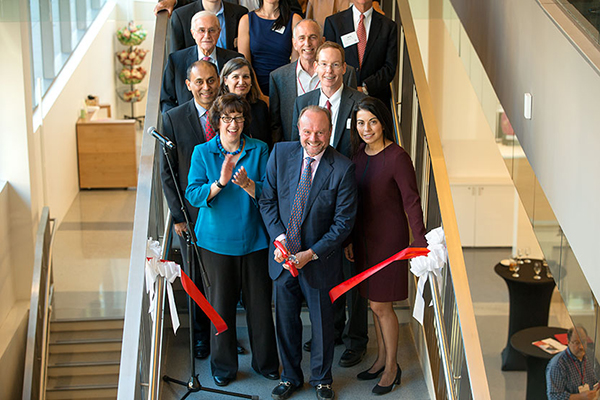 Cornell University marked the dedication of the Breazzano Family Center for Business Education with a reception on Oct. 18 that featured tours of the new building and remarks from several university officials, including Cornell trustee David Breazzano, MBA '80, whose $25 million gift—one of the largest ever made to business education at Cornell—substantially supported the building.
Located in the heart of Collegetown, the center will serve as the new home of the recently established Cornell SC Johnson College of Business. The college, established in 2016, unites the university's three accredited business schools­—the School of Hotel Administration, the Charles H. Dyson School of Applied Economics and Management, and the Samuel Curtis Johnson Graduate School of Management.
"Business education at Cornell is at an inflection point," said Breazzano. "We've consolidated graduate and undergraduate education through Cornell SC Johnson. We've embarked on ambitious programs with the new [Cornell Tech] campus on Roosevelt Island. … We're in a good place, and I am just humbled and honored to be a part of the transformation of business education here."
Modern in design, the 76,000-square-foot building offers classrooms for 450 students, three floors of administrative offices, two high-definition broadcasting studios, 19 breakout rooms, and a four-story atrium designed to accommodate a wide variety of events. High-tech video conferencing, which includes simultaneous-translation capabilities, will connect rooms within the building, facilities at Cornell Tech, and executive MBA programs in North and South America and China.
Cornell president Martha Pollack, SC Johnson College dean Soumitra Dutta, and Johnson School dean Mark Nelson also attended the dedication ceremony.
"It's an exceptional facility," Dutta said. "Not only does it provide state-of-the-art classrooms, office space, and two high-def studios, but much more important, really, it provides a forum and a place for our community to get together."
Read this article in the Cornell Chronicle to learn more about the dedication of the Breazzano Family Center for Business Education.