Cheryl Stanley's winning ways with wine

Dyson alumnus Andrew Salamida '15, MPS '16, keeps a plastic-encased, autographed copy of the October 2017 issue of Wine Enthusiast in his office at Cornell's Campus Life Enterprise Services in Clara Dickson Hall. This issue of the magazine names the autographer, Hotel School lecturer Cheryl Stanley '00, to its 40 Under 40 Tastemaker list—an honor for which she received a standing ovation when it was announced in class. Four years after taking over the legendary Introduction to Wines course, Stanley has won deep admiration, respect, and affection from many (many) hundreds of Cornellians besides Salamida.
When asked to describe Stanley and their interactions with her, students speak in superlatives: "incredibly supportive," "amazing," "larger than life." One even goes so far as to call her "almost superhuman." (While she laughs off that notion, she does have an uncanny ability to remember the class years of Hotel School alumni.)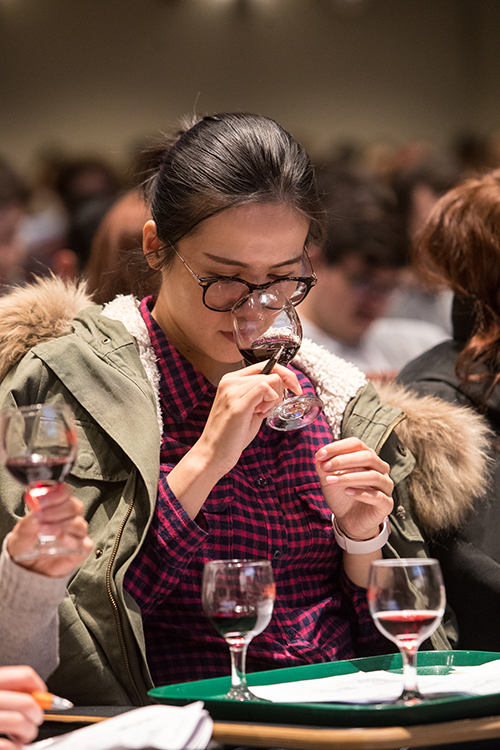 Hemingway once wrote, "Wine is one of the most civilized things in the world," offering "a greater range for enjoyment and appreciation than, possibly, any other purely sensory thing." Nowhere, perhaps, is that appreciation better fostered than in Intro to Wines. "When you take a class with Cheryl, you feel you've bettered yourself by learning about something that's thousands and thousands of years old, that brings stories from around the world directly to your table," said Decker Nielsen '16, an account manager for Booking.com. "Cheryl shows us that wine should be taken seriously, but that it's also a joy."
Apart from its many pleasures, Stanley considers wine knowledge a life skill—one that "helps you get a foot in the door" regardless of your profession and makes you the "cool, go-to person" among family and friends. As she works to build "palate mileage" through each of her many roles, her passion for the topic and her care and concern for students take center stage.
The industry professional
Stanley built an expansive knowledge base and network while working for more than a decade in the food and beverage industry. After graduating from the Hotel School, she was a sommelier, dining room manager, and fine-dining room manager at the Four Seasons Hotel in Newport Beach, California, and a restaurant sommelier, retail store manager, and wine director for the Wine Cask in Santa Barbara, an establishment with a Wine Spectator Grand Award-winning wine list. She left California in 2008 for Poughkeepsie, New York, where she started Cheryl Stanley Restaurant Consulting. She earned a master of science in hospitality and retail management from Texas Tech University in 2012.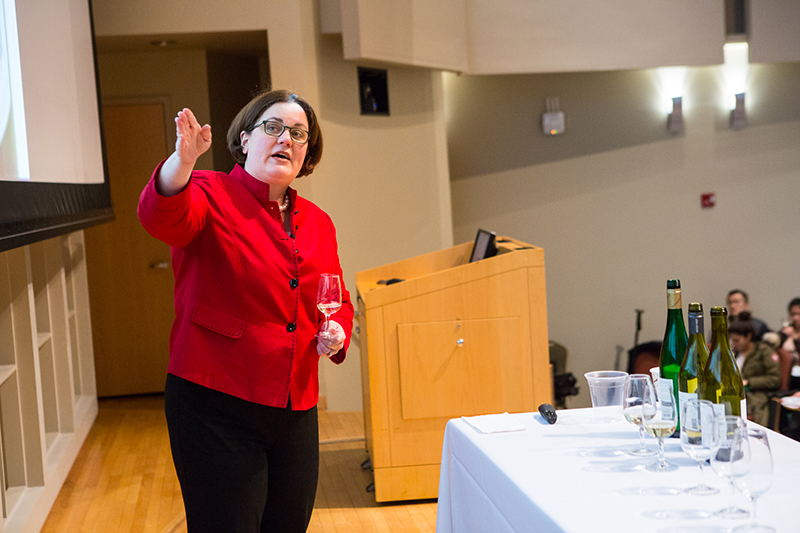 Along the way, Stanley was a lab instructor at Texas Tech, taught at the Culinary Institute of America, and earned such distinctions as Certified Sommelier from the Court of Master Sommeliers, Certified Specialist of Wine from the Society of Wine Educators, and Advanced Certificate in Wines and Spirits with honors from the London Wine School's Wine Spirits Education Trust program, adding to her earlier designation as Certified Bordeaux Wine Educator from Conseil Interprofessionnel du Vin de Bordeaux.
She returned to her alma mater in 2013 and, for a year, team-taught Introduction to Wines with Stephen Mutkoski '67, PhD '76, professor of the course for 31 years, before taking it over in fall 2014. (As a student, Stanley was Mutkoski's TA.) "It was always a dream of mine to teach about wine," she said.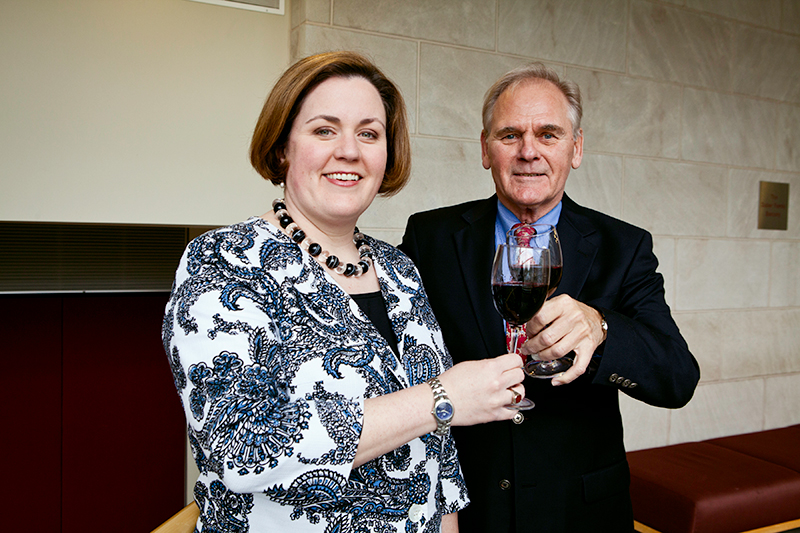 Nielsen, who was a fine-wine sales consultant at Southern Glazer's Wine and Spirits in Dallas before moving to New York this spring, considers herself fortunate to have been taught by an industry veteran. "Cheryl brought in a lot of interesting people and made sure we had an immersive educational experience," she said. "It wasn't until I got into the wine industry myself that I realized how lucky I was."
The lecturer and wine steward
As a TA for Intro to Wines, Nielsen witnessed Stanley's early days teaching the course. "From the moment she stepped out on the stage, she owned it. She killed it."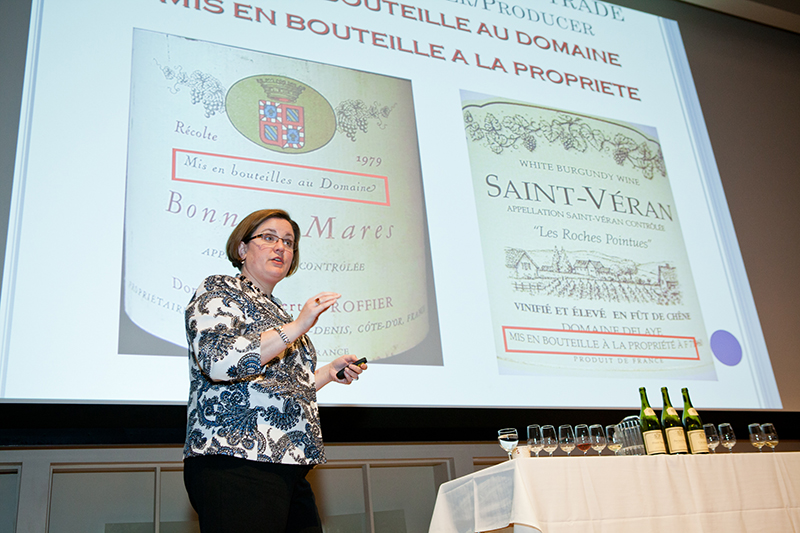 Stanley uses each class session to weave together storytelling, personal experiences, and information about wines and their regions before offering tastings of six or seven wines. While maintaining the course structure created by Mutkoski, she makes greater use of new technologies, like Zoom videoconferencing, to connect students with winemakers from around the world. Last fall, her former boss from Santa Barbara, Doug Margerum (now owner and director of winemaking for the Margerum Wine Company), called in to present his M5 red Rhone blend. "He was up there on Zoom, talking about the wine, and we were having a dialogue as though we were onstage together," she said. Other call-ins have featured John Wilkinson '79, developer and managing partner of Bin to Bottle Winery, presenting his Sexual Chocolate wine, and John Schwartz, chief executive officer of Amuse Bouche Wine, presenting his Richard G. Peterson sparkling wine.
When speakers visit in person, they pose for selfies with the students, a practice that started with Basile Tesseron of the Conseil des Grands Crus Classés en 1855, the organization of producers from the 1855 classification of Bordeaux. (Stanley displays all the photos on a board in her office.) Guest speakers have included representatives of Château Lagrange, Buttonwood Grove Winery, Dr. Konstantin Frank, and Bollinger and Chanson. During a visit last spring by Mark Davidson of Wines of Australia, "students had a great time talking about wine pairing with kangaroo," Stanley said. Every semester, Tim Marchell, director of the Skorton Center for Health Initiatives, and a representative of the Cornell Police speak on the importance of drinking responsibly and the consequences of failing to do so.
Matt Guarini '17, who served as lead TA for the Wines course, said Stanley inspires students to want to learn more. "Rather than giving you the answer directly, she'll show you how to find it. She teaches through conversation, which helps guide the class to a common understanding."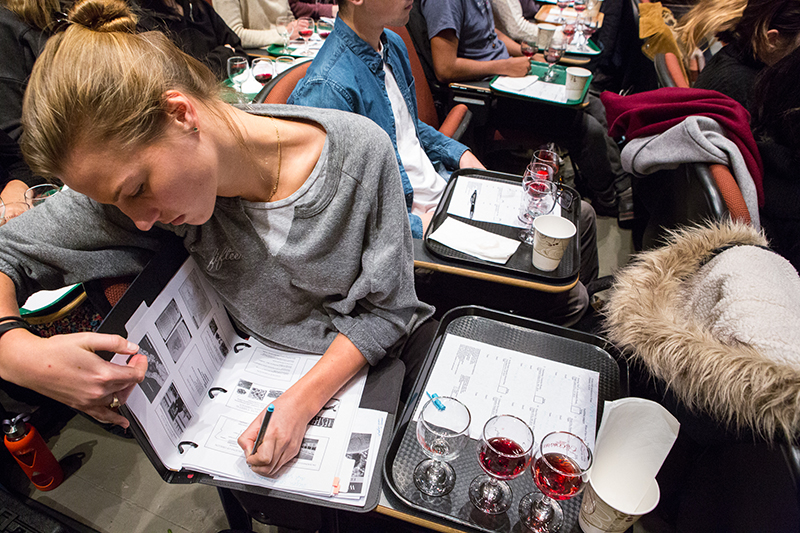 "She's a tough grader, but fair," said Ali Lawrence '17 of Happy Earth Tea in Rochester. "And the feedback she gives is absolutely amazing." Two projects that Salamida submitted for Beverage Management were returned with full-page responses "outlining what she liked, what she thought could be improved, and how she had arrived at my grade. I've never seen a professor take so much time and pay such attention to detail," he said. Salamida, also a lead TA for Wines, admired Stanley's ability "to make students care so much about the topic, the class, and the coursework. If we didn't do well on an exam, we felt we were letting her down."
In April, Stanley became an ambassador for VDP (Verband Deutscher Prädikats- und Qualitätsweingüter), the Association of German Prädikat Wine Estates. Partnerships like these, she said, allow her to gain knowledge ("Wine is a field that is forever changing") while marketing Cornell's wine program internationally and securing guest speakers, donations, and internship opportunities.
Wines for both Introduction to Wines and Beverage Management come from the school's collection of thousands of bottles from around the world and eight decades of production. The collection is housed in three locations: the wine cellar, which Mutkoski established, in the basement of Statler Hall; the wine library in the Beverage Management Center; and the Wines class storage room. Wines used for Introduction to Wines are primarily current release, she said, while Beverage Management students, "who are taking their wine knowledge to the next level," taste older wines. Stanley has continued Mutkoski's "birth year" program, which allows students to sample wine from the year they were born or earlier. "As a student, I found it incredible to taste these old wines," she said. "Now, as a faculty member, I want students to have that same experience."
Stanley credits the collection's breadth and depth to support from "amazing industry partners and private collectors." Among those she cites are David Drucker '99, vice president of sales for Empire Merchants; the Mariani family, founders and proprietors of leading U.S. importer Banfi Vintners and the renowned Castello Banfi vineyard estate in Montalcino, Tuscany and 2014 recipients of the Cornell Hospitality Icon Award; and the Conseil des Grands Crus Classés en 1855, which, in a program started by Mutkoski, sends a château owner each year to present to the class. Critical support has also come from the Sabol family (Kathryn Sabol '16 was a member of Cornell Cuvée and a TA for the Wines class), which endowed the Fine Wine for a Lifetime program. "It's wonderful to have that endowment, because there are wines we can't get donated—they're too expensive, they're made in such small quantities—but students need to know them," Stanley said.
The coach (and cheerleader)
Since its inception in 2014, Stanley has been the faculty advisor for Cornell Cuvée: Wine Education and Blind Tasting Society, which participates in four international competitions a year. Last year, the club scored two first-place wins, at the Sciences Po International Tasting (SPIT), held in Reims, France, and at Millésime, held at the Ecole Hôtelière de Lausanne (EHL) in Switzerland. "When the team won at EHL, breaking its first-place tie with the EHL alumni team, I cried," she said. "Working with these students and seeing their growth is just incredible. It's amazing to watch them try to understand things, and then—all of a sudden—here they are, tackling these big questions and tasting these amazing wines and really making smart decisions."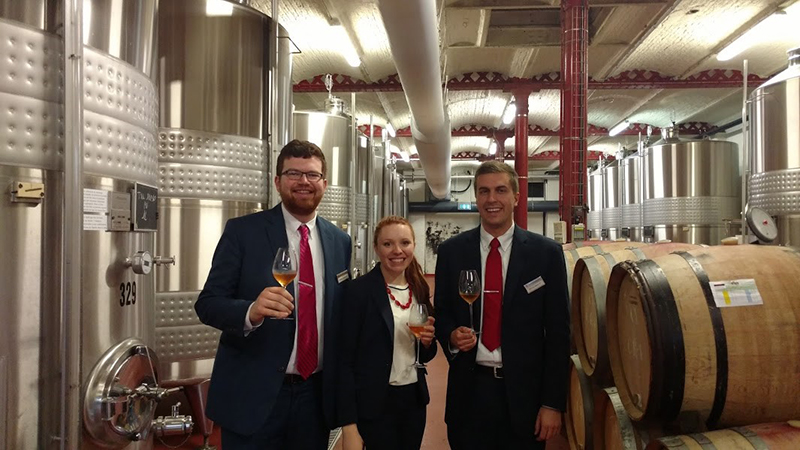 Guarini, presenter for the winning SPIT team, said, "Being the first Cornell team ever to win an international blind wine-tasting was absolutely phenomenal. And when we won, no one was more excited than Cheryl. She was jumping up and down and taking a million photos. She's our biggest cheerleader."
He recalled, "Our departing gift from her, the week before competition, was three packets each of Emergen-C. It was, 'Here's Emergen-C. Take your vitamin C, and make sure you don't get a cold.' We called her our second mom. She cares on that level."
"As a coach, Cheryl is incredibly supportive and positive," said Lawrence, a co-captain of Cuvée who competed last spring at Cav'it, in Champagne. "She organized the entire trip—she had an agenda for everything, she got our tickets, she even had her husband drive us to the airport. She was so excited to have us there and to be there with us.
After Nielsen "really messed up," she said, on a test that would have qualified her for competition, Stanley "was very encouraging that I would do well on the next one. That second test qualified me to compete at Millésime, where our team placed third—an experience that changed my life. The confidence I gained, the exposure to people, the validation that I knew about wines changed everything and helped catapult me over others who were just starting out. I went straight into fine wine on-premise, selling the top end of our book for the largest distributor in the world."
The role model
In and out of the classroom, Stanley is a role model for students—particularly women, who are often underrepresented, and under-regarded, in the industry.
"Cheryl's passion and the way she communicates her passion and her knowledge are things I aspire to," Lawrence said. "She taught me how to meet people, how to network, how to extend myself to people. Her knowledge is so expansive, and being able to ask her questions about wine or anything else was indispensable. She's just this amazing person who I'm so happy and privileged to have gotten to know.
"Cheryl was incredibly supportive of everything I did at Cornell. During Hotel Ezra Cornell, when I was running around—I got maybe nine or ten hours of sleep that entire weekend—whenever she saw me in the hotel, she would stop me and say, 'Ali, are you okay?' She was constantly checking up on me. When she saw me in the hallway, she'd be like, 'Ali, the Danish this morning were delicious.' She's a very, very caring person outside the advisor-advisee or professor-student relationship."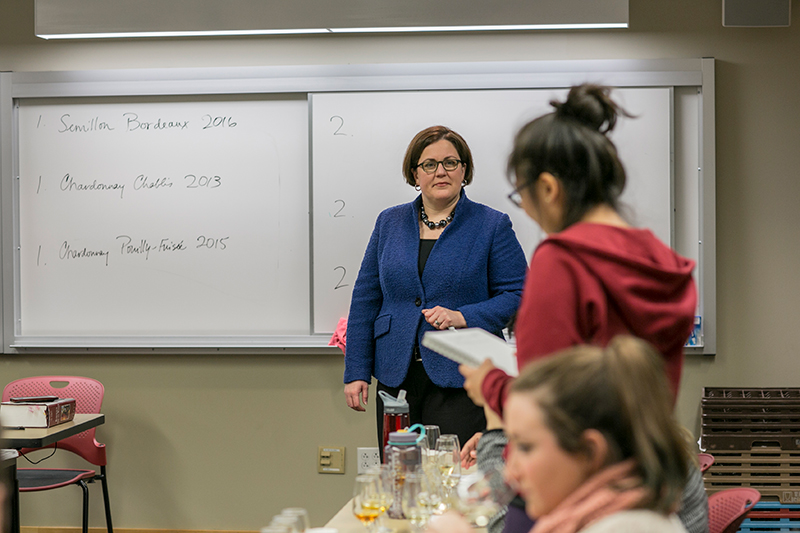 "Meeting Cheryl, who was driven by something a lot cooler than anything I'd experienced growing up—she just lived a life of pleasure and happiness and wine, and teaching people about these great things—I was like, wow, who gets to do this?" Nielsen said. "Her personal brand is incredible. She's the kind of person we all want to be. She's the exemplar of any and every kind of woman we need in the industry."
Guarini sought Stanley's advice before accepting his current position as food and beverage manager at the Four Seasons Las Vegas. Shortly after arriving, he received a package from her containing the latest issue of Hotelie, which included a short write-up about the SPIT competition, and a note saying, "Welcome to Vegas." "That was really super-sweet," he said.
In Salamida, Stanley sparked an interest not only in the beverage industry, but also in a lifestyle—one of service. "It's a lifestyle of giving people what you can, helping people when you can," he said. "That was more meaningful to me, ultimately, than whether I ended up in the beverage industry."
The proud Cornell alum
Growing up in Walnut Creek, California, Stanley had dreams of becoming a chef; by age ten, she was already running Cheryl's Chocolates. Heeding her father's advice to earn a degree in hotel restaurant management "and then do whatever you want," she set her sights on one school (and one school only): Cornell. Through internships and a summer study-abroad program in Switzerland offered by the University of Nevada Las Vegas, she discovered the wonders of wine. "Seeing wines and being able to taste them and experience them was so great," she said. "And then I took Introduction to Wines with Steve Mutkoski and I was like, 'Done!'"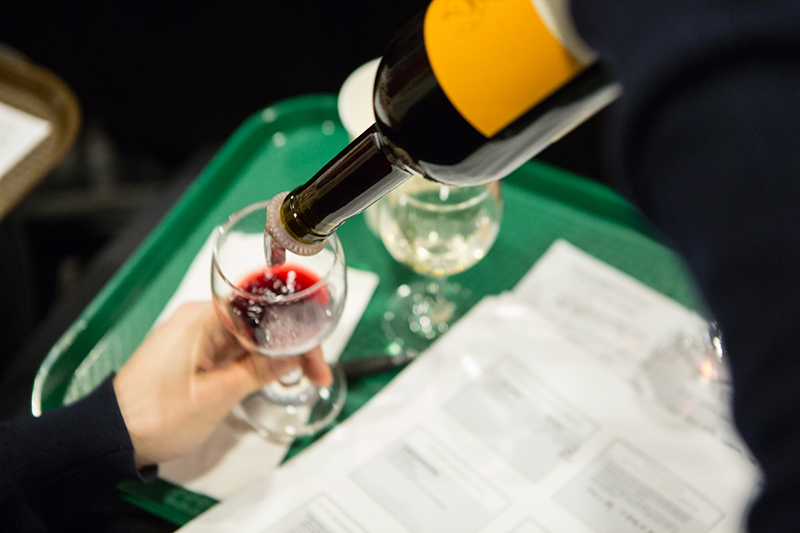 As a student, Stanley played rugby (an experience she shares with Salamida and Nielsen) and water polo; she also was a tour guide. "I loved sharing Cornell's 'Any Person, Any Study' philosophy," she said.
Perhaps nothing shows her school spirit more than her last class of the semester—a celebration of both wine and Cornell. Students enter to the tunes of Cornell A Capella and exit to "We Didn't Go to Harvard," by Cayuga's Waiters. She also maintains two traditions started by Mutkoski: the showing of a clip from Jeopardy in which CALS grad Tony Mangaser '97 credits his correct answers about champagne to Introduction to Wines, and a final toast to the students with Banfi Vintners' Rosa Regale. "It's a wonderful, happy way to celebrate Cornell and an iconic Cornell experience," she said. "There are those Cornell things one must do—go to a hockey game, eat ice cream at the Dairy Bar, and take Wines."
Stanley's recognition as a 40 Under 40 Tastemaker, Guarini said, means "I learned from one of the best. It's a point of pride for her, of course, but it's also a point of pride for Cornell to have her."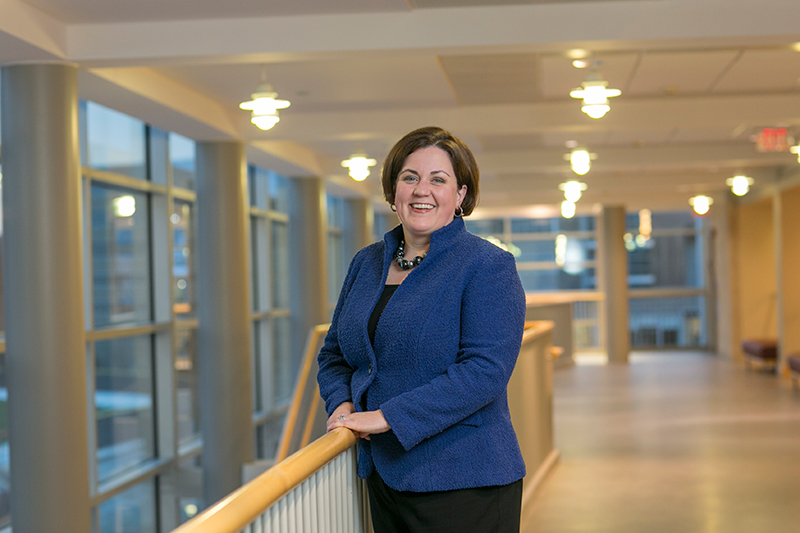 —All photos by Jon Reis unless otherwise noted. Story by Sandi Mulconry.