Speaking of beer: A few rounds with Doug Miller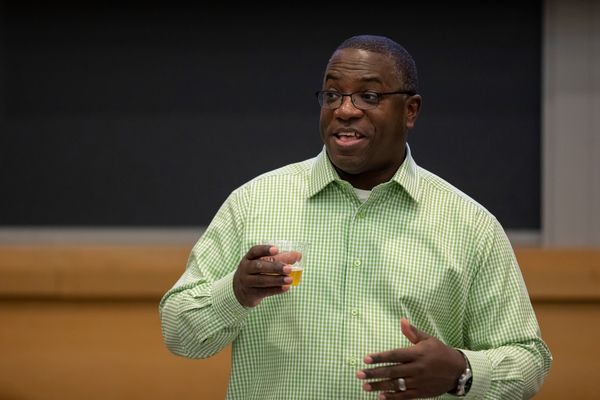 SHA lecturer Douglass Miller believes that, if you drink alcohol, there's a beer out there for you. "If you don't like beer, you just haven't found the right style yet," he asserts. Miller, who holds certifications as a beer server, alcohol trainer, sommelier, specialist of spirits, and bartender, among other things, aims to make better consumers of his students in Introduction to Fermented Grains, Hard Ciders, and Sake, a course he developed when he joined the Cornell faculty in 2016. (The course, which normally involves sampling the subject matter, is being taught remotely for the duration of the spring 2020 semester.)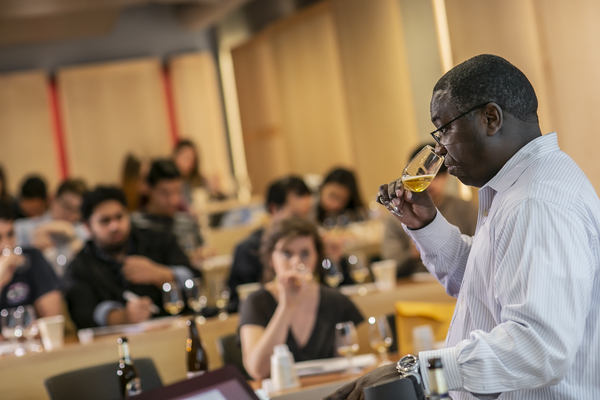 In observance of National Beer Day, we asked Miller about the state of the industry and trends to watch for.
How has the need for social distancing affected the beer industry?
The biggest challenge has come from the closing of bars, breweries, and taprooms. Since many craft breweries are small businesses, the closures are having a devastating impact. Some breweries are offering delivery service or easy pickup. Even with these measures, though, many will not have the same level of revenue as before. A lot of craft breweries have shut down operations and may never reopen. People are being laid off. It's a gut punch to the industry, which hasn't been this severely impacted since Prohibition went into effect in 1920.
What was the state of the beer industry before COVID-19?
Although total beer consumption has leveled off, the number of breweries in the United States has grown rapidly. A year ago, we had about 6,800 breweries, and it was predicted that we would surpass 8,000 by the end of 2020. In the current economic climate, I doubt that will happen.
Distilleries, too, are on the increase. Twelve years ago, New York state had one distillery; today it has about 60. Hard seltzers are the big elephant in the room. Their growth has been astronomical, and everyone is wondering which market segments will take the hit, because we're not consuming more alcohol—it's the shuffling of consumer tastes. The first segment to feel an impact is light beer, where we're already seeing a decrease in consumption.
That being said, more craft breweries are getting into lower-alcohol beers and lower-calorie beers. Some craft brewers are now making hard seltzer. I think we're also going to see more variations of India pale ales, or IPAs.
If we're not drinking more alcohol, what explains all the new offerings and expansions?
Hard seltzer aside—because that's a different bucket—trends in the beverage industry are similar to those elsewhere, where we've seen the rise of food halls and farmers markets. There's also the artisanal nature of craft breweries. They're small businesses that are part of the community, so people gravitate toward them and want to support them.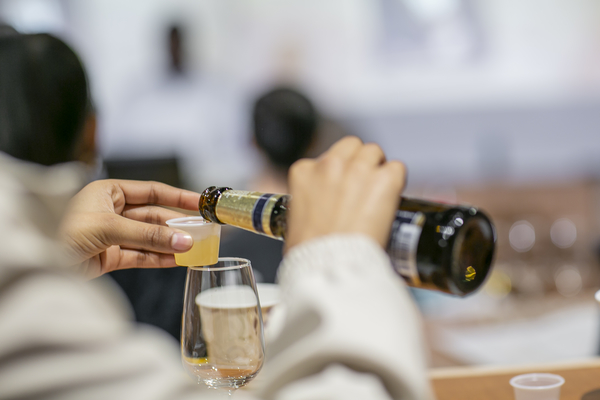 What does the Finger Lakes region have going for it as a place to brew beer?
Tourism is one factor—we've seen increased tourism for wine, cider, honey, and food. The preponderance of universities helps beer sales—in normal times, of course. And New York state has a long history of brewing beer.
Governor Cuomo has done a great job of creating an environment that makes it easy for these businesses to open up—simplifying the tax code, simplifying the permitting process. It's a lot easier to open a brewery in New York than some other states. As a result, New York now has about 450 breweries. The only state with more is California.
How much of beer-making is art, and how much is science?
I would say a lot of science and a little bit of art. There's only a handful of grain companies, so everyone buys grain from the same companies—same with hops, same with yeast. It's about understanding that agricultural crop and how to coax the attributes you're looking for out of those raw ingredients. The art lies in how brewers create products that are unique to them. The hardest part about brewing beer is consistency: can a brewer create the same beer multiple times? This is important, because consumers expect consistency.
What makes a great beer?
Balance. Balance between the acidity, the bitterness, the alcohol, the sweetness.
Any new beer styles we should be on the lookout for?
An up-and-coming style is milkshake beers. Although they have no relationship to milkshakes, they do have a lot of lactose and fruits. Lactose is a type of sugar found in milk, so they have more body than a typical beer and a creamier mouth feel. This style was introduced two or three years ago, so it's only now starting to gain traction. When my class tried one, they loved it.
How much of a factor has tasting been in your class? How are you going to teach without offering those tastes?
Tasting of beer is not required for the class. I have had students take the class who cannot drink beer. Since we have moved to an online format, I am giving students a list of beers for each category that they can try at a later date. As I did when the class met in person, I will give them a description of each type for each beer classification that we talk about. I will discuss the flavor and body of them.
How many types of beer are there? Can you list them?
There are over 120 beer styles that are being recognized, so that list might be a little long. Many of them are sub-categories. For example, under India pale ales, we have sour IPA, English IPA, brut IPA, American IPA, West Coast IPA, East Coast IPA, hazy IPA, and double or imperial IPA.
My class tried over 30 types of beer from six different countries (the United States, England, Ireland, Belgium, Germany, and Switzerland) while we were still meeting on campus. I would say we tried more than 15 beers from the United States.
What beers do you like best?
I enjoy any style that's well made. Partially, it depends on what I'm doing. I'll drink a different beer if I'm sitting by the pool versus on vacation somewhere. When I was in Houston earlier this year, I tried all the local beers.
Do you have one or two favorites that you return to?
Gosh, like a dozen. It's like picking your favorite child.
Your wife, SHA lecturer Cheryl Stanley, teaches Introduction to Wines. So, which is better, wine or beer?
Oh, beer is always better.
How do you convince her of that?
I'm not touching that one! (Laughs.) In our house, we drink both. We have both a wine cellar and a beer cellar.
How about some fun facts to leave us with?
Harvard's first head, Master Nathaniel Eaton, was allegedly fired because of the quantity (or lack thereof) of beer produced at the on-campus brewery.
Vassar College was founded by beer tycoon Matthew Vassar.
One of the first help-wanted ads in the colonies was for a brewer to move to the New World.
The first flavored malt beverage was the Hop-n-Gator, released by Iron City Brewing in Pittsburgh back in the early 1970s. It was made of Gatorade and beer.
Long before Theodor Geisel (Dr. Seuss) published books, he illustrated beer ads.
Louis Pasteur created pasteurization for wine and beer, not for milk. Much of his research was done at a brewery in Denmark.
There are so many.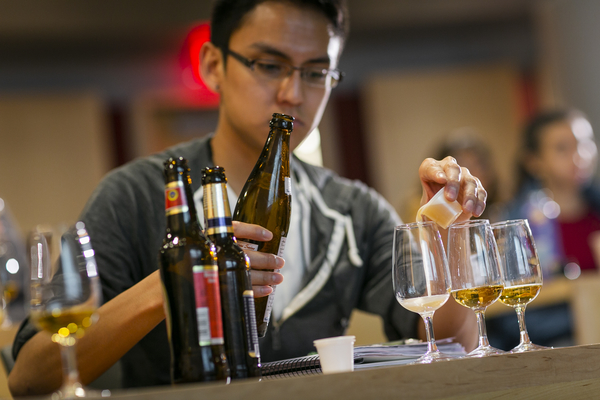 —Lead image by Simon Wheeler. All other photos by Jesse Winter.