A spa-tacular learning experience with Inns of Aurora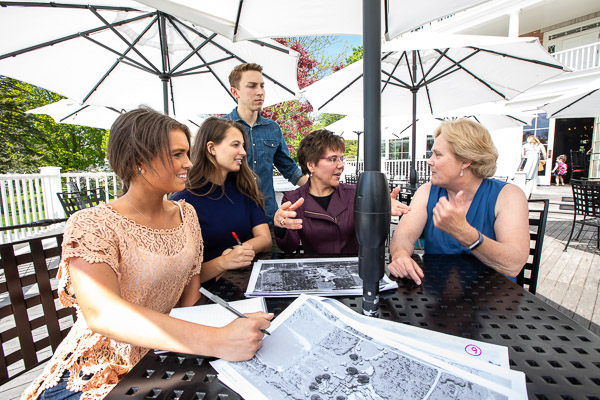 Eight years after discussions began, the Inns of Aurora, a collection of luxury boutique hotels and restaurants in the Finger Lakes, is moving ahead with plans to develop a destination spa. And they're involving students from the Hotel School's Wellness and Spas class in the process.
The spa, which will be built on a historic farm overlooking Cayuga Lake, is intended as an off-season demand generator for the Inns of Aurora's four properties along the shore. "There's an ambience, a warmth here in the wintertime, created by the fireplaces and our cozy parlors, on which we can capitalize," said general manager and chief executive officer Sue Edinger '81. "And with offerings like Ayurvedic counseling, yoga, and a lot of our wine and culinary programs, we're already developing a reputation for wellness."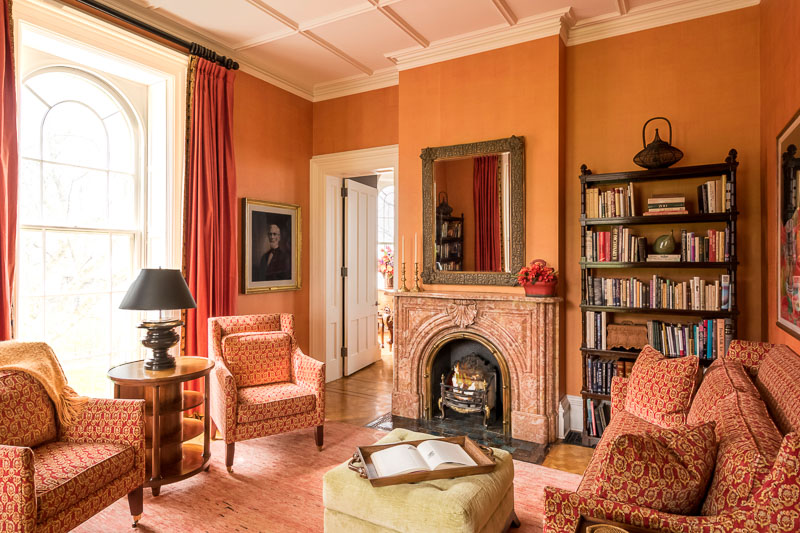 Although talked about earlier, the spa became a priority after Pleasant Rowland, the creator of American Girl dolls, purchased the original Aurora Inn and three stately adjacent homes in 2013. Rowland has restored the properties and much of Aurora, a picture-perfect village, incorporated in 1837, that is home to her alma mater, Wells College. The spa is one of two projects slated for the coming year; a fifth inn, currently under construction, will bring the inns' total number of rooms to 55.
The spa will be operated by Rasa Spa, which offers a wide range of natural therapies and treatments in partnership with Ithaca's Island Health and Fitness and Cayuga Medical Center. Rasa currently operates out of four locations, including the Loft at the Inns of Aurora. Fortuitously, the concept for an Inns of Aurora spa reemerged just as Rasa managing partner Rachel Hogancamp was looking to expand. Edinger sees "a terrific alignment between our two businesses, both of which are built on the quality of product and service." Hogancamp concurred. "The attention to detail and care for aesthetics and how a space feels, which is so important to us, is important to them. I'm confident it will be a great partnership," she said.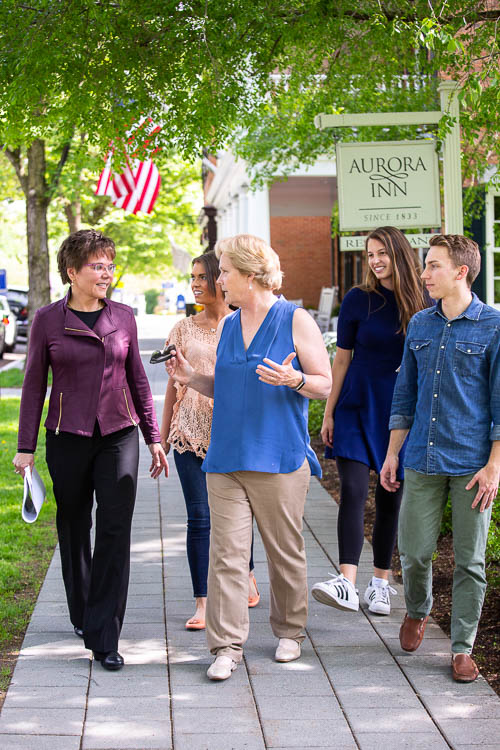 As the planning progressed, Edinger—continuing the Inns' long-term relationship with the school—reached out to SHA senior lecturer Reneta McCarthy '84, MPS '01, who took over the teaching of Wellness and Spas in spring 2017 upon the retirement of associate professor Mary Tabacchi. Tabacchi was a consultant to the Inns of Aurora at the project's inception and involved her students in the early discussions. (Tabacchi also introduced Edinger to Hogancamp.) Although the spa didn't become a class project until this year, it was discussed by the 2017 class, which undertook projects for Mandarin Oriental Spas, Turning Stone Resort Casino in Verona, New York, and the Grand Geneva Resort and Spa in Lake Geneva, Wisconsin, among others. "Sue saw what we were doing and said, 'This is awesome. I'd love to have the students work on projects for me next year,'" said McCarthy, who jumped at the chance.
"We're so fortunate at the Hotel School. When I do class projects, they're always real projects," she said. "Along with valuable experience, they give students contacts—one even received a job offer as the result of his work on a project."
In February, Edinger and Hogancamp, along with Meryl Eriksen '07, director of food and beverage for the Inns of Aurora, and Elizabeth Martyn '07, MS '18, an operations consultant, met with the students in two class sessions to present an overview of the proposed spa and the challenges they faced. Following those sessions, students had an opportunity to visit the site.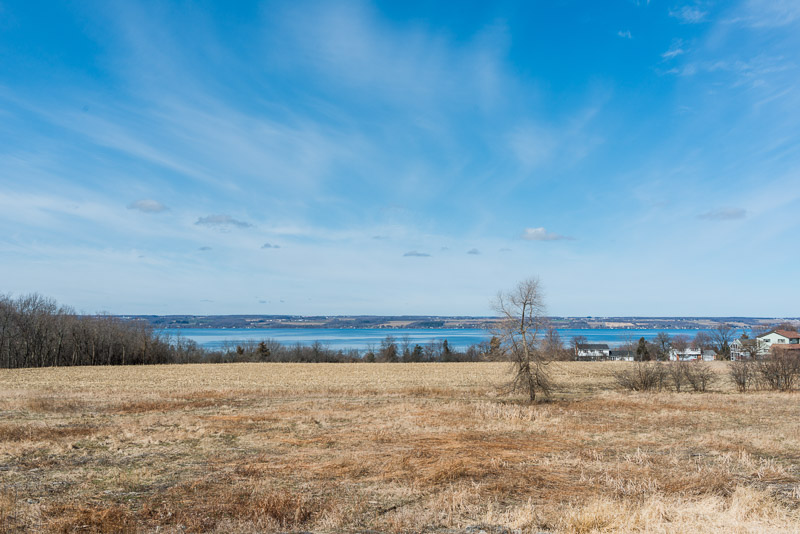 "I was surprised by how insightful the questions were and impressed by how totally engaged the students were," said Martyn, who over the last three years has articulated a vision for the concept and developed resources, research, data, and metrics to support the business case.
For their projects, the students divided up into teams to address more than 30 concerns identified by the Inns of Aurora. Areas of focus were operations, conscientious consumption and sustainability practices, relaxation rooms, food and beverage, hydrotherapy, white interiors (favored by Rowland), transportation between the inns and the spa, marketing and co-branding, and salons.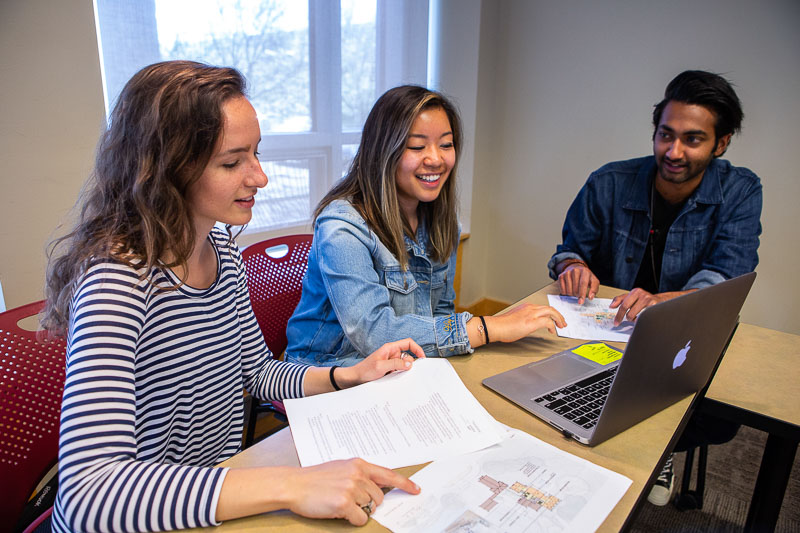 During one class session, McCarthy asked students to consider what worked and what didn't in six areas of spa operations. "They spent half an hour brainstorming, and we presented the ideas to Sue before a meeting in New York City with the architects," McCarthy said. "Students also found images they thought were really cool that could be incorporated into the spa, and we put those together for her." McCarthy was gratified to see many of those images used in the latest round of architectural drawings.
A real-world laboratory
From the start, Martyn said, "Everyone was invested in the idea that this would be a great collaboration. Students had an awesome opportunity in their back yard, while we had access to different points of view and ways of looking at the world. Students travel, they learn so much in classes and lectures; they're like sponges of knowledge."
Along with that knowledge, students brought passion to the process. One example Martyn cited was a discussion about disposables, in which they expressed a clear desire for reusable glassware instead of paper coffee cups. "Their reaction was, 'Are you kidding? In a wellness spa, you would consider using anything other than fully reusable items?' It wasn't a conversation we had fully fleshed out, but in the end, we didn't have to. It was so clear where we should be going, because they were already there."
Perhaps most importantly, she said, the collaboration "gave us a way to envision a future that lacks our biases."
"The key to making this a destination spa is to create a story and sense of place for the Inns of Aurora," said Amanda Friedman '19, one of four members of the marketing and co-branding team, who hopes to start a hotel company of her own one day. To build that story, her team researched the history of Aurora, learning that it was once a mini-manufacturing hub for Cayuga Lake, with sawmills and grist mills featuring prominently in its past.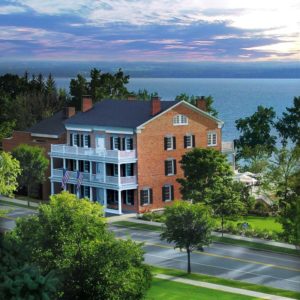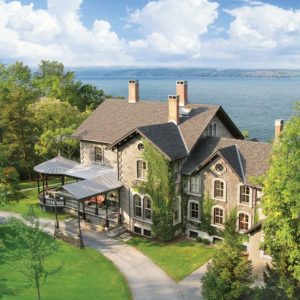 Playing on the theme of dawn, the meaning of the town's name, Friedman explored the use of dawn simulators to awaken clients from treatments. She also suggested incorporating a greenhouse, "to provide a farm-to-table spa experience and brighten the mood in the winter," and identified companies offering organic skincare products.
Taylor Hardy '19, also on the marketing and co-branding team, researched successful brand partnerships and co-branding. "We wanted to take the brand image of Rasa, which has a great reputation in the Ithaca community, and make it unique to the Inns of Aurora, so that existing Rasa customers would want to come to the Inns of Aurora for a different experience," she said. "It was interesting to see the partnerships you could foster and how they're structured."
Hardy, incoming president of the Cornell University Spa and Wellness Association, described the project as a once-in-a-lifetime opportunity that allowed her to make "absolutely incredible" connections. "People's willingness to help and to share knowledge and personal insights from their experience in the industry was so rewarding and just so awesome," she said. She was particularly grateful to be able to "take somebody else's project or idea or money and run with it—it's a once-in-a-lifetime opportunity."
Alejandro de Jesus Garza Pena, MPS '18, who hopes to become a real estate professional in the hospitality industry, was on a team that explored the flow of people around a spa. The class changed his perspective on spas, as he learned the size of the market—$99 million—and that, rather than being for the elite few, spa treatments "have become more available and can be accessed by a lot of people at low price points."
Wellness and Spas, he said, "is a class that promotes a lot of collaboration and conversations, which allows me to understand things I wouldn't otherwise have time to research or read about. It's an environment in which we all learn from each other."
Ryan Cowell '18 and his team studied the challenges inherent in transporting guests to the spa, which will be sited about a half-mile uphill from the lakefront inns. Among the team's recommendations were to form a partnership with a luxury car brand, buy zero-emission electric Gem cars or, down the road, invest in self-driving cars. "In the summertime," he said, "we'd like to see an electric-bike-sharing program that would make it easy for guests to get to the spa and also explore the village of Aurora and the surrounding Finger Lakes area."
The project, Cowell said, gave him an appreciation for the complexity of spa operations. Before taking the course, he considered spas "kind of fluffy" and didn't realize the financial planning and analysis involved. Now, with his newfound knowledge and experience, "Wellness is an industry I might consider for a career," he said.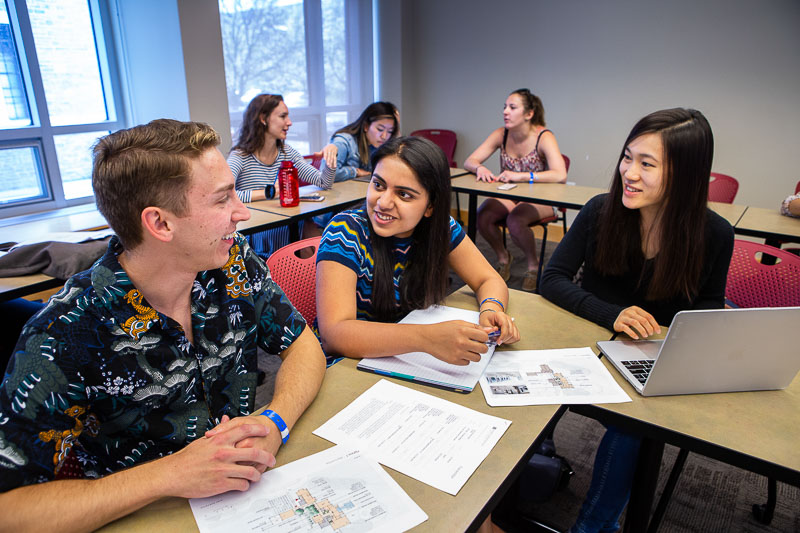 Edinger said she has enjoyed working with this and other SHA classes over the years. "As an alumna, it's great to go back to a place I have such affection for and see the students, who bring such a diversity of viewpoints and backgrounds." Outside perspectives, she said, are particularly valuable in small villages like Aurora, population 250, which can become insular.
Edinger credits both Tabacchi and McCarthy with allowing the Inns of Aurora to become a real-world laboratory. "We've gained research insights and exposure to cutting-edge ideas that we never would have had otherwise," she said. "The paradigm shifts we've made because of the questions students ask and the directions they push us in have made us better."
McCarthy said real-world projects allow students to meet "really interesting people" and learn about networking. Among the speakers visiting this year were Shane Bird, director of spa operations at Turning Stone (who was "incredibly helpful to the students," she said); Amy Retay, director of spa operations at the Breakers in Palm Beach, Florida; and Garnie Nygren '05, director of operations, broker, and co-owner of Serenbe, a wellness community outside Atlanta.
"Reneta brings in people who are big players in this industry and has you not only hear from them but also work with them," Hardy said. "She wants students to connect with these people and learn as much as possible from them and have them as mentors."
As one chapter ends…
In late April, students presented their proposals to the Inns of Aurora team, which was thrilled by the results. "They brought up a number of concerns, questions, and ideas that hadn't occurred to us in the planning and design process," said Hogancamp. "It was fantastic to hear their perspectives."
Eriksen, who hopes to offer food and beverage options that are "intriguing and perhaps a bit different than what you'd find at a traditional spa," appreciated the students' fresh and innovative ideas. "They're really focused on what's new and happening," she said. "That can be a helpful point of view for those of us in the business." Eriksen was particularly impressed by the students' recommendations on kitchen design, storage, service areas, and equipment.
Edinger has shared the students' ideas with owner Pleasant Rowland and the project's architects. "The work they did will very much impact the final product, in terms of what we deliver," Edinger said. "Within the next two months, we'll be making decisions on the matters they researched for us. I'm hopeful that, as we move into the construction phases, we'll continue to partner with the class in future semesters."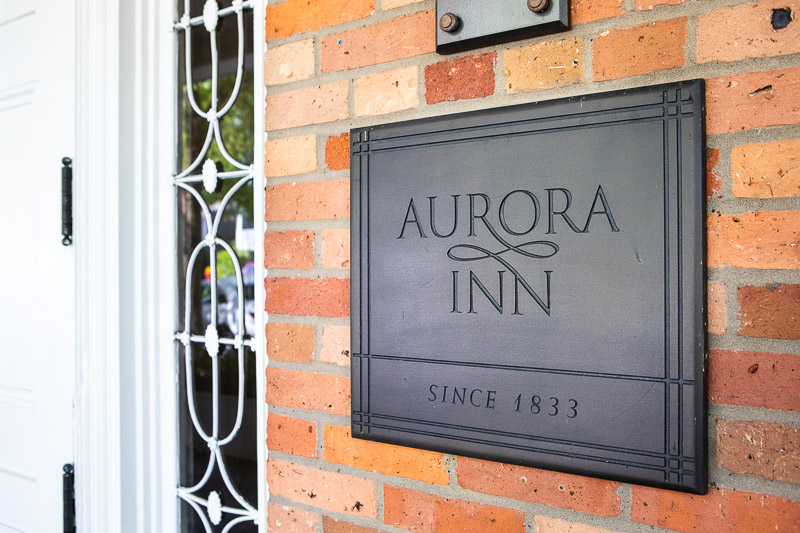 Written by Sandi Mulconry, a freelance writer for the Cornell SC Johnson College of Business.
All photos by Jon Reis unless otherwise noted.