Welcoming the Class of 2020 Two-Year MBA candidates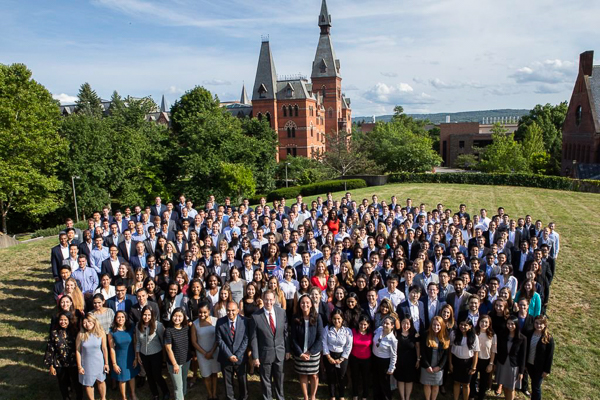 Johnson welcomed 280 Two-Year MBA candidates to campus in early August for two weeks of pre-term activities, panels, and leadership sessions. MBA students began working with their core teams, spent time exploring their new home in Ithaca, and learned about all the resources available to them from the Career Management Center to the Office of Diversity and Inclusion. Families were welcomed, as well, with two meet-and-greet receptions.
The Two-Year Class of 2020 represents 40 countries and its composition includes 33 percent women, 15 percent underrepresented minorities, and an average GMAT score of 699.
Two-Year MBA Class of 2020 profile

During pre-term, incoming MBAs participated in an exercise that outlined community values and expectations, the Leading Teams Case Competition with their new core teams, and Johnson Outdoor Education (JOE) offsite at Casowasco Camp where they worked on team challenges and had fun getting to know one another.
Highlights from the Class of 2020 pre-term
And just like that, our #CornellMBA Class of 2020 has arrived! Welcome to the #BigRed Family! 🐻❤️👏🏼 #newbeginnings #favoritemoment #grassisstillgreen pic.twitter.com/RKHJ8h7ayg

— Judi Byers (@Judi_Byers) July 29, 2018
Class of 2020 Leading Teams Case Competiton. Best of luck to all 57 teams! #CornellMBA pic.twitter.com/X2Qi0b5CkP

— Kevin Ferguson (@Kevin_Ferguson_) August 9, 2018
Capping off the first week @ a classic #campus spot! Welcome, Class of 2020 🤩 #CornellMBA #ivyleague #tradition pic.twitter.com/jpmO5EktRz

— Betsy Dick (@ecdick) August 3, 2018
The culmination of the #CornellMBA Pre-Term is #Johnson Outdoor Experience! One final challenge for the students? Build an ice cream that represents the MBA Class of 2020! Excited to see the winner, Johnson Java, be produced this fall with the help of the #Cornell #Dairy 🍦🥇👌🏼 pic.twitter.com/nzHij3yBsc

— Betsy Dick (@ecdick) August 11, 2018
If you didn't take a #CornellMBA picture, did you really go to #Cornell? 🤔
We can't wait to see what memories the Class of 2020 makes during their #MBA journey! pic.twitter.com/Jbyiz5auao

— Johnson at Cornell (@CornellMBA) August 8, 2018
Welcome Two-Year Class of 2020—we're so glad you're here!

---