Meet 12 MBAs from the Two-Year Class of 2020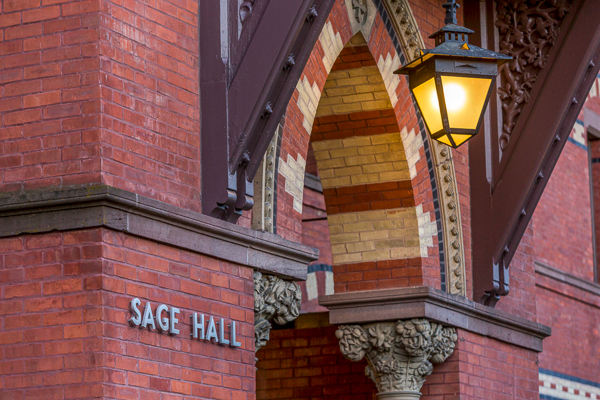 Johnson's Two-Year MBA Class of 2020 comprises students with diverse interests, ranging from outdoor adventure and technology to restaurant consulting and sustainability. This fall, Poets&Quants highlighted 12 of Johnson's newest MBA students in their annual series. Learn more about our MBAs below, and read their full profiles in the Poets&Quants's article, "Meet Cornell Johnson's MBA Class of 2020."
Carlos Acevedo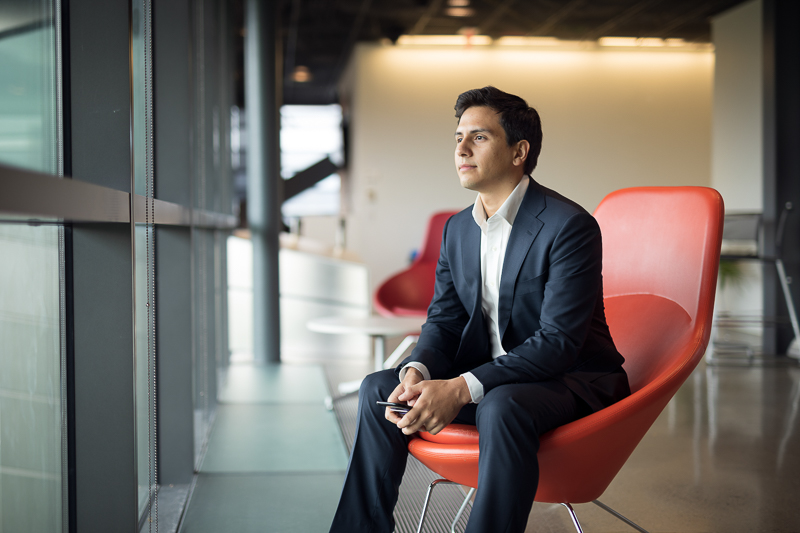 Hometown: Santiago, Chile
Undergraduate school and major: Universidad Adolfo Ibanez, business and administration (Msc in finance)
Most recent employer and job title: FX sales trader for Banco de Credito e Inversiones
An avid and outgoing adventurer with a passion for finance, Carlos Acevedo knew Johnson's MBA program would best position him to pursue both of his interests. After completing a CFA program and years of work, Acevedo felt it was natural to pursue an MBA to complement his technical knowledge. The key factors Acevedo considered when selecting an MBA program were employability and strong finance curricula. Aside from academics, Acevedo was drawn to Johnson's great sense of community. "I had the chance to meet many of them during Destination Johnson [for admitted students] and we have been in contact ever since that event," says Acevedo. Acevedo hopes to take advantage of Johnson's different immersion programs, while continuing his hobbies of climbing and photography with the Outdoor Club.
Read Carlos Acevedo's full profile from Poets&Quants.
---
Sarah Doyle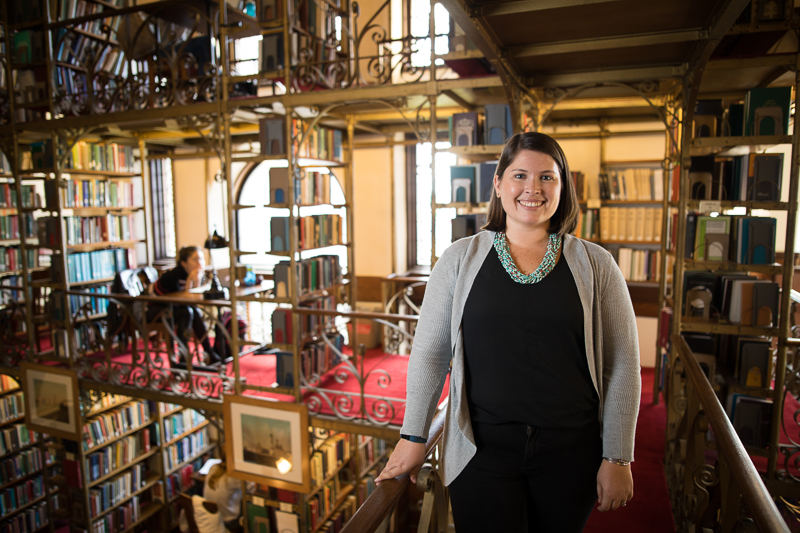 Hometown: Harwich, Massachusetts
Undergraduate school and major: Johns Hopkins University, international studies and French
Most recent employer and job title: Global director of operations for EarthEnable, a social enterprise in Rwanda and Uganda
Three years ago, Sarah Doyle made the jump from the NGO world into business in Africa. As the COO for a produce distribution startup in Rwanda, Doyle built and managed a team that worked with smallholder farmers and cooperatives to build ISO-compliant supply chains. Although Doyle learned a lot on the job, she felt it was time to formalize her business skillset and become a stronger leader. Doyle chose Johnson not only for the passionate classmates, but also for the Park Leadership Fellows program, which will allow her to spend more time growing as a leader. "I'm looking forward to taking time to reflect on my path to date, better define who I want to be as a leader, and begin developing skills and self-awareness," she says.
Read Sarah Doyle's full profile from Poets&Quants.
---
Serena Elavia

Hometown: New York, New York
Undergraduate school and major: Trinity College, economics
Most recent employer and job title: Senior associate for Finsbury, public relations
Serena Elavia learned not to take "no" as an answer when her interview with 2016 presidential hopeful Senator Ted Cruz was cancelled. As a reporter for FOX Business, she stood her ground and waited by the exit doors, managing to stop Cruz for a quote. This lesson served Elavia well in her future career, especially when she settled for nothing less than what she envisioned in an MBA program. Elavia prioritized the feeling of community, the list of recruiting companies, and the alumni engagement when deciding on Johnson. She knew Johnson would equip her with tools for success in any career path. "I knew that if I changed my mind down the line, I would have success at Johnson as the school places graduates at many different companies," she says.
Read Serena Elavia's full profile from Poets&Quants.
---
Delia Hughes '14 (A&S)
Hometown: Eastchester, New York
Undergraduate school and major: Cornell University, food science
Most recent employer and job title: Business development manager for Atlanta Corporation, the largest privately-owned food importer in the United States
Delia Hughes aspires to bridge health, the environment, and the food industry by making disruptive changes in the industry as a leader within a food company. Hughes knew that in order to transform food companies, she had to acquire a new set of tools to transition from executing strategy to formulating strategy. With Cornell University's accessible colleges and schools, Johnson seemed to be the perfect fit. Hughes could develop her food industry knowledge while also focusing on different disciplines such as finance, technology, and marketing. "Being able to access and work with professors and students from the food science department, College of Agriculture and Life Sciences, and the College of Engineering will be a huge asset," says Hughes.
Read Delia Hughes's full profile from Poets&Quants.
---
Alyssa Johnson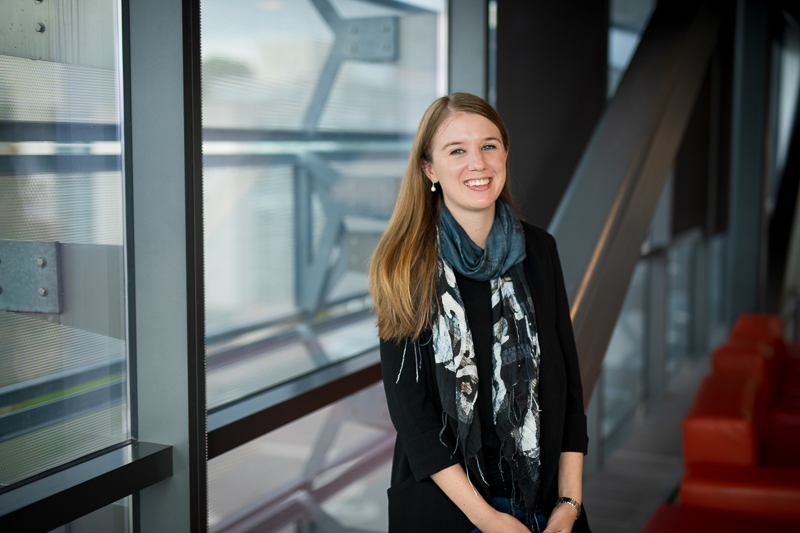 Hometown: Melbourne, Australia
Undergraduate school and major: University of Sydney, Bachelor of Laws and Bachelor of Arts in Spanish & Latin American studies
Most recent employer and job title: Senior relationship credit manager for ANZ Bank
After five years of full-time work, Alyssa Johnson found herself as senior relationship credit manager at ANZ. Being one of the two female senior managers in her division, Johnson was proud to be a role model for junior women at the bank who aspired to management roles. In order to become a well-rounded, inclusive leader, Johnson knew it was time to pursue an MBA. When deciding on an MBA program, she chose Cornell for its initiatives in supporting women in business and increasing the number of women in MBA programs. Johnson looks forward to thriving among her unique, talented classmates and supporting aspiring female leaders in the Women's Management Council.
Read Alyssa Johnson's full profile from Poets&Quants.
---
Grace Ko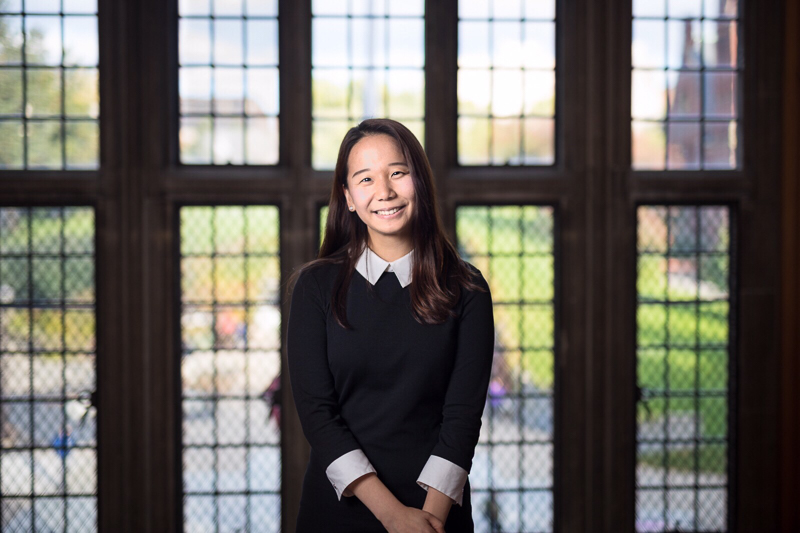 Hometown: Has lived in California, Texas, and New York
Undergraduate school and major: The University of Texas at Austin, Bachelor of Business Administration
Grace also holds a Master of Professional Accounting
Most recent employer and job title: Senior accountant for KKR Financial Services Company, LCC
When she worked in the wealth management space focusing on financial due diligence and investment reporting for high-net-worth clients, Grace Ko came across various venture capital deals focused on the technology sector that piqued her interest in technology. She was determined to pursue an MBA to acquire greater business acumen and technical skills to assist her transition into the technology industry. At Johnson, Ko is mesmerized by her diverse and intellectually curious classmates ranging from wine marketers in Napa Valley to dental school students, which she discovered at the Forté Leadership Conference. Although Ko is still undecided on what role she hopes to pursue within tech, she knows that her time at Johnson will help her solidify her career aspirations.
Read Grace Ko's full profile from Poets&Quants.
---
Mercedes Moran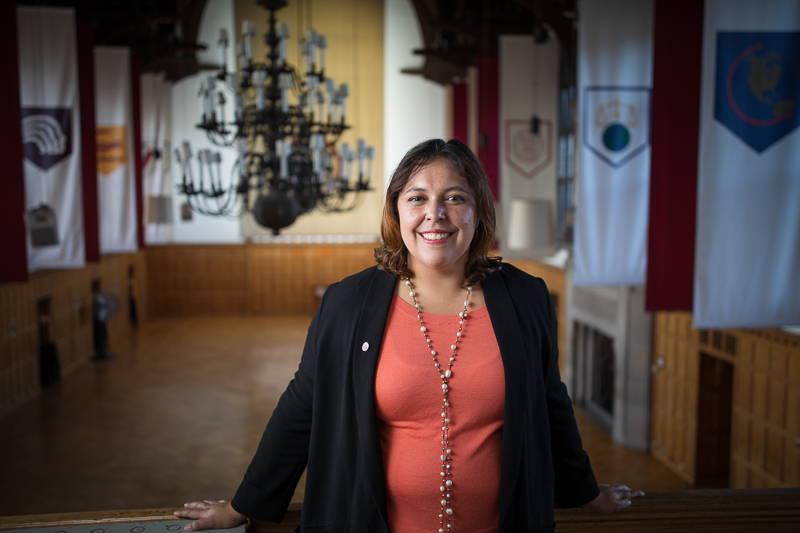 Hometown: Mexico City, Mexico
Undergraduate school and major: Computer Science Engineer, Instituto Tecnologico de Estudios Superiores de Monterrey Campus, Santa Fe, Mexico
Most recent employer and job title: Assistant vice president of digital strategy and planning for Citibanamex
Interested in discovering solutions for low-income communities within the financial services industry, musical theatre, and writing, Mercedes Moran already felt like part of the Johnson community before arriving on campus. The warm, collaborative environment paired with the specialized curriculum ensured Moran that Johnson would provide her with the skillset to tackle some of the biggest financial services industry challenges. Moran looks forward to participating in Big Red Microenterprise, which helps small-business owners and entrepreneurs become more profitable, the Emerging Markets Institute as a writer, and the Johnson Follies as a comedy writer. She is eager to connect with the diverse Johnson community.
Read Mercedes Moran's full profile from Poets&Quants.
---
Yewande Salau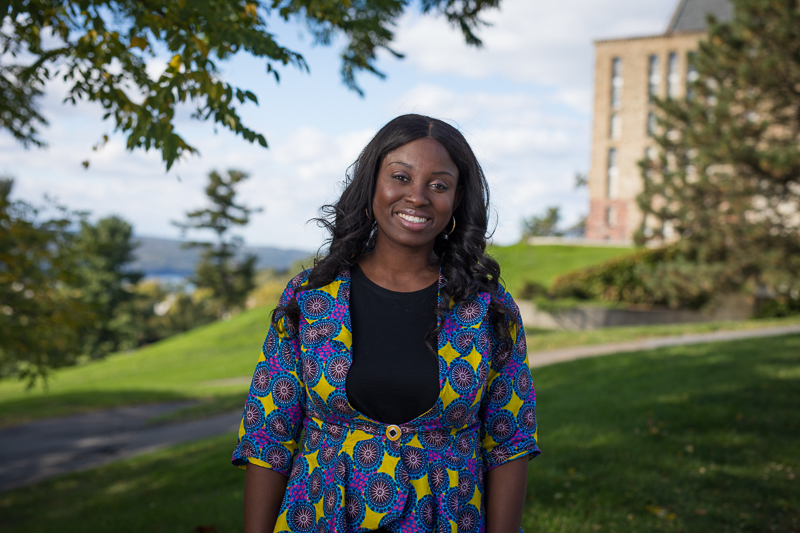 Hometown: Rosedale, New York
Undergraduate school and major: Vanderbilt University, BS in human and organizational development with a concentration in international leadership and development
Most recent employer and job title: Middle school post placement counselor at Prep for Prep
At Prep for Prep, Yewande Salau worked to find discount test prep options for students struggling with entrance exams to New York City's elite, independent schools. Having worked in retail, entrepreneurship, and education, Salau realized the importance of learning how to manage people and resources to be the best leader in a given organization. This aspiration led her to Johnson where her classmates have similar goals of solving different industry problems and creating opportunities for diverse groups. In the future, Salau hopes to work as a human resources manager to increase hiring from diverse and nontraditional backgrounds.
Read Yewande Salau's full profile from Poets&Quants.
---
Luis Carlos Sarmiento III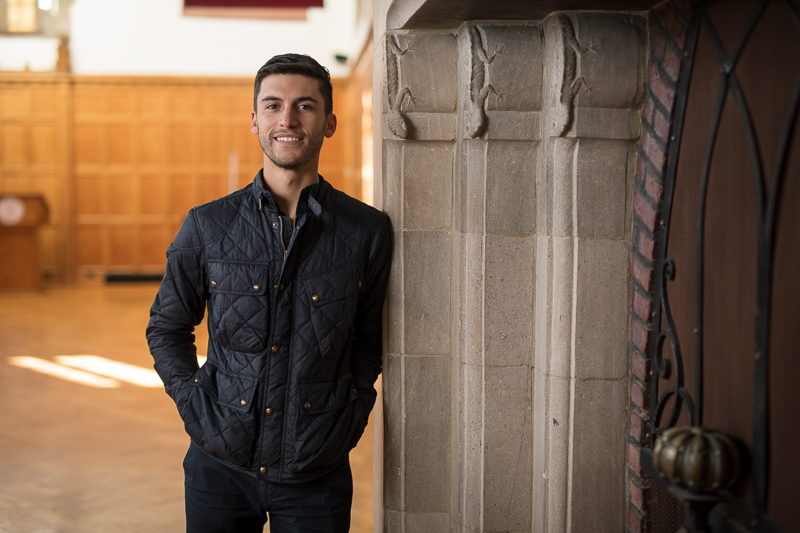 Hometown: Bogota, Colombia
Undergraduate school and major: University of Miami, management and accounting
Most recent employer and job title: Financial associate for WE Family Offices
Following in the footsteps of his father, a Johnson graduate in the Class of 1985, was a lifelong dream for Luis Carlos Sarmiento III. Having only applied to Johnson, Sarmiento knew the reliable community and program would help him accomplish his next big challenge of earning the opportunity to make a difference in his family business. Sarmiento hopes to combine his experience working in the financial industry with the support of his classmates at Johnson to become a better-rounded leader.
Read Luis Carlos Sarmiento III's full profile from Poets&Quants.
---
Thomas Stelle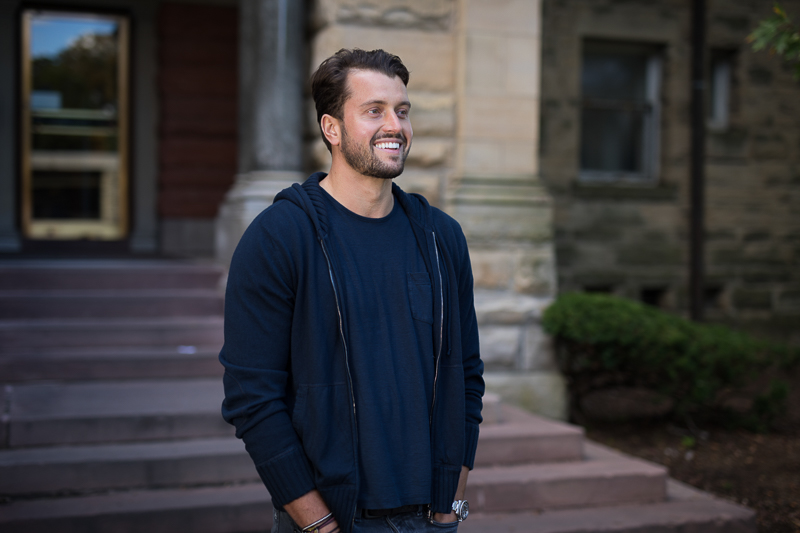 Hometown: Sag Harbor, New York
Undergraduate school and major: Trinity College, literature major
Most recent employer and job title: Restaurant consultant for BBHG
From working at Mario Batali's flagship restaurant to overseeing the logistics of President Obama's 14th and final state dinner, Thomas Stelle developed a dedication to leading in the food and beverage sector. His desire to continue pursuing his passion while learning more about the foundations of business led him to Johnson, where he found "the whole package." The campus feel, MBA curriculum, and opportunity to take classes in hospitality and real estate offered at the School of Hotel Administration solidified Stelle's decision. Post-MBA, Stelle plans to work at the intersection of food and beverage, restaurant technology, and fast-casual concepts. He hopes his operational expertise combined with the MBA will allow him to approach business in a holistic and comprehensive manner.
Read Thomas Stelle's full profile from Poets&Quants.
---
Daniel Titterington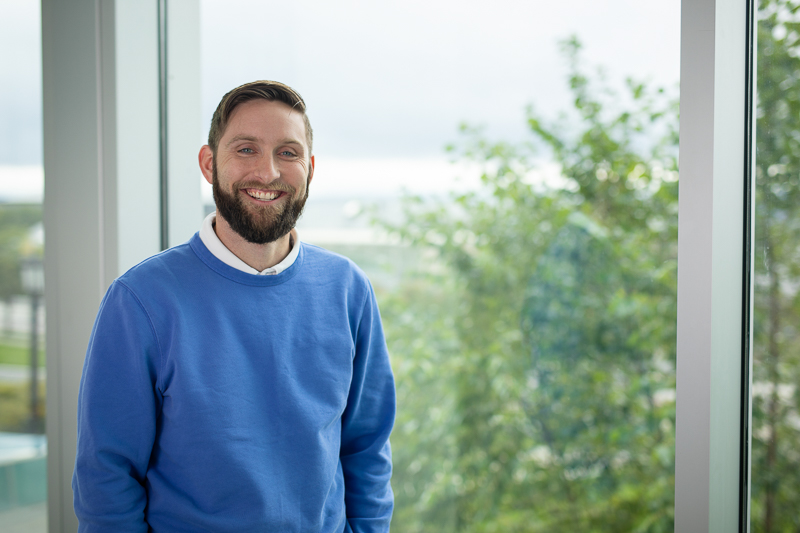 Hometown: Oklahoma City, Oklahoma
Undergraduate school and major: United States Military Academy at West Point, management
Most recent employer and job title: Battalion operations planner at the "Old Guard," U.S. Army
From his experience in the Army as a platoon leader, Daniel Titterington developed a passion for driving new initiatives and working toward a sustainable future. Titterington knew before he could transition from the military to the renewable energy industry, he needed the opportunity to acquire formal business and networking skills. When deciding on MBA programs, Titterington reached out to veteran's communities at different b-schools to learn more about the campus environment and employment opportunities. Johnson's Sustainable Global Enterprise Immersion ensured Titterington that Johnson was where he could successfully transition from an Army officer to an impactful leader in the renewables industry.
Read Daniel Titterington's full profile from Poets&Quants.
---
Steven Van Vechten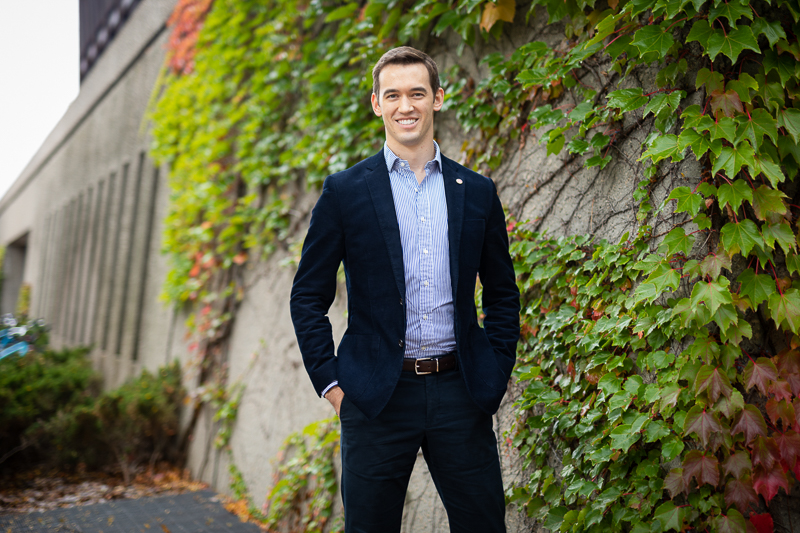 Hometown: Canandaigua, New York
Undergraduate school and major: Hobart and William Smith Colleges, psychology and media studies
Most recent employer and job title: Senior account executive for MMB Advertising
After working at an advertising agency, Steven Van Vechten knew he wanted more ownership over a brand and to become the final decision maker. Hoping to pivot to brand management, Van Vechten searched for an MBA program that would allow him to widen his scope of influence, while diving deeper into marketing. Van Vechten chose Johnson for the immersion programs, strong recruiting relationships, and "bunker mentality" where all students are invested in the success of their peers. Van Vechten looks forward to leaping outside his comfort zone with his classmates by taking advantage of leadership programs and international travel, such as the leadership expeditions to Patagonia and USMS Quantico.
Read Steven Van Vechten's full profile from Poets&Quants.
—Compiled by Ashley Win, a student writer intern for the Cornell SC Johnson College of Business