Back to the roots: How small town girl, Cathy Gaffney '89, became a vice president at Wegmans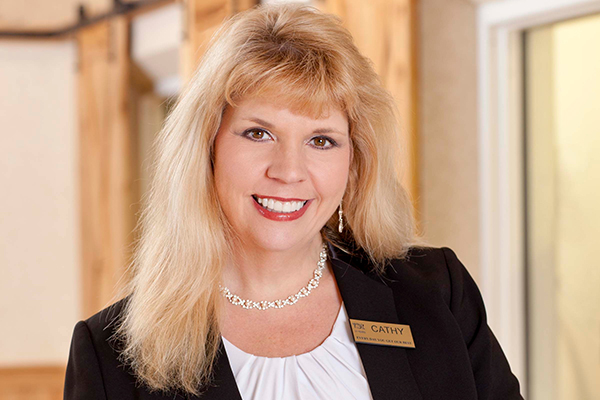 From growing up on a dairy farm to becoming a leader in one the most successful grocery chains in the northeast, Cathy Gaffney '89 successfully combined her passion for marketing and her background in agriculture to excel in her field. "I am very fortunate and thankful to have come full circle from how I grew up to where I am now. Cornell helped me realign my future into agri-business, and the Wegmans culture helped me grow as a leader and person," says Gaffney. After 25 years at Wegmans, Gaffney reflects back on her formative years and how each decision helped shape the trajectory of her career.
From dairy farm to Dyson
Growing up in a small town called Lima, New York, where her father and uncle owned a 700-acre dairy farm, Gaffney often traveled to Cornell for various 4-H livestock shows and events. Over time, her interest in agriculture and animals developed into a desire to attend Cornell University for her undergraduate education. Like many children who grew up around animals, Gaffney wanted to become a veterinarian and declared an animal science major. Lucky for Wegmans, her career ambitions changed along with her major when she encountered a class that set the trajectory for her future.
Gaffney's coursework helped her realize that it wasn't just farming she was interested in, but the business behind it all. "I took some marketing classes, and I fell in love with the economic side of agriculture," says Gaffney. It was only a matter of time until she changed her major to agricultural economics. She grew a deepened interest particularly in classes that helped link agriculture to business and appreciated that even if she did not want to remain in agriculture or food business, the classes were well-suited and foundational to any career in the business world. "I was able to create my own unique set of educational experiences, which helped formulate what I wanted to do after college," says Gaffney.
As her passions progressed, Gaffney began to understand exactly what she wanted out of her degree. Her career path took form through the many tailored classes available at Dyson. "I wanted to be a buyer and travel the world, and I never wanted to lose sight of my roots. I realize more, now than ever, how much the classes I took impacted the path and the career I have today," says Gaffney.
Carving a career path at Wegmans
Gaffney fondly remembers her most influential professor, Dr. Gene A. German, talking often about Wegmans grocery store, based in Rochester, New York. "I always appreciated his enthusiasm in class and his inspiration outside of class," she says. "He pointed me in the direction of a career I was not familiar with: becoming a buyer."
After a career involving a myriad of transitions, from becoming a buyer and ultimately department manager at May Department Stores, to managing various areas in a few of the stores for the fashion retail company, Gaffney longed for her roots and desired to transition into the food business. It was then that she applied and entered the Management Internship Program at Wegmans. From this humble beginning, she developed a 25-year-long career with the iconic northeastern grocery chain.
Gaffney progressed through multiple positions within the company in both store operations and the corporate office, ultimately finding her passion and becoming vice president of Cheese and Deli. As vice president, she currently works within a direct team of 30 people and her office oversees the joint efforts of 1,800 employees. "I truly love having a vision for the departments and being empowered to study and then execute that vision with an incredible team of people in our office and in our stores," says Gaffney. She especially enjoys working with farmers, producers, and cheesemakers around the world to help bring their exceptional cheeses, meats, and charcuterie products to market.
Wisdom for the workforce of tomorrow
Offering advice to the Dyson students of today, Gaffney says, "a Cornell education and degree will help you land the job, but performing at your highest level in every role along the way will help you find the position you are the most passionate about, and your work will become your career." For Gaffney, this approach has led to a long and fulfilling career that she loves and looks forward to every day. "At Wegmans, I've been fortunate enough to work for a company that has empowered me to essentially run the businesses like my own, which has been fantastic no matter what position I was in," says Gaffney.
Her final piece of advice for students of the younger generation? "Do not consume yourself worrying about titles or pay," says Gaffney. " Instead, discover what you love to do, pursue it with persistence, and the rest will fall into place."