A year in review: At Johnson, ODI empowers

As the first top business school with a dedicated Office of Diversity and Inclusion (ODI), the Samuel Curtis Johnson Graduate School of Management is committed to empowering students to advance important conversations and change the face of business. Toward this goal, ODI has grown its programming year after year. 2018 was certainly no exception, with education for faculty and staff, new on-campus initiatives, and unparalleled support for students to attend national conferences.
Involving and educating
The importance of diversity and inclusion in business—and on campus—is emphasized for every member of the Johnson community, from prospective and current students to alumni, faculty, and staff.
A first-year foundation
Diversity education starts early at Johnson. A special session was added to the 2018 first-year MBA orientation program: The Business Case for Diversity, led by Cornell Woodson, founder and CEO of Brave Training, LLC, to complement the pre-existing acting-troupe-led Diversity Theatre session. These sessions provided a platform for facilitated conversations around diversity and inclusion issues in the workplace, plus breakouts for a deeper dive into the topics presented.
Peers educating peers
At Kultural Kickbacks, an event series launched in the fall, students can enjoy fun and food while they learn about cultures of their peers in a casual setting. Kickbacks are hosted by various student organizations, such as the Latin American Business Association and the Black Graduate Business Association.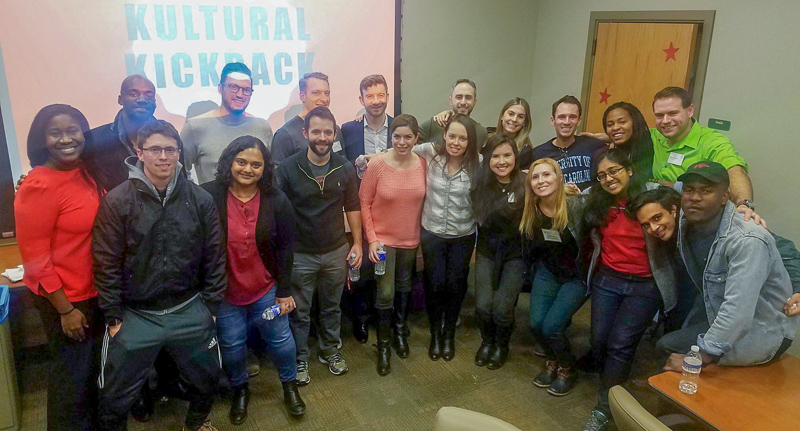 Managing microaggressions
To grow more welcoming and inclusive class environments, ODI has worked with Johnson faculty to provide educational programming about microaggressions. Facilitator-led discussions help faculty better understand how to navigate the types of conversations that take place during lectures and work to keep microaggressions out of the classroom.
Bringing student voices to the table
To ensure that everything the administration is doing aligns with the needs of students, ODI helped found the Diversity Council. The council brings student leaders of various affinity groups into important conversations about administration decisions and initiatives.
Broader community discussions
At Johnson's annual Diversity Symposium on October 27, students and alumni came together with faculty, staff, and even prospective students to discuss empowerment and inclusion in business. Marmeline Petion-Midy '95, MBA '00 shared her secrets to success and high-achieving alumni were honored.
Raising women up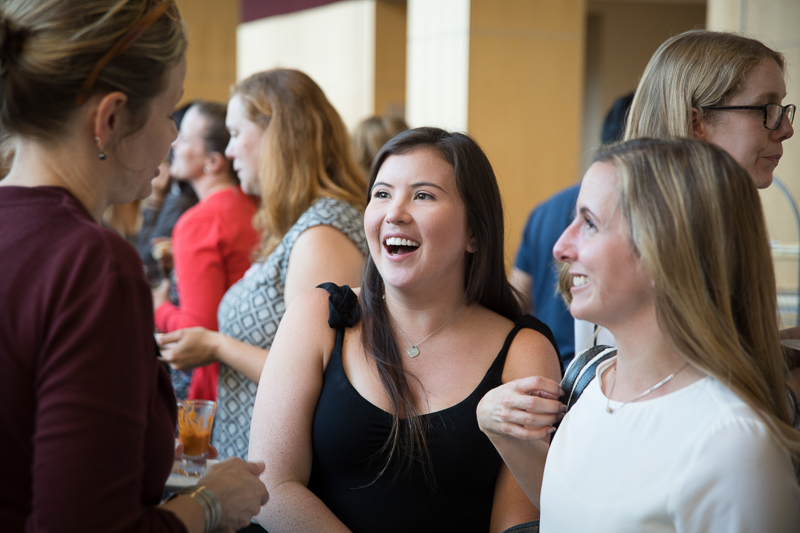 Throughout the year, ODI brings women of Johnson together on campus to welcome, encourage, empower, and advise one another.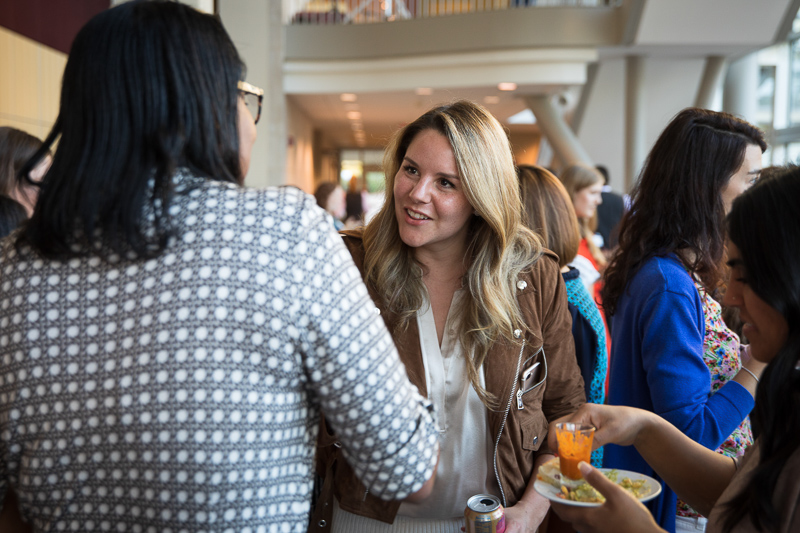 Warm welcomes lead to continuing conversations
The 2018-2019 academic year began with the Women's Welcome Reception, an opportunity for Johnson's community of women—students, faculty, and staff—to meet, talk, and network. First-year MBA and One-Year MBA students got an even more robust welcome at the Women's Welcome Retreat, led by Professor Michelle Duguid, which invited attendees to connect and learn how to navigate the MBA journey.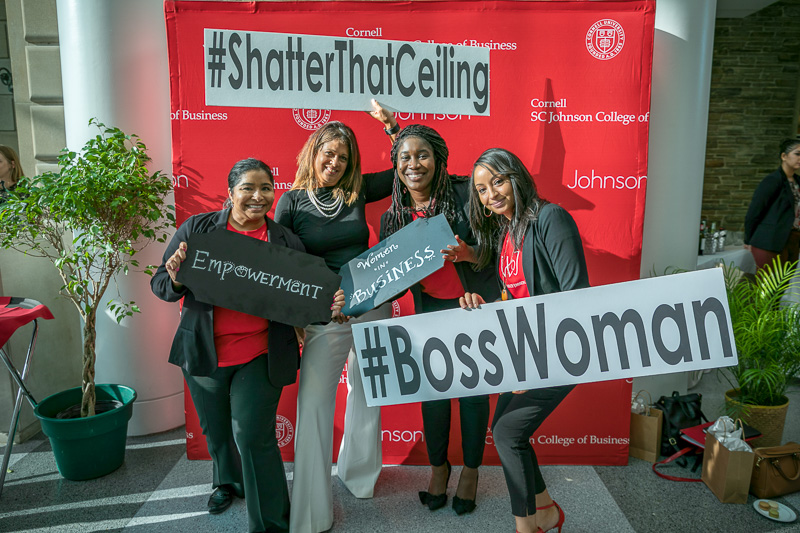 As the semester got into full gear, important discussions and learning opportunities continued for all students—from monthly Women of Johnson Wednesdays, ongoing Lunch and Learn events, and Fishbowl conversations hosted by the Women's Management Council and Johnson Allies for Women.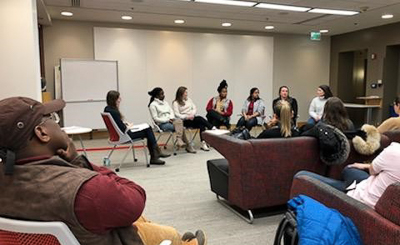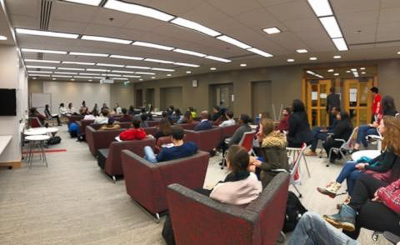 Dedicated educators enhance the experience
Johnson faculty share ODI's commitment to the next generation of women leaders. This year, Professor Duguid provided a valuable growth opportunity by making her Women and Leadership course—usually reserved for executive MBA students—available to second-year MBA students.
During casual lunch conversations in Sandwiches and Sage Advice sessions, another new event launched in the fall, faculty give students advice about common obstacles and stressors women professionals face. Topics have included how to handle always being the notetaker in meetings, self-care, and "to drink or not to drink?" at networking events.
"Sandwiches and Sage Advice was started in my living room—and what ODI has developed feels like a continuation of that comfortable, open-hearted meeting place for female faculty and students!"
—Barbara Mink, senior lecturer of management communication
Community connections start early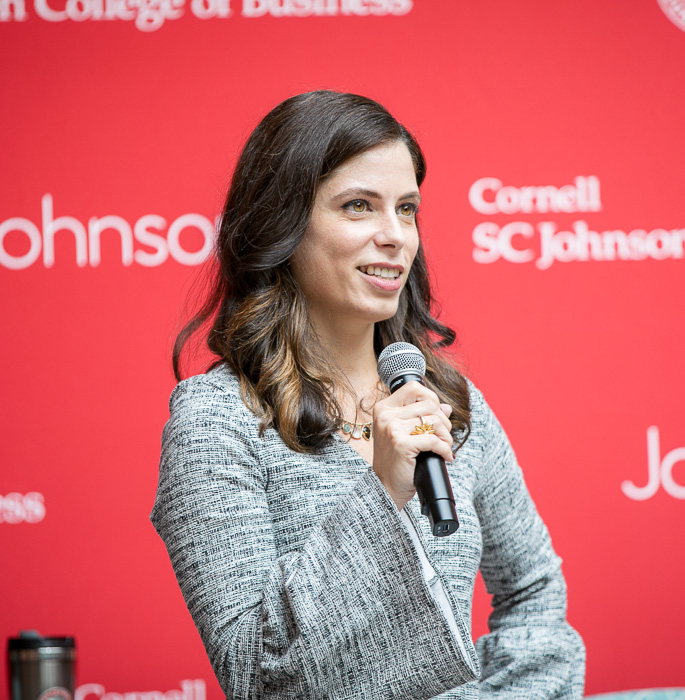 The strong ODI support for the women of Johnson begins before students are even admitted. This year's Johnson Women in Business (JWiB) Symposium had record-breaking attendance with 160 participants, including nearly 70 MBA prospects who learned about resources available for women on campus and gained insights about how to become top candidates for admission. They also had the opportunity to stay with a current student in Collegetown Terrace Apartments, network with the women of Johnson, learn from an alumna, and participate in the symposium's current student programming.
Supporting cohorts
There's power in numbers at Johnson, and this year ODI continues to support groups that add to the experience of underrepresented student communities—groups like Out for Business, an LGBTQ+ student organization designed to foster a positive environment and build a professional network for its members and allies; the Women's Management Council, which works to support and promote current and future women leaders; The Consortium for Graduate Study in Management, which focuses on increasing the number of underrepresented minorities in business schools; and Forté Fellows, whose mission is to continue Forté's commitment to growing the number of women in business.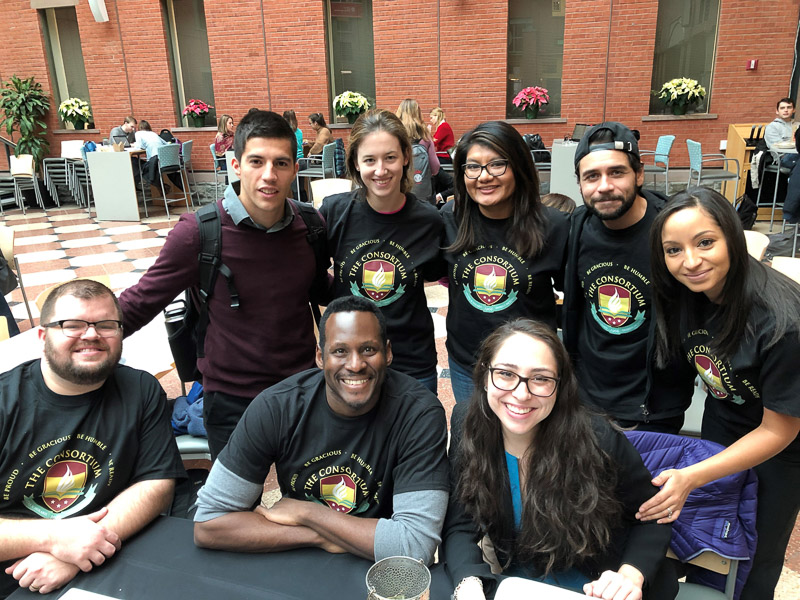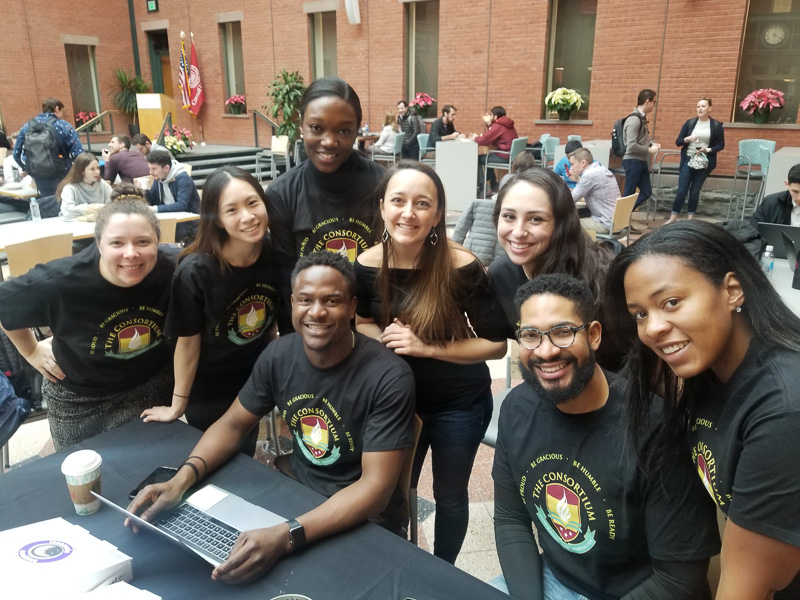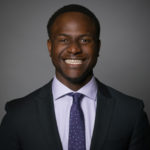 "ODI and The Consortium have been beyond instrumental in my success at Johnson. I am lucky to have a family here on campus that is not only concerned about my academic success but also concerned about my personal development and overall well-being. Whenever I have an idea, question or just need some support, my first stop is ODI!"
—Peter Akinleye, MBA '19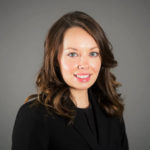 "When the opportunity arose to impact the Johnson community as a Forté Ambassador, I knew that it was my avenue to create a strong experience for all fellows on campus. The ODI team has been a key part of my Forté journey. Without their support and guidance, the Johnson Forté experience wouldn't be one that other MBA programs aspire to."
—Caitlin Gillespie, MBA '19
ODI hosts events with these cohorts throughout the year, including social hours and "family meetings," where members enjoy a meal together and discuss social and service opportunities that can help cultivate their strong communities.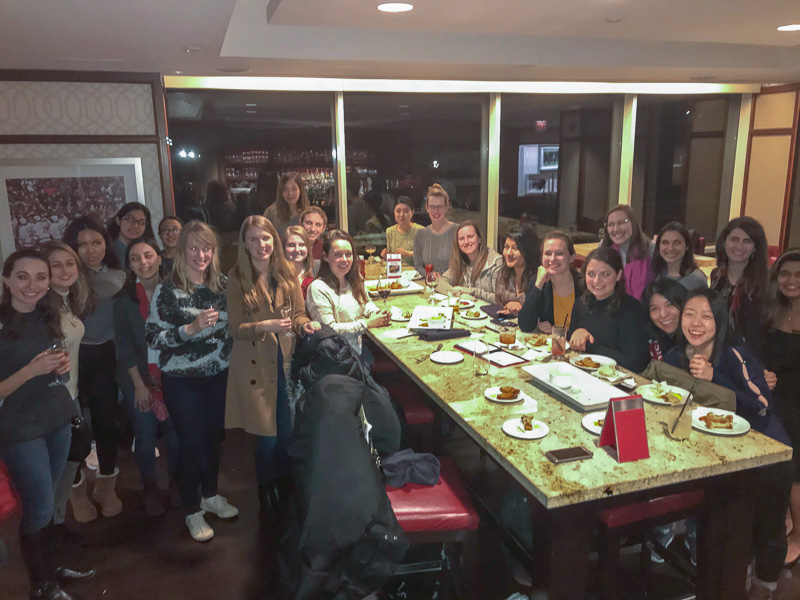 Providing opportunities on a national scale
At national conferences, students from underrepresented populations come together to discuss the state of business and MBA education. This year, Johnson administration and ODI covered the cost of attendance for Johnson students at conferences that align with their identities. Not only did this ensure that Johnson voices were represented in these vital discussions, it also guaranteed that members of the campus community could benefit from invaluable opportunities presented at the events.
During the 40th annual National Black MBA Association Conference and Exposition in September, more than 10,000 professionals gathered in Detroit, Michigan to explore education, enrichment, and opportunities. With ODI support, Johnson students were able to travel as a cohort and support one another's success.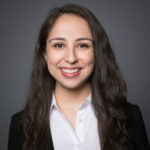 "As a student, registering for and attending conferences can be a significant financial strain. Because ODI provided our registration fees, many of us were able to attend and travel together. We created a community in which we motivated and helped each other prepare for interviews. At the conference, ODI had a booth specifically for us and held a dinner prior to networking events. This gave me the support and encouragement I needed to effectively recruit and make a lasting impression on potential employers."
—Micaela Lucero, MBA '20
In early October, 1,600 LGBTQ+ MBA students, alumni, business leaders, and recruiters convened for the 21st annual Reaching Out MBA (ROMBA) Conference in Minneapolis, Minnesota. A major goal of ROMBA is to improve student attendees' skills so that they will become confident professionals. ODI ensured that Johnson students could benefit from this important event.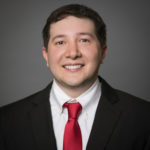 "ODI encouraged Johnson LGBTQ+ students to take on the opportunity to network, learn, and improve their skills among other young professional leaders in order to emerge stronger and more confident in the business world."
—Sebastian Bernal, MBA '19
A week later in Chicago, Illinois, students who have served in the military attended the MBA Veterans Career Conference. The conference includes career education seminars, industry panels, and the opportunity to network with peers and representatives from more than 60 of the country's leading MBA employers. With support from ODI, Johnson veterans were among those making life-changing connections.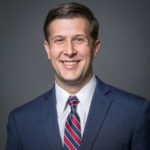 "The Veteran's Conference was an amazing opportunity to connect with companies who understood my unique experiences and valued the skills I could bring to the table. ODI and Johnson as a whole were the keys to my success at the conference. Their unwavering support throughout the process was the largest contributor to me successfully securing an internship."
—Francis 'Frank' Mozingo, MBA '20
Along with ODI, Johnson's Career Management Center (CMC) is also dedicated to supporting Johnson conference attendees—often in person.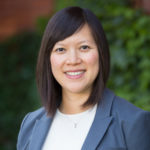 "The Career Management Center has always prioritized being on-site at the conferences for recruiting and moral support, and for building relationships with companies to unearth opportunities for our students. It's more effective to offer these resources in-person, and it's rewarding when the students share their conference victories with us!"
—Debbie Luk Graves, associate director of the CMC
Committing to continued growth
An important goal of ODI staff is to help Johnson students be empowered as change agents. Every new event, initiative, and act of support is created to help equip students with the skill set and mindset they need to cultivate inclusive environments. Programming will continue to grow on campus in the coming years, along with greater opportunities for learning, connecting, and creating change.
To learn more, visit the ODI website—and follow the ODI Facebook page for ongoing updates.