NSMH's 30th anniversary: Celebrating the past, treasuring the present, shaping the future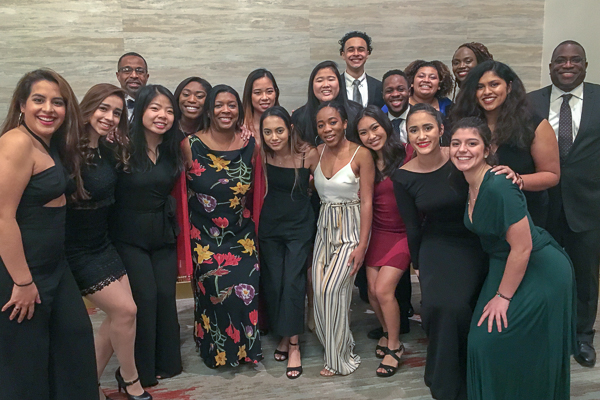 Over the past year, hardly a day has gone by that Tatiana Suero '19 hasn't thought about preparations for the 2019 National Society of Minorities in Hospitality (NSMH) conference. As NSMH's national vice chair—an office that boasts incredible accomplishment and responsibility—she wouldn't miss this conference for the world.
Hundreds of hospitality students from across the country gathered in Atlanta this February for the NSMH National Conference. The four-day event marked three decades since NSMH's founding at Cornell University. NSMH has grown in the last 30 years to include more than 100 chapters and 2,000 members. Its well-defined mission is to provide education and resources that aid in the recruitment, retention, support, and advancement of minority students in the hospitality industry.
Suero, who vividly remembers attending the NSMH National Conference when she was a first-year student, is now a senior at the Nolan School of Hotel Administration. Throughout her journey and increasing involvement with NSMH at both the university and national levels, she knows that the society provides so much more than an annual conference to its members and alumni. Suero has directly experienced the benefits NSMH has to offer, and in true Hotelie spirit, she's determined to pay it forward.
Put simply, there are plenty of reasons to celebrate this year… all because a group of Hotelies set out to make a difference in 1989.
Cornell beginnings, continuous impact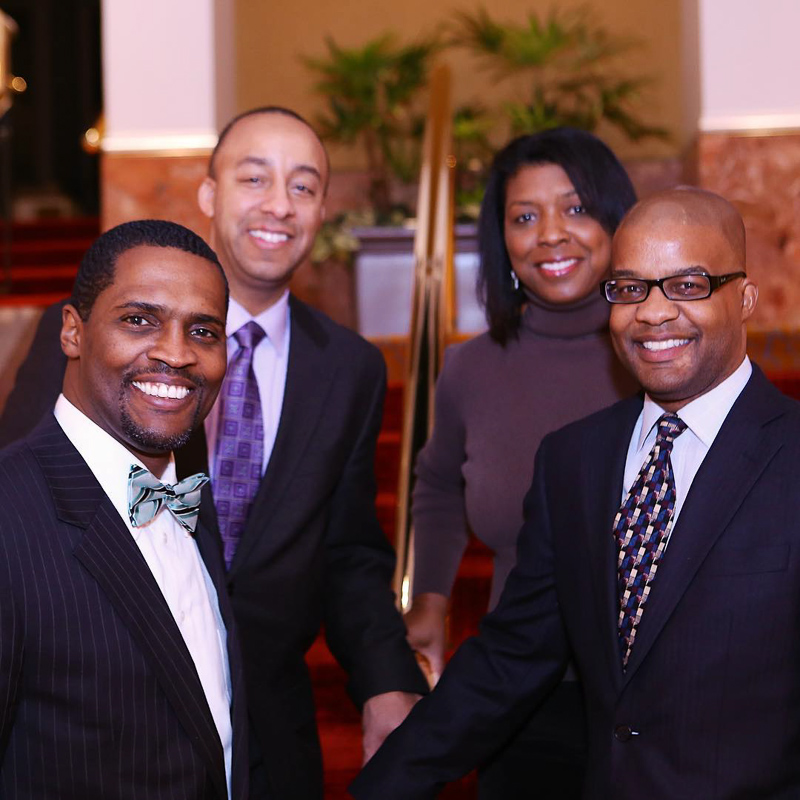 In 1984, four SHA students started a small, on-campus club—the Society of Minority Hoteliers (SMH)—to support minority students who were searching for summer internships and career networking opportunities in hospitality. SMH was created at a time when access to diverse industry mentors and professionals was quite limited. Women and minorities did not hold many senior leadership roles in the hospitality industry, and the club wanted to provide resources and camaraderie for the next generation of hoteliers working to tip the demographic scales.
Within five years, SMH evolved into the National Society of Minorities in Hospitality at the hands of Hotelies Alfred Watts '91, Evan Frazier '92, Michael Burkeen '92, and Penni Wint Urquhart '92. NSMH grew exponentially, and minority students in hospitality programs across the country were able to tap into a familiar network as they sought to find support and opportunities as rising industry professionals from underrepresented backgrounds.
Today, NSMH serves a similar purpose. Although the industry's composition has become more diverse in the last 30 years, there is always room for improvement.
"NSMH is a networking organization, first and foremost," explains Douglass Miller, SHA lecturer and NSMH faculty advisor. He's been affiliated with the organization since he came to Cornell about two years ago, and not long after he was on board, he found himself on a flight to Jacksonville for his first NSMH National Conference.
"[NSMH] gives students opportunities to network amongst themselves, with other companies, and with senior leadership," he says. The impact of the organization, according to Miller, is perhaps most evident on smaller college campuses that don't have robust hospitality industry networks and resources like SHA does. This is why NSMH conferences and activities are so important.
"Attendees get to meet students from other schools that might have similar backgrounds, circumstances, and perspectives that allow them to connect and build that network within NSMH," says Miller. "Next thing you know, you could be working alongside them five years down the road. And that connection could've all started at a national conference."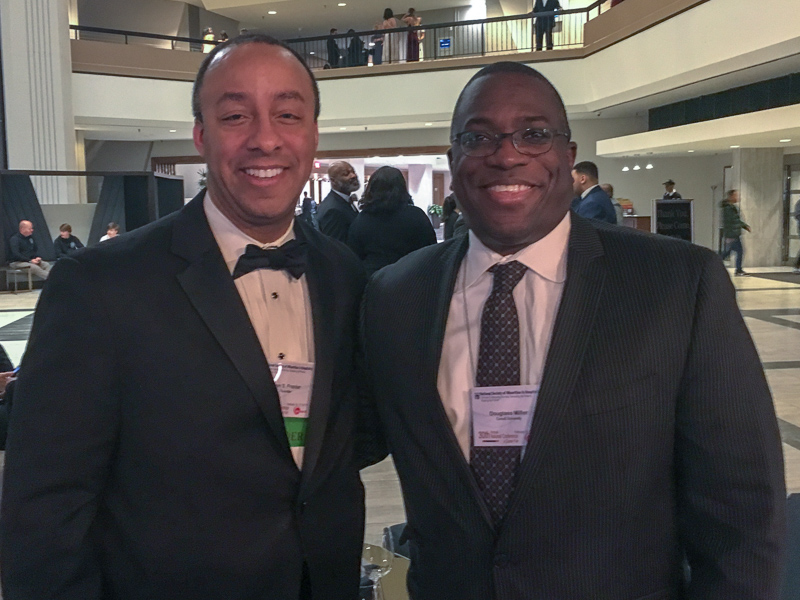 Embracing NSMH's roots in SHA
At the university level, the NSMH Cornell chapter works closely with SHA's Office of Diversity and Inclusion to host or co-host events on campus including Candid Conversations, career readiness workshops, networking engagement sessions with students in the Cornell SC Johnson College of Business, and alumni coffee chats.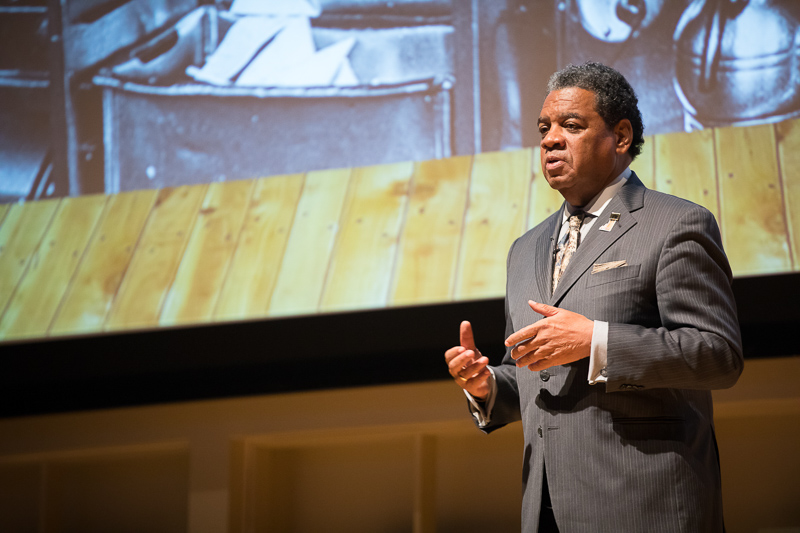 In addition, NSMH members at Cornell work together to serve others—a hallmark of Hotelie culture. Their largest on-campus event is the annual Hilltop Jamboree, which brings together children and families from the university and local community in a carnival-like atmosphere. The proceeds from the event, explains Victor Younger, director of the Office of Diversity and Inclusion, are given back to the community through the United Way or other local organizations.
On a slightly larger scale, NSMH focuses their regional conferences on professional development and career preparation.
Last fall, students in the NSMH Cornell chapter planned and hosted the 2018 Northeastern Regional Conference, which takes place at different universities each year. More than 100 students from 12 universities attended. The Cornell e-board planned for a variety of workshops that encouraged networking and movement among attendees.
"The regional conference is a foundational conference for each region to really work on coming together and helping students fine-tune and understand what the industry is looking for, how to learn best practices, their interviewing skills, and their resumes," says Younger. "It's all about development and readiness."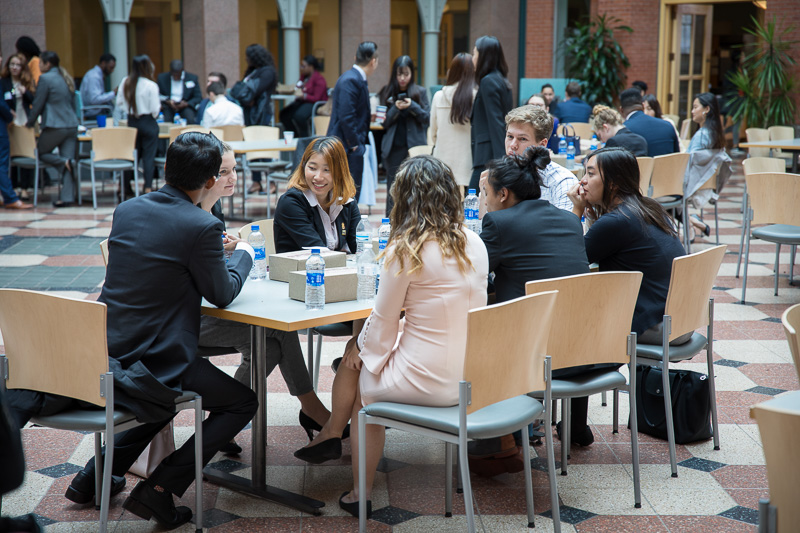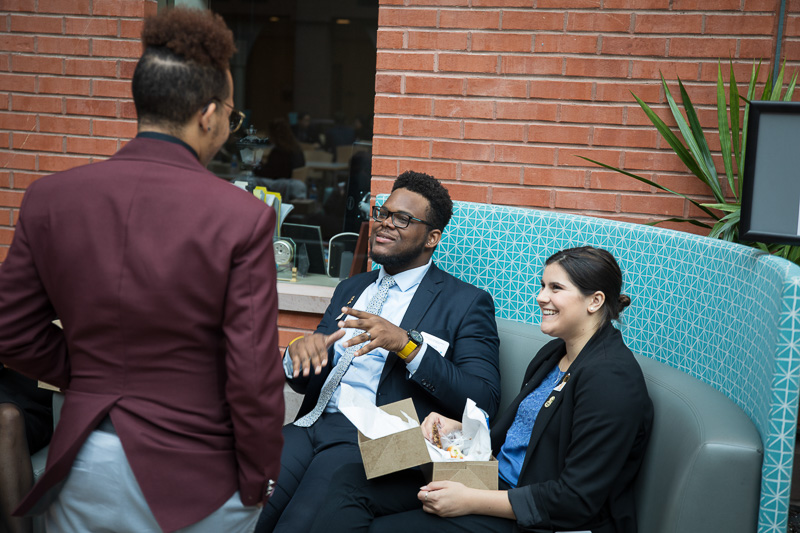 Representing Cornell on a national stage
After participating in NSMH as a student member at Cornell, Tatiana Suero remembers seeing the organization in an entirely new light after she went to her first national conference three years ago. She saw students like herself getting up on stage and connecting with a room made up of many people they'd never met before. "When I saw it, I wanted to be a part of it," she says.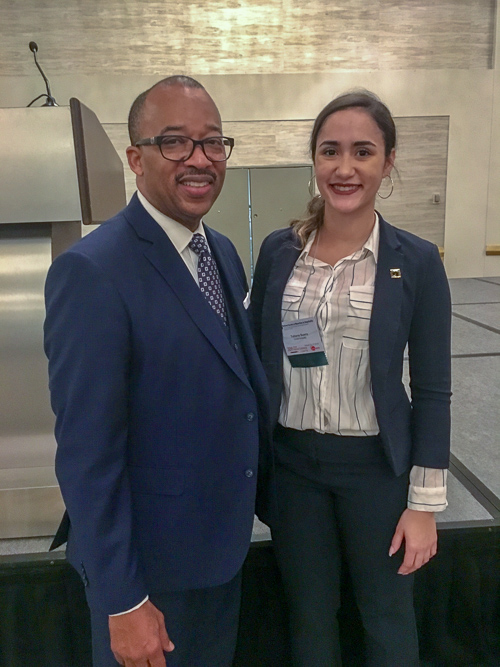 Suero applied for a national leadership position during her sophomore year, but things didn't work out as she'd planned, and she didn't get the position. Later on, NSMH headquarters called her out of the blue to make her aware that a new position had opened up, and they had heard from so many within the organization that they couldn't pass her up again.
"They remembered my work ethic, and that's why they said they wanted me on the board." She served as national treasurer last year, and currently serves as the national vice chair of the organization, a position she had to campaign for in order to be elected. Suero's term as national vice chair began after the 2018 NSMH conference in Chicago. She spent a week during the summer immersed with her fellow board members as they learned to work together and prepared for the daunting challenge in front of them: supporting the 30th anniversary NSMH National Conference in Atlanta in 2019.
From a national standpoint, Suero says, "we're focused on the professional development of minority students, and how best to establish and build those personal connections within the industry."
In the last year, Suero has led committees of other NSMH members from schools across the east coast, and nearly every Sunday, she's was on the phone for more than an hour with the national board. Planning a conference of this size involved a number of corporate sponsors such as Hilton Worldwide, Hyatt, and Sodexo, each of which provided at least $25,000 to help fund the weekend, while $1,500 was awarded as a scholarship to an NSMH applicant during the Awards Gala, the final wrap-up event at the end of every national conference.
Although the national conference is full of fun events and activities, including the Hospitality Olympics and an "I Love 1989" dance party, there's a shared understanding among all who attend that this is where important work and dialogue takes place, too.
Students often find themselves interviewing for internships and job opportunities at major companies across the industry. Job offers are made at this conference, relationships are forged that may influence NSMH participants down the road in their careers, and there's an overwhelming sense of connection, perhaps because students and NSMH alumni often can find multiple points of connection among their own experiences as people of color.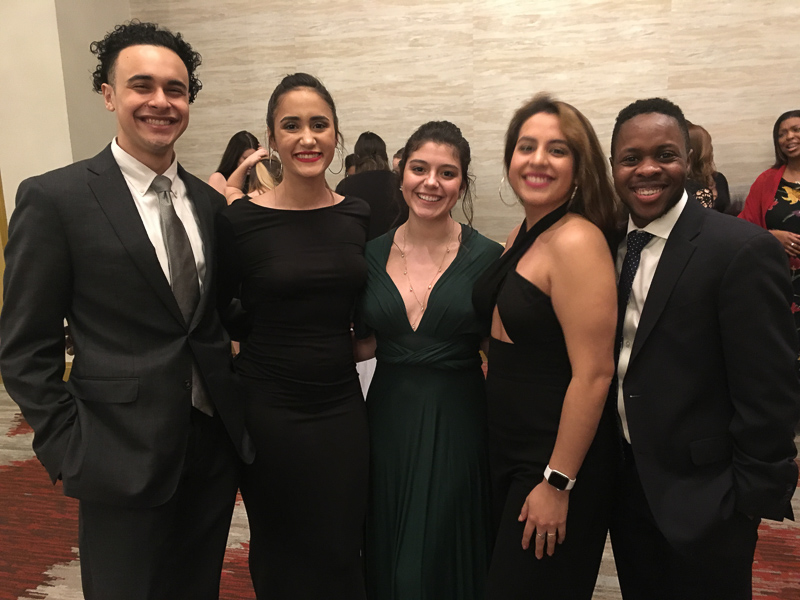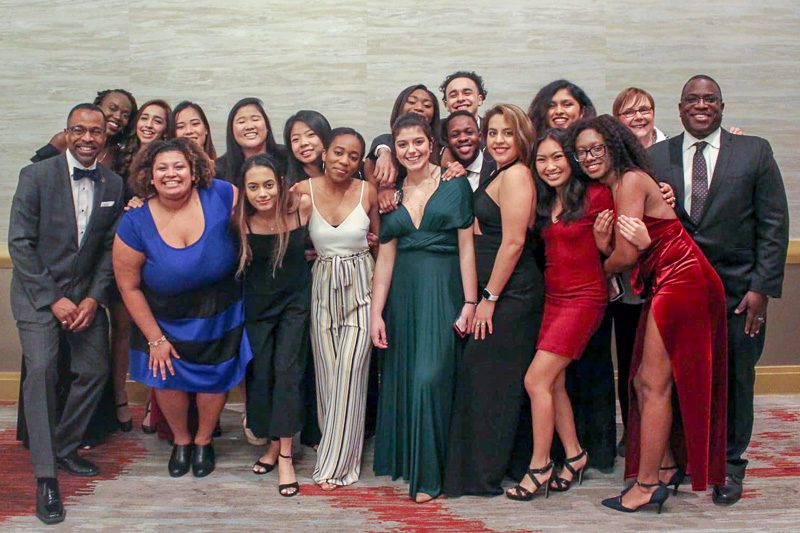 Alumni connections made stronger
"No matter where we go for our national conference, it goes without saying that alumni show up," says Miller. "I like to let other alumni know that we're coming, and they're always gracious."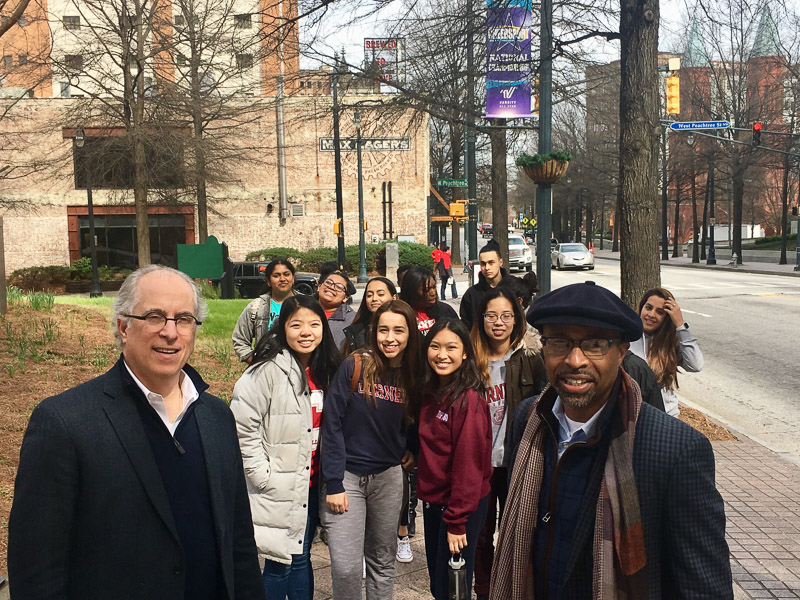 During last year's conference in Chicago, NSMH's Cornell chapter enjoyed a meal hosted by Mark Agnew '99, owner and operator of the popular Lou Malnati's Pizza in Chicago. Miller helped coordinate with local alumni, and a number of them came for a meet-and-greet event with the group of current SHA students.
This year was no different. Although he says students are very self-sufficient in leading and organizing the NSMH Cornell chapter, Miller took the lead in arranging for them to meet with alumnus Alan LeBlanc '84, president of Brewed to Serve Restaurant Group, which comprises three restaurants and a brewery. Students sat down for lunch at one of his restaurants and heard from LeBlanc himself about his SHA experience. Following the meal, the group walked down the street to another of LeBlanc's restaurants, where an informal meet-and-greet was set up with people from Brewed to Serve and Hotelies from the Atlanta area.
In addition to attending these inform gatherings, alumni often come to the NSMH National Conference as well. This year, NSMH's four co-founders joined in the celebration. Many alumni participate in the conference's career fair, where students meet with recruiters from many top hotel companies, including Hilton, Hyatt, Marriott, and Four Seasons. There are many are familiar faces working behind the tables, NSMH participants of past, and several of them Hotelies. Miller says this is just one example of NSMH's 30-year legacy on display, up close and personal.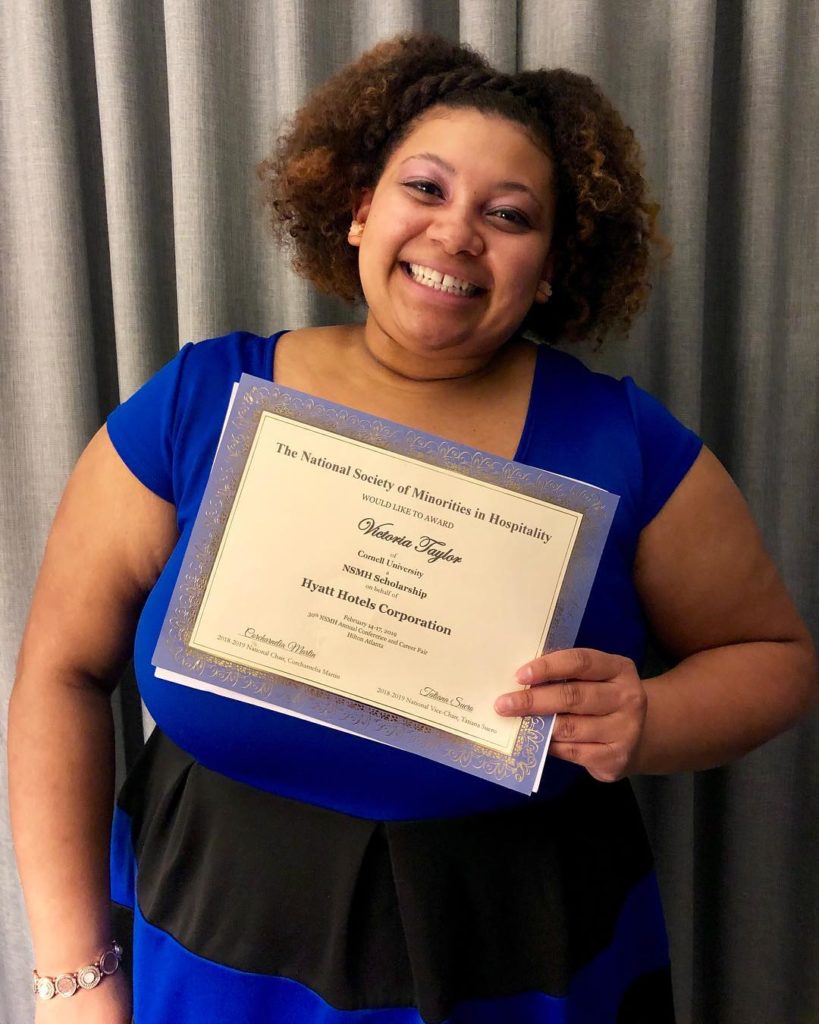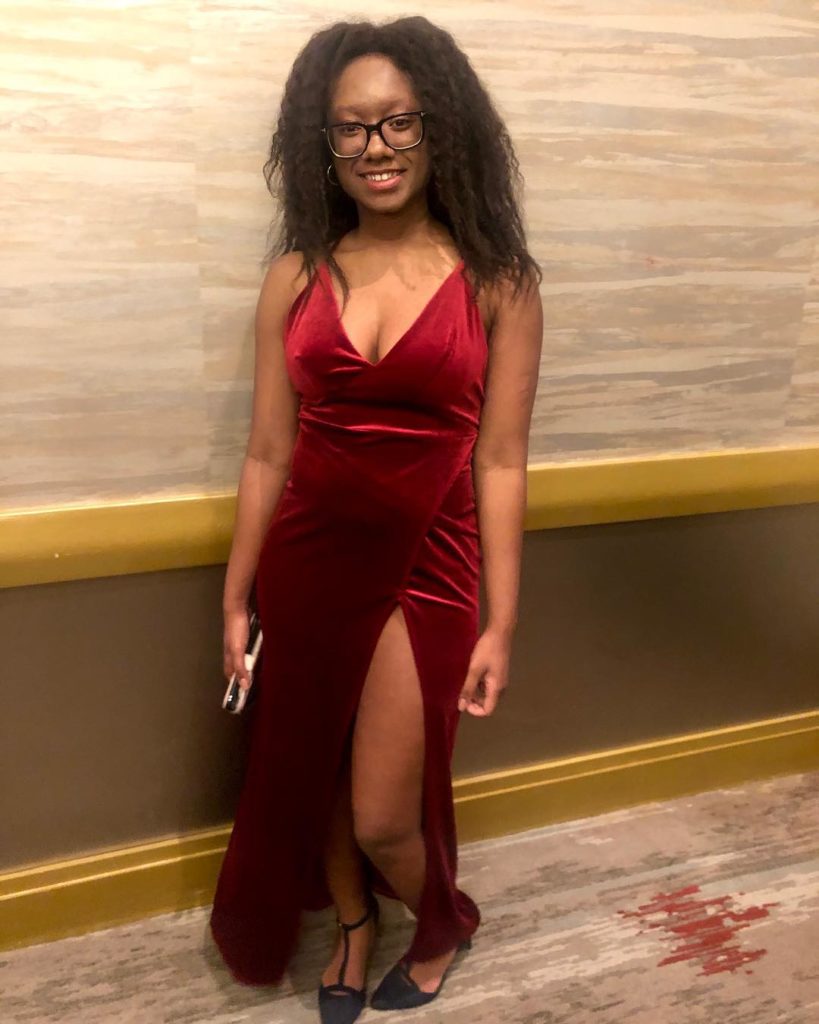 As Tatiana Suero prepares to transition from student to alumna, she knows the important role she can play in the lives of younger hospitality students. Remembering how she felt as a first-year student, and choosing to make a commitment to NSMH, she's certain there was someone among the crowd at the 2019 national conference who will follow in her footsteps. Suero wants to continue making an impact in pushing NSMH's mission forward.
Miller sums up this dynamic perfectly: "There's this great opportunity in NSMH that somebody helped build, and they just happen to be Hotelies," he says. "Now we pay it forward by maintaining the organization for future students."