Symone Williams and Harrison Jobe win global Student Leadership Award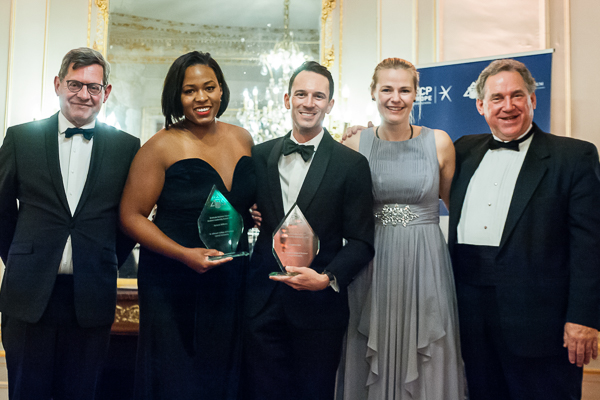 Symone Williams, MBA '19, and Harrison Jobe, MBA '19, co-chairs of Johnson's Student Council,  were awarded this year's global Student Leadership Award from the Graduate Business Forum. Williams and Jobe accepted their award at the Commemorative Banquet and Gala during the 2019 Graduate Business Conference in Paris.
About the award
The Student Leadership Award is given annually and honors leadership and innovation within the business school community and/or curriculum. Recipients exemplify the Graduate Business Forum's ideals of leadership, innovation, and care for the greater community at the graduate business level.
Williams and Jobe were nominated and chosen as award winners for creating a program-wide cohort system to bolster Cornell's community and foster stronger bonds among students of diverse backgrounds. Their cohort system, created from and based on extensive research, connects students in both Two-Year MBA classes and the One-Year MBA program by providing opportunities to solidify genuine, long-lasting relationships.
"Symone and Harrison are pillars within the Johnson community, always seeking to understand others and never satisfied with the status quo."
—Jessica Krom, assistant director, Office of Diversity and Inclusion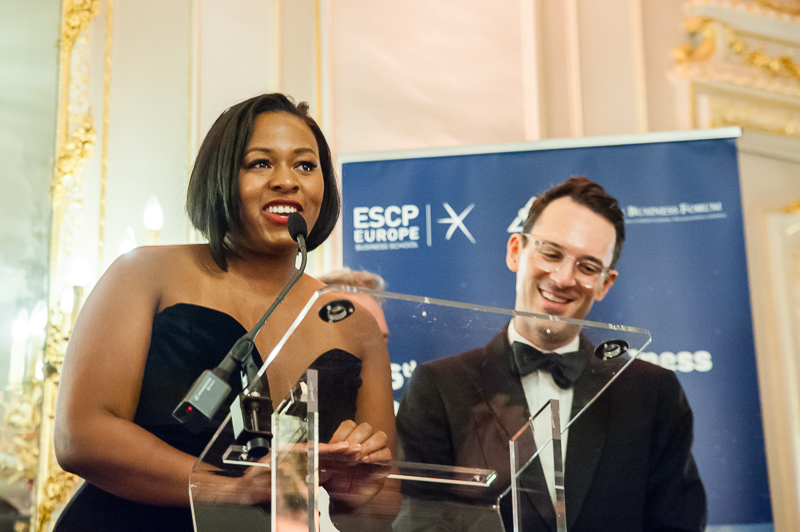 About the cohort program
Within the cohort system, the entire MBA student body in Ithaca is divided into six groups (or cohorts) through an intentionally diverse algorithm and matching process that has led to a strengthened sense of community. Each cohort is named after a significant geographic location in the Finger Lakes Region of New York State and are overseen by a leadership team consisting of two second-year MBAs, three first-year MBAs, and one student in the One-Year MBA program.
Cohorts receive points for winning school-wide events such as the Ezra Games, an Olympic-style competition where MBAs face off in a slew of academic and physical challenges, and participation points for attending events such as Cohort Community Service Day. Cohorts are also encouraged to host their own events exclusive to their members that encourage community- and relationship-building. The first "Cohort Cup" will be awarded to the winning team at the end of the academic year.
"In one word: Gamechangers. Symone and Harrison had big goals for the school, and they worked their tails off to see them come to fruition."
—Betsy Dick, program director, Two-Year MBA
Williams and Jobe have successfully created a sense of excitement and interest for the cohort program within the administrative, faculty, and alumni communities. Johnson's leadership is invested in ensuring the program continues. There have even been numerous requests from faculty and alumni looking to find out how they can be involved or have the opportunity to join a cohort themselves.
For these reasons, the Student Council co-chairs were selected from six finalists as the winners of global Student Leadership Award.
Congratulations to Symone and Harrison!