Present Value: Hernan Saenz reflects on his 20-plus years in consulting and looks ahead
By Serena Elavia and Jonathan Tin, both MBA '20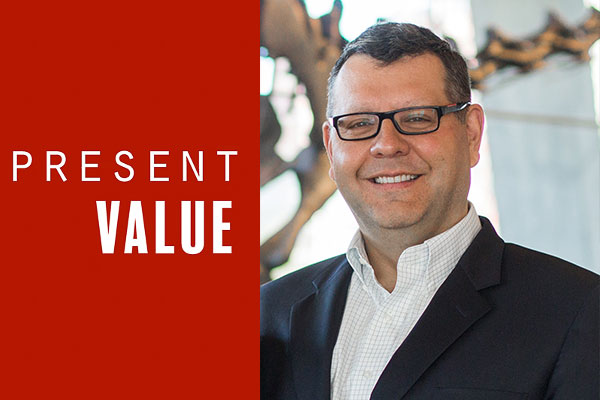 Present Value, an independent editorial project produced and hosted by Johnson students, had the pleasure of interviewing Hernan Saenz, MILR '98, MBA '98, a visiting senior lecturer at Johnson and a partner in the Dallas office of Bain & Company, where he serves as the global head of the performance improvement practice.

Present Value can be streamed through the Present Value website or listened to through iTunes, Spotify, and other popular podcast apps by searching for "Present Value Cornell."
What is strategy?
Hernan Saenz believes that the word "strategy" has not only been overused, but also tends to be ill-defined. The definition that he favors is that strategy is, first and foremost, a set of decisions that a company must make on "where to play" and on "how to win." Where-to-play choices dictate where a company will focus their efforts, including what customers to sell to, what products or services to sell, which geographies to enter, etc. How-to-win choices are decisions about what capabilities a company will nurture and combine into an operating model that no one else can replicate. In Saenz's experience, decisions are not enough—they must be implemented and converted into actions. Thus, along with the set of decisions or trade-offs, Saenz defines strategy as "a proprietary set of actions taking place in the marketplace, typically executed by the front line of the business."
Saenz shares the example of Southwest Airlines as a company that made a series of clear strategic choices, ranging from servicing stations located in secondary airports or mid-size cities, to connecting this network via a point-to-point system, and selecting only one type of aircraft— ultimately redefining the industry's boundaries in terms of costs and aircraft utilization. Most importantly, Southwest built a model that many other carriers tried to replicate but failed, bogged down by complexity in stations, network design, and operating model.
But what makes a good strategy? According to Saenz, a good strategy starts by understanding the facts and defining the economic boundaries of a company's business. "If you don't understand your customer, your market, the trends, and your competitors, you're likely going to have a strategy that will fail," says Saenz. He goes on to describe the most successful strategies as those that balance focusing on the "core," careful extensions of the core, and "redefinition" when economic boundaries begin to change.
The rise of digital
Similar to "strategy," Saenz argues that the word "digital" is also overused and tends to be ill-defined. His preferred definition for digital is "a set of technologies that come together as 'use cases' to change an industry today and to create more economic value in the future." For example, in medicine today, a robot can be used to support surgeries and other procedures, allowing for better outcomes with fewer people in the room. Looking toward the future, robots may be able to completely replace most of the clinical teams for certain surgical procedures.
In this new world, in contrast with the past, Saenz believes that companies can no longer do things on their own. To illustrate this point he uses the example of Apple, which has delivered an enormous number of apps on its platforms thanks to a robust ecosystem of individual developers. In the future, Saenz believes, successful companies will need to be excellent at partnerships and developing ecosystems. It will be a source of competitive advantage. He also expects a shift away from cooperation to "co-opetition," as digital technology grows in importance and standards are set at industry-wide levels.
Saenz also argues that the pace of digital transformation requires companies to approach their business strategies along two different timelines: "today forward" and "future back." Using the automotive industry as an example, he outlines how car manufacturers need to think about existing technologies (including the internet of things, autonomy, and electric drivetrains) to make changes in their business model today. At the same time, they need to look ahead to the future of mobility and work backwards from a scenario where consumers may not own cars at all, but rather pay for a subscription to a car service. His recommendation is that companies in a digital world can no longer frame their strategy questions in terms of products, services, and existing economic models; rather, they must go back and start by identifying the "raw need" of customers (which, in the case of cars, is the ability to get from point A to point B—not owning a car).
The relevance of cost management
While the media today often focuses on innovation and technology, Saenz argues that cost management and productivity continue to be very relevant. He explains that, in an era when companies need to invest to transform their businesses, lower costs translate into more funds to support the transformation — ultimately enabling a firm to out-invest the competition. And he has data to back this up, including a five-year Bain study of 1,574 public U.S. companies, which shows that companies with sustained cost productivity year-over-year delivered significantly higher shareholder returns versus their peers (and fueled better growth).
Another major finding of the study is that excelling at improving cost productivity in a sustained fashion is by no means easy, and only five percent of companies in the Bain study were able to deliver sustained improvements over the five-year period.
Saenz goes on to explain the five factors that he believes are key for cost programs to deliver sustained productivity improvements:
Understanding the connection between cost and strategy, and knowing when to go "best in cost" versus "best in class;"
Making productivity a high priority and setting clear, short-term and long-term targets;
Implementing cost containment tools (such as Bain's Zero-based Redesign) that address not only "how" you do things, but "what" you are doing;
Empowering the front line, because, as Saenz reflects, "the front line typically has the ideas, they definitely have the keys to implementation, and they absolutely have the keys to sustainability;" and
In the current world, applying digital enablers to maximize the impact.
Saenz expands on the above topics and more in his full episode with Present Value, Hernan Saenz—Strategic Choices and Actions in a Digital World. Listen, share, and subscribe!
---
About Hernan Saenz
Hernan Saenz, MILR '98, MBA '98, is a graduate of both the Samuel Curtis Johnson Graduate School of Management and Cornell's School of Industrial and Labor Relations. He is a partner in Bain & Company's Dallas office and serves as the global head of Bain's performance improvement practice. At Johnson, he is a visiting senior lecturer who teaches the popular course, Cases in Business Strategy. In 2012, he was honored with the Carlos R. Quintanilla Distinguished Latino Alumni Award .

Saenz has more than 20 years of experience as a consultant and specializes in corporate transformations, full potential programs, operational turnarounds, and large-scale change efforts. He has worked in North America, Europe, Asia, and Latin America and has significant expertise across several industries, including airlines, consumer and industrial products, retail, healthcare, and telecommunications.