Present Value: Kaitlin Woolley on achieving goals and connecting around food
Marketing Professor Kaitlin Woolley discusses her research on goal pursuit, information avoidance, and how food facilitates social connection.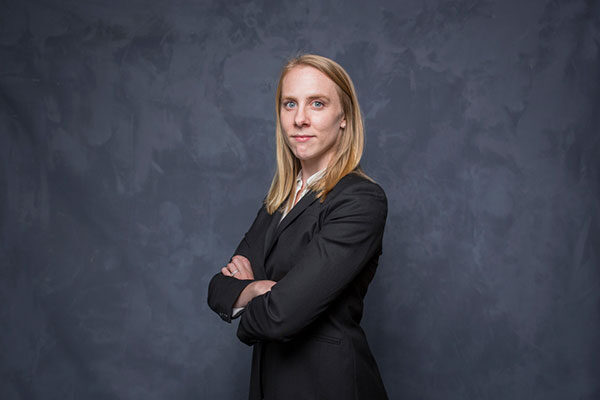 Present Value, an independent editorial project produced and hosted by Johnson students, had the pleasure of interviewing Kaitlin Woolley, assistant professor of marketing at the Samuel Curtis Johnson Graduate School of Management.
Present Value can be streamed through the Present Value website or listened to through Apple Podcasts, Spotify, or wherever you get your podcasts.
Goal pursuit pitfalls and strategies for success
Professor Kaitlin Woolley, who focuses her research on goal pursuit, information avoidance, and social connections around food, begins her discussion with Present Value host Alexander Vorwald, MBA '21, by reflecting on ways people can effectively achieve their goals. One of the biggest pitfalls in goal pursuit, according to Woolley, is the drive to focus solely on extrinsic benefits (the potential, delayed outcomes to be achieved) while neglecting intrinsic benefits (the day-to-day experience of pursuing a goal). This empathy gap between engaging in an activity and thinking about the benefits of an activity can impact an individual's motivation.
However, people can do things to change their environment and facilitate success. For example, "temptation bundling" is the practice of combining virtuous activities with activities that might be termed vices. This can help people feel better about their guilty pleasures while also improving the overall experience of performing the virtuous activity. Woolley reflects on a study in which she enhanced high school math students' environment wth colored pens, music, and snacks, thus improving their experience and elongating the time students were able to focus on difficult tasks.
In relation to information avoidance, Woolley talks about her research into what she calls "the conflict between following your head and following your heart." This is the tension that exists between the rational drive to know more information, particularly to inform decision-making, and to avoid information that is overwhelming or undesirable, which can also impact our ability to achieve goals. This can have broad implications on how businesses optimize their approach to engaging with consumers with a diverse set of preferences.
Food's impacts on connecting socially
Next, the conversation shifts to Woolley's research on how food consumption can affect our relationships with other people and our ability to connect. Her research has found that food consumption can significantly impact people's ability to coordinate and cooperate with each other. Woolley describes several studies that have enabled her to uncover how food can bring people together or, inversely, create feelings of exclusion.
People with dietary restrictions can feel excluded in social settings because of the food-related anxieties they experience. Although there is no clear answer for how to deal with such issues, it is important to raise awareness and push companies to think about different types of activities to bring people together (such as soft ball leagues or coffee dates). While food worries have decreased in today's work-from-home world, Woolley seeks to understand this phenomenon at a deeper psychological level, drawing on anthropology, sociology, and linguistics.
For more, check out the full-length Present Value podcast, Goal Pursuit, Information Avoidance, and Social Connection Around Food | Kaitlin Woolley. Listen, subscribe, and share!
About Kaitlin Woolley
Kaitlin Woolley is an assistant professor of marketing at the Samuel Curtis Johnson Graduate School of Management. She studies consumer motivation and goal pursuit with a focus on understanding what consumers value when pursuing their goals and how to use this to increase goal persistence. She also researches the influence of goal conflict on consumer choice, and the role food consumption plays in social connection. Woolley's research has been widely published in journals and book chapters, including the Journal of Consumer Research, Journal of Personality, and Social Psychology. Her work has also been featured in consumer media outlets such as the Wall Street Journal, The New York Times, Harvard Business Review, NPR, and Psychology Today. At Johnson, she teaches Marketing Management, a core course, and Consumer Behavior.