Present Value: Perspectives on COVID-19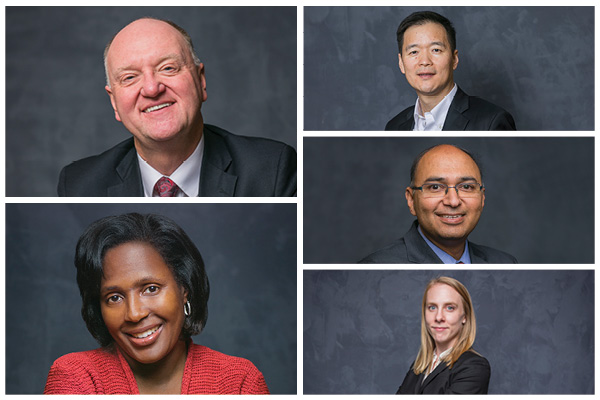 Present Value, an independent editorial project produced and hosted by Johnson students, had the pleasure of interviewing deans Andrew Karolyi and Lynn Perry Wooten and professors Li Chen, Vishal Gaur, and Kaitlin Woolley for this special episode covering the COVID-19 pandemic. Our guests weighed in on a variety of topics ranging from financial markets to supply chain disruption and crisis leadership, as well as personal motivation amid social distancing.
Present Value can be streamed on the Present Value website, or you can subscribe through Apple Podcasts, Spotify, or your favorite podcast app by searching for "Present Value Cornell."
Market contagion
Market contagion is the spread of market changes or disturbance from one regional market to others. Andrew Karolyi discusses patterns of contagion, recalling his 2003 paper analyzing the Asian financial crisis of 1997-98, in which he explains that the spread of these waves mimics the behavior of viruses. Further, he discusses how waves of contagion have been spreading more quickly and with greater intensity than ever before during the past two decades. This phenomenon, he says, explains in part some of the present condition of international financial markets. In this episode, Karolyi also discusses the economic recovery of the 2008-09 global financial crisis and how the recovery from the COVID-19 pandemic may differ due to differences in the way various stakeholders have been reacting and collaborating.
Supply chain disruption due to COVID-19
The "bullwhip effect" is a powerful phenomenon seen when a small change in consumer demand creates large fluctuations upstream along the supply chain. Li Chen and Vishal Gaur describe how the magnitude of the bullwhip effect is being amplified as a result of the COVID-19 pandemic. Scarcity is being created at the consumer level and gradually flowing upstream in the supply chain to manufacturers, who will struggle to forecast inputs and production levels effectively. Gaur likens this difficult inventory planning process to "driving a car looking in the rearview mirror." With traditional forecasts becoming unreliable, companies are reacting to the new information they see unfold day by day. Looking ahead, Gaur and Chen highlight the importance of robust online retail operations, the need for an omni-channel shopping experience for consumers, and the potential for supply chain innovations to arise as a result of the pandemic.
Crisis leadership in the face of COVID-19
Lynn Perry Wooten defines crisis leadership according to seven competencies, from making sense of your environment to containment to bouncing back after a crisis. She places particular emphasis on the importance of learning during a crisis and the need for leaders to apply those lessons quickly and widely across their organizations. The ability to balance a "global mindset" with a deep understanding of a country's or community's specific "cultural context" has also been important to leading through the COVID-19 crisis. Using South Korea's coronavirus response as an example, Wooten explains that the Korean government was able to call on a repository of knowledge from previous experiences such as SARs and form "mega-communities" across sectors to contain and resolve the crisis. Finally, Wooten argues that the disruption caused by the pandemic will force several industries, including education, healthcare, retail, and hospitality, to reinvent and reform many of the paradigms we have taken for granted for decades.
Personal motivation amid social distancing
The COVID-19 pandemic has altered the habits and disrupted the day-to-day routines of people all around the world. Kaitlin Woolley provides practical ideas for increasing commitment to goals while bound by social distancing measures. Recalling her research on goal pursuit and motivation, she advises that pursuing a goal like cooking a healthy dinner every night can be made more enjoyable by small actions such as playing music or facetiming friends while you work. Woolley also dives into the term "social distancing," the benefit of expressing intention in job interviews, her thoughts on Zoom happy hours, and much more.
Hear more of these interviews in the full-length Present Value episode. Listen, subscribe, and share!
About our guests
Li Chen is an associate professor of operations, technology, and information management at the Johnson School. His research interests concern information and incentive problems in operations and supply chain management. He has published his research in top journals in the operations management field, such as Management Science, Operations Research, and Manufacturing, Service, and Operations Management.
Vishal Gaur is the Emerson Professor of Manufacturing Management and a professor of operations, technology, and information management at Johnson. His research interests lie in the design and optimization of data-driven business models. His current research projects concern econometric analysis and optimization in retailing, supply chains, and the linking of operations with financial performance of firms.
Andrew Karolyi is the Harold Bierman Jr. Distinguished Professor of Management and a professor of finance at the Samuel Curtis Johnson Graduate School of Management, deputy dean and dean of academic affairs for the Cornell SC Johnson College of Business, and a professor of economics in Cornell's College of Arts and Sciences. A scholar in the area of investment management with a specialization in the study of international financial markets who recently completed a four-year term as executive editor of the Review of Financial Studies, he has published extensively in journals in finance and economics and has published several books and monographs.
Lynn Perry Wooten is the David J. Nolan dean of the Dyson School and professor of management and organizations. Her research interests include crisis leadership, positive organizing routines, strategic human resource management, and workforce diversity and competitive advantage. She is co-author of the book Leading Under Pressure: From Surviving to Thriving Before, During, and After a Crisis (Routledge, 2010), which explores the role pressure plays in crisis leadership. Wooten has taught courses in corporate strategy, knowledge management, organizational behavior, and consulting. She holds a master's of business administration from Duke University and a doctorate in business administration from the University of Michigan's Ross School of Business.
Kaitlin Woolley is an assistant professor of marketing and co-director of the Johnson School's Center for Behavioral Economics and Decision Research. Her primary areas of research include consumer motivation and shared consumption.