Profile in Leadership: Maggie Chan Jones, MBA '09, founder and CEO of Tenshey
Empowering women to become leaders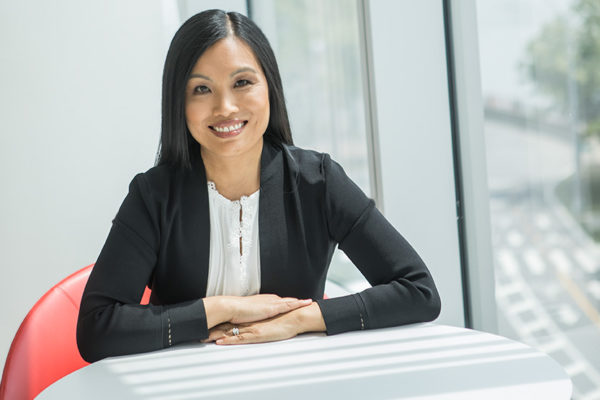 Maggie Chan Jones was in her second year as a group manager at Microsoft in 2006 when she began to scout around for a new position at the company to further her career. She applied for numerous openings — admittedly, without much of a strategy. "If you were looking at the roles I was interviewing for you'd have no idea where I actually wanted to go," she recalls.
That scattershot approach caught her vice president's attention. "He stopped me one day and said, 'Maggie, what do you want to do? What is your career North Star?' And I'm like, 'What are you talking about?' And he said, 'What do you want to be when you grow up? Go home and think about it and come back and tell me.'"
Jones returned to him the next day with a PowerPoint presentation. "I said, 'This is my career road map. One day I want to be the head of marketing for a company. I don't know what size or what it looks like. I just know that this is what I want.'" She and her boss discussed what competencies she needed to reach her goal. "From that point forward, every step of the way to the CMO role was very intentional," says Jones.
To make her journey to the C-suite, Jones would tap her personal resolve, her knack for organization and goal-setting, and her unwavering focus. But she's the first to admit she also benefited mightily as a leader from her key relationships with numerous sponsors, often her bosses, as well as mentors, her own executive coach, and the teams she has worked with.
Along the way, she would become Microsoft's director of cloud services, leading the transformation of Office 365 to the cloud, earn her executive MBA at Cornell, and become the North America CMO for Level 3 Communications, a telecom company in Broomfield, Colorado, that was later acquired by CenturyLink.
In 2014, Jones got her dream job in New York as the global chief marketing officer for SAP, the German global enterprise software company. The first woman — and woman of color — to hold that position, she presided over some 1,300 employees and guided the transformation of the global brand as it transitioned to the cloud. In 2017, Forbes magazine named Jones the 15th most influential CMO in the world. During her tenure at SAP, from 2014 to 2017, revenue rose 33.5 percent to 23.5 billion euros. Over the same period of time, SAP's share price rose 71 percent.
"She always struck me as somebody who is very focused and has a very explicit objective," says Zarina Stanford, now the CMO of Syniti, whom Jones recruited from IBM to work for her at SAP in Asia. "There is no pretense, and you know you're getting the real agenda."
Jones ran meetings effectively while fostering an inclusive environment, says Stanford. "It's all about getting business done by facilitating a platform for attendees to express their points of view and listening," she says.
Jones is forthright and to the point in her assessments, and Stanford found her feedback constructive and stimulating. "I like to be challenged, and Maggie is just that type of leader," says Stanford, who recalls one early conversation: "She said, 'Zarina, I always hear you talk about people. I don't hear enough about the business.' Sometimes it took me back a bit, but she really brought to bear that, at the end of the day, we were all here about business, so let's talk about that first."
Jones left SAP in August 2017, as the company planned a move that would split its marketing operations in two. But her evolution as a business leader didn't end there. By November, she had founded Tenshey, a new mission-driven startup promoting diversity and female leadership through executive coaching.
Why leadership diversity matters
Jones knows that most women never get to breathe the rarified air of the C-suite. As she climbed the corporate ladder herself, she realized "how few people looked like me." Just 19 percent of C-suite executives are women, and women of color account for just 4 percent of the total, according to Women in the Workplace 2018, a study by LeanIn.Org and McKinsey & Company. Those are the gaps that Tenshey, named after the Japanese word for "angel," aims to address. The startup offers a global network of executive coaches and corporate diversity programs to help women succeed and, if they so desire, to rise to the C-suite.
Jones's message to corporate leaders is that diversity matters — not only because it's the right thing to do, but because it's good for business. Companies that fostered diverse leadership saw net profits grow by 6 percent, according to a 2016 study by the Peterson Institute for International Economics and EY.
Now, in addition to leading Tenshey, Jones is working on many other fronts to promote gender diversity. In March 2019, she joined the board of directors of the London-based cybersecurity software firm Avast, becoming one of three women on the body. She mentors MBA students at Cornell and advises startup leaders at the Founder Institute, a preseed accelerator. She has become an angel investor through the group Golden Seeds, which focuses on women-led ventures. A frequent keynote speaker, Jones is also working on her memoir so she can share her lessons learned in the journey to the C-suite.
"Maggie really is a huge advocate for women taking their place and stepping into their power," says her executive coach, Mary Utley. "She knows women often aren't advocated for; they don't have mentors and sponsors."
Mastering the tools for success
Born in Hong Kong, Jones was raised by her divorced mother and grandmother. When she was 14, she convinced her mother to let her move to New York City by herself to live with her father, whom she had only met a few times, so she could further her education. After completing high school, Jones went to Binghamton University, one of New York's most competitive state schools. She studied business management and fell in love with marketing.
Jones landed her first job as a junior buyer at ADIC, a Seattle-based company that made hardware components for a tape storage product. Within two years, she had advanced to senior buyer, but she still dreamed of working in marketing. Following the advice of her VP of marketing to learn more about the tech business, she took night courses in data networking and data communication and even learned how to configure a Cisco router. Jones also spent time with her company's systems engineers. "I ended up getting more comfortable with technology, and that's how, when an opportunity opened up, I was able to apply to marketing and eventually get a job in the field I love," she says.
ADIC was also where Jones met her husband, who was working in the company's IT department. Like many dual-career couples, they have taken turns following and supporting each other — from the San Francisco Bay area, where she worked for Sun Microsystems, to Colorado for her husband's job, where she continued to work for Sun, and eventually back to Seattle, again to follow her husband. That's where Jones landed her first position at Microsoft. Later, her husband would follow her back to Colorado when she joined Level 3, and the couple moved once again, this time to New York City, when Jones became global CMO at SAP.
While at Microsoft, Jones enrolled in the Cornell Executive MBA Americas program (then known as the Cornell-Queen's Executive MBA). "I wanted to learn more about frameworks; I wanted to add more tools to my toolbox." That Cornell MBA training, she says, has proved even more useful to her now as an entrepreneur. "And the other unexpected tool for me was about prioritization," she says. "When you are working a full-time job and going through the program, you get really ruthless in how you prioritize your time. That was one of the key muscles that I built."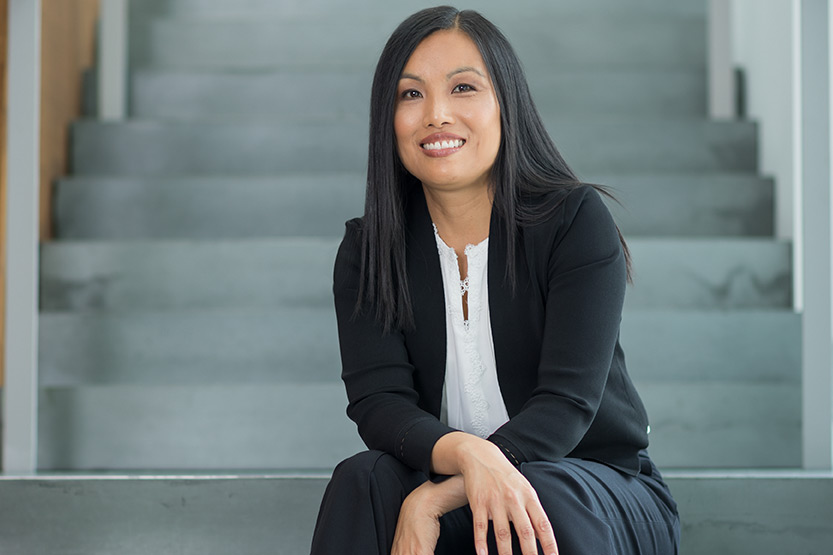 Penny Delgadillo Valencia, now global head of partnership marketing at PayPal, worked for Jones twice — first at Microsoft and later at SAP. "She had just so much vision, so much breadth of context on the business," Valencia says.
At Microsoft, Valencia recalls, Jones managed to successfully bring together teams that did not report to her directly as she led the transformation of Office 365 to the cloud. That was just one of several instances in which Jones was able to build "that structure of accountability and enforceability in a virtual team fashion to get the job done."
Realizing the net value of an executive coach
It was at Microsoft that Jones first connected with executive coach Utley, on the recommendation of her mentor. Jones convinced her manager to get Microsoft to pay for the coaching, explaining how it would benefit the company. When she moved on to Level 3 and later SAP, she continued to work with Utley, always with company support.
Utley has seen Jones take courageous and calculated risks. In October 2011, Jones was invited to interview Steve Ballmer, then CEO of Microsoft, at the Microsoft Global Women's Conference before thousands of people. She recognized the enormity of the opportunity and accepted, putting aside any fear of failure.
"Whenever I am scared of doing something," says Jones, "Mary's voice always pops up into my head. 'What if you do this, what's the worst that could happen?' I'd say, 'I could look dumb.' And she'd say, 'Could you live with that outcome?' The answer is always 'yes,' and so why not do it?"
Later, Jones weighed two substantial offers: to work for Microsoft in China or to become VP of global marketing for Level 3. "What ended up helping me was knowing that my North Star was to become CMO," says Jones. "I knew the Level 3 job would get me closer because I was literally reporting into the global CMO." Within three months of joining Level 3, the company formalized the North America region and made her its CMO.
It was a pivotal time for the company. Level 3 had just acquired Global Crossing, doubling the size of the company overnight. "One of the things that was very important to them was that they were transforming from a wholesale company to an enterprise company," Jones recalls. "They wanted to have a marketer come in who could really help them through this transformation."
Jones was well aware of the challenges. "For me, being a transformational leader means you need to be courageous, because driving change means taking risks and doing things you've never done before," she explains. "You have to be authentic and stay true to who you are as a person. You have to be human and put yourself in other people's shoes because change is uncomfortable and it's hard."
"For me, being a transformational leader means you need to be courageous, because driving change means taking risks and doing things you've never done before." — Maggie Chan Jones
Jones recalls one leadership team meeting at Level 3 where executives were preparing for a board of directors meeting. Jones had just started to give her presentation when some of her colleagues began interrupting her with questions. She didn't get flustered. "I said, 'OK guys, can you give me five minutes? Let me walk you through my story. I believe the majority of your questions will be answered.'"
Her boss piped up and told the group, "You're right, Maggie. We all have two ears and one mouth, and we need to use them proportionally."
Thanks to his intervention, she was able to get through her presentation successfully.
"Particularly in a very male-dominated industry, you need to create room for yourself and not wait for other people to create it for you," Jones says. "In this case, my boss was an advocate for me."
Over the years, Utley has observed Jones handling difficult people and situations with aplomb. "There's always resistance in the room. Everyone has their own agenda and their own little pieces of the pie they're trying to defend," she says. "She was often in the middle and handled it beautifully, in a very gracious way, when things might get a little heated. She could bring things back to some clarity."
A data-driven focus on diversity and inclusion
At Level 3, Jones not only set about transforming the brand — she wanted to make the workplace more inclusive. She and a male colleague created a mentoring ring for women where they could share best practices, build a community of support, and talk about the skills they wanted to develop.
Her passion for fostering diversity and inclusion continued at SAP, where she became an executive sponsor for such efforts. Sotis Dramalis, now vice president of marketing for Japan and the Asia Pacific region at Oracle, led Jones' CMO management office at SAP for almost two years in New York. Dramalis, who credits Jones' "ability to derive insights from data and put meaningful actions in place to really change the numbers and the ratios," recalled how Jones charged Dramalis with executing two major diversity programs as a result of her analysis of company data.
One focused on increasing the mobility of female candidates to midlevel management positions. She noted there were plenty of women in line-management positions early in their careers and also in executive positions, but "she realized the midlevel management layer of men and women was very imbalanced," says Dramalis.
The second diversity program focused on the "early talent" of millennials to increase retention rate. She extended onboarding programs to help integrate millennials into the workforce "because we realized they had different needs," Dramalis says.
Dramalis credits those two programs with a rise in employee engagement and leadership trust scores during Jones' tenure as CMO.
She also showed herself to be a "master of project management," who valued other highly organized people, he adds. At meetings, she portrayed her unique ability to adopt both a macro- and micro-level view on strategic initiatives. This enabled her — from strategy to execution — to have a 360-degree view on major projects in the organization and identify risks early in the process.
Despite her laser focus on achieving business results, Jones also knew how to joke around with her team. "She's a very fun person," says Dramalis. "Her sense of humor is remarkable. She is demanding, yet extremely fair. And at the same time, she created an environment where people could enjoy themselves and bring their whole selves to work."
Valencia, who first worked for Jones at Microsoft, later ran SAP's global demand generation and strategic partnership under Jones as the company shifted away from selling to IT departments and toward marketing to CMOs and chief human resources officers. "One of the challenges she had to overcome was to win the hearts and minds of those marketers who were not close to her," Valencia says. Jones quickly enlisted some strategic male counterparts to be her allies at the highest level, she notes.
An epiphany inspires a new company
When Jones left SAP in August 2017, she took some time off to recharge and consider her next steps. While she could have easily moved into another CMO position, she felt she had already "checked that box." That September, she spoke to a group of executive MBA students at Cornell. "One of the students asked me, 'You've had such an amazing career. How did you do it — with coaches, sponsors, and mentors?' I said, 'Absolutely. All of the above.'"
"That was the lightbulb that went off in my head: Why aren't there more women getting coaching, knowing that my coach was so important to my journey?" Jones says. She spoke to about 100 people over a two-month period about her business idea. "It just kind of crystallized it for me that, yes, this is what I'm going to do."
Alison Ongvorapong, MBA '17, first met Jones for coffee after she graduated, hoping to ask for some career development advice from a fellow alumna. The following year, in October 2018, Jones hired her as Tenshey's head of partnerships and program management. Jones is open with her employees about learning opportunities and professional growth, says Ongvorapong. "She pointed out that in order to be disruptive in this industry, you really have to really push the boundaries." She also made it clear that "if you aren't taking risks, you aren't learning."
Steering a startup is vastly different from being a C-suite executive, explains Brian Pasalich, an adviser to Tenshey and a senior mentor for the Founder Institute, where Jones participated in its 14-week accelerator. "At a Fortune 500 company, you've got a team to help you. Here it's all on her," he says. "I tease her about being the superwoman of championing diversity and minority women leadership. She wears it on her chest, she lives it. That's one of the things that has given Tenshey the best success I've seen of a lot of startups."
Jones views launching Tenshey as the natural evolution of her corporate career. "I consider the first 20 years of my career as almost like an Act One. Now I am into Act Two, which is really centered around a mission." She dreams of helping hundreds, then thousands and, eventually, millions of women to attain their career goals through executive coaching. "Every time I see someone who is a Tenshey customer … unlocking their potential or helping someone to open the door to a job opportunity — those are the things that really keep me going."