Alumna Angela Mwanza advises MBAs to build a strong network during 2019 JWiB keynote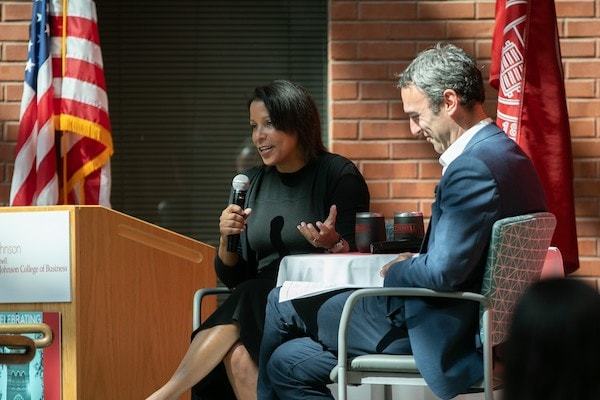 When Angela Mwanza, MBA '00, arrived at Johnson in 1998, she had never heard of The Wall Street Journal and didn't know what a stock or bond was. Yet by the time she graduated, Mwanza, who grew up in Zambia and started her career in the clothing industry in Germany, was working on Wall Street as a private banker to families with substantial wealth.
Her transformation came about during her two years at Johnson and through her connections with Cornell alumni. "I would not be where I am today professionally without this school because of the knowledge I gained and also the fact that this network helped me really get ahead," said Mwanza, a senior vice president at UBS Private Wealth Management in New York.
Speaking to about 120 current and prospective students at the Johnson Women in Business (JWiB) symposium at Sage Hall in September, Mwanza said that when she launched her career, she felt self-conscious as an African woman in the male-dominated financial services industry. "I couldn't be more alienated from Wall Street," she said. "There are very, very few people who have my DNA and do what I do."
As she began working as a private banker with J.P. Morgan, Mwanza was advised to look for clients who had a net value of at least $25 million; yet, it soon became clear that finding those clients would be a challenge for her. "For every client that one of my colleagues got, it would take me probably another 100 meetings to get to that same 'Yes,'" she said.
Build respect and make your mark
While Mwanza initially tried to adapt to the workplace culture and her colleagues by "trying to be what they're like," she later realized that this was not an effective strategy. "You're not trying to find a new best friend," she said. "You want to build respect, you want to build a career, and then really be able to make your own mark."
In 2008, Mwanza made a major shift in her career that allowed her to make an impact on addressing world issues with her clients by focusing on the intersection of families, philanthropy, and finance. She is co-founder and manager of Evergreen Wealth Management at UBS Private Wealth Management, which now manages $1.2 billion for 25 ultra-high-net-worth families.
"Because I've shaped my business in a way that I can be true to myself and true to my values, I have a seat at the table where I can bring about true change," she said. "I feel that I can really help move the needle on climate change and reproductive health in Africa [because of] the conversations I'm having with people and the type of people I'm having them with."
Mwanza advised the students to not only create a network that can help them achieve their career goals, but also to develop a process to keep track of the people they meet. "Having that system is really, really powerful," she said. "Because that's what success in business is—you're as good as your network."
The Becca Blanco Memorial Scholarship celebrates the power of connections
Preceding Mwanza's talk at the JWiB symposium, several Johnson alumni from the Class of 2017 announced the Class of 2017 Becca Blanco Memorial Scholarship award, created to support women MBA students who exemplify what their former classmate stood for: the power of building strong relationships. Becca Blanco, MBA '17, who tragically died last year in a bus crash, excelled at creating strong connections with those around her.
At Johnson, Blanco served as vice president of community relations for the Women's Management Council and as social media chair of the Johnson Women in Technology symposium. After graduating, she was an admissions ambassador for Johnson while working as the communication and PR lead at SNOWE, a home goods brand in New York.
"Becca had an impressive resume, but she was more than just an exemplary classmate or colleague," said Steve Daddeo, MBA '17, who presented the scholarship award. "She had a personalized way of connecting with those around her."
Daddeo and two of his former classmates—Kartin Prasad Sood, MBA '17, and Olga Abrosimova, MBA '17—have so far raised $166,000 to endow the scholarship and are continuing to seek pledges through a crowdfunding site. The group awarded the inaugural scholarship to Natalie Kirchhoff, MBA '21.
Natalie has excelled in every aspect of her career, in her community, and through her dedication to supporting women in business, Daddeo said. "She is quickly emerging as a student leader, attending prestigious conferences, and will continue to be an asset in the school's efforts to recruit strong, talented, women to Johnson."
Kirchhoff, who served as a JWiB volunteer in 2019, is a member of the Women's Management Council and the Consulting Club, and is also a Forté Fellow. Forté's mission is to increase the number of women represented in business through an alliance that is currently positioning more than 100,000 women for business leadership.
"Now is the time for change—not just for women but for racial diversity," Kirchhoff said after the scholarship was announced. "We need people to serve as leaders who aren't afraid to speak up and do the right thing, even if that means they are the only one in the room."