Present Value: Sommelier Cheryl Stanley gives lessons in wine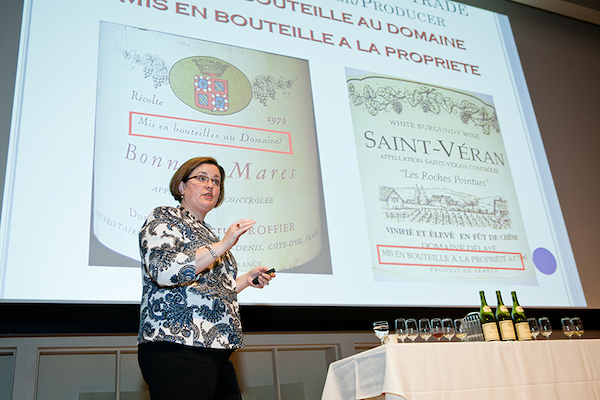 Present Value, an independent editorial project produced and hosted by Johnson students, had the pleasure of interviewing Cheryl Stanley '00 (SHA), lecturer in the School of Hotel Administration.

Present Value can be streamed through the Present Value website, or listened to through iTunes, Spotify, and other popular podcasting apps by searching for "Present Value."
The basics of wine explained
In this episode, Stanley sets the stage for listeners on the basics of wine, which she calls just "fermented grape juice." For many, wine drinking is intimidating, but Stanley wants her students to understand the language of wine and enjoy drinking what they like. In fact, the required textbook for her Introduction to Wines course is Wine for Dummies. She says that the book makes wine education very approachable.
At the beginning of the conversation, Stanley goes through a few essential vocabulary words, like "tannin," "depth," "complexity," and "finish," to help listeners understand the fundamental building blocks of how to describe wine and the various flavor profiles drinkers taste while consuming it. While some of the more standard words like "complexity" and "depth" might sound obvious, they take on a different meaning when applied to wine. The difference between New World and Old World vintages can also be confusing, but according to Stanley, the two terms simply describe winemaking in different regions at different periods in history.
In addition, Stanley details the process that restaurants follow when building a wine list—there is a method to the madness! Often, restaurants will organize the list going from light- to medium- to full-bodied wines, she explains, so waitstaff can more easily offer suggestions if they are asked for a recommendation.
Throughout the episode, Stanley also discusses the impact of global warming on wine production and the effect of cannabis consumption on the wine industry.
To hear the full episode, visit Present Value online or on Spotify, Apple Podcasts, or wherever you get your podcasts.
---
About Cheryl Stanley
Cheryl Stanley is a lecturer in the School of Hotel Administration. She teaches courses in beverage management, including the very popular Introduction to Wines course in which hundreds of students enroll each semester. In 2015, she was awarded the Ted Teng Dean's Teaching Excellence Award, and in 2017 she was named one of Wine Enthusiast Magazine's 40 Under 40 Tastemakers. Stanley is a member of the Society of Wine Educators and the United States Bartenders' Guild. She holds a bachelor's degree from the School of Hotel Administration and a masters in hospitality and retail management from Texas Tech University.