Reggie Fils-Aimé visits campus, delivers inaugural Leaders in Residence lecture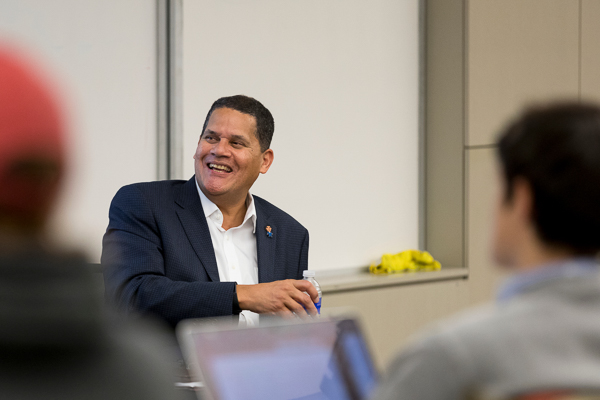 A large, enthusiastic crowd filled David L. Call Alumni Auditorium on October 21 to hear Reggie Fils-Aimé '83, a living legend in the gaming realm, deliver a lecture on leadership for the next generation. His talk, sponsored by the Dyson Leadership Program, focused on a list of guiding principles for leaders that he developed while working in a variety of roles for companies including Procter & Gamble (P&G), Pizza Hut, Panda Express, and Nintendo of America Inc., where he served as president and chief operating officer before retiring earlier this year. His most notable achievements include the launch of wildly popular products such as the Nintendo DS, Wii, and Nintendo Switch.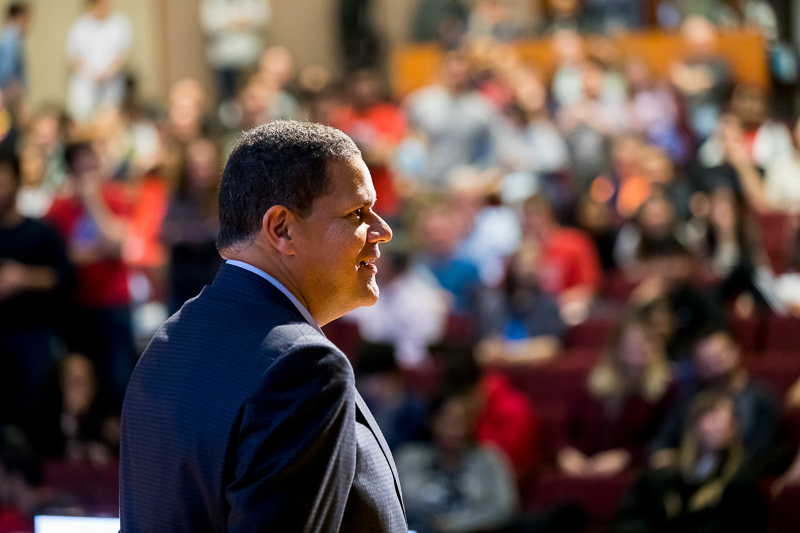 Principles for next generation leaders
Fils-Aimé kicked off his talk by examining the differences between leadership, management, and functional expertise. While management represents the ability to organize people and/or projects, he said, not all managers are exceptional leaders. Functional expertise, while valuable in the business world, is just one step on the path toward effective leadership.
"Leaders think about the future and have the ability to develop people and teams; they balance functional expertise and strategy," he said. "They are able to examine a problem and consider the impact of possible solutions."
He then turned to his seven principles, based on "approaching 40 years of success and failure" in the marketplace, ranging from driving a greater organizational vision, to developing intellectual curiosity, to valuing differences. "I believe in the value of principles and sharing those principles with others," he said. "I had the opportunity to practice the principles I established, which is important because you have to make sure they work and to determine what works best for you."
Envisioning success
Regarding the value of leadership vision, Fils-Aimé said, "It's important to paint a compelling picture of where you want to be. The vision must be clear and must be positive, and have a positive impact on the business." He cited Nintendo's evolution from a playing card manufacturer in the 19th century to a global video game market leader, based on a vision to "put smiles on people's faces, with products that surprise and entertain."
As a reflection of this strategy, he said, Nintendo responded to the popularity of first-person shooter games by creating Splatoon, in which the characters shoot blobs of ink instead of bullets. "You are playing as an inkling, not a combat soldier. It's a masterful example of having a vision and executing that vision," he said.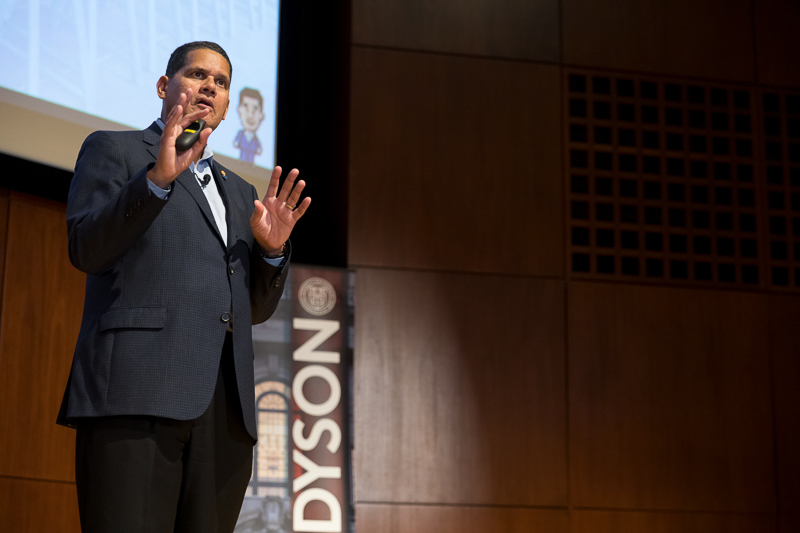 Building teams and intellectual curiosity
Fils-Aimé then addressed the principle of developing individuals and teams in an organization, recalling that, as a senior at Cornell, he was selected to work at P&G and led teams of older, more experienced professionals. "I focused on driving teamwork and collaboration and getting people invested in teamwork," he said. "It was a mentality of helping others succeed. It's important to let employees emerge in their own way to achieve a goodwill that leads to business success."
Intellectual curiosity is a critical principle, he said, noting that learning is an ongoing endeavor. "Expand your perspective by reading, listening to podcasts. That is a great way to get past the barriers that you may think are impossible to clear," he said.
Fils-Aimé explained that he gained appreciation for the value of intellectual curiosity while helping Panda Express expand from a Chinese restaurant category dominated by mom-and-pop operators to a global organization with a presence on every street corner.
"Previous efforts by the company to create a concept that could succeed on any street corner had failed. I asked a lot of questions to determine if the business was scalable," he said. "I talked to employees, customers, the finance team and the real estate team to figure out what would work. The key was maintaining the highest quality food and changing just about everything else about the restaurants—the design, the layout, the in-store operations, the marketing. The results exceeded all expectations, and I believe this was driven by intellectual curiosity."
Effective communications are key
Effective leaders also have effective communications skills, Fils-Aimé told the audience. "That means written, verbal, and non-verbal communications. At P&G I learned how to craft a short, effective memo. Writing a one-page memo helps you think clearly about ideas and executing those ideas. Write down what you want to do, why you want to do it, and how to execute the plan," he said.
Verbal communication is all about presentation, he said, including the ability to speak with confidence and feeling comfortable in front of groups. Fils-Aimé said he gained an appreciation for the power of non-verbal communication during the translations required to communicate with his Japanese peers at Nintendo.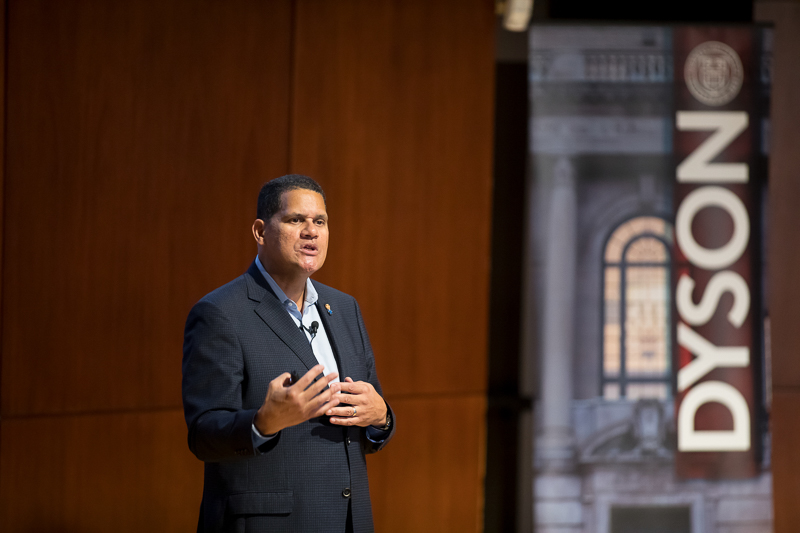 "Translation does not capture a smile, or a twinkle in the eye. Those are non-verbal cues that are part of the message being sent, as is body language," he said. "It's good to value silence, too, which helps you think and take the time to understand exactly what is being said."
Valuing differences means exerting leadership while pushing for diverse and inclusive organizations," he said. "Different perspectives and identities lead to better ideas and better results. This is a fact."
Be courageous in decision-making
In identifying courage in decision-making and irrefutable integrity as the final two principles on his list, Fils-Aimé said effective leaders must make tough decisions, based on the best available knowledge, live with the results, and create an environment where "people believe you, and believe in you."
He cited the creation of Nintendo's Wii gaming console as an example of a positive risk/reward strategy. "This was driven by intellectual curiosity during a slump in the video game market. Nintendo saw a lack of innovation in games and consoles—a lack of fun," he said. "The Wii and Wii Sports changed the interaction between players and the game. It was a gutsy call that paid off."
Sound advice for students
In an interview prior to his lecture, Fils-Aimé touched on his experiences at Cornell and offered some guidance to students.
"Cornell was instrumental in my career and the path I have taken, building businesses and training people," he said. "I had professors who challenged me to explore the university and get the most out of the college experience. I also learned that to master a craft you have to put in the time."
Students would be well served to focus on two of his principles while on campus, said Fils-Aimé. "The first is intellectual curiosity. It's important to study a range of topics at the university. It's easy to focus on your major, but at a stellar institution like Cornell there is so much to explore. Take a variety of courses to maximize Cornell experience," he said. "You may think you know what you will do after college, but life has its twists and turns."
He also said students should learn and practice effective communication skills. "Good writing skills are critically important, and you can focus on that at Cornell," said Fils-Aimé. "Students should be clear and precise in their speech—no 'uhms,' 'likes' or 'ahs.' When speaking with others it's important to look them in the eye, put the phone down, and make a personal connection. You can hone these personal communication skills at Cornell."
View Reggie's principles for next-generation leaders, along with questions and answers, on the Cornell SC Johnson College of Business YouTube channel.
Creating leaders at Dyson
The Dyson Leadership Program is based on the premise that leadership can be practiced by anyone from any position; it is a personal, relational, and collective learning journey for achieving goals that result in positive change.
"At Dyson we develop young leaders through the Cornell experience. Leadership is one aspect of learning—it means the continuous process of becoming your best self, making a difference and contributing to the community," said Lynn Perry Wooten, the David J. Nolan Dean and professor of management and organizations at Dyson. "There is a consciousness of self to develop personal leadership, but leadership is not a solo act. It requires collaboration and being a team player and understanding what it takes to be a community."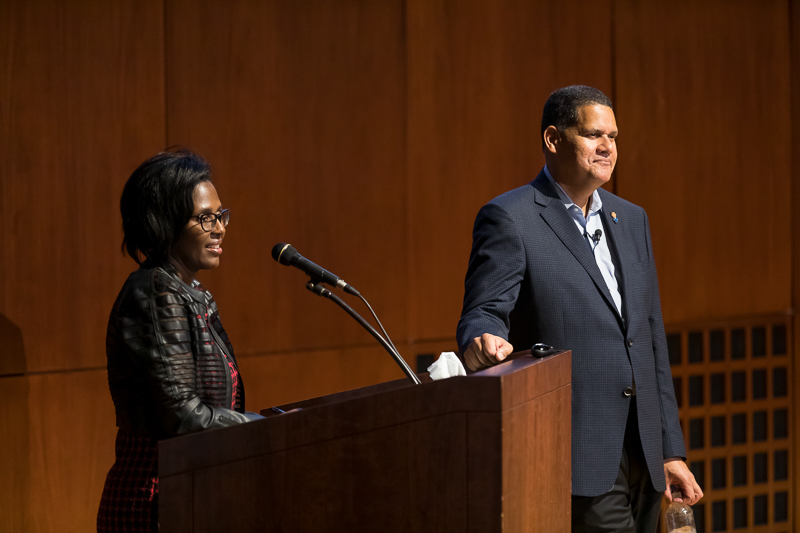 Wooten said that the program starts with strengths-based self-awareness, collaboration, collective acts, and a common purpose. Students are asked, "What results am I trying to achieve—in my Cornell experience, my personal life, and career goal?" she said.
At Dyson all students participate in the Grand Challenges curriculum, she said, working on projects that address societal issues such as wage inequality or food insecurity, using their business skills and further developing their leadership persona.
Wooten noted that Fils-Aimé is the first participant in the Leaders in Residence program, which brings distinguished alumni to campus, enabling students to witness leadership in action, supported by case studies presented by participants.
Students learn about leadership through ongoing, personal interactions with successful leaders from a variety of organizations. Leaders in residence will visit campus once each semester to meet one-on-one with students, lead small group discussions, guest lecture, and participate in a larger workshop or campus presentation.
The student perspective
Denise Castle '21 and Yuri Carreira Alflen '21, both Dyson Leadership Fellows, were among those to spend some quality time with Fils-Aimé and in the process, gained valuable insights from a proven business leader.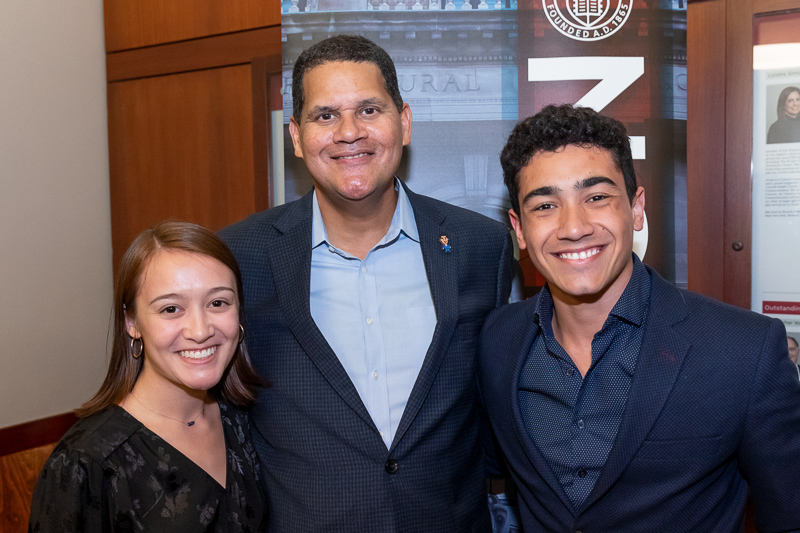 "He focused on being true to yourself and appreciating the people around you, which is important," Castle said. "He said that leaders are not just managers and that it's important to uphold personal values and be open to other perspectives."
Alflen concurred, saying, "One of the most important lessons he delivered is to be true to yourself, but don't be selfish. Leaders work for a greater purpose. You have to put yourself behind something and get team members to believe in your vision."
As a leadership fellow, Castle said, "I believe the goal is to grow as leaders here and in the community at large. The program requires community engagement, and we have been involved with educational programs in the Ithaca City School District, which has been very rewarding."
Alflen suggested that Dyson students need to realize that leadership is not just about themselves. "…By the end of your career here," he said, "you have the opportunity to be part of something bigger than yourself."