Women in Investing Conference draws top MBA students and industry leaders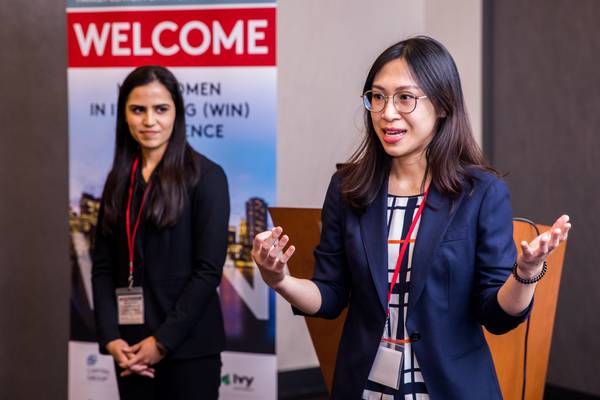 Sixty-one MBA students from 14 top business schools came together in Boston for the MBA Women in Investing (WIN) Conference on November 21, 2019. It was a milestone year for the Cornell conference, marking the 10th anniversary of its founding by Lakshmi Bhojraj, Breazzano Family Executive Director of the Parker Center for Investment Research at the Cornell SC Johnson College of Business.
The founding of the conference was celebrated with remarks from Kevin Hallock, dean of the college, who presented an award to Bhojraj and spoke of the conference's impact on hundreds of students from many business schools over the past decade.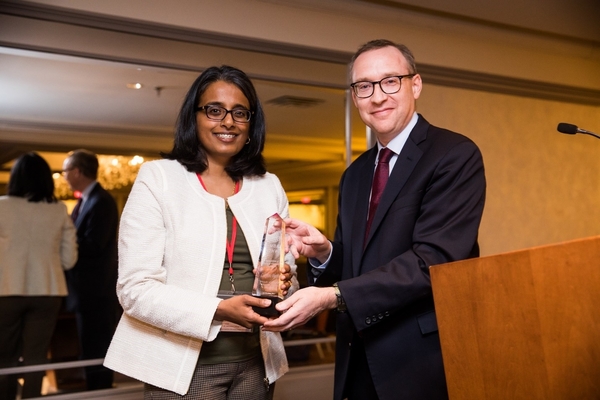 Women in leadership roles at 20 top-tier investment management firms including Fidelity Investments, Fidelity International, Capital Group, and Ivy Investments were invited to the conference. The insights and advice that these distinguished professionals shared with the students were invaluable. The two-day conference also provided opportunities for the students to interview with participating firms, take part in speed-networking sessions and a stock pitch competition, and attend panel discussions featuring investment professionals.
The three-round speed-networking session was intense and efficient. In each round, industry representatives such as managing directors, recruiting heads, portfolio managers, and analysts interacted with the students in groups of 12. It was a good opportunity for students to get deep knowledge of the differences between firms and to get detailed career guidance from insiders' personal experiences.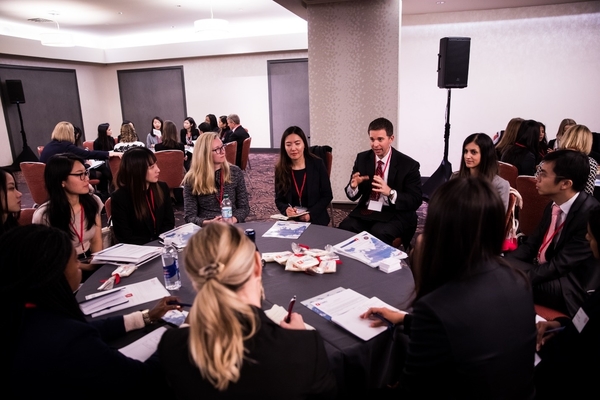 Mealtimes at the conference were also designed for networking. During the first day's dinner, Ramona Persaud, a portfolio manager from Fidelity Investments, gave an inspiring keynote speech with career advice for future professionals. She also invited other women leaders to share their personal experiences of work and life. On the second day, there was a breakfast panel sponsored by Ivy Investments and a lunch panel sponsored by Capital Group. It impressed me, as a woman in the investment industry, that we bring distinct value to the industry through our approach to work and our influence on business culture, and we deserve to be better represented in the industry. Another point impressed on me was that, while it is not unusual to make mistakes, it is critical to learn from them.
The stock pitch was the most competitive part of the conference. Thirteen teams of first-year MBA students pitched a stock of their choice to investment managers serving as judges. The teams were assigned to three rooms, and judges in each room selected a winner. I was a facilitator in one pitch room, so I had the opportunity to watch those stock pitches and listen to the judges' discussion about the winning team. The overall feedback was positive. The judges were happy to see that all teams were creative in selecting their stocks and praised the teams' strong analyses, including on companies with complex business models. In my view, the WIN competition was a stronger learning opportunity for students compared to other competitions I've attended. The judges not only gave feedback on the stock pitch but also shared career advice, such as how to integrate qualitative and quantitative analysis and how to present a clear idea to an investment committee in the real world.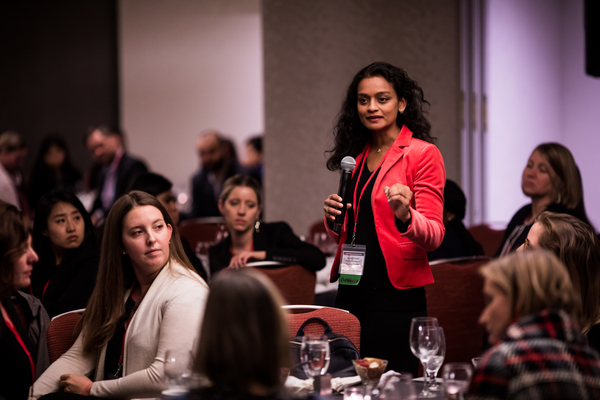 Beyond the networking and stock pitches, there were six panels of industry executives and portfolio managers who talked about their experiences in investment management. The topics covered different aspects of investment work, including how to generate investment ideas, how to interview management teams, and investment strategy in the current economic environment. These discussions gave students a comprehensive view of the types of roles in the investment industry. The panelists also encouraged students to pursue a long-term career in investment management.
All in all, WIN 2019 was a terrific opportunity for MBA students to learn about the investment management industry and network/recruit with participating companies. It is a must-attend event for MBAs interested in exploring careers in this industry.