Celebrating Ann Richards's 32 remarkable years at Johnson
Known both for the warmth of her smile and her expertise, Ann Richards actively promoted diversity in Johnson's residential MBA programs.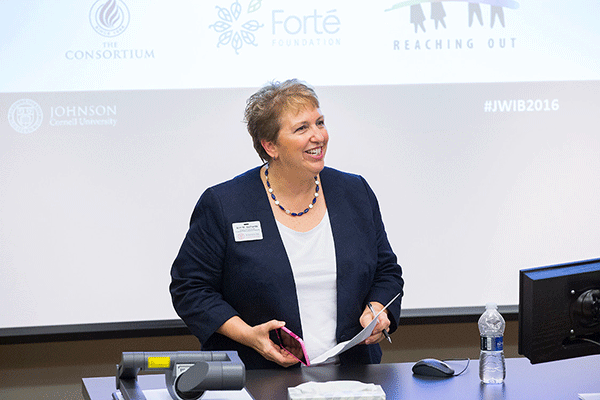 A well-loved representative of Johnson Admissions known both for the warmth of her smile and her expertise, Ann Richards actively promoted the school's diversity and was the first point of contact with Johnson for students all across the world.
She has helped recruit and admit the best MBA students for residential programs at the Samuel Curtis Johnson Graduate School of Management under six deans and traveled to every continent but Antarctica in search of the strongest, most diverse MBA classes ever.
In short, Richards, who retired last fall as senior associate director of admissions, was the face of Johnson for MBA applicants from the time she joined the school 32 years ago.
Judi Byers, executive director of admissions and financial aid at Johnson, called her "a remarkable admissions professional," when she announced Richards' retirement and honored her at a school-wide event to mark the 20th anniversary of Johnson's Office of Diversity and Inclusion in September 2019.
"Ann's ability to connect with and develop lasting relationships is coupled with an incredible gift for identifying exceptional talent," Byers said. "Everywhere I travel in the world, alumni remind me that it was Ann who interviewed them for admission and called to give them the news that would forever change their lives. Some even have her voice message still on their phones."
Mark Nelson, Johnson's Anne and Elmer Lindseth dean, also offered high praise. "When I watched Ann work her way through a group of prospective students, I saw how she managed to project her warmth, collegiality, and love both for Johnson and for the people here whom we think of as really important to who we are," he says. "I can't imagine anyone who could do that as an ambassador better than Ann has. She is someone who cares deeply about everyone and wants to help us all be better. And she does it," he added, "with that smile on her face."
In a recent CampusLogic blog post, CEO Gregg Scoresby, MBA '95, thanked Richards for giving him "very direct, honest financial aid counseling at the exact moment I needed it." He'd planned to take out all the loans available to him. "But you told me, kindly but firmly, that I should borrow only what I absolutely needed, because I'd have to pay it all back with interest. Your advice enabled me to be informed and responsible and led to an amazing educational experience and a fulfilling career," he wrote. Today, Scoresby's company, CampusLogic, is one of the fastest growing education technology companies in the country.
Jeffery Weaver '86, MBA '90, met Richards when he was a Cornell sophomore, and she hired him as a peer adviser in the university's undergraduate financial aid office. He went on to enroll at Johnson, where "she helped me find a scholarship that covered everything," he said. Now executive vice president in qualitative risk and risk management at Key Bank, Weaver serves on the Johnson Advisory Council and is a lifetime member of the Cornell University Council. Weaver and Richards stay in touch, and she remains friends with him and his family to this day. "Ann has been the best ambassador of the Cornell brand," he said. "She is always warm, welcoming, friendly, and engaging. She is also extraordinarily competent and knowledgeable about her area of expertise. And she isn't afraid to give tough love when needed."
The right fit: Finding students who are right for Johnson
As a member of the team that has helped the school recruit more women, underrepresented minorities, and international students, Richards says that making sure applicants find the program that's right for them has been most important to her.
"There are a lot of really amazing programs out there that will provide a fabulous MBA education," she says. "But I've observed that students will have the best overall experience and accomplish and achieve more if they've chosen the program that fits them best."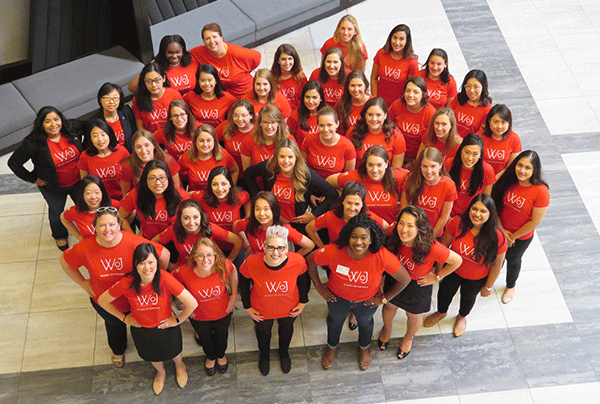 Richards put that knowledge and experience to work when she helped the Johnson Admissions team develop Leadership, Evaluation, and Assessment Days (LEAD), a series of on-campus hosting events for prospective full-time MBA students launched in 2014. LEAD was designed to achieve multiple goals: portray the school authentically, give applicants an opportunity to showcase their skills and abilities, and enable the Admissions team to evaluate prospective students and select high-potential scholarship candidates. "The exercises we developed allow us to see how well applicants work in teams, solve problems, manage challenges, and show leadership," explains Richards.
LEAD also gives Johnson MBA applicants an opportunity to interact with current MBA students, including those involved in diverse groups and programs such as the Women's Management Council, Forté, Black Graduate Student Association, Hispanic American Business Leaders Association, Out for Business (the business club for LGBTQ+ students), the Consortium for Graduate Study in Management, Reaching Out MBA (ROMBA), recipients of the Peter and Stephanie Nolan Veterans Scholarship, Roy H. Park Leadership Fellows, and more.
The LEAD program was such a success that it became the template for Johnson's diverse prospective student hosting events, including Johnson Women in Business, Johnson Means Business, and Johnson Military Preview, Richards says. "All those programs give our applicants the opportunity to try on the school and see if it feels like a good fit," she explains. "Our students are honest, up-front, and authentic with the candidates, who consequently get a real picture of what it's like to be a member of this community."  
Promoting international diversity
While the percentage of international students in Johnson's Two-Year MBA has been consistent at about 28 to 34 percent for many years, the makeup has changed, says Richards. "It closely follows a country's economic growth or situation." When a country's economy is doing well, she says, frequently families with more discretionary income invest some of it in an MBA education for their adult children, she says. "For a while it was Korea, then Brazil, and now it's really India and China where economic opportunities are exploding."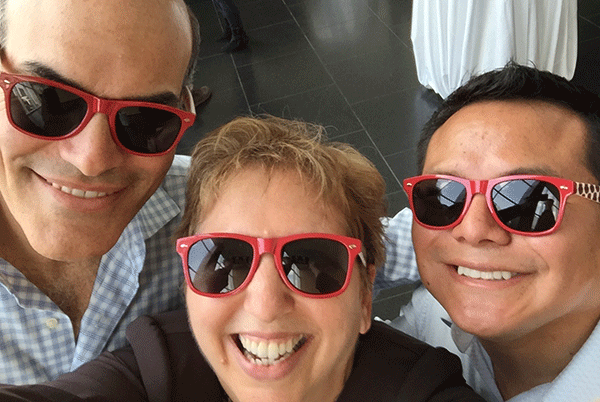 "The value in having a culturally diverse class, with more international students, is that they add energy and vibrancy, new ideas, new ways of looking at problems and generating solutions," Richards says. "I think it's particularly valuable for students to realize that there may be more than one perspective or solution to a problem."
As to her epic travel schedule on the school's behalf, she explains: "In the last four or five years, each member of the admissions team was assigned responsibility for a particular region, and I was fortunate to get Latin America." Before that, in addition to domestic travel, she covered the globe in search of the best MBA applicants.
Looking back, Richards says: "I've really been blessed to experience the different cultures, the different educational systems, and the different professional experiences that our applicants have across the world."
She also is proud of the roles she has played identifying the best MBA candidates and helping them achieve their dreams. "It's been so rewarding to help them see what having an MBA could do for them and how to make it happen financially," she says.
"I've loved the opportunity to have input and influence over things like the application process, the construction of the class, and how we evaluated candidates," Richards adds. "I feel very fortunate that there is such a strong community at Johnson, and I've been able to maintain relationships with alums that I met as students and keep those relationships going, sometimes for over 20 years."