Morgan Stanley leader shares her tips for career success with Dyson undergraduates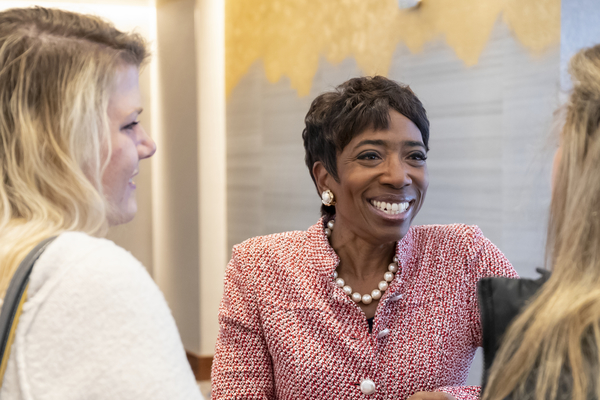 Drawing from more than 30 years of experience on Wall Street, Carla Harris, vice chairman and managing director at Morgan Stanley, presented her talk, Tools for Maximizing your Career Success, to a packed Carrier Ballroom at the Statler Hotel on Feb. 10 as part of the Dyson's Leadership Week.
"Powerful, impactful leaders know there's no monopoly on intelligence. Powerful leaders are inclusive leaders. Doing a good job is not enough; you must also invest in relationships with those above and below you," said Lynn Perry Wooten, David J. Nolan Dean of the Charles H. Dyson School of Applied Economics and Management. "If you know anything about Carla Harris, these are a few of her pearls of wisdom."
Gained through extensive career experience as a woman on Wall Street, Harris shared some of her hard-earned and hard-learned pearls of wisdom to empower audience members to develop an action plan for success.
"I have learned a few things about not only surviving, but, in fact, thriving, in the seat that you sit in or the seat that you aspire to sit in," Harris said. "And, frankly, that's what the pearls are all about."
Following her education at Harvard Business School, Harris embraced the concept of meritocracy, believing that being smart and working hard were the keys to reaching the top. However, she quickly found that this combination wasn't enough to lead her to success. So, she asked herself, what was missing?
"If you look up the word 'meritocracy' in any dictionary, you will see the word 'objective' somewhere in that definition," she said. "Yet, in all of our evaluated equations, there is a human element, and if there is a human element, by definition, it cannot be 100 percent meritocratic."
Harris shared three of the principles she learned about that human element and how aspiring leaders can leverage them to propel their careers forward.
Pearl #1:
Perception is the co-pilot to reality
"The reality of how smart you are and how hard you work has something to do with your success equation, but a very big component of anybody's success equation is the perception that the marketplace has about you," Harris said.
"If you are in a finance role, people better describe you as analytical and quantitative. If you're in a marketing role, they should say you are creative and an out-of-the-box thinker. If you happen to go into a sales role, they should describe you as commercial and relationship-oriented." She advised the audience to identify up front how they wanted to be perceived, and then behave in ways that lead to that perception.
"Your authenticity is your distinct competitive advantage, because nobody can be you the way you can be you.
"As quiet as it's kept, most people are not comfortable in their own skin. So, when [colleagues and direct reports] see someone who is comfortable and confident in their own skin, they will gravitate toward you," Harris said. "Bringing one's authentic self to the table, she added, encourages trust from others, and "trust is at the heart of any successful relationship."
Pearl #3:
Invest in relationship currency
"Relationship currency is the currency that is generated by the investments that you make in the people in your environment. All of you will work in highly interdependent environments, so at a minimum, you must have a relationship with every seat that touches your seat," Harris said. "If the only person who knows you're doing a great job is your boss, then your ability to ascend in any environment is going to be vulnerable. Why? That person may leave the organization, they may lose their seat at the decision-making table.
"It's your job to make sure that as many people as possible in the organization are aware of your out-sized contribution."
Raised in Jacksonville, Florida, Harris holds an AB and an MBA from Harvard University and began her investment career in 1987 at Morgan Stanley. She is the past chair of the board of the Morgan Stanley Foundation and the non-profit organization The Executive Leadership Council. Harris is currently a member of the board of overseers of Harvard University and is on the board of directors of the Walmart Corporation. She was appointed by President Barack Obama to chair the National Women's Business Council in August 2013. Harris is also the author of two books, Strategize to Win and Expect to Win, which detail her philosophy on success.