Tracking food's farm-to-table journey
Alumni joined Cornell Business of Food faculty to weigh in on food supply chains, sustainability, transparency, and plant-based proteins.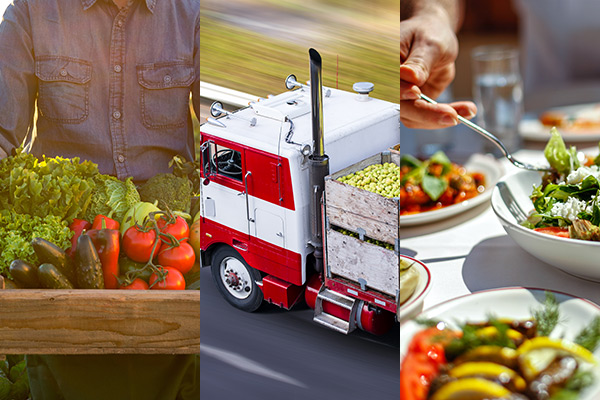 Just how much of a premium will consumers pay for food that is produced responsibly and sustainably and how can food companies assure the integrity of their supply chains? Will consumers make healthier choices in restaurants if food is clearly labeled with calorie counts?  What are a mission-driven food company's tradeoffs in sustainability vs. profitability? And how is technology shaping food distribution?
Panelists shared their insights from both an academic perspective and the first-hand experience of alumni in the trenches of the food industry at the "Business of Food: From Farm to Table," an event hosted by the Cornell SC Johnson College of Business and the Northeast Corridor Office of Cornell Alumni Affairs and Development on Feb. 18 at the Cornell ILR School's space in midtown Manhattan.
The event also highlighted the work of the Business of Food, an interdisciplinary initiative at the SC Johnson College that supports cutting-edge research, innovative teaching, and collaborative industry engagement. Nearly four dozen contributing scholars across the college and Cornell have produced more than 243 peer-reviewed articles about the food system over the last three years, noted the event's moderator, Andrew Karolyi, deputy dean and dean of academic affairs for the SC Johnson College and Harold Bierman Jr. Distinguished Professor of Management.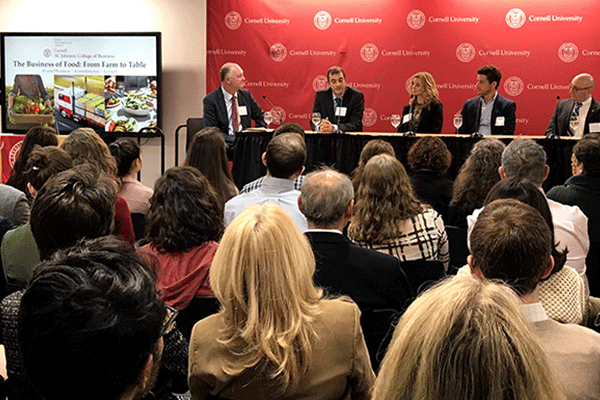 Social Responsibility Premium
Increasingly, consumers are following their conscience and choosing brands they believe adhere to high standards of environmental sustainability and social responsibility, according to the panelists. Cornell researchers have found that consumers will pay a premium of as much as 52.5 percent if they think the sale of the products benefits farmers, their communities and the environment.
Consumers often make choices based on "credence attributes"—such as organic, local, fair trade, or Rain Forest Alliance—taking it on faith that these certifications promise to help the people who are growing the coffee or other products, explained Miguel Gómez, Robert G. Tobin Professor of Food Marketing at the Charles H. Dyson School of Applied Economics and Management and co-director of the Business of Food Initiative.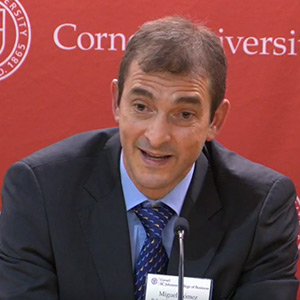 At the same time, consumers are often unaware of how much of the profits go to others in the supply chain. According to Gómez's research, only about 15 cents of every dollar ends up in the growers' hands.
"Sometimes we don't see that value distributed in an equal way along the supply chain between retailers, manufacturers, and growers, so that's an issue of concern," said Gómez, who comes from a coffee growing family in Colombia.
Sustainability Journey
Sustainability and social responsibility have always been a cornerstone of Pret A Manger's business, said Jorrie Bruffett '97 (SHA), vice president of food and marketing at the UK-based restaurant chain, which offers healthy, ready-to-eat meals.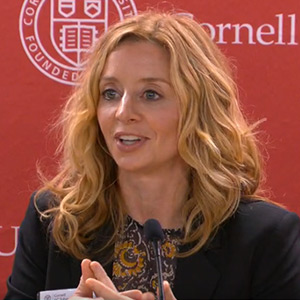 Pret A Manger began its sustainability journey much earlier than many U.S.-based companies, Bruffett said. Starting in the mid-1980s, the chain chose to buy only organic coffee in order to differentiate its product in a commodity market.
The practice led to close collaboration with Peruvian farmers and coffee cooperatives. As part of its mission, Pret A Manger has worked to educate coffee farmers about the benefits of sustainable agriculture. By going organic, many of these second or third-generation farmers, who have struggled to stay in business, may be able to survive in the family business at a time when commodity coffee prices have hit an all-time low, she said.
Cutting Restaurant Waste
Sustainability is also a central mission at Fields Good Chicken, a fast casual chain of six restaurants in New York City featuring roasted and grilled chicken and fresh vegetables, said founder and CEO Field Failing '05 (Arts & Sciences), MBA '12. "There's such an opportunity for the restaurant business to become more sustainable and less wasteful," he said.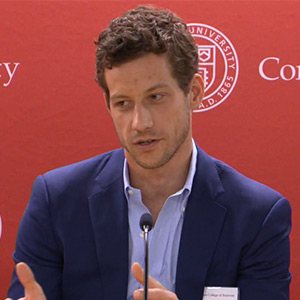 To lessen its environmental impact, the company uses 100 percent wind power for its restaurants and recyclable packaging. And as a member of 1% for the Planet, it donates 1 percent of its revenue to nonprofit environmental projects.
Failing said it's not clear to him whether his customers are willing to pay more for an item because of environmental and social concerns, but it does affect the way they feel about his restaurants.
"I can tell you for sure that people connect more emotionally." Just as important, Failing said, his employees are connecting with the company's mission.
Animal Welfare
When it comes to sourcing their animal protein, both Pret A Manger and Fields Good Chicken aim to be socially responsible, sustainable and humane. And that requires careful monitoring of the supply chain.
Bruffett said the standards of animal welfare are so much higher in the UK and in Europe, it has been challenging to find U.S. suppliers who meet Pret A Manger's criteria. "We visit all our farms ourselves, but they have a long way to go here," she said.
At Fields Good Chicken, all of the chicken is antibiotic-free and humanely raised, conforming to standards of the Global Animal Partnership, or GAP. "This is our standard, and we won't ever compromise," Failing said.
However, consumers can be misled by terms such as "free-range." Free-range chickens technically have access to an outdoor space through an open door, but the term is often more of a marketing message than a description of reality, he said. "All these chickens are inside because it's warmer," Failing said. "The chickens aren't free-ranging. Why is this? A hawk might eat them."
Values Versus Profits
Choosing socially responsible and sustainable ingredients over lower prices can affect a company's bottom line, but both Failing and Bruffett agreed that their companies' values often take precedent.
"It would be fairly easy to pick up a number of points in our margin by going to a less humanely raised product, but then we wouldn't want to be in this business," Failing said.
Pret A Manger's commitment to sustainability means using all recyclable plastics, despite the higher cost. "As a company, we believe it's the right thing to do," Bruffett said. "There are things you're willing to compromise on and things you aren't."
Calories Count
The trend toward greater transparency extends beyond the supply chain to nutritional labeling on food and menu items.
Cornell's on-campus restaurants have served as a research laboratory for Alex Susskind, associate dean for academic affairs in the School of Hotel Administration, professor of food and beverage management, director of the Cornell Institute for Food and Beverage Management, and a co-director of the Business of Food Initiative.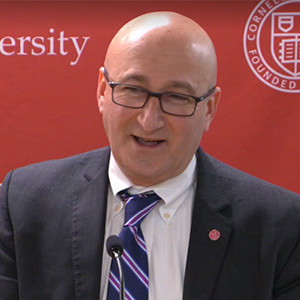 Susskind and his team studied how people reacted to seeing calorie counts on a menu in a full-service restaurant—in this case, Taverna Banfi in the Statler Hotel and at the student-run restaurant, Establishment. They surveyed more than 5,000 guests over a two-year period about the choices they made and why.
The conclusion: Restaurant customers presented with calorie counts tended to order food with 5 to 7 percent fewer calories than those without such information, said Susskind.
While that might not seem like much of a calorie savings, it can "add up to a lot over time," he said. "The idea is that information matters."
Even so, some participants complained that their special meals were "ruined" by all that transparency.
Susskind also studied how students behaved when they had calorie information. They readily gave up an appetizer that might contain as many as 1,000 calories in favor of an alcoholic beverage of 150-200 calories.
"Is that a big surprise for any of you?" quipped Susskind.
Grumpy chefs
Tweaking menus to make meals healthier is challenging for restaurants. Their chefs don't always take kindly to altering recipes to lower salt, sugar, and calories. At Taverna Banfi, Susskind said, the chefs were a bit "grumpy" when they were informed that their popular "healthy" vegetarian entrée was actually the second-highest in calories compared to other items on the menu because of all the oil and cheese.
Likewise, when Fields Good Chicken hired a fine dining chef a few years ago to run its culinary operation, he was asked to modify his recipes to conform with their health standards that require nothing to exceed 900 calories. "There was definitely some friction and a learning curve the chef had to go through," Failing said.
E-commerce and food distribution
The food system is also undergoing major changes as e-commerce platforms tranform food distribution.
Gómez predicts there will be a huge increase in home grocery delivery in the next five years, as more retailers adopt omni-channel strategies that include both brick-and-mortar and e-commerce operations. Perhaps the biggest headache will be for suppliers, who will have to be more responsive and ready to deliver smaller and more frequent batches. "It's exciting and consumer-driven, but I think it's the most challenging issue for supermarkets," he said.
The rise of e-commerce is no less challenging for the restaurant business, as it seeks to remain competitive. It's not like shipping an iPad to a customer, said Susskind. "Broccoli or steaks or whatever else you're trying to ship has a shelf life, and it deteriorates very quickly," he said.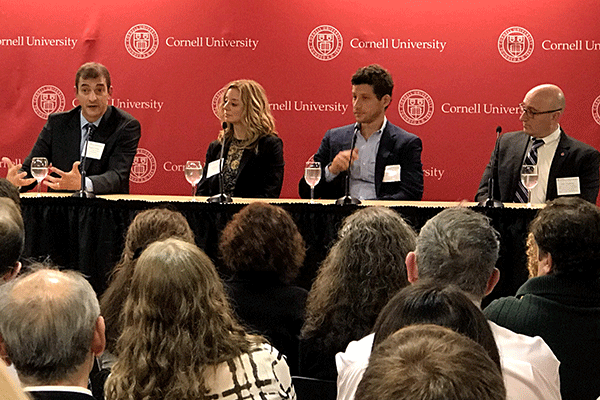 To make the home delivery business more efficient and profitable, more restaurants are setting up so-called dark kitchens devoted exclusively to preparing food for home delivery, said Susskind. These facilities, so named for often being located in windowless basements or industrial spaces, have lower rents than many restaurant locations, and they offer more centralized distribution.
Restaurant companies are also contending with the growth of third-party e-commerce companies such as Grubhub and DoorDash that deliver food to customers' homes in return for a slice of the profits. "They've become a necessary part of our business; it is incremental to our bottom line," Failing said.
As e-commerce continues to grow, and as other retailers have discovered, restaurant chains will need to create a rewarding in-store experience to survive. "The restaurant business is going through exactly the same transformation that the retail business went through, but it's just 10 years behind," Failing said.
"Having these spaces where you can enjoy a meal is one of the most quintessential things to do," Bruffett said. "I think there's a place for all these digital things, but at the same time, there's probably a limit—I hope."
Plant-based alternatives
The growing consumer interest in sustainability and social responsibility has helped fuel the popularity of plant-based protein alternatives, such as Impossible Foods' Impossible Burger.
"It's interesting that the message that resonates is not the health message," Gómez said, citing his research. "It's the environmental message. That's what they care about. It shows the interrelationship between nutrition, environment, and people."
Pret A Manger is trying to encourage people to eat more vegetables and vegan meals, in general. And it plans to expand its Veggie Pret sub-brand to the U.S., Bruffett said.
"From a sustainability standpoint, we should all be trying to eat less meat," Bruffett said, adding that Pret A Manger has stopped charging extra for almond and other plant-based milk.
Fields Good Chicken already stresses fresh vegetables on their menu. But Failing welcomes the day there's an "Impossible chicken"—or some other plant-based alternative he can offer diners.
"That will have a place on our menu," he said.