Faculty expert webinars help global audiences navigate the business impacts of COVID-19
Webinars focused on the financial, managerial, and social impacts of COVID-19 attract thousands of Cornellians and others from around the world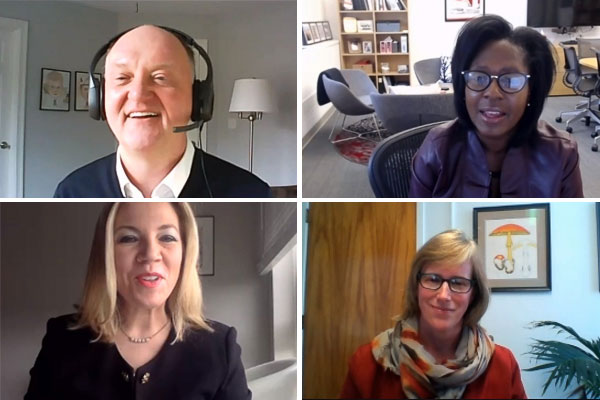 Faculty and staff in the Cornell SC Johnson College of Business have launched multiple series of diverse webinars for students, alumni, and other members of the college and Cornell community to help them understand and maneuver through the business impacts of the COVID-19 pandemic. And the webinars are resonating—thousands of Cornellians and others from around the world have watched live or recorded sessions.
"Navigating the COVID-19 Crisis" is one such webinar series focused on professional development issues related to the management challenges raised by the COVID-19 crisis. Each live webinar draws on the expertise of faculty from the SC Johnson College and across schools at Cornell. Created in partnership with eCornell, the webinars are also available for viewing immediately following their initial broadcast.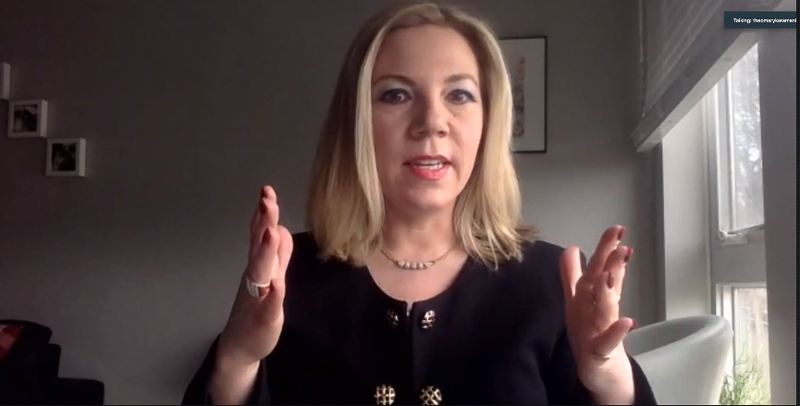 Panelists for the first webinar in the series, Leadership through Communication: Navigating the COVID-19 Crisis (March 20), which drew 12,129 viewers globally, included Lynn Perry Wooten, the David J. Nolan dean of the Dyson School, who drew on the crisis management principles from her co-authored book, Leading Under Pressure: From Surviving to Thriving Before, During and After a Crisis; Theomary Karamanis, senior lecturer in the Johnson School, who outlined the five stages of crisis communications and strategies for addressing each; and Katherine McComas, professor of communication in the College of Agriculture and Life Sciences and Cornell University's vice provost for engagement and land-grant affairs, who spoke about perceptions of risk ("Is the risk known to science? Is it something we can see? Is it something we can control our exposure to? Do we know if we've been exposed to it?") and dubbed COVID-19 "the grand slam" when it comes to risk. Andrew Karolyi, Harold Bierman Jr. Distinguished Professor of Management and deputy dean and dean of academic affairs for the SC Johnson College, served as moderator.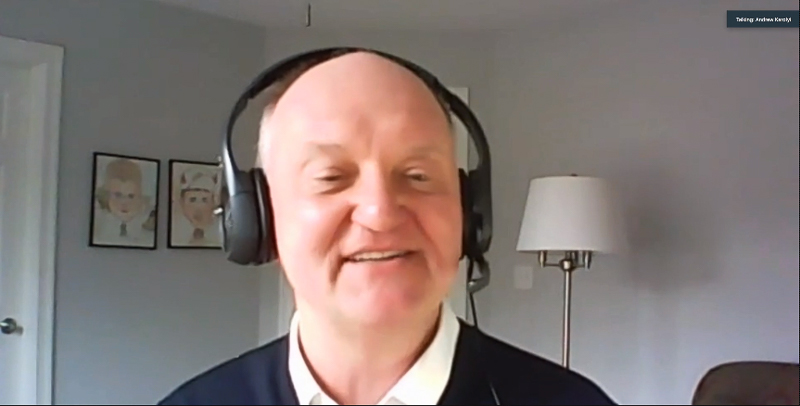 Other recent and upcoming webinars in the "Navigating the COVID-19 Crisis" series include: Leading Remote Teams (held on March 25 with 13,114 viewers); Identifying, Understanding, and Complying with Employment Laws, Old and New (March 27), which featured Kate Walsh, E. M. Statler Professor and dean of the School of Hotel Administration; and COVID-19 and the Hospitality Industry: Priorities and Action Steps for Human Resources (March 30).
"We want these webinars, grounded in rigorous research and best professional practices, to guide an understanding of the circumstances of a pandemic crisis like this one for our economy, our small businesses, and not-for-profit organizations—local and global—and [to guide] those who work for them and those who lead them," said Karolyi. "So far, we are hearing from those Cornellians and friends of Cornell who have participated that we are delivering good value."
Research with impact motivates faculty experts to offer guidance
Asked about why he and other faculty members rallied so quickly to participate in these webinars, Karolyi responded: "As the dean of academic affairs, my overarching goal is to foster not only research excellence, but research excellence with impact. It's hard to measure impact with precision, but you know it when you see it: It is about changing the way corporate managers, not-for-profit leaders, individual investors, or ordinary citizens think, act and perform their duties," he said. "I know research with impact is a shared value among my Cornell SC Johnson College of Business colleagues. Knowing that these webinars and public lectures reach a broad community among Cornellians and well beyond and knowing that many out there are looking for guidance on how to think about this COVID-19 crisis motivates our rally to act."
Maureen O'Hara, Robert W. Purcell Professor of Finance, said she stepped up to talk about COVID-19 and the Financial System in a Johnson School lecture series for enrolled MBA students, "COVID-19 Ed: Business in a Time of Pandemic," because "this situation is so unusual and important that it is really part of our mission as a university to offer relevant knowledge. I am delighted at the responsiveness and hard work of the staff in setting up these virtual opportunities."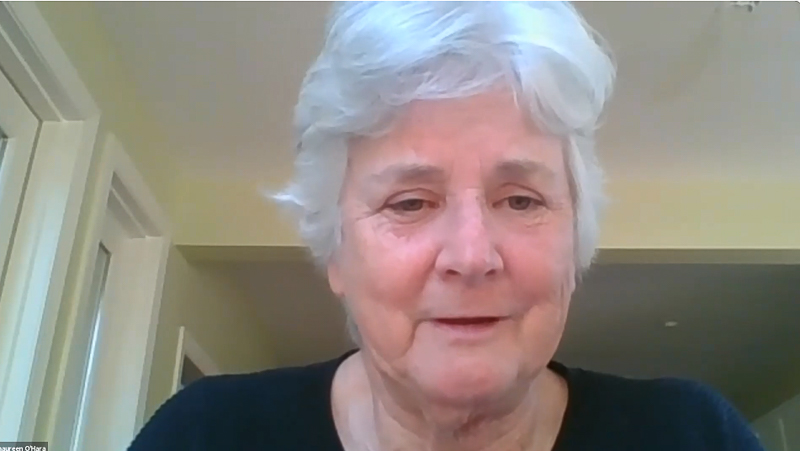 In her lecture, broadcast to more than 400 current students via Zoom on March 20, O'Hara described the current market chaos and examines COVID-19's impact on the financial system. She also outlines what differentiates this crisis from the subprime mortgage crisis of 2008 and other past market challenges, evaluates the role and impact of laws like Dodd Frank and the Volcker Rule that were intended to keep the financial system from causing a crisis, lays out what the Fed is doing, and shares her view of what we might expect going forward.
"My hope is to help put in perspective what a central bank can do and allay fears that everything is falling apart," said O'Hara. "The financial system is stressed, but the Fed (and central banks around the world) can do a lot to stabilize the markets. Things will be alright."
COVID-19: Origin, response management, and impact on the global economy
In partnership with colleges and offices across Cornell, including the Cornell SC Johnson College of Business, Cornell Alumni Affairs and Development hosted Streaming live: Cornell experts discuss COVID-19 on March 24 and March 28 with a live expert Q&A. All Cornell alumni, parents, and friends were invited to join an insightful and timely conversation covering COVID-19, its origin, response management, and its impact on the global economy and the future of globalization. Several faculty members from across Cornell who are highly respected public health experts participated in the panel, which included Dyson's Eswar Prasad, Nandlal P. Tolani Senior Professor of International Trade Policy, professor of economics, and Brookings Institute senior fellow.
Explore upcoming and recent webinars
Links to upcoming webinars are available on the SC Johnson College's page, The Latest, along with links to recorded sessions of past webinars. The new page also includes links to SC Johnson College news and media related to the COVID-19 pandemic.
"It's so exciting to see all of us stepping up right now," Karolyi added. "I'm so proud of what we at Cornell are doing at this critical time of need."