Edward McLaughlin named interim dean of the Dyson School
McLaughlin, the Robert G. Tobin Professor of Marketing, emeritus, and a distinguished expert in food distribution systems, will assume the post on July 1.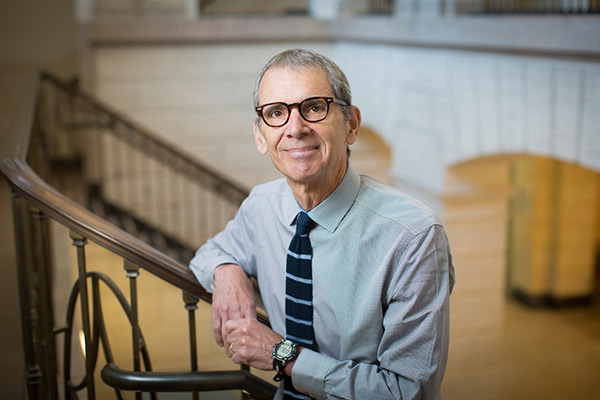 Edward McLaughlin, the Robert G. Tobin Professor of Marketing, emeritus, at the Charles H. Dyson School of Applied Economics and Management, will become the interim David J. Nolan Dean of the school beginning on July 1. He will succeed Lynn Perry Wooten, who has served as the David J. Nolan Dean since July 1, 2017, and who will step down on June 30 to become president of Simmons University in Boston.
McLaughlin directed Dyson's undergraduate business program, the largest undergraduate major at Cornell, for 20 years. He served as interim dean of the Dyson School once before, from June 21, 2016 to June 30, 2017. The faculty director of the Food Executive Program, McLaughlin also directed Cornell's Food Industry Management Program and is a distinguished expert in the efficiency of food distribution systems who has worked with food industry companies, trade associations, and public policymakers over many decades.
The Dyson School is one of three schools in the Cornell SC Johnson College of Business and is also part of the College of Agriculture and Life Sciences (CALS). McLaughlin will report to both Kevin F. Hallock, dean of the SC Johnson College, and Kathryn Boor, the Ronald P. Lynch Dean of CALS.
"Ed is deeply familiar with Cornell and with Dyson, having been a faculty member here since 1983, including serving as interim dean from 2016 to 2017," said Hallock. "While Ed may have given his 'last lecture' at Dyson in spring 2019, he has graciously agreed to once again step into an interim leadership role. I am confident that Ed will provide exceptional leadership and ensure that Dyson continues to lead the way in business education."
Hallock has said he will name a search committee and launch a search for the next dean of the Dyson School this fall.