Dean Nelson outlines Johnson's preliminary antiracism action items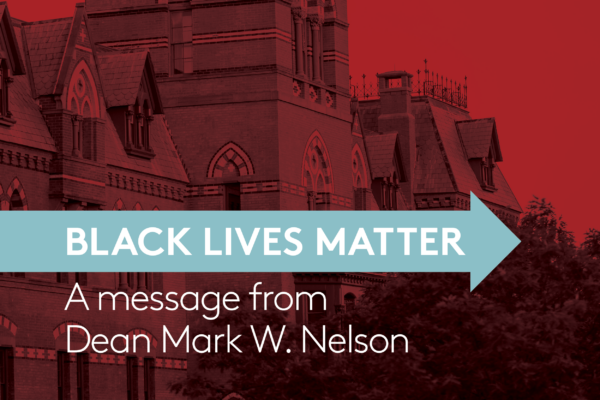 Mark Nelson, Anne and Elmer Lindseth Dean, sent the following message to Johnson students, faculty, and staff on July 8, 2020.
Dear Johnson Students, Faculty and Staff,
I am writing with an update on work we are doing within Johnson to promote antiracism and enhance the diversity and inclusiveness of our programs.  Johnson leadership – our associate deans and senior staff – have been working with our Office of Diversity and Inclusion as well as college leadership to craft a set of Johnson initiatives that are specific to our programmatic needs while also reinforcing the college-level strategy.  The specific categories we have been working on include:
Who is part of our community
Enhancing the diversity of students, staff, faculty, and others involved in our community.
What we do to achieve our mission
Incorporating principles of antiracism, diversity, equity, and inclusion in the many activities we undertake to fulfill our teaching and research responsibilities. 
In our teaching, that includes the materials and activities we use in the classroom and in cocurricular activities, as well as the broader culture and settings in which those activities take place.
In our research, that includes support for current research initiatives as well as broader involvement in the college-level research theme that Dean Hallock announced is currently in development.
How our activities impact the world
As we fulfill our mission, considering how the graduates we place and the alumni we engage with are prepared to foster and support antiracism, diversity, equity, and inclusion in their own organizations, and providing thought leadership that advances business and society.
Enabling change with new resources
Identifying programmatic and philanthropic resources to achieve these goals via student scholarships, faculty and staff support, program funding, and other activities.
Accountability for our actions
Making sure our activities are goal driven, measurable, compared against targets, and reported clearly and transparently, in collaboration with college leadership and the college-level diversity council.
We have worked with the leadership of the Black Graduate Business Association, our professionals in Johnson's Office of Diversity and Inclusion, and Associate Dean Michelle Duguid to develop specific initiatives for each of these categories.  Members of Johnson's leadership team are acting as project managers for those initiatives, and we are meeting regularly to report our progress and consider next steps.  I will provide an update on these initiatives in August.
Our most recent meeting with the BGBA leadership was yesterday evening, and I think all who attended are encouraged by progress to date, but also recognize that there is much work to do.  As Dean Hallock indicated, we must do better.  We will.
I am grateful to all members of the Johnson community for your support for these efforts, now and in the future.  As always, thanks for all you do for each other, and all you do for Johnson.
Warm regards,
Mark
Mark W. Nelson, PhD
Anne and Elmer Lindseth Dean and Professor of Accounting
Samuel Curtis Johnson Graduate School of Management
Cornell SC Johnson College of Business