Dyson to introduce nine new courses in 2020-21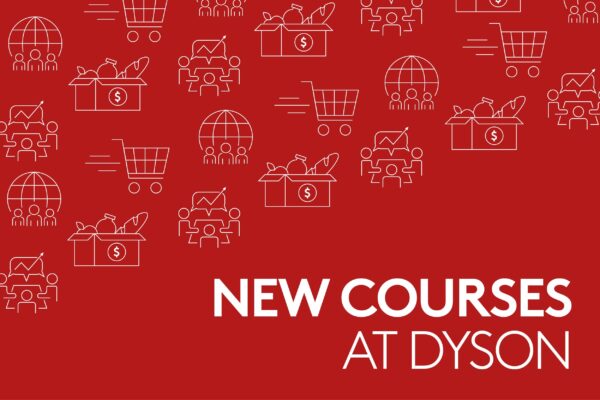 When classes begin on September 2, students in the Charles H. Dyson School of Applied Economics and Management will immerse themselves as always in an abundance of incredible learning opportunities. Dyson's unique spectrum of faculty subject-matter expertise is one key to its top-ranked standing among undergraduate business programs and the prestige and global relevance of its graduate programs. The course options open to students are truly exciting and endlessly rewarding.
New courses: A few of the highlights
Nine new courses will enrich Dyson's broad and deep curriculum this year, offering simulations, seminars, guest speakers, and Grand Challenges consulting opportunities. Here is a small sampling of the new opportunities in store for students this fall and next spring, including one course inspired by the effects of the COVID-19 pandemic on business and another that responds to our societal imperative to confront systemic racism. The full list follows.
Supply Chain Strategy and Supermarket Simulation (AEM 3270)
As its title suggests, this three-credit fall course from Dan Hooker—a '93 Dyson alumnus, longtime global retail and consumer packaged goods executive, and now senior lecturer—has two parts to it. The first will consider the kinds of issues that have surfaced as a result of the COVID-19 pandemic to give students a high-level understanding of supply-chain management and strategy, primarily as it relates to the food industry. The second, the supermarket simulation, will allow them to test that new knowledge by working in teams to operate and turn around a set of underperforming supermarkets.
"The students will work together to make decisions around inventory planning, pricing, labor management, and capital expenditures. They'll use a series of financial statements to make those decisions, and they'll compete with one another. At the end of the course, they should have a great overview of supply chain and be able to drill down to how a supermarket operates and how supply chain plays such an important role in the entire operation," Hooker said.
Teamwork will be everything in the simulation. "The students get to create a team, really quickly," he said. "They have to assign roles and figure out how to work together, and they have to figure out how to make decisions quickly. That's a great learning experience for life in general, but it takes place in real time in the simulation." Hooker plans to pause the game "to have teachable moments around various topics like inventory planning and forecasting or labor management. When we talk about labor, it's not just an expense line; it's more about how you get the most out of your team and the best, most effective use of labor. Diversity and inclusion will come out in our discussion as well." For more about the course and Hooker, see this article.
Developing Racial Equity in Organizations (AEM 4940)
Jen Majka, Dyson's director of diversity and inclusion, saw an opportunity to go deeper than a one-off discussion of Ibram X. Kendi's How To Be An Antiracist, Cornell's selection for this fall's Campus Community Book Read. "I began thinking of a way to incentivize a sustained dialogue with students around the complexities presented in the book," she said. "I developed a course intended to engage with the book by critically examining race, racism, and the intersections with other forms of oppression."
The three-credit fall course "is designed to cultivate a theoretical and practical understanding of the concepts behind systemic oppression and social justice and help students develop as change agents who can assist in creating more just and equitable organizations," she explained. Through a combination of conceptual and experiential approaches, including project-based teamwork, the course "will provide students from diverse backgrounds the opportunity to learn from and with each other about issues of racial conflict and common ground in a brave space of self-work, authentic dialogue, mutual engagement, and respect."
By incorporating a community consulting project, completion of AEM 4940 will fulfill Dyson's Grand Challenges curriculum requirement. Working in teams and partnering with a community organization, students will apply what they learn, as they engage critically with Kendi's book, to the development of a high-quality product or service that helps the organization develop racial equity. "The course connects theory to practice," said Majka, who joined Dyson's administration in 2018 and is completing a doctorate in education and social justice. "My hope is that it will be transformative for the students who enroll."
Business and Economics of Food (AEM 2310)
This three-credit, spring semester course from Brad Rickard, associate professor of food and agricultural economics, will have three parts to it. The first will cover the main economic and regulatory factors that affect food production. The second will focus on the business aspects of food and beverage processing, distribution, and retailing. Finally, the class will study a variety of issues relevant to consumers.
"The course will introduce students to a range of contemporary topics, issues, and concerns facing different stakeholders along the food supply chain," Rickard said. "This includes farms, food and beverage manufacturers, distributors and retailers, and consumers, both in food service and in food retail markets." Some examples he gave:
How government policies and programs affect which foods are produced
How food manufacturers respond to new technologies
How food packaging and labeling affect the behavior of food distributors and retailers
The value consumers place on 'credence' attributes such as local, GMO-free, organic, and sustainable, and how this can be measured
The influence of peer or crowd-sourced reviews on food and beverage consumers
The long-term economic consequences of COVID-19-related market effects, like the shifts away from food-service sales and toward online food sales
How these consequences might depend on the behavior of different consumer segments.
In sum, he said, "Students will be exposed to a variety of real-world business decisions that food and beverage firms need to make, and we will discuss the tools that they use to navigate the complexities in this industry."
Leadership and Management in Global Environments and Organizations (AEM 5315)
Operating a global business requires layers of knowledge and understanding on top of all that's needed to operate a firm successfully within national boundaries. Students in this three-credit course, which senior lecturer Pedro Pérez will introduce next spring, will learn about the challenges inherent in establishing coherent, productive, and ethical organizational structures and cultures when working across institutional and cultural removes. In addition to gaining knowledge about the major factors affecting the global conduct of business at every level from the industry to the individual, students will learn about the means available to resolve some of the challenges.
"Before joining academia, I worked in the energy industry—definitively a global environment—and witnessed firsthand the difficulties in managing organizations that extend across national and continental borders, in integrating and leading multinational and multicultural teams, and in maintaining a steady, concrete, strategic global focus across multiple economies, markets, and regulatory environments. Studying such challenges allows us to further analyze and exercise leadership and teamwork skills, the bedrock of organizational performance," said Pérez, who studied chemical and industrial engineering—and classical piano—before earning MBA and PhD degrees in management.
"The course presents and applies, through case studies and analysis of research and current news, basic frameworks for understanding international management: evolution of the global organization, management across cultures, and the role of ethnocentric, polycentric, and geocentric conceptions of management. I hope that it will help students to become better leaders and members of high-performance teams in complex environments."
New courses: The complete list
Fall semester:
AEM 1700: Foundations of Leadership Development, a course for students in the leadership minor, taught by Donna Haeger, professor of practice
AEM 3270: Supply Chain Strategy and Supermarket Simulation, taught by Daniel Hooker, senior lecturer
AEM 4665: Business Management Simulation, taught by Stephen Sauer, senior lecturer in the Samuel Curtis Johnson Graduate School of Management
AEM 4940: Developing Racial Equity in Organizations, taught by Jennifer Majka, Dyson's director of diversity and inclusion
AEM 5300: CEMS Block Seminar, a required course limited to students in the CEMS program, taught by John Tobin, professor of practice and CEMS program director
AEM 5310: Global Strategy, developed by Sarah Wolfolds, assistant professor and Andrew M. Paul Sesquicentennial Faculty Fellow in Strategy, and taught, while she is on sabbatical leave, by Stephen Sauer
Spring semester:
AEM 2310: Business and Economics of Food, taught by Bradley Rickard, associate professor
AEM 5305: Global Citizenship Seminar, a required course limited to students in the CEMS program, taught by Kevin Kniffin, assistant professor and director of the Laboratory for Experimental Economics and Decision Research
AEM 5315: Leadership and Management in Global Environments and Organizations, taught by Pedro Pérez, senior lecturer
Descriptions of all of these courses can be found in the Dyson courses of study.