Daniel Hooker finds a teachable moment in COVID-19
The pandemic's impact on supply chains inspires a new course for Dyson students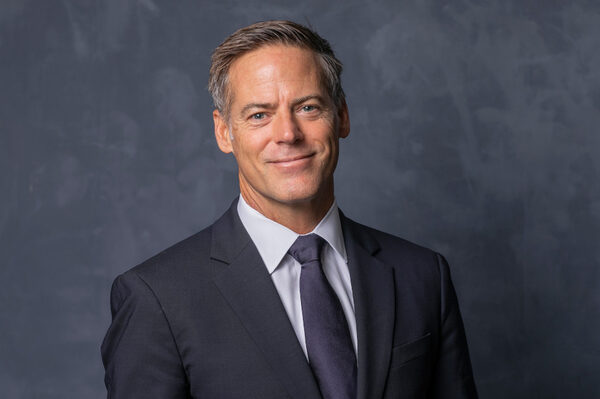 Did anyone imagine, before the onslaught of COVID-19, that toilet paper would become the target of a national obsession? Or that farmers would be forced to dump milk on the ground and plow under the crops that stood ready to harvest in their fields? There's a teachable semester in distribution failures like these—and Daniel Hooker '93, a senior lecturer in the Charles H. Dyson School of Applied Economics and Management and an alumnus of the school, has the course for that all ready to roll out this fall.
Strategy, competition, and teamwork
"Could COVID-19 be the black swan event that finally forces many companies, and entire industries, to rethink and transform their global supply-chain model?" is the question Hooker floats in his course listing for Supply Chain Strategy and Supermarket Simulation.
As suggested by its title, Hooker's course has two parts to it. The first will consider the kinds of issues that have surfaced as a result of the pandemic to give students a high-level understanding of supply-chain management and strategy, especially but not exclusively as it relates to the food industry. The second, the supermarket simulation, will allow them to test that new knowledge by working in teams to operate and turn around a set of under-performing supermarkets.
"The students will work together to make decisions around inventory planning, pricing, labor management, and capital expenditures. They'll use a series of financial statements to make those decisions, and they'll compete with one another. At the end of the course, they should have a great overview of supply chain and be able to drill down to how a supermarket operates and how supply chain plays such an important role in the entire operation," he said.
"What's also great about the simulation is the students get to create a team, really quickly," he continued. "They have to assign roles and figure out how to work together, and they have to figure out how to make decisions quickly. That's a great learning experience for life in general, but it takes place in real time in the simulation." Hooker plans to pause the game "to have teachable moments around various topics like inventory planning and forecasting or labor management. When we talk about labor, it's not just an expense line; it's more about how you get the most out of your team and the best, most effective use of labor. Diversity and inclusion will come out in our discussion as well."
As for the question of whether to hold class in person or online, Hooker is ready to pivot with the pandemic. "I prefer to teach in class and am prepared to do that, as long as the necessary precautions are taken. I'm also prepared to teach online or use a hybrid approach. I'm really open to doing both."
Never waste a good crisis
With a long resume as a global retail and consumer packaged goods executive with companies including Aldi Foods, Wakefern/ShopRite, Daymon Worldwide, Walmart, and PepsiCo, Hooker is deeply familiar with the way things work—or don't—between consumer-goods manufacturers and retailers.
"When I say a black swan event, I guess I could also describe it as the industry getting hit by a two-by-four across the forehead, because it happened so fast," he said. "The supply chain was disrupted massively, and that happened because of specialization of supply chains."
He means, for example, that produce grown to supply restaurants and institutional customers is packaged differently, and travels through different distribution channels, than produce that's destined for retail stores. "Potatoes that go to McDonald's in 20-pound bags ready for the fryer go through a different process than potatoes that you buy loose or in a five-pound bag in the supermarket," he explained by way of example. "Those suppliers couldn't just turn on a dime and reroute their french-fry potato processing to retail packaging." When the restaurant industry got abruptly shut down and consumers turned to preparing all their own meals, surpluses and shortages proliferated side by side.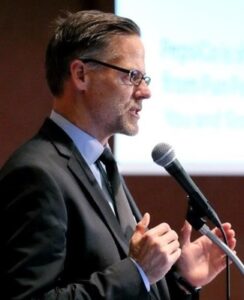 Hooker sees adaptation beginning to happen, though. "The big foodservice manufacturers are probably having discussions about how to make product for both food service and retailers. And there's a third variable: how do I ship directly from my facility to the consumer? I know that many, many companies are trying to figure that out. This shift for consumers who want to get products delivered to them would have happened anyway over a period of seven to ten years; now it's just happened in a very, very compressed period of time.
"Who was prepared for that?" he continued. "Amazon's business is the future; they were prepared for it. Walmart was already moving into what we call click-and-clack grocery pickup, and they were improving or enhancing their capabilities for delivery or e-commerce. The big retailers like Kroger, Target, CVS, and Walgreens had made investments to go down that path, but when the pandemic hit, it sped things up."
Still, he said, "I think you'll see the changes happening at retail faster than you'll see the changes happening at the big agribusinesses, the suppliers of dairy or agricultural products, because the infrastructure costs are very high and it's not as simple to change your business model. But many are trying to do it."
A Food Marketing Fellow returns
This fall Hooker will also teach Special Topics in Marketing, a case-based course with guest lecturers for MBA students in the college's Samuel Curtis Johnson Graduate School of Management. In the spring he teaches the Dyson course Food and Consumer Packaged Goods Industry Dynamics. That course also features a number of guest speakers from various companies, most of them young alumni, who "talk about what they do and how they do it and give the students a chance to ask real-world, how-do-things-happen questions," he said.
But his favorite course, he said, is Dyson's Food Marketing Colloquium, an honors course for a dozen or so selected Food Marketing Fellows that normally culminates in a trip abroad during the January break. "We went to Venice last January; we visited five or six different manufacturers and saw a lot of retailers, and we got a great cultural experience in Florence and Venice. We left right before the lockdown of Italy," he said. He had planned to take the students to Peru or Colombia this year but is now hoping that it will be safe to go to California instead.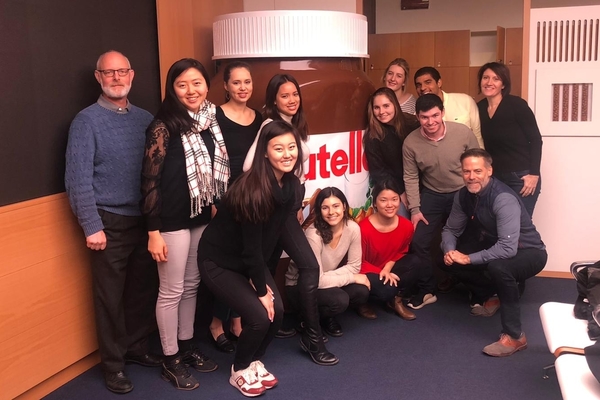 Hooker was himself a Food Marketing Fellow back in the day. Relating that he was recruited to Cornell from California to play football, he gave happenstance partial credit for the direction of his career. "I'm one of those people who, when you say, 'Do you know what you're going to do in college?' my answer always was, 'Well, no, not really.' But I signed up for the Food Marketing Fellows, and that's where I met Ed McLaughlin," who retired in 2019 as the Robert G. Tobin Professor of Marketing and is now serving, for the second time, as the interim David J. Nolan Dean. "We took a trip to Amsterdam and spent a week visiting companies and retailers. I fell in love with the business, and when I graduated, I went to work at Aldi Foods. At the time, the president of Aldi Foods was a Cornell grad. So I've always stayed connected to my Cornell roots, and that's how I transitioned from marketing fellow to a 27-plus-year career in the food industry."
In addition to maintaining close ties with many alumni in the industry, Hooker has stayed connected by participating in the Food Executive Program and serving as a guest lecturer in the same classes he now teaches. Like the Food Marketing Fellows Program, the Food Executive Program is a function of the multi-pronged Cornell Food Industry Management Program.
"Coming back to campus has been a wonderful experience," he said. "The campus has really grown, downtown is exciting, and the students are super smart and nice and engaged. I really love that they reach out to me and ask for career advice, help making a contact with a company, or ideas on content to talk about. It's great to be able to connect with them and make that kind of impact. The faculty and the whole Cornell University family has been great to work with, too."
Hopes for this black swan event
Hooker's message for students is that this is a great time to pursue a career in the food industry. "Technology, food, and agriculture have collided, and there are all kinds of really exciting opportunities in big data analytics and supply chain, in marketing and merchandising, and in investing in sustainable resources and agriculture," he said. Among the changes he sees coming is the use of blockchain, which "will revolutionize the food industry," streamlining the supply chain and reducing retailers' costs, simplifying regulatory compliance, and enhancing and expediting food recalls. "Blockchain will enable $31 billion in food fraud savings globally by 2024," he added.
He is excited for his students and the many challenging and rewarding career paths that will be open to them as the food industry answers its COVID-19 wake-up call. Along with the leadership he knows they will bring, however, one of Hooker's great hopes for the food industry is focused on those with the lowest career prospects.
"My hope is that this black swan event makes people realize that our food security really matters. I hope that the companies—the farmers, producers, manufacturers, and retailers—make the investments needed to make sure that we have a secure food system. That will cost money, and that will raise prices. I hope that one of the outcomes of that extra investment is higher, sustainable wages and benefits for the workers in all sectors of the industry who do the real work—the fieldworkers, the meatpackers, the cashiers and stockers, the truck drivers, and the people who work in the warehouses. I hope that that happens systemically."
The moment is ours to learn from.