Cornell SC Johnson College of Business awarded grant for community-engaged learning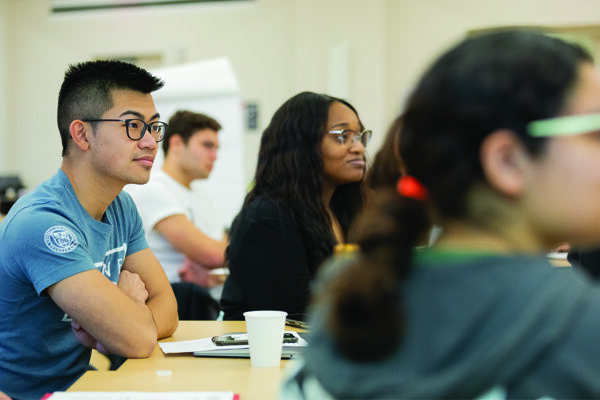 The Cornell SC Johnson College of Business has become the first recipient of a college block grant to develop, promote, coordinate, and celebrate community-engaged learning curricular and co-curricular activities. Provided by Cornell University's renowned Office of Engagement Initiatives (OEI), the three-year, $1 million grant serves as a call to thread community-engaged learning throughout the college's curriculum in lasting and far-reaching ways. Noting that each of the college's three schools "has a strong tradition of community-engaged learning and our entire college is focused on the impacts of our work on business and society," Dean Kevin Hallock said that this grant presents a powerful opportunity to accelerate the college's efforts through partnership with Cornell's OEI.
Cornell is an established leader in community-engaged learning. Nationally, community-engaged learning is a growing priority in higher education, made formal and measurable by numerous corporate and family endowments. The Carnegie Foundation has recognized Cornell as an "institution of community engagement" since 2011, and Cornell received the 2019 C. Peter Magrath Community Engagement Scholarship Award for its interdisciplinary farmworker research and collaborations, which involve students, faculty, and partners from the Charles H. Dyson School of Applied Economics and Management. In 2014, David Einhorn '91 (College of Arts and Sciences), through the Einhorn Family Charitable Trust, made a groundbreaking $50 million gift to develop community-engaged learning as a hallmark of the Cornell undergraduate experience. This gift also established OEI.
Independently of higher education, the world of business has been devoting increasing attention to social responsibility and environmental impact. In 2019, this focus gained even more traction thanks to Business Roundtable's widely-circulated Statement on the Purpose of a Corporation, compelling businesses to prioritize stakeholder as well as shareholder interests in their decisions and actions.
An urgent need serves a long-term view
The grant award from OEI comes at an important moment, amid the social and economic impacts of COVID-19 and the urgency to combat racism. In July, the leadership of the Cornell SC Johnson College announced commitments to actions that aim to directly address systemic racism, both in the college and in the industries that its graduates go on to lead. Among those action steps is the launch of a cross-college interdisciplinary effort providing grants to support research, teaching, and outreach relating to combating racism and its effects in business—work that will be enhanced by the inclusion of community-engaged learning. Michelle Duguid, associate professor of management and organizations in the Samuel Curtis Johnson Graduate School of Management and associate dean of diversity, inclusion, and belonging for the SC Johnson College notes: "This grant will undoubtedly help us make more lasting progress in having every member of our community taking action to be antiracist and foster a sense of belonging for everyone."
Community-engaged learning takes many shapes
The OEI has created a definition of community-engaged learning that involves all members of a learning community. This includes learning that addresses a specific community interest, problem, or public concern, as well as learning that includes working with and learning from a community partner.
With these broad tenets in mind, community-engaged learning can take many shapes. Katherine McComas, Cornell's vice provost for engagement and land-grant affairs, believes that's as it should be. "Every college has its unique focus and ethos, so community-engaged learning should look different across Cornell's colleges." The Cornell SC Johnson College has notable examples already in place, most recently Dyson's Grand Challenges curriculum, which requires all undergraduates to create and complete a community-engaged project. With the grant from OEI, the college has been galvanized to view coursework, projects, and other initiatives through the lens of community-engaged learning and to provide opportunities for students to think creatively and expansively about making sure that their business leadership can be purposefully inclusive and beneficial to society, both locally and globally.
Reach and impact will bring progress
With its broad reach and its central mission to develop business leaders who are empowered to create sustainable, shared prosperity, the Cornell SC Johnson College can use the newly awarded block grant to affect the wider Cornell student experience, as well. "Given that more than 30 percent of Cornell's undergraduates either major or minor in business, our office sees enormous potential to reach a broad swath of the university's students by partnering with the College of Business," says Basil Safi, executive director of the Office of Engagement Initiatives. "The impact of a business-oriented, community-engaged learning agenda on students, faculty, staff, and partners will be profound." Additionally, a cross-college staff and faculty strategic implementation committee has been assembled to steward the effort.
Indeed, Hallock sees the grant as not just a source of funding, but a chance to form new partnerships. "We are excited to have the opportunity to collaborate with the remarkable team at OEI to build on and further develop our programs with the end goal of being a world-wide model for community-engaged business education with impact."
COMMUNITY-ENGAGED LEARNING STRATEGIC IMPLEMENTATION COMMITTEE:
Randy Allen, senior lecturer, Johnson
Linda Barrington, associate dean of external relations for the college and senior extension associate, Dyson
Lakshmi Bhojraj, Breazzano Family Executive Director of the Parker Center for Investment Research, Johnson
Chris Forman, Peter and Stephanie Nolan Professor of Strategy, Innovation, and Technology, Dyson
Laura Georgianna, senior lecturer and Donald F. Douglas Director of the Roy H. Park Leadership Fellows Program, Johnson
Andrew Karolyi, deputy dean and dean of academic affairs for the Cornell SC Johnson College and Harold Bierman, Jr. Distinguished Professor of Management, Johnson
Ndunge Kiiti, visiting associate professor, Dyson
Heather Kolakowski, lecturer, School of Hotel Administration (SHA)
Chris Marquis, Samuel C. Johnson Professor in Sustainable Global Enterprise, Johnson
Amy Newman, senior lecturer and faculty director of Grand Challenges program, Dyson
Peggy Odom-Reed, senior lecturer, SHA
Denise Ramzy, senior lecturer, Dyson, and director of the business minors program
Stephani Robson, senior lecturer, SHA
Tony Simons, professor, SHA
Elizabeth Sullivan, project manager for curriculum and student programs, Dyson
Alex Susskind, professor, associate dean for academic affairs and director of the Cornell Institute for Food and Beverage Management, SHA
John Tobin, professor of practice, and CEMS Master in International Management program director, Dyson
Chris Wolf, E.V. Baker Professor of Agricultural Economics and director of land grant affairs, Dyson
Luo Zuo, associate professor, Johnson