Student Voices: Meet Wilfredo Castillo, Two-Year MBA Class of 2022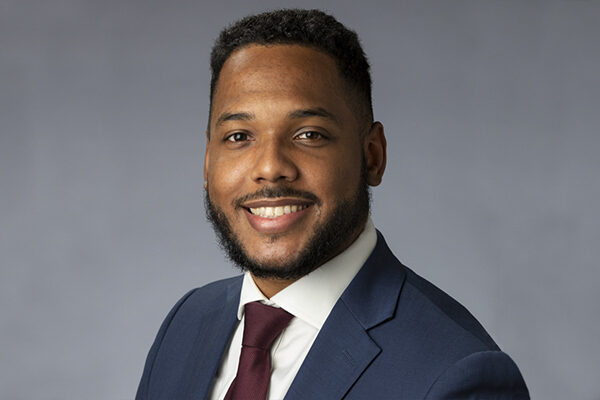 An electronic trading systems and equity specialist who is focusing his studies on wealth and investment management, meet Wilfredo Castillo, Two-Year MBA Class of 2022.
Before enrolling at Johnson, Wilfredo worked as an electronic trading systems specialist for equities, futures, and options at Bloomberg in New York City. At Bloomberg, he also held positions as an equity specialist in financial product analytics and sales. Before Bloomberg, he worked at Eaton Vance in mutual fund operations. Wilfredo holds bachelor's degrees in international relations and history from Syracuse University.
As a student in Johnson's residential, Ithaca-based Two-Year MBA program, Wilfredo and his classmates completed the core curriculum during their first, fall semester and selected an area of interest for their second, Immersion Learning semester. This hands-on semester of integrated course and field work in a specific industry or career interest will prepare them for their summer internships. Wilfredo, who is focusing his studies on investment research and asset management, recently accepted a summer internship with Goldman Sachs' private wealth management division, working in their Miami Office for Latin America. Learn more about Wilfredo in this Q&A.
Why did you decide to pursue an MBA? What career goals will it help you achieve?
I chose to pursue an MBA to develop stronger technical skills in order to pursue a career in wealth and investment management. After working with traders, analysts, and portfolio managers, I became very interested in the analysis they were doing and knew I wanted to learn those skills.
Why did you choose Johnson at Cornell?
I chose Cornell because of the Investment Research and Asset Management Immersion, as I knew it would teach me the analytical and technical skills I sought in business school. Location was also big for me; being from Harlem and the oldest of four, I wanted to be close to my family.
What aspects of Johnson's Two-Year MBA program do you most value?
I most value the immersion and the connections and presence the program has in New York City, because that's my hometown. The Office of Diversity and Inclusion staff and students are very warm and make you feel like you're family even before you start the program.
Did you have second thoughts about starting your MBA now, during the pandemic? If so, what tipped the scales in favor of starting now?
I didn't have second thoughts. I believed that during the pandemic was the perfect time to take a break from work to equip myself with some more skills and ride that wave of recovery in the economy and job market two years later, when I graduate.
How many of your classes are in person and how many are virtual?
All of my classes became virtual after Thanksgiving; before, we had an in-person option where we would watch the professor through Zoom, like in a movie theatre. I have the option for hybrid instruction in-person right now, but for now, I will continue with virtual instruction through Zoom from my apartment here in Ithaca. When the weather warms up, I look forward to walking back into campus for class.
What, if anything, surprises you about your virtual classes?
We are still able to have engaging class discussions and use Zoom features like polls and breakout rooms to have a dynamic learning experience.
Are you connecting with people and making new friends in spite of virtual classes and social distancing?
I have stayed connected with Toigo Fellow classmates through our fall events and GroupMe chat. I have met up with my Consortium Fellows classmates in Ithaca to hang out and play dominoes. I have phone calls with Management Leadership for Tomorrow (MLT) alums as well.

To keep myself recharged, I Iove going for walks by myself and listening to audiobooks on self-development. I'm the oldest of four, so I love calling my family and seeing how they are doing, as well.
Have you joined any student clubs? If so, which ones?
I have joined the Investment Management Club along with the Old Ezra Finance Club, but I would like to emphasize my status as a Consortium Fellow, and MLT MBA Prep alum, and a Toigo Fellow more. I am also the Toigo captain for Johnson. That means that as the scout and promoter for Toigo at Johnson, I answer any questions about the fellowship that prospective or current students may have and I promote Toigo at events on campus.
What's one thing you've learned so far from your Johnson MBA experience?
I've learned that in your first year of business school, a lot of things will be thrown at you at once. But the most important thing is to stay true to yourself. You are here because you are enough and you have a lot to contribute; there is nothing that you need to prove to anyone else.
What have you most enjoyed about being a Johnson MBA so far?
I've enjoyed connecting with other Consortium Fellows and learning from my classmates the most. I learn so much from my classmates, given the diversity of the different industries they come from. Having people on my core team who can teach me all about building financial models, while other classmates can teach me about consulting and building cool presentations, is valuable.