Investing at Cornell theme launches campus-wide Investing Ideas Forum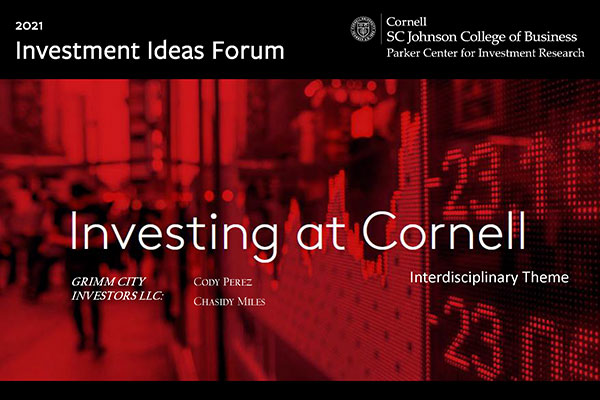 In 2019, the Cornell SC Johnson College of Business established a new interdisciplinary theme, Investing at Cornell, that connects faculty and students across the college and Cornell University who are interested in studying, researching, and working in the field of investments. Fast forward to 2021: The organizers of the theme launched the Cornell Investment Ideas Forum on May 1. The five Cornell teams pitched investment ideas at the competition included undergraduates from the School of Hotel Administration (SHA), the ILR School, the College of Human Ecology, and the the College of Engineering, as well as MBA students from the Samuel Curtis Johnson Graduate School of Management, and MPS in Real Estate students from SHA's Baker Program in Real Estate.
Connecting investing enthusiasts across campus
The Cornell Investment Ideas Forum was sponsored by the Investing at Cornell interdisciplinary theme in conjunction with the Parker Center for Investment Research. Originally planned for 2020 and postponed due to COVID-19, it was designed to allow Cornell undergraduate and first-year graduate students to share their unique investment ideas spanning any industry or subject, get feedback, and participate in an investment competition. After Investing at Cornell was established, Scott Stewart, clinical professor of finance and faculty co-director of the Parker Center, and Lakshmi Bhojraj, Breazzano Family Executive Director of the Parker Center, sought to connect the many Cornell students who are interested in investing. After all, there are over 15 clubs across campus that pursue investing as one of their activities. Stewart and Bhojraj hoped that the event would support Investing at Cornell's goal of bridging connections between these students.
Pitching ideas to professionals and receiving advice from alumni
The student-run event kicked off on Zoom at 9:45 a.m. Pitches ranged from traditional, long-equity stock pitches to alternative investment pitches such as a leveraged buyout, sustainable investing, venture capital, or real estate proposals, and the end results did not disappoint. Student teams, split into two breakout rooms, delivered a wide range of proposals, from startup funding and real estate deals to traditional stock pitches. Judges, most of them alumni who are investment professionals, posed questions to each team and considered each proposal carefully. Three finalists—including one team of undergraduates from SHA, the ILR School, and the College of Human Ecology; one team of Johnson MBA students; and one team of MPS students in SHA's Baker Program in Real Estate—were chosen from the preliminary round and received feedback from the judges in private sessions to improve their presentations for the final round.
An alumni panel discussion followed the preliminary round of presentations: "Key Skills Needed for Effective Investing Today." Panelists included Alex Cheriyan, MBA '15, regional director and manager at Dimensional Fund Advisors, Todd Edmonds, MEng '17, exotics trader at Barclays, Elif Korkmaz '18 (ILR), US equity sales associate at J.P. Morgan, and Lulu Zheng '17 (ILR), equity analyst at Axion Capital, Millennium. Panelists offered students insights into what courses they should take, what skills they need to acquire, and what they need to know to do well in their future investment jobs. Panelists candidly shared a plethora of valuable advice based on their firsthand experiences in the investment industry.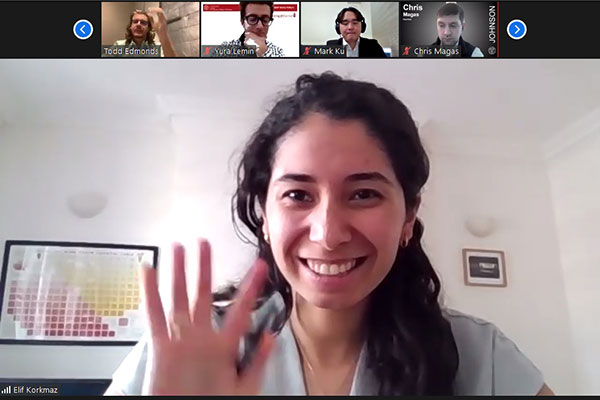 In reference to classwork, Korkmaz said that her experience as an undergraduate equity research associate in the Cayuga Fund is what distinguished her right out of school. She also acknowledged that she learned a lot as a TA from reading other student's reports in Equity Investment Research and Analysis. Cheriyan recommended joining the Cayuga Fund and taking classes such as Statistics and Investment Analysis and Portfolio Management. Edmonds emphasized the importance of meeting people and building relationships. He recommended meeting professionals when they come to campus for seminars: "Just get a beer and talk," he advised.
Will Sargent, MBA '22, asked panelists what they did at the beginning of their internship or job that made a difference.  Zheng shared that it's important to build relationships and let other people know you've done a good job, and Cheriyan advised students to show an interest in the people and the firm they work at.
The final round of presentations, which took place in the afternoon after a lunch break, was open for all teams to observe. The three finalist teams once more delivered their presentations, refined based on the feedback they'd received, and skillfully responded to questions posed by the judges.
Dean Andrew Karolyi challenges students to investigate responsible investing metrics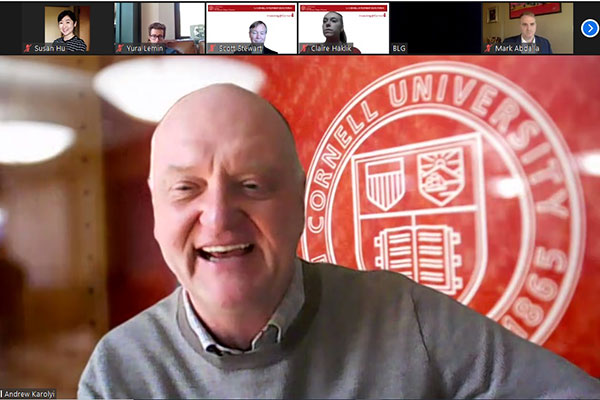 Before the announcement of the winner, Andrew Karolyi, newly appointed dean of the Cornell SC Johnson College of Business and Harold Bierman Jr. Distinguished Professor of Management at Johnson, addressed the participants. Having specialized in the investment industry himself, he shared his insights into the field, which is now seeing a trend towards sustainable investing, and he emphasized the importance of developing future business leaders who act responsibly. The Investment Ideas Forum, he said, put Cornell students' strengths on display: They are instinctively collaborative in the way they work, and their analytical thinking is broad-based. "It's a very Cornell way of doing things," he remarked. However, there is more to investing that students must consider.
With growing interest in environmental, sustainability, and governance (ESG) issues, investors are studying ESG company disclosures. There are many complaints, said Karolyi, about the transparency, comprehensiveness, and usability of ESG ratings. There is no consensus on what the right metrics are and how they should be measured. However, he sees this as an opportunity and challenges Cornell students to leverage their analytical and collaboration skills to address this issue. "Could we be the ones answering the call?" he asks. "It's an optimistic challenge."
Unveiling the winning team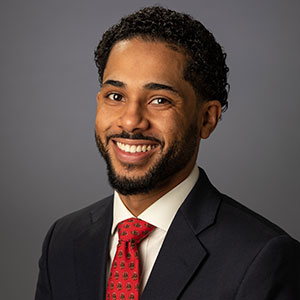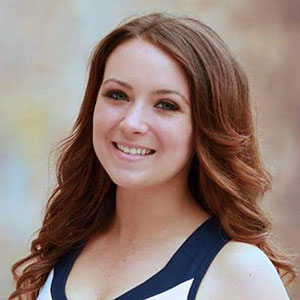 Grimm City Investors, composed of team members Cody Perez, MBA/MPS in Real Estate '22, and Chasidy Miles, MPS in Real Estate '22, came in first place, winning a top prize of $1,000. Perez and Miles recommended investing in a real estate limited partnership based on a live deal that Perez has been working on.  Said Perez, "As a startup currently undergoing fundraising, we had an opportunity at the forum to practice our pitch in front of experienced investment professionals in a low-risk environment. The forum allowed us to field questions about our deal, which was extremely useful in helping us prepare for future investment pitches." Second place went to an all-MBA team, Lever Up, that pitched a leveraged buyout of National Beverage, and an undergraduate team, CMJG, pitched a buy recommendation on Marriot International stock and placed third.
Chris Magas, MBA '22, who represented Johnson's Investment Management Club and is a member of the runner-up team, Lever Up, said: "This event was interesting for us because we were able to see how other teams from Cornell thought about equity and real estate pitches." His teammate, Tom Sassos, MBA '22, said that the event taught him not to underestimate his opponents. "I was very impressed with the presentations," he said, "particularly from the team that ended up winning. The winning pitch was extremely specific, and that made me wonder if I should try to follow a similar path going forward."
More to expect from Investing at Cornell
With a broad representation of thought leaders and resources dedicated to research, academic excellence, and industry relevance, the Investing at Cornell thematic area aims to provide students with the experiences, networks, and tools needed to develop skills and insights that will position them for success. The theme is designed to connect faculty as well as students and increase Cornell's visibility. Investing at Cornell organizers have begun exploring several projects to achieve this: 1) store descriptions of all financial datasets in one document, 2) encourage faculty/student research in investing, and 3) organize a conference that attracts both academics and practitioners. While the Investing at Cornell theme initiative is new, Stewart, Bhojraj, and the other Investing at Cornell co-directors are very bullish on the idea behind it and seek to expand its influence.
The SC Johnson College's three schools each offer resources, coursework, student clubs, and events related to investing and asset management—united under the Investing at Cornell theme, these offerings are amplified and can reach a wider audience. Investing at Cornell also connects the business college with expertise in the College of Engineering by way of the Master in Engineering with Financial Concentration program. Together, all of these entities offer support to undergraduate and graduate students as they prepare to enter the field of investments, and faculty and staff across Cornell can work together sooner as they discover synergies among their investment research and initiatives.
Susan Hu is a communications specialist with the Parker Center for Investment Research.