Amid competing priorities, business can be a force for good
SC Johnson Chairman and CEO Fisk Johnson draws on his storied company's values to navigate between business pragmatism and doing good.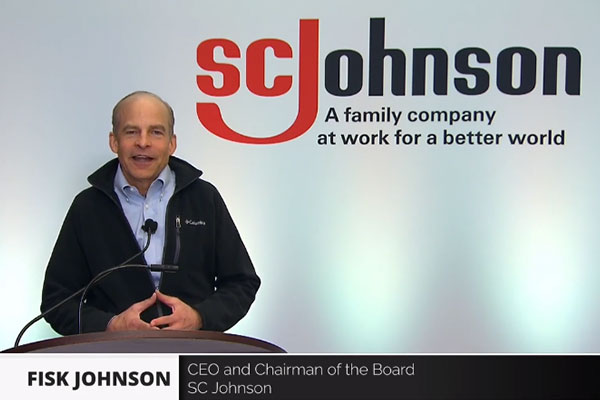 Fisk Johnson '79, MEng '80, MS '82, MBA '84, PhD '86, chairman and CEO of family company SC Johnson, spoke eloquently about how unwavering commitment to guiding principles can make business a force for good when he delivered the 33rd annual Lewis H. Durland Memorial Lecture remotely on May 6, 2021.
When Martha Pollack, president of Cornell University, introduced Johnson as the Durland Lecturer, she said: "Under Fisk's leadership, SC Johnson has articulated its purpose of being 'a family company at work for a better world.' That is, sustainable, transparent, healthy, and with more opportunity for all." At Cornell, Pollack noted, Fisk is an emeritus trustee, and currently serves as a presidential counselor. "He has also been for many years a very generous philanthropist across the university," she said. "He is best known to this audience, of course, for his transformational gift in January 2017 to name the Cornell SC Johnson College of Business. Fisk's generosity is part of a multi-generational Johnson family legacy of leadership and philanthropy at Cornell University."
In his address to students, faculty, and staff of the Samuel Curtis Johnson Graduate School of Management and the larger Cornell SC Johnson College of Business community, "When doing good and profitability collide: Choosing substance over shadow," Johnson said: "The collision between business pragmatism and doing good is one of the single most important intellectual and practical challenges for any business leader today. How you deal with these conflicting interests will ultimately define who you are as a leader."
Guideposts that lead to social and environmental good
Johnson told several stories that illustrate how SC Johnson's guideposts, based on values articulated by his forbears, provide a North Star for his corporate decision making—particularly when those decisions are most challenging. He credits these values for guiding him and SC Johnson "to take a long-term view towards social and environmental good."
The first of these key ethics was expressed by Johnson's great-grandfather, Herbert F. Johnson Sr., in a speech he gave to employees on Christmas Eve in 1927:
"The goodwill of people is the only enduring thing in any business. It is the sole substance. The rest is shadow."
The second ethic was expressed by Johnson's father, Sam Johnson '50, in 1998, when he and his two sons retraced his own father's 1935 expedition up the Amazon River to Fortaleza, Brazil in a replica of the amphibious plane that he flew down there:
"Thinking about the future, I came to the conclusion that we should not worry about whether we have lived up to the expectations of our fathers, but whether we, as fathers, have lived up to the expectations of our children."
That trip—captured on film as the Carnauba expedition—"was one of the most significant experiences of my life," said (Fisk) Johnson, who sees a direct line from his father's desire to live up to the expectations of our children to his father's passion for sustainability, and to his own and the company's emphasis on sustainability today.
Bold actions to champion a clean environment and renewable energy
SC Johnson's commitment to earn people's goodwill and to live up to the expectations of the next generation informs and drives its operating and business decisions in myriad ways.
Throughout his presentation, Johnson shared video clips that spoke volumes about his work as a business leader and as a volunteer scientist, and about SC Johnson initiatives, including their crusade against plastic ocean waste and efforts to reduce plastic packaging by introducing product concentrates and encouraging consumers to re-use its trigger bottles for products like Windex.
One video clip focused on SC Johnson's commitment to use clean, renewable energy to reduce carbon emissions and greenhouse gases and improve outdoor air quality. The company generates more than 80 percent of the power for its largest manufacturing facility in the world from a combination of landfill gas, wind power, and natural gas. It powers manufacturing plants in Europe, Michigan, and Poland with 100 percent wind energy, and it uses renewable and sustainable fuel sources that would otherwise be waste, like rice husk and other biomatter, as a fuel source in one of its factories in Indonesia.
Twenty years ago, SC Johnson eliminated an insecticide ingredient called propoxur from all its products in response to the toxicological data that had emerged about it. "I heard every reason why we couldn't eliminate this ingredient and was told repeatedly there was no law against keeping it," said Johnson. "But we persisted. We put a strong team to work on reformulating and they eventually figured out a way to do it at very little additional cost and no loss in performance," he said. "But it took work and it took persistence."
The story of Saran Wrap turned out differently and resulted in making a hard choice. "We decided that we needed to remove chlorine from all our plastics around the world," said Johnson. "We were concerned because if that plastic ended up in a waste stream where it was incinerated, it could lead to PCBs being emitted into the atmosphere." The company easily determined how to remove the chlorine from all its plastics except Saran Wrap. "We spent over a year trying to get a product that consumers preferred without the chlorine in it and we simply couldn't do it," said Johnson. "Nevertheless, we took the chlorine out; many other competitors have not." Now, Johnson said, Saran Wrap, once a company staple, is almost gone.
Because of decisions like these, SC Johnson has built a solid reputation as a steward of environmental sustainability and was recognized by the Environmental Protection Agency with the first Lifetime Atmospheric Achievement Award in 2003.
Engage a broader set of stakeholders to find solutions
In the Saran Wrap case, SC Johnson "chose to compromise on profitability because we felt it was an important thing to do," Johnson said. "But I could also list many other instances where we have run into similar roadblocks and have chosen to maintain the status quo and preserve profitability. There are no simple answers here. You have to choose what is most important, weighing all the factors."
However, Johnson said, even when you run into barriers you can opt to engage a broader set of stakeholders to find solutions. For example, he suggested:
Lobby for greater government regulation. When SC Johnson made several unilateral decisions to eliminate certain chemicals from its products, the company simultaneously lobbied hard for greater chemical regulation to help re-level the competitive playing field. "We played a key role in the Toxic Substances Control Act that was passed during the Obama administration," said Johnson.
Raise consumer awareness to grow demand. Twelve years ago, SC Johnson tried to sell a concentrate for Windex so people could reuse the trigger bottle many times to reduce plastic waste, but the product didn't gain any traction. "Today, with greater awareness of the plastic pollution issue," said Johnson, "we're finally able to make significantly better progress with our plastic reduction and recycling efforts."
Work non-competitively with peer companies. "In the case of plastic recycling, we're working with other companies to develop scale and better economic and recycling systems that allow us and everyone to make greater headway," Johnson said.
"When business pragmatism and doing good inevitably collide," noted Johnson, "with creativity, effort, and keeping that value of goodwill in the forefront, you can almost always get a better outcome than you would have achieved taking a more expedient path."
Profits vs. social and environmental concerns
Noting that corporations today are increasingly accused of focusing on profits and ignoring social and environmental concerns, Johnson outlined three points of view about the role of business in our society: business as a force for social good is a necessity; profit is the paramount priority; and trade-offs between doing broader social good and making a profit are inevitable.
He believes, in some respects, that all of them are right. "Profitability is a critical priority in the competitiveness and strength of a business," he said. "But it's also a necessity to be a force for social good." Business leaders will inevitably be regularly challenged to decide between conflicting priorities of employees, of consumers, communities, and the profitability of a company.
"For example, what do you do when you have to close a factory? You know it's going to negatively affect people's lives, but it's necessary for the economic health of the business. You're in a competitive free market society, you have to be very conscious of the financial decisions you make. Once that competitiveness snowball starts running downhill, it gets harder and harder to roll it back up. If you let that happen, if you let the company weaken—or in the extreme, you put yourself out of business—that obviously isn't good for anybody."
As a case in point, Johnson told about a factory in El Salvador the company had to shut down to avoid putting their business at a competitive disadvantage. He knew he wouldn't build goodwill by putting people out of a job. By operating the factory as a great place to work, the company had already earned goodwill with its team there. Its closing plan, he said, was standard operating procedure for SC Johnson and included being very transparent and straightforward in its communications, treating everyone with great respect and generosity, providing support in helping workers find alternative jobs, and even supporting the community at large.
The upshot? Workers gave SC Johnson a standing ovation on the last day. "Now that seems like an almost impossible outcome given we just put everyone in the room out of a job," said Johnson. "People certainly weren't applauding the fact that they lost their job. They were applauding how it was handled.
"Sometimes the smallest gestures and the extra effort to be as helpful as possible, even in the most difficult situation, can go the longest way."
ROI in loyalty and other intangibles
"The benefits of earning goodwill, while they're very intangible and certainly far less evident, can be far more valuable than any goodwill on the balance sheet," said Johnson.
The way SC Johnson runs its company and treats its employees has certainly paid off since COVID hit, when the company began to run its factories 24/7 making soaps, hand sanitizers, and cleaning and disinfecting products. They were incredibly short staffed because of the need to operate longer hours and to quarantine people possibly exposed to the virus.
That's when the loyalty born of years of generating goodwill kicked in. Loyal SC Johnson employees and even retirees stepped up to help. People who don't normally work production lines volunteered to do so, said Johnson. People came out of retirement to help. One retiree who had already sold her house in Wisconsin and moved to Florida came back because she wanted to help her colleagues in the company.
"Now, I don't pretend to be without fault or to be able to create some ideal world of goodwill from everyone," Johnson said. "Far from it; you can never please everyone all the time. But we have genuinely tried to live by that value in making positive contributions for five generations now.
"And SC Johnson has never been more successful than it is today," Johnson said. "Our culture and our sense of mission to earn goodwill has never been more important to who we are and how we operate. If anything, we've been ever-increasing the societal expectations we put on ourselves; not reducing them."
Goodwill for a better world
Johnson addressed students in his closing remarks.
"As you students go out in life and you make your own choices between substance and shadow, between the tangible and intangible, I would simply encourage you to think about the principle of earning goodwill," Johnson said. "And think about the principle of living up to the expectations of your children.
"I would urge you to not only think about it in your career, but also to look for it in the businesses whose products you choose to buy, and from the government you elect. Because not only do I believe that you will find the most fulfillment in these choices. If all of us do this," Johnson concluded, "there is no doubt in my mind the world will be a better place."
Following Johnson's presentation, Mark Nelson, Anne and Elmer Lindseth Dean of Johnson, moderated a Q&A and Andrew Karolyi, dean of the SC Johnson College and Harold Bierman Jr. Distinguished Professor of Management, shared his reflections afterwards, noting that "Younger generations care about trust more than ever before. Trust is earned, and can be earned with this track record of success on social and environmental responsibility.
The Lewis H. Durland Memorial Lecture is presented by the Samuel Curtis Johnson Graduate School of Management. It was established in 1983 in memory of Lew Durland, treasurer emeritus of Cornell, who served as the university's chief financial officer for more than 25 years.