Alumna Emily Kanders Goldfischer '92 Builds Community With hertelier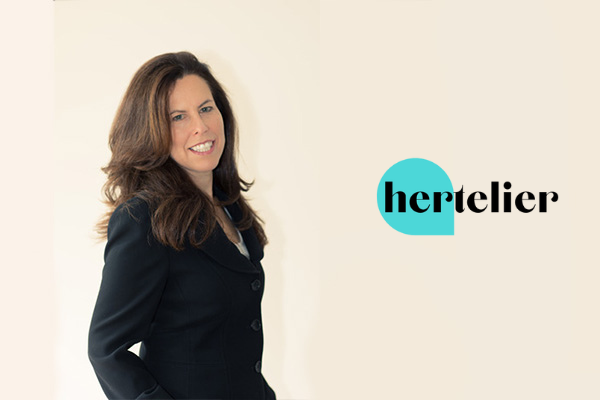 Last month, I had the pleasure of interviewing Emily Kanders Goldfischer '92, founder and editor-in-chief of hertelier, a media platform focused on women in the hospitality industry. Through her website, Emily has been collaborating with the Center for Hospitality Research (CHR) to amplify the issues that are critical to the advancement of women in the industry. To learn more, I connected with Emily over Zoom, and we discussed her career path, hertelier, and the state of women's issues in hospitality.
One morning in June, a cheerful Emily greeted me from her London home with an engaging smile and a clear readiness to chat. As a first-year spring admit, I was curious about her experience as a student, so we started by talking about how her time at the School of Hotel Administration (SHA) shaped her career path and led her to where she is today. "I made lifelong friends, had fun, and really loved my classes," she said. "The program…definitely ignited my passion for hotels."
With this passion and a knack for storytelling, Emily, a self-professed "news junkie," found herself working at a travel PR agency after graduation. Soon after, she completed her master's degree at the London School of Economics and traveled Europe, and later, did a ten-year stint in corporate PR at Loews Hotels, where she traveled across the United States. Since moving to London in 2010, she has been a hospitality journalist at Questex covering hotel news and tourism in Europe.
It was there, said Emily, that she "started to notice a shift in what's traditionally been a male dominated industry. That there were more and more women in key positions, from GMs to development, taking the top jobs in corporate HQs." In the meantime, she continued, "women were searching for community and creating networking organizations, doing research and exchanging best practices, but there wasn't a centralized place to find this type of information [online]." To fill this niche, hertelier was conceived.
Emily created the online media platform to enlighten and inspire "women in hospitality to pursue, navigate, and nurture their careers at every stage" through conversation, resources, career advice, and the personal stories of "accomplished professionals and rising stars" alike, including her fellow SHA alumnae Abby Murtagh, '92, Liv Gussing Burgess '91, and Gilda Perez-Alvarado '02.
hertelier's mission is to "amplify the voices of women in lodging and draw attention to important issues" for all women whose interests have been marginalized in the past. With articles like 3 Behaviors to Avoid if You Want to Be a Great Leader and Navigating New Motherhood, to How Humor Can Be a Superpower in Work (and in Life), Emily aims to help all women in hospitality achieve their career and life goals.
Beyond individual career guidance, hertelier highlights the industry's broader gender issues too.  "Despite making up more than 50% of the lodging workforce, women still remain grossly underrepresented in the top management of hotels," reads hertelier's About section, and Emily observed that there are "still not enough" women in C-suites and top management jobs—a state of affairs reflected not only in hospitality, but in many other industries. Calling the pandemic a "setback" for women and minorities, particularly in hospitality, she stressed the need to eliminate unconscious bias to "open opportunities and achieve gender parity in pay."
But media that centers on women's issues often gloss over the lives of the marginalized and exploited minimum-wage workers whose labor underpins the daily operations of their industries. "So what about the unique concerns faced by women not in the top management?" I asked Emily.
In response, she pointed out that the pandemic has elevated the importance of many entry-level jobs, such as those in housekeeping, serving, and working at the front desk. While these positions may not be considered "glamorous," she concluded, they "might be the most important," and hertelier is committed to covering the issues that matter most to women at "all stages and positions."
As hertelier grows, Emily hopes to leverage its reach to continue helping women across the industry. "Since launching in March," she revealed, "we have been overwhelmed by the amount of genuine support for our platform. Surprisingly, over half of our audience is men." Emily mused, "Maybe because [they] want to learn [how to] be better allies to the women they work with?" Whatever the case may be, hertelier's growing and diverse readership means more attention is being paid to women's advancement and progress in the hospitality industry, and that visibility is powerful.
For current students and recent graduates embarking on careers in the hospitality industry, Emily offered some advice. Above all, she stressed the importance of "networking and genuine relationships," so that even when starting a business, you won't be "starting from scratch."
"I've drawn on my 20 + years of building connections to launch hertelier," she explained, "which is how in three months we've already published so many stories, and reached so many industry people."
Secondly, "be curious and stay curious" and "always keep learning." This, Emily emphasized, will keep you engaged in the industry you choose, or whichever aspect of the hotel industry becomes your area of expertise.
Finally, she says, "take risks and don't be afraid to fail."
Interested in connecting with Emily and hertelier? Reach out here.