Chao Wang creates strategic, global partnerships for Android TV and Google TV
Celebrating 10 Under 10 honoree Chao Wang, MBA '12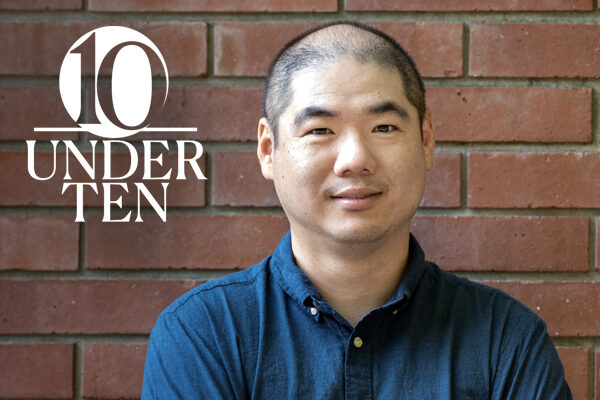 A senior principal at Google who leads global, cross-functional teams; a tech enthusiast and edtech ambassador who leads virtual "field trips" for local elementary school kids; and creator of a VR-based educational field trip, "Life of a Strawberry," Chao Wang, MBA '12 (a Two-Year MBA graduate), is one of the inaugural 10 Under 10 Notable Alumni honored by the Johnson Recent Alumni Council (JRAC).
Wang has worked on multiple high-profile products during his tenure at Google, where he is an established leader in partnerships and strategy with extensive experience in developing, leading and scaling cross-functional teams across countries. He has led partnerships with some of the world's largest retailers and OEMs (original equipment manufacturers or component parts manufacturers) to accelerate global adoption of Android OS on smart TVs, and led strategic projects and programs that drove Google Fiber expansion from one city to many.
An Alfred Fried Jr. Fellow at Johnson, Wang joined Google after graduation and has flourished in his career there, holding varied and sometimes overlapping positions as business intelligence analyst, product strategy and operations principal for Google Fiber, and ambassador for Google Cardboard and Expeditions before taking on his current role, beginning in 2017, as senior principal, strategic partnerships, for Android TV and Google TV.
Wang, who hails from Fuzhou, China, now calls the San Francisco Bay Area home. He is inspired to make virtual and augmented reality technologies more available and accessible for schools because of their power to spark children's intellectual curiosity. He and his wife, Elaine Qin MBA '12, enjoy taking their five- and seven-year-old daughters on outdoor adventures in California, where they can explore nature and history year-round.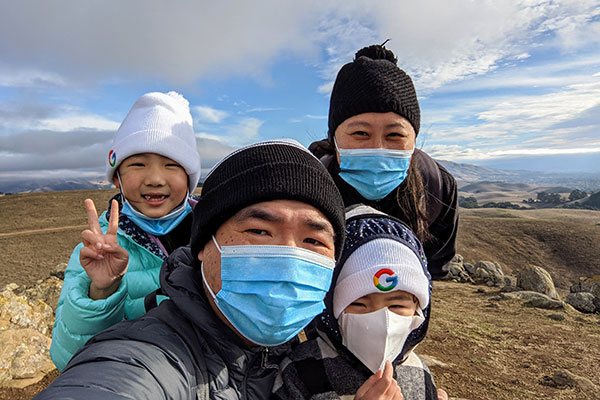 Wang credits Charlie Munger with his favorite quote: "Spend each day trying to be a little wiser than you were when you wake up."
Learn more about Wang in this Q&A.
Good partnerships lead to better product ideas and sustained value
Q. What drives your commitment and focus in your professional career?
Wang: I am a tech enthusiast and I believe that a good partnership leads to better product ideas and sustained value creation. Genuinely fascinated by the growth of technology over the last decade—from blockchain to cloud to AR/VR to EVs—I am excited about technologies that make the world a better place.
I have been with Google for the last ten years, and I am fortunate to move around different functions and product areas and create strategy and launch products that make information more accessible and useful to people. Bringing external partnerships to Google allows companies with specific expertise and diverse experience to collaborate and bring new and better ideas for our joint customers. I believe that I am only successful when my partners succeed.
Opening eyes and imagination to the world via AR/VR technology
As an edtech ambassador at Google, Wang enabled and enriched classroom learning through the use of AR/VR technology in local Bay Area schools and showcased the benefits of VR learning to a broad audience of domestic and foreign educators. He also created a VR series that talks about agricultural sustainability that was made available to millions of students online.
 Q. What inspires you to dedicate your time and energy to this community service? What impact do you want to have in the world?
Wang: As a father of two school-age children, I found that my daughters are visual learners. They learn much faster and articulate much more clearly when I supplement their learning with visual objects. I strive to make these technologies more available and accessible to schools in our communities and leave a lasting impact on every child's intellectual curiosity.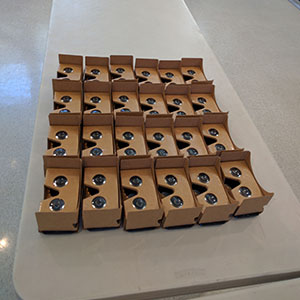 I remember giving my first virtual "field trip" to a group of second-grade students at a local school. The students were fascinated by what they saw through the VR goggles. From Port Lockroy in Antarctica to flowing lava in the Hawai'i Volcanoes National Park, everything came to life for them.  A little boy walked up to me and said, "Chao, I didn't know volcanoes can be this cool and I want to be a geologist." I wasn't sure if he knew what exactly a geologist does, but I believed it was a good start in the right direction.
There is a physical limit to things you can touch and places you can visit. With the help of technology, the world can be within reach.
Inspired by Cornellians to bring forth the best in myself
Wang has led Google recruiting at Johnson for a decade. Over that time, he grew the Johnson alumni base at Google by 20x and served as a mentor for dozens of interns and new MBA grads.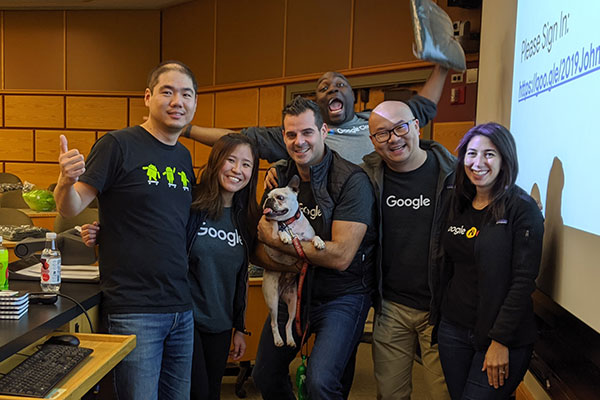 Q. What drives your continued engagement with and contribution to the Cornell community?
Wang: Cornell is a very tightly knit community, especially here in the Bay Area. The genuine friendships among our fellow Cornellians continue to inspire me to bring forth the best in myself. Anthony Asta, MBA '04, Daniel Shi, MBA '12, and Karl Townsend '87 (Engineering) are among the many individuals who trusted, encouraged, and guided me in my professional development over the last 10 years.
People are the reason why I believe Cornell and Johnson have the best to offer any prospective students. Because of that, I successfully hosted several career talks and admissions events at Google, led by Johnson's Career Management Center and Admissions Office. Not only did we attract attention from Googlers; we also welcomed many aspiring MBAs from other Silicon Valley companies.
Serving as school captain for Cornell, I kick-started Google's recruiting effort at Johnson. I am extremely proud that our alumni base at Google has grown 20x over the last few years. For most of us, Google isn't the destination, but a new starting point where our most exciting career begins.
Grateful for 10 Under 10 recognition and hopeful it will inspire others
Q. What does being selected for the Johnson 10 Under 10 Notable Alumni list mean to you?
Wang: I was proud and honored to be admitted to the MBA program at Johnson 12 years ago, and I graduated from Johnson with my dream job two years afterwards. With this recognition, I am even more grateful for the trust and recognition from my fellow students, alumni, and faculty.
I hope this recognition will inspire many more students and alumni—especially those, like me, who were once international students with diverse cultural backgrounds and struggled to openly express themselves—to be more confident in themselves and their work, to be persistent in their passion, and to be helpful when someone needs their help.
Just because we've been successful in the past doesn't mean we're preordained to succeed in the future. I am truly excited to be part of this journey with Cornell and Johnson, and I look forward to greeting many more great leaders and alumni from Johnson and Cornell in the decades ahead.
Leading, negotiating, and stepping out of my comfort zone
Q. What are the most valuable things you learned at Johnson that have helped you in your career?
Wang: It's impossible to quantify how much I learned and benefited from my learning at Johnson. Here are two examples of learning that I still very much apply to my daily job today:
Professor Risa Mish's Johnson Leadership Fellows program transformed my thinking as a leader at work and continues to positively impact me as a mentor in both professional and personal settings to date.
Admittedly, I am a terrible negotiator when it comes to negotiating with my five-year-old about how much Pokemon screen time she can have every day. However, my current role at Google requires me to be an efficient and effective negotiator. A large number of my partners are global and come from very different cultural backgrounds. Professor Ya-Ru Chen's negotiations course taught me not to negotiate down to the very last, little advantage. Leave some small change on the table; it will go a long way in true business partnerships.
Q. Did any particular faculty member(s) influence you on your chosen career path?
Wang: Professor Vishal Gaur is my favorite. He has been a great friend and mentor all along, he gave valuable feedback that guided me to become a better professional and personal mentor for others. We exchanged ideas about the Digital Technology Immersion—I particularly emphasized the importance and practicality of business analytics in the tech industry.
Q. Describe a challenge you encountered as you built your career and how you overcame it.
Wang: Strategy and analytics were my focus in my early Google days. My career was advancing as planned as I enjoyed my everyday work. However, the only constant at Google is change. One day, I was told to find my next role as a result of an organizational restructure.
Soon came a dilemma: I was offered a role in partnerships, which requires different skill sets that I was rather a novice at. In early 2018, during his visit to Google, I had a chance to catch up with Professor Young-Hoon Park (who taught Customer Relationship Management, one of my favorite courses). We discussed how some Korean and Chinese companies were disrupting the internet, and at a much faster pace than many of their peers in the West. He told me to step out of my comfort zone and look into opportunities that can play to my regional knowledge and cultural advantage.
Fast forward four years: That's exactly what I do in my current role—build partnerships between Google and some of the world's largest OEMs in Asia.
Q. What is the proudest moment of your career or of your personal life?
Wang: There are many things to be proud of in my career and life so far—large deals that I closed and amazing products that I helped launch. Yet the most memorable and meaningful one comes from a hobby and also a 20 percent work project.
In the summer of 2017, I created a VR-based educational field trip called "Life of a Strawberry." This was taken on a small farm in central California that provides opportunities to low-income and underprivileged farm workers to advance their careers and pursue the dream of farm ownership. I featured these farm workers and their fruit in this educational series in the Google Expeditions app that was available to billions of users worldwide.
I received a surprise gift with a thank you note—a basket of beautifully grown organic vegetables from the farmers, for making their hard work visible to others online. As my future audience learns about how strawberries are grown and harvested, they will be reminded of the contribution from these growers. I hope it also encourages the industry to create more opportunities to help these underprivileged farm workers pursue their dreams.
Getting off the grid to recharge outdoors
Q. What do you do to recharge?
Wang: I am an outdoor person and I am very fortunate to live in California, where my family and I have the luxury to explore nature and history year-round—from visiting every lighthouse along the Pacific coast to discovering the stories behind 21 California missions to chasing the California Tortoiseshell butterfly migration at Lassen Volcanic National Park. Being off the grid and venturing outdoors with my family is my favorite way to recharge.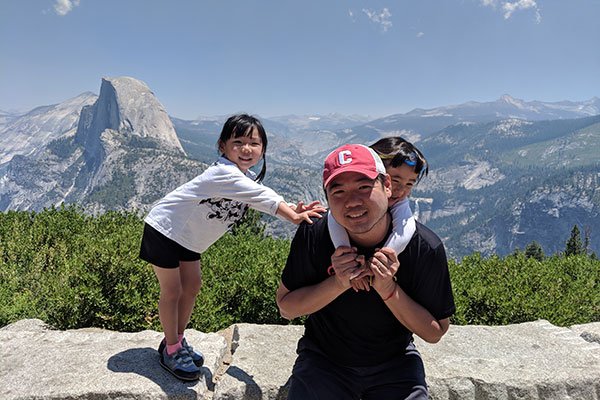 Q. What do you wish you'd known as a Johnson student and what advice would you give to Johnson students today?
Wang: Be inquisitive. Don't forget that Johnson is a part of a much larger family—Cornell. When you are at school, you have access to a plethora of resources at other Cornell schools and colleges.
If you are passionate about hotel management and real estate, take a class there [at the Cornell Peter and Stephanie Nolan School of Hotel Administration]. If you are interested in robotics, go over to the Upson Hall, take a class and/or join a student club there [at Cornell Engineering].  When I was at Johnson, I took part in a Microsoft design challenge where I had to work with students from Engineering and UX [at the Cornell Ann S. Bowers College of Computing and Information Science]. It was one of my best learning moments at Cornell, and it closely reflects the interdisciplinary nature of most post-MBA careers.