Consultant Steve Cheng says nurturing relationships is key to brokering M&A deals
Celebrating 10 Under 10 honoree Steve Cheng, MBA '16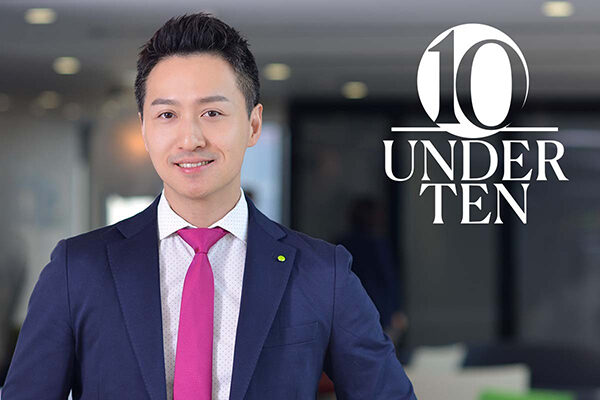 An M&A deal maker who enjoys executing synergetic deals that generate value to all stakeholders, a co-founder of the Deloitte China MBA sponsorship program, and a champion for distributing food to underprivileged communities, Steve Cheng, MBA '16 (a One-Year MBA graduate), is one of the inaugural 10 Under 10 Notable Alumni honored by the Johnson Recent Alumni Council (JRAC).
Cheng is a partner at Monitor Deloitte (part of Deloitte Consulting) who refers to himself, half tongue-in-cheek, as a "professional relationship counselor" because of the people management skills his role demands. He leads a team that brokers merger and acquisition (M&A) deals for clients, helping them to "identify business partners, build cross-cultural business relationships, and execute synergetic deals that generate value to shareholders, employees, and the communities in which they operate," he says. Cheng hails from Hong Kong and now lives in Shanghai.
Cheng's favorite quote come from Momo Estrella, head of digital design at IKEA China and a personal friend: "Living life out of your comfort zone may show up in retrospect on a journey of success, but 'comfort' is not a bad word, it is not laziness or complacency, but rather a result of harmony, problem mitigation, accomplishments and attaining wisdom through balance."
Learn more about Cheng in this Q&A.
Committed to building a diverse and nimble team
Q. What drives your commitment and focus in your professional career?
Cheng: I advise clients on M&As, which encompasses various ways to combine or separate businesses among two or more organizations. In my 14-year journey with Deloitte Consulting, I've come to realize many similarities between managing a people-based business like Deloitte and executing an M&A deal. Attracting diverse, non-traditional talent allowed my team to adapt and quickly pivot towards the evolving needs of our clients, much like acquiring a new business to enter a growing industry.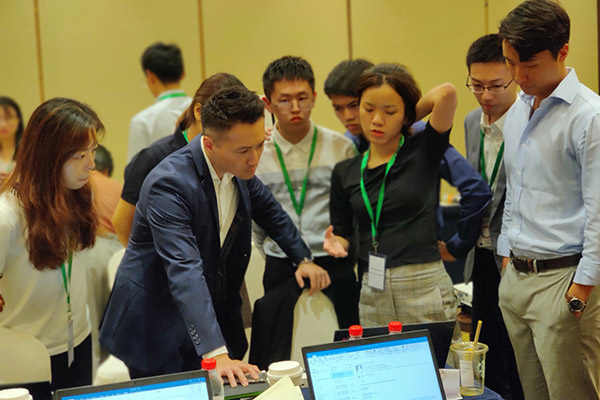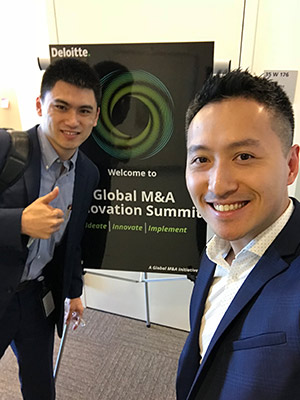 Similarly, collaborating across teams or business units to pursue win-win opportunities is not unlike establishing a joint-venture business, where both sides must have skin-in-the-game, act on their strengths, and resolve their differences in order to be successful.
While many see management consulting as a training springboard to the next lucrative job, I see it as an interesting, rewarding, and, most importantly, sustainable career that fits those who enjoy a collegiate and apprenticeship-based environment. People come and go in this high-churn industry. Those who prevail and find success, whether within or outside of consulting, usually exhibit a strong focus, consistency, responsibility, and integrity. Those are the qualities that I work hard to equip myself with, and that I aspire to instill in people around me.
Facilitating a merger of food charities
In 2020, Cheng helped plan the potential merger of two charity organizations in Hong Kong that shared a focus on reducing food waste and advancing the well-being of the underprivileged community in the city. 
Q. What inspires you to dedicate your time and energy to this community service? What impact do you want to have in the world?
Cheng: My team helped both organizations identify shared purposes, define common vision, and analyze practical operational synergies that led to a board-level discussion to merge the two organizations to form Hong Kong's largest food charity. There were numerous challenges as Hong Kong battled COVID-19 throughout much of 2020, and contemplating a merger in the middle of an unpredictable city lockdown was not an easy task by any means. I was particularly pleased that my team and I were able to use our business education and experience to make pragmatic and tangible recommendations to both organizations, which are both passionate about serving the underprivileged community.   
Establishing the Deloitte China MBA sponsorship program
I see the tremendous value of a company MBA sponsorship in retaining top talent. While I did not benefit from one myself, I co-founded such a program upon completing my MBA at Johnson and returning to Deloitte Consulting China.
Q. What drives your continued engagement with and contribution to the Cornell community?
Cheng: I chose to go to Johnson because of my mentor and close friend Mr. Robert Hah, MBA '07, a Johnson alum and consulting executive who leads the China practice of a global consulting firm. Upon my return to Deloitte, I wanted more mid-career consultants to benefit from the MBA journey of self-discovery, improvement, and fulfillment. Working with like-minded colleagues, I established the Deloitte China MBA sponsorship program in 2017, aimed at supporting young talent through continued business education, a first amongst the "Big-4 consultancies" in China.
Thus far, the program has sponsored 12 consultants in their MBA studies in top programs around the world; among them is Mr. Jeff [Qian Gong] Qiang, Cornell Johnson MBA class of 2019. Within or outside business settings, I find the Cornell brand to transcend the school itself, becoming a powerful instrument for me to connect with people, evoke interesting conversations, and nurture lasting personal and professional relationships.
A believer in the importance of inspiring and encouraging future excellence
Q. What does being selected for the Johnson 10 Under 10 Notable Alumni list mean to you?
Cheng: Apart from the honor and excitement I share with the other nine finalists, I hope the 10 Under 10 platform will encourage recent graduates to stay connected to the Cornell community and leverage their professional accomplishments to support those in need, whether they be current students, recent graduates of business school, or members of the wider community. A 10 Under 10 honoree may be selected for his or her accomplishments, but a positive influence on others that inspires and encourages future excellence matters much more.
Q. What are the most valuable things you learned at Johnson that have helped you in your career?
 Cheng: I took out my notes from the Johnson Last Lecture in May 2016; they are still very much relevant today! They read: "Don't let business expectations take over your moral standards; take worthwhile risks; never stop being excellent, passionate, and yourself."
Q. Did any particular faculty member(s) influence you on your chosen career path?
Cheng: Two people come to mind:
Professor Risa Mish, who taught a course on Critical and Strategic Thinking, where her crisp definition of complex problems, comprehensive analysis of root causes and options, and facilitation of fruitful debates on potential actions really brought the cases to life. Her humor and approach to teaching were icing on the cake.
Senior lecturer Randy Allen was a role model to me as a consultant and business advisor. Not only was she the first female partner of Deloitte Consulting in the U.S.; she also led a distinguished post-consulting career both in business and as a faculty member at Cornell Johnson. She is an inspiration to me and to numerous colleagues, leaders, and mentors in the business community.
 Q. What is the proudest moment of your career or of your personal life?
Cheng: I am most proud of being selected as one of the inaugural Deloitte China Culture Award Winners, under the category of Inclusion. I felt grateful to be recognized for helping others at difficult times of their career, offering advice that steered them in the right direction, discovering their unique talent, and putting people in positions where they ultimately found success.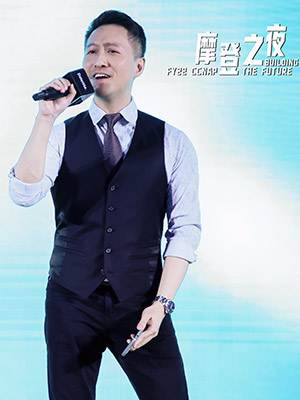 Q. What do you do to recharge?
Cheng: I exercise to stay healthy and smart (such as listening to bite-size audio lessons about new ideas and trending topics while on the elliptical machine). I do dearly miss the ability to travel internationally and just chill at a tropical island.
I also do "internal workouts" (read: karaoke), perhaps as redemption for not pursuing a career as a singer.
Advice to MBA students: Network outside your school
Q. What do you wish you'd known as a Johnson student and what advice would you give to Johnson students today?
Cheng: I would emphasize the importance of networking outside of your school. I made lifelong friends and valuable business connections in several schools outside of Johnson—the School of Hotel Administration [now the Cornell Peter and Stephanie Nolan School of Hotel Administration], the ILR School, CIPA [the Cornell Institute for Public Affairs in the college of Human Ecology], to name a few. I wish I had known earlier and spent more time developing my personal network in the wider university.
To current Johnson students: Go out there, introduce yourself, and get to know people—not just students, but faculty members too!