Jessica Ogonor, MBA '17 Shares Lessons in Entrepreneurship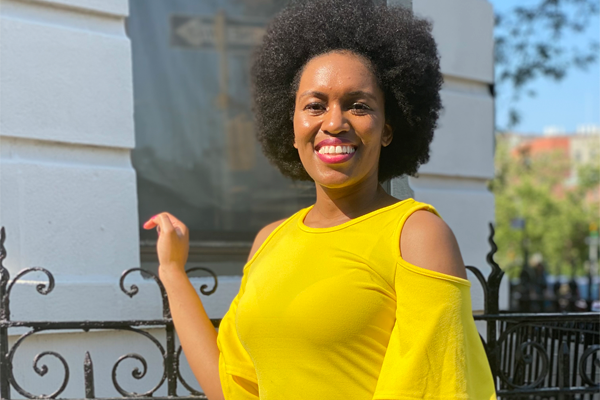 Jessica Ogonor, MBA '17 is an experienced entrepreneur, having launched and re-launched multiple startups throughout her career.
She is the founder of The Suite, a pop-up hairstyling startup that offers local services for individuals with highly textured hair. Echiuma is another startup and passion project she conceived in hopes of bringing off-grid solar systems to business in Nigeria.
Learn more about Ogonor and her experiences and lessons from a life dedicated to entrepreneurship in this Q&A:
Tell us about The Suite.

"Haircare should be inclusive, not stressful. I know from years of firsthand experience how difficult it is to find a great hair service when living or working in remote areas. That's why I founded The Suite, which enables organizations to provide equal access to grooming services for individuals with highly textured hair. We source exceptional stylists and barbers, and we host conveniently located events to bring them directly to the communities of different organizations, including universities and companies."
What life experiences inspired you to launch this business?

"This idea originates from my time at Cornell when I was with friends who also wanted to bring barbers and hairstylists to campus because of the lack of options in Ithaca. I was personally traveling four hours back to New York City in order to get my hair done, and I knew other people who were doing the same thing or traveling even further for quality grooming services. From this experience as well as the experience of those close to me, I knew this problem—and the opportunity it created—wasn't isolated to New York State.

The more I thought about it, I realized that what seemed like a nuisance was a larger issue. I was taking significantly more time out of my schedule to just get basic grooming services. I knew there were many other people facing the same situation, and who were losing valuable time that could be spent on other activities."
Describe some notable challenges and successes during the early days of your business.

"During my time at Cornell, we tried to launch The Suite twice and we failed. About a year and a half later, we had a successful launch at Cornell. Appointments opened in advance on a Sunday night and were filled by Monday morning. On the day of this launch, there was even a snowstorm and no one missed their appointment!

What changed in that year and a half was the result of many lessons learned. Some challenges were around awareness and finding the right groups to connect with. A major early success was that, after those two failures, we were able to launch at another school that neither of us had ties to, but we're pretty sure that we could be successful."
What do you hope to achieve?

"When initially founding The Suite, the goal was to grow the business and sell it so that it could feed the growth of a more capital-intensive business that I started—Echiuma. I have taken an extended pause from working on Echiuma, since I was unable to move to Nigeria after graduation, so my overall goals have changed.

I genuinely enjoy building companies and working in the startup environment—whether it's for my own business or someone else's startup. I hope to get a few successful exits under my belt so that I can build without worrying about where the capital will come from. This also includes building on the philanthropy and nonprofit side of this work. The impact that I can make is why this aspect of success is so important to me.

I am also at the point in my life where I am thinking ahead to times where I may want more flexibility. Putting in the work now will provide me with additional options later on in my career."
What does it mean to be an entrepreneur or business owner in 2022?

"You really have to be able to pivot your business and even your life. COVID-19 has added a lot of unpredictability to business when being an entrepreneur is already a rollercoaster. For example, my business came to a halt when the pandemic started while other entrepreneurs experienced exponential spikes in business. Both scenarios can be hard to plan for—business owners have to be prepared to make choices, even when they are especially tough.

For example, I made the hard decision to take a step back from leading to my startup by transitioning to an advisor role. For me personally, the pandemic made it an easier decision to pursue as my company was growing, but was still in its infancy. I began working part-time for another amazing startup—MetroSpeedy. I was really drawn to the MetroSpeedy and its mission, so I transitioned to a full-time position there in 2021. This was a choice that made sense since I could bring my industry knowledge in transportation to MetroSpeedy, knowing that includes all the lessons I learned from my own startup experience."
What advice do you have for younger business owners or entrepreneurs?

"When building your team try to think about people who you've been able to work with on other projects or plan to do this in advance if you know there is something you want to start. When I was thinking of people to add to the team I thought of two people.

One of them was a classmate who was incredibly organized and became a natural leader when we were Consortium liaisons. The other was a student who started at Cornell Law School the same time I started at Johnson. We met at church and I previously asked her to be on my eLab team for Echiuma. We had a great working relationship while participating in eLab and really balanced each other. She is now the chief operating officer of The Suite."
How has your Cornell experience impacted your work and life?

"Cornell has been very instrumental in launching The Suite but also many of the relationships that I have built. It's also been a great extended network that's helped me navigate work and entrepreneurship. It has definitely felt like there's an established culture of paying it forward and that's something that I also strive to do."
Doing the greatest good is a big part of being a Cornellian. How do you connect this principle to your work and life?

Doing the greatest good has honestly been a part of everything I've done—from my business to the jobs I've experienced. I worked for a couple of companies in the solar industry right after graduation, and even now with MetroSpeedy, I am engaged in a mission that is focused on sustainability as well as supporting small and local businesses. This is a passion that grew more during my time in Johnson's Sustainable Global Enterprise immersion.

Ultimately, I've been carrying the idea of doing the greatest good as well as my Johnson education into all parts of my work and life."
Celebrating Black entrepreneurs and innovation
The Cornell SC Johnson College of Business is celebrating Black History Month by sharing stories of Black entrepreneurs from across the college's student and alumni communities. To read more stories from this celebration, go to ow.ly/NZJ450HJOlm.